Kieron Gillen's a really good writer. I don't feel like that's a particularly brave or controversial statement. From his early days creating Phonogram
with Jamie McKelvie to his current status as one of comics' most reliably fantastic Big Names about to relaunch The Eternals
, the Brit has carved out a truly impressive career in the past 15 or so years. Which made this piece an exciting challenge.
Full disclosure: I usually have to cut my way through a lot of chaff to get to stories I consider worth being The Best Ever. This time, though, it has been the opposite, struggling to find what wonderful tales I have to cut. So, please enjoy the Best Kieron Gillen Stories of All Time (so far), because boy was this tricky.
The Wicked+The Divine is possibly the most purely Gillen comic on this list. Blending inventive takes on mythology and godhood, the fascinating allure of music, and the potential viper pits of fame. Throw in Jamie McKelvie returning for another partnership, and you've got a hell of a comic book. To be clear, I love the entire series, and if I didn't feel it was cheating, I would put all 45 issues (plus specials) on here. But, in the interest of making things a bit more fair, I'm limiting it to a single story.
Left Behind brings in guest artist Kate Brown for a story starring Beth. The angry, righteous trans journalist had already appeared in the series before this, but this story was her first real solo spotlight. Exploring the book's wonderfully exciting world through a ground-level investigative viewpoint and shining some harsh lights on shockingly nuanced characters like Baal, it tells a compelling and personal tale that showcases why the book gained such acclaim. Brown's stylized and highly expressive art provides just enough contrast from McKelvie's razor-sharp clean lines and focus on making it stand out among the sea of stellar issues and get the nod.

The climax to Gillen's acclaimed run on Journey into Mystery pits its ever-crafty lead, Loki, against his ultimate nemesis. The one foe he can never truly beat, never overcome and will be forced to do battle with from now until Ragnarok comes. I mean, of course, himself. The pitch for JiM, a newly reborn Kid Loki traveling the Nine Realms to prove he wasn't that mean old trickster god any longer, was met with some initial apprehension. Still, after a little over two dozen stellar issues, Gillen's new Loki had won a place in reader's hearts. Which Gillen then immediately carved out with a knife.
Support For Comic Book Herald:
Comic Book Herald is reader-supported. When you buy through links on our site, we may earn a qualifying affiliate commission.
Comic Book Herald's reading orders and guides are also made possible by reader support on Patreon, and generous reader donations.
Any size contribution will help keep CBH alive and full of new comics guides and content. Support CBH on Patreon for exclusive rewards, or Donate here! Thank you for reading!
The issue, featuring breathtaking artwork from Stephanie Hans (whom you might see later), reveals the book's sinister truth. That Kid Loki's journey of growth and penance for his past self was ultimately a plot crafted by the old Loki we know too well. Rather than a stock standard villainous "IT WAS ME ALL ALONG" reveal, the issue treats the knowledge as a tragic inevitability. That Loki, no matter how hard he tries, could never escape his role in the grand story of the gods, and that we, as readers, are just as complicit in his fate as anyone. Heart-wrenching, stunning and painful, it is the first time Gillen broke my heart, and it wouldn't be the last.
Another Kieron Gillen title, this time joined by Manuel Garcia on art, and another book about a god. Honestly, not a complaint. If a writer can churn out tales about mythic deities as consistently outstanding as Gillen can, let them have at it. This time, however, the god in question is Ares, Lord of War. Spinning out of the Dark Avengers
ongoing, the mini-series has Ares training a squad of commandos on Norman Osborn's dime, just to see what kind of results might happen when the God of War is running the drills.
What follows is equal parts action romp and pitch-black comedy, butting the modern military complex up against an immortal being who thinks that supply lines and the Geneva Convention are "dung that my sister cares about." Short, brutal, and full of some Rough Chuckles, it is an incredibly overlooked tale well worth reading.
You know how I said The Wicked+The Divine was the most purely Gillen comic out there? I lied. Gillen and Hans' Die is such a clear, powerful product of its creators that Gillen, a longtime TTRPG fanatic, has created his own RPG rules and settings based on the series. Thankfully, he didn't waste his time as the still-ongoing title seems destined to be a classic.
Taking the well-worn concept of a Jumanji-esque journey into a fictional game world and exploring it to every possibly tragic end, Die is a uniquely melancholy title. What sets it apart from the sea of "What if Childhood Thing, but Grim" tales is how thoroughly and respectfully it treats every step. From the cost of a spell that pledged a man to forever fall in love with a woman who then vanished for decades, to the pain inflicted by living for years as a woman in one world only to be yanked back into our harsh reality in your original, no longer fitting, body, each tale is harrowing and painful but told with such tact and care that it keeps you reading.
Another Marvel one-shot starring a lower-profile hero, Beta Ray Bill spun out of the events of Secret Invasion, tasking Bill with protecting a clan of pacifist Skrulls. While religion and the concept of gods come into the tale, Gillen plays against type here and focuses on the strength found within, rather than from faith in a higher power. Dan Brereton's chunky, shadow-soaked art gives the special a wonderfully moody energy that helps it's poignant message land and proves it arguably the best Beta Ray Bill story ever told.
The only entry on this list sporting a co-writer, the wonderfully talented Marguerite Bennett, Angela was a hell of a task to take on. The character had been brought into Marvel from the world of Spawn via a bizarre legal deal with Neil Gaiman, and was swiftly woven into the tapestry of the Norse Mythology corner of the Marvel Universe. Angela, now Thor and Loki's sister and member of the Guardians of the Galaxy, got her first solo series and immediately stole a baby. Great start, hero.
While the action-adventure portion of the tale is every bit as entertaining as you could hope (aided by stunning artwork from Phil Jiminez and Stephanie Hans), the real shining jewel of the story is the relationship between Angela and Sera. One of the handful of canon lesbian romances in Marvel, and the only one featuring a trans woman, is handled with love and care and firmly establishes the two of them as one of The Great Romances in Marvel's decades of history.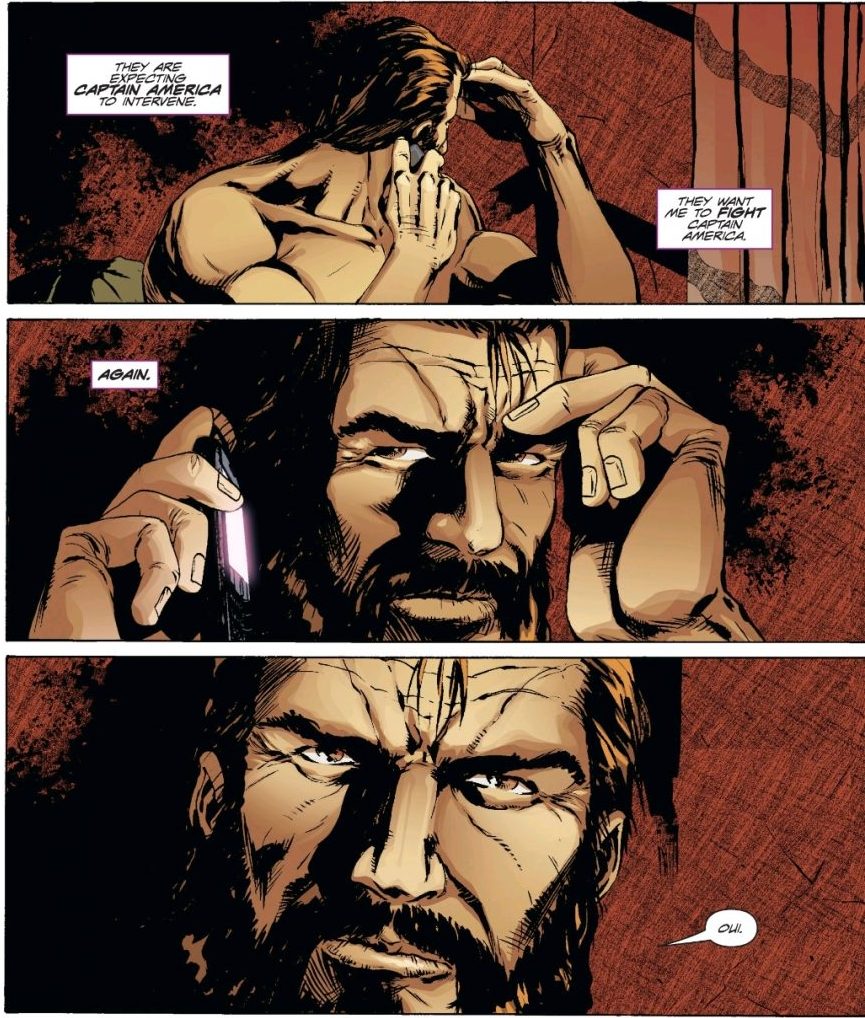 I know what you're probably thinking: "Kieron Gillen wrote a Captain America story?!" And you're wrong. Despite the title, the one-shot is very much a story starring Batroc ze Lepair, perennial punchline, and French jobber to the superhero stars. While Batroc has a fairly devoted cult following (of which I count myself as a member), he is very rarely the star of any story he is featured in, filling the role of blue-collar mercenary for hire in any tale that needs it. This dynamic is what makes the issue truly special.
A low-stakes personal tale, the story treats Batroc with respect while still maintaining the brash, ridiculous bravado that has made him such a fan-favorite. Granting a look at the menial side of Marvel supervillainy (such as the different pay rates he receives depending on what hero is expected) while grounding the affair in some gorgeous, expressive art from Renato Arlem, it is a fun, heartfelt story that gives a new level of depth to one of Marvel's greatest losers.
Relaunching Uncanny X-Men, the title's first re-numbering since it's debut in 1963, is undoubtedly the biggest spotlight Gillen has yet received in comics. While other X-Tales in his catalog could rival its spot (Generation Hope
is a definite contender), the sheer guts behind the series' new direction and lasting impact it has had on the X-Men ever since more than earn its place on this list.
Pairing Gillen with Carlos Pacheco, a longtime veteran who gave the title a certain level of clean and shiny superhero prestige, the new volume shifted the X-Men from peacemakers and ambassadors of mutant-kind to intimidating protectors, tired of having to justify their existence to the world continually. To combat the newly dominant X-Men, long-time foe Mister Sinister got an equally influential revamp. No longer a simple cackling mad scientist, Gillen's Sinister dons a new level of ostentatious flair and theatrics that has stuck with the character through this day.
The most recent entry on the list, beating out Die by a few months, Once & Future tackles the tangled knot that is Arthurian Legend, both modernizing it for 21st century Britain while taking a harsher look at the honest state of the kingdom of Camelot centuries ago. With almost frustratingly beautiful art from Dan Mora (soon to be the next big superstar artist in comics, in my opinion) and consistently creative twists and spins on classic legend, it is a delight to read. While the Supernatural-esque monster-hunting adventures are a blast, the series' real strength comes from its use of real-world events, such as the rise of aggressive Nationalism in Britain, to explore new angles on age-old tales.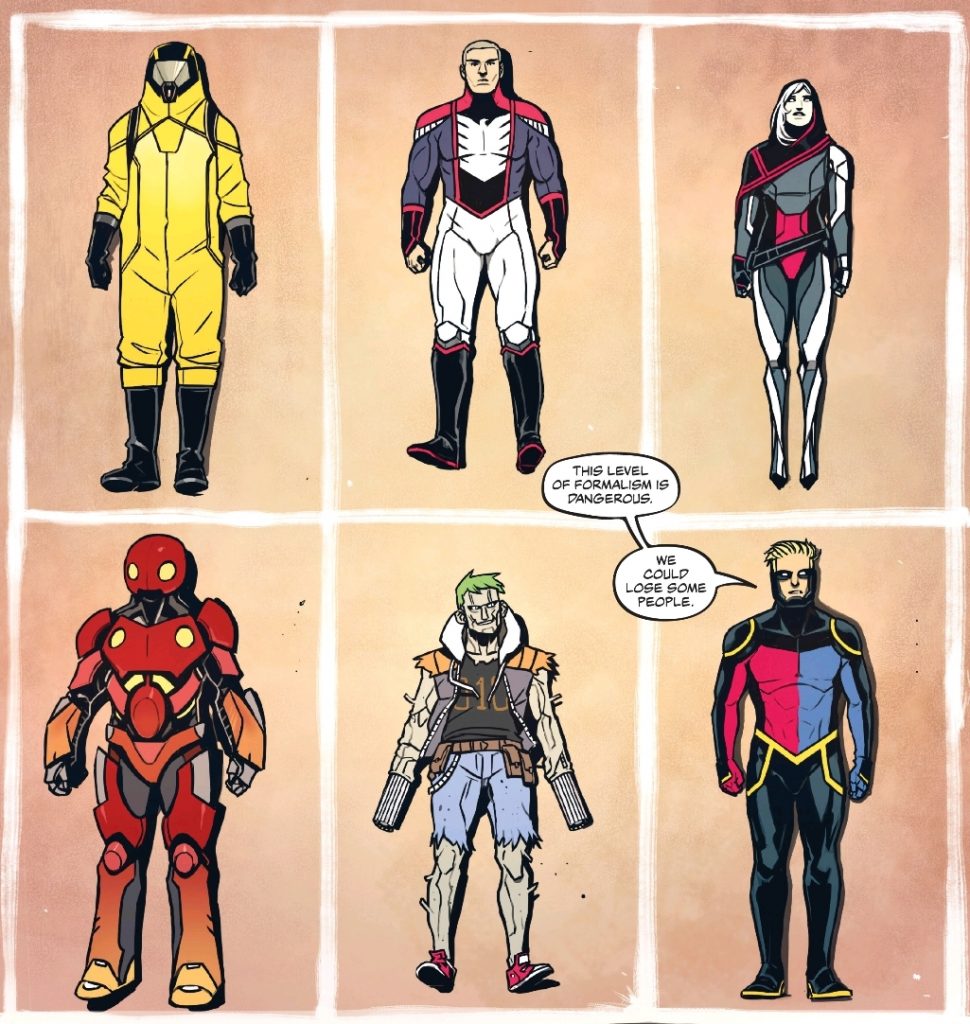 Do y'all like Watchmen? How about stories riffing on Watchmen and its lega- wait, hold on, don't leave! While stories either paying homage to or ripping apart Watchmen have been ubiquitous for decades now, none of them can quite match the magic Kieron Gillen, and Caspar Wijngaard made with their 2019 revival of Peter Cannon.
Equal parts heartfelt character study on the importance of humanity and connections made between each of us, and aggressive fist around the comics industry's throat, Thunderbolt begs that we (both the readers and the creators) just get OVER Watchmen after all these years. It effortlessly juggles meta-commentary, romance, action, and human drama to create a truly terrific comic that should be held on as high of a pedestal as the tale it is responding to.