For the next 10 weeks, we'll be posting 10 selections from the upcoming CBH guide to the best 100 DC Comics since Crisis on Infinite Earths (1985). Once released, all 100 will be published together for one mega guide in general chronological order!
Picks 21 through 30 cover comics released 1987 through the early 1990s. We'll release the full list of selection criteria with the best 100 comics guide, but for now here are some caveats:
Although the books are numbered, this is not a rank! The books are listed in general chronology or by era, so readers could proceed from the first entry through to the 100th and move through time from 1986 to present day. If you want to see where these comics are ranked, check out the best comics of all time list!
The write-ups are the work of various writers across Comic Book Herald. That said, any weird picks are definitely the work of CBH editor-in-chief Dave, so please direct your befuddled confusion that way! And definitely provide some of your own favorites for consideration!
Without further ado, check out our picks for the best DC Comics to read!
Previously: The Best 100 DC Comics Since Crisis!
Creators: Ron Marz, Darryl Banks
Support For Comic Book Herald:
Comic Book Herald is reader-supported. When you buy through links on our site, we may earn a qualifying affiliate commission.
Comic Book Herald's reading orders and guides are also made possible by reader support on Patreon, and generous reader donations.
Any size contribution will help keep CBH alive and full of new comics guides and content. Support CBH on Patreon for exclusive rewards, or Donate here! Thank you for reading!
Issues: Green Lantern (Vol 3) #48 to #55
When Superman "died," Hal Jordan took on his cosmic foes. But when Superman returned, the threat to Jordan remained. This is the story of how Jordan failed to save his home, Coast City, and how Superman and the universe failed Jordan again and again.  Marz, Willingham, Haynes, and co, do an astounding job of capturing the grief and terror of a Green Lantern in mourning. But they also capture something else: the ending, where only a single Guardian is left alive with a single ring. The ring sets out to find the last champion left in the universe: a bust-out artist who would become the most powerful Lantern of all. That arc from tragedy to comedy is difficult but rewarding, some middle part from the Zero Hour editorial debacle! — John Galati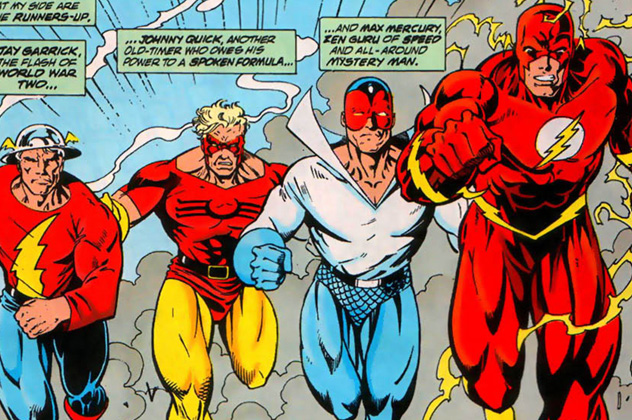 Creators: Mark Waid, Greg Larocque
Issues: The Flash #62 to #128
There's normal runs, and then there's Chase-The-Dragon runs. Runs so definitive and defining, they overshadow, subsume and become almost the entirety of a franchise, with almost everything after being in response, or in pursuit of it. There is almost no way to separate the work from the fabric of the fiction, it's seeped in deep and far too ingrained now. That's Mark Waid's Flash. From Speed Forces, Flash Families, Reverse Flashes to legendary legacies, this run is what made the character for not just a generation, but every generation after.

Waid took John Broome and Carmine Infantino's vibrant creation, who'd rusted to become a dull conservative, and put new life, and genuine heart into him. A whole slew of disparate characters found thematic unity under his pen, with legacy and family being essential. Waid did the impossible in Big Two comics: He made the successor surpass the mentor.
 Wally West with The Flash Family, was The Flash. — Ritesh Babu
Creators: James Robinson, Paul Smith
Issues: The Golden Age #1 to #4
In truth, I've never understood JSA-heads. Unless you're literally my dad (in which case, thanks for everything pops!) the thrills of the Golden Age generation are a wonderful concept and legacy in the DC Universe that I only occasionally want to focus on directly. Perhaps that's why the Watchmen's Minutemen meets Wild Cards 
Book One approach of Robinson and Smith's JSA: The Golden Age resonates most. In this alternate post World War II America, the Justice Society of America has largely hung up the tights just in time for McCarthyism and the House of Unamerican Activities Committee. For his part, Robinson would go on to greater heights exploring legacy in the DC Universe in the pages of Starman, but "The Golden Age" is a notable progression getting there. — Dave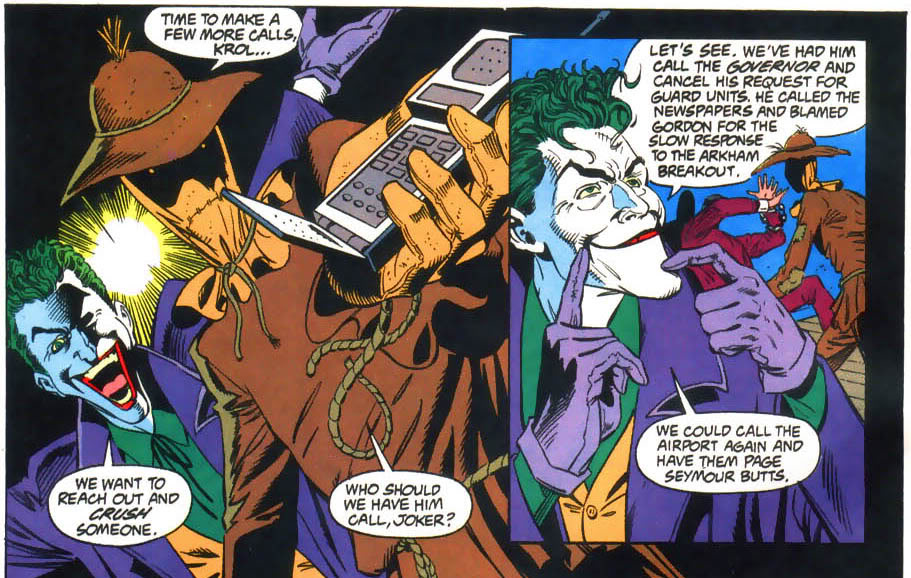 Creators: Doug Moench, Chuck Dixon, Alan Grant
Issues: Batman: Vengeance of Bane Special #1, Batman #491-500, Detective Comics #659-666, Showcase '93 #7-8 and Batman: Shadow of the Bat #16-18
The all-star talent behind this had insanely ambitious goals. "The Jailbreak at Arkham" act is a perfect (re)introduction to the title, yet the full arc concludes six years of a "breaking the Bat" narrative that stretches from Death in the Family to Death of Superman. (In fact, Knightfall improves/fixes the year-old DoS story concept itself.) But most shocking of all: it's a major bat-event with very little Joker. Instead, Knightfall takes Bane—then the newest bat-villain—to the top slot, making him Kraven to Batman's Spider-Man; a multi-threat, multi-avenue predator who can shake their foe to the absolute core. You can hear echoes of Knightfall in everything from Hush to Winter Soldier. Now if we could just undo Schumacher's Trenchcoat Bane… — John Galati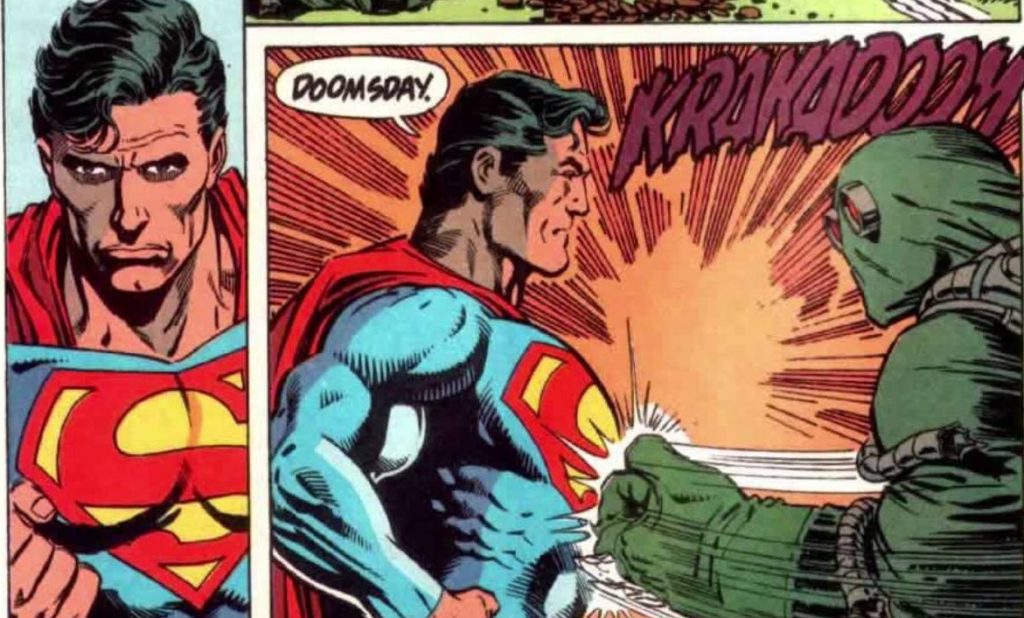 Creators: Dan Jurgens, Jerry Ordway, Louise Simonson, Roger Stern, John Bogdanove, Tom Grummett, Jackson Guice, more
Issues: Superman: The Man of Steel #18-19, Justice League America #69, Superman #74-75, Adventures of Superman #497, and Action Comics #684
The event that shocked the world, can the Man of Steel ever truly be killed in battle? The year long event saw not only the death of Superman at the hands of Doomsday, but the mystery of the 4 new Supermen. Each claiming to be the successor to the Superman title. Each of the four Supermen, Superboy, Steel, Cyborg Superman and the Eradicator, highlight an aspect of Superman, but as the story goes on, it's clear that there is no true replacement for Superman. The question now becomes, how do you resurrect the man who shouldn't have died in the first place? — Mikayla Laird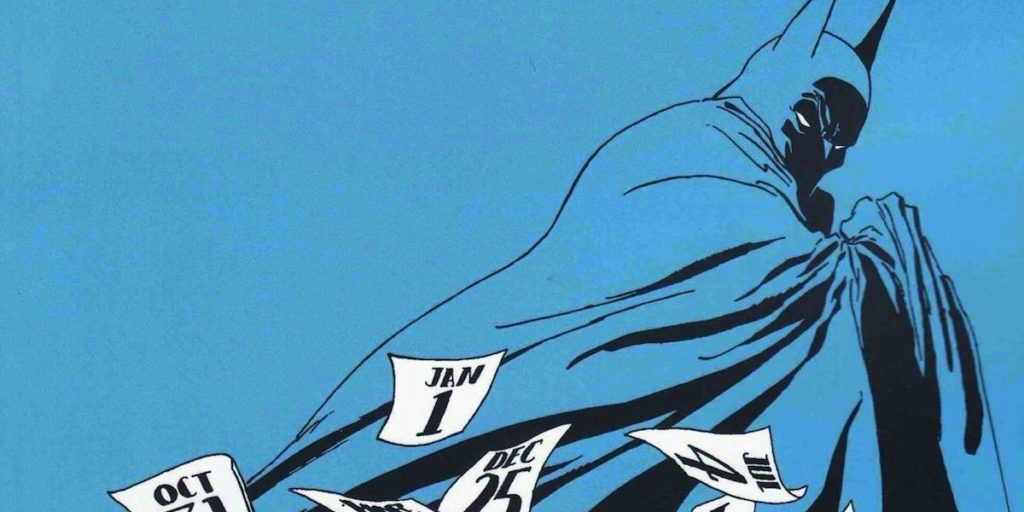 Creators: Jeph Loeb, Tim Sale
Issues: The Long Halloween #0 to #13, Dark Victory #0 to #13
The creative team of Jeph Loeb and Tim Sale have basically crafted a masterpiece every time they've worked together, but they may be most directly tied to their two titanic Batman miniseries. "The Long Halloween" serves as a replacement Year Two for The Dark Knight, tying up loose ends from Frank Miller's "Year One" while transitioning Gotham from a gangster's paradise to a freakish playground. "Dark Victory" wraps up the lingering ideas of "Halloween" while reversing that first story's bleak musings on Batman by providing a new origin for Dick Grayson's Robin. Each works as a compelling, cartoonishly gothic mystery that mentally and emotionally challenges Batman while also working as a far-better blockbuster comic than Loeb's later, also villain-stuffed, "Hush."
Best of all, both of these stories serve as compelling narratives for Harvey Dent, both before and after his transformation into Two-Face. When done right, Dent is a tragic figure that reflects Bruce Wayne's darkest impulses. By affording Dent with nearly as much narrative real estate as his title hero, the duality of Two-Face makes both "Long Halloween" and "Dark Victory" into stories that can be read for their sheer thrills as well as their ruminations on human psychology. — Matt Draper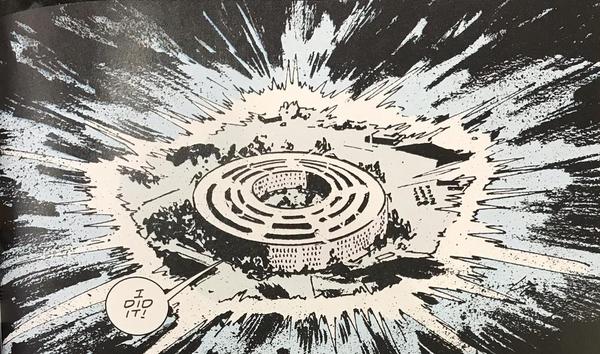 Creators: Grant Morrison, Frank Quitely
Issues: Flex Mentallo: Man of Muscle Mystery #1 to #4
The character of Flex Mentallo, Hero of the Beach, is one of many reasons Morrison's time writing Doom Patrol is among my top 10 favorite comics of all time. There's something so impossibly comical and powerful about muscle mystery, the ode to Silver Age comic book advertisements, and the ability to flex the Pentagon into a circle. Morrison returned to Flex in 1996 with artist Frank Quitely (in what would become one of comics most celebrated collaborations), and a challenging, meta-fictional and deeply fascinating four issue miniseries. Flex breaks the mold of superhero comics tropes even moreso than Doom Patrol, while simultaneously laying down the philosophy of a unified superhero landscape, with Morrison really leaning into the one million ideas a minute approach to comics that has defined so much of his work since.
Quitely is absolutely a breath of fresh air in the '96 artistic canon, and all in all Flex Mentallo is a fascinating book for readers well-versed in Morrison-ology. Perhaps the work says it best: "I just wanted to talk about the comics, see? All those sh***y, amazing comics…" — Dave
Creators: Garth Ennis, Jamie Delano, Sean Phillips, Steve Hugh, Dave McKean
Issues: Hellblazer #34 to #46
John Constantine is a great conman and an almost respectable magician. But his real superpower is his ability to go it completely alone. Seeing him grinding out every day, knowing that he's learned to not even need Superman's help, that makes audiences believe he can take on both Heaven and Hell. And Garth Ennis turned that strength into a mortal weakness. Seeing Constantine, wearing a teal hospital gown, yellow sodium light, with no one beside him as he looks at an x-ray seems to cut the strings off him. Then again, it also makes him his most dangerous. — John Galati
Creators: James Robinson, Tony Harris, Peter Snejbjerg, Wade Von Grawbadger
Issues: Starman #1 to #81
DC Comics of the 1990's are uniquely positioned to create, establish and respond to the idea of legacy in an eternal shared story. Throughout the decade we see Kyle Rayner come into his own as Green Lantern, Wally West really become The Flash, Tim Drake become Robin, and as we can all agree, Cyborg Superman and Jean-Paul Valley cementing their claims as World's Finest (ok, not all legacies are built equally).
My favorite saga of legacy, though, comes from a lesser known franchise, with Starman and The Knight family taking center stage in James Robinson and Tony Harris' long-running series. The path of Starman taps into so much of what makes the DC Universe a thrilling space, fleshing out the mythical Opal City, seamlessly connecting the tapestry of DC's history from Justice Society to present day, and making everyone from The Shade to Mist some of the coolest supporting characters in the world. This is Robinson at his absolute best, and Tony Harris' work is simply some of the finest in contemporary superhero comics.  — Dave
Creators: Garth Ennis, John McCrea
Issues: Hitman #1 to #60
Tommy Monaghan is to the Punisher as John Constantine is to Doctor Strange. He's a smart-mouthed working man, always hard on his luck, trying to figure out how to operate a work/life balance and failing. It's a fantastic test bed for Ennis's violent humor. For many, the series apexes with issue 34, Of Thee I Sing (often called "the best Superman story ever.") And while Ennis does a masterful job of revealing the Man of Steel to be just as unsure and vulnerable as the rest of us, the issue works because of how strong a character Monaghan becomes. The crux of the issue is that when Monaghan tells Superman he's wrong, we all believe Tommy. — John Galati