They say "those who can't do, teach," but the Taskmaster – a mercenary-trainer-for-hire with "photographic reflexes" also known as Tony Masters – proves the phrase wrong. "Anything the Avengers can do, I can do better!" he boasts on the cover of Avengers #196, his first full appearance. All that skill and the heart of an educator to boot? What a catch!
2020 marks the 40th anniversary of the Taskmaster's introduction at the end of Avengers #195 (May 1980). His capacity to mimic the athletic abilities of anyone he watches immediately made him a formidable foe for countless heroes, often thwarted only through clever tricks, as opposed to physical prowess. Acting as a foil to every hero he faces, the Taskmaster has made it into hundreds of single issues, dozens of episodes of animated television, and video games including Marvel's Spider-Man
for the PlayStation 4 – all leading up to his live action debut in this spring's entry into the Marvel Cinematic Universe, Black Widow.
Related Reading Orders:
The Taskmaster's uncanny gift allows him to commit his enemies' feats to memory and replicate them, but not without a price. Every time Masters uses this technique to develop a new "implicit memory" (Spider-Man's acrobatics, Captain America's dexterity), he pays in the form of his more personal "explicit memories" (his family, his past).
Support For Comic Book Herald:
Comic Book Herald is reader-supported. When you buy through links on our site, we may earn a qualifying affiliate commission.
Comic Book Herald's reading orders and guides are also made possible by reader support on Patreon, and generous reader donations.
Any size contribution will help keep CBH alive and full of new comics guides and content. Support CBH on Patreon for exclusive rewards, or Donate here! Thank you for reading!
As a result, the concrete origins of the Taskmaster's talents remain a mystery. Was he a simple boy living in the boroughs who discovered a knack for imitation after watching a cowboy television show, then recreating what he'd seen with a bit of clothesline? Or was he an overzealous S.H.I.E.L.D. agent who injected a Nazi serum in an attempt to expand his physical potential? Or is he a combination of the two? 
Since that fateful confrontation with the world's mightiest heroes 40 years ago, the Taskmaster has been a thorn in the side of the likes of Captain America, Spider-Man, Hawkeye, Daredevil, and more, sometimes directly, but often through the actions of his many "students."
The Taskmaster has become a fan favorite, aided by a cocksure attitude and his iconic skull mask (which is not his real face, though tell that to my childhood nightmares). His notable look makes him a regular go-to for many artists in search of a cameo or looking to fill out group scenes. While often finding himself on the wrong side of the law, the Taskmaster does provide training in service of the United States government from time to time.
Let's take a look at how the Taskmaster has hacked, slashed, and flipped his way through Marvel Comics history:
The Taskmaster's Academy of Criminal Arts and Sciences: Taskmaster in the 80's and 90's
Created by David Michelinie and George Pérez as a last-page reveal in Avengers #195, the following issue introduces the Taskmaster in his full glory, as a true challenge for the super-team, ultimately defeated thanks to the steely inscrutability of robot Avenger Jocasta. The Taskmaster spent the rest of the 80's and 90's weaving his way through titles, often failing to earn the money he sought in return for the deaths of various superheroes.
Taskmaster: Anything You Can Do
Collects: Avengers (1963) 195-196, 223; Marvel Team-Up (1972) 103, 146; Thing (1983) 26; Amazing Spider-Man (1963) 308; Iron Man (1968) 254; Daredevil (1964) 292-293; Deadpool (1997) 2; Hawkeye: Earth's Mightiest Marksman (1998) 1; Avengers (1998) 26; Captain America (1998) 44; Material From Captain America Annual (1971) 11

This collection spans two decades-worth of Taskmaster issues, including his first confrontation with the Avengers. It skips over some notable guest appearances like Amazing Spider-Man #367 and Daredevil #317-318, but overall gives a great impression of the villain and his pursuits.
The Mercenary Known as Tony Masters: Taskmaster in the 2000's, Part 1
The 2000's saw a shift in the Taskmaster's mission as Marvel sought to add more dimension to his characterization. Masters began focusing less on training future generations of cannon fodder and more on completing mercenary contracts on his own. In 2002 he was the subject of his own mini-series written by Ken Siu-Chong and penciled by various artists including Alvin Lee and Alan Tam. The series follows the Taskmaster (in a brand new costume!) as he takes on even less savory characters than himself and even finds the potential for love with a woman named Sandi Brandenberg.
Sandi went on to get involved with Deadpool, eventually bringing Taskmaster into the fold when the merc with the mouth went missing, leaving behind a mysterious amnesiac for Taskmaster to begrudgingly train. Writer Gail Simone penned this tail through the 14 issues of the Agent X series, and the entire run is available on Marvel Unlimited.
Collects: Taskmaster (2002) 1-4, Taskmaster (2010) 1-4, Material From Marvel Comics Presents (2007) 2, Age Of Heroes (2010) 3

This volume contains the two Taskmaster miniseries, including the 2002 series that introduced Sandi Brandenberg.
Deadpool Classic Volume 9
Collects: Deadpool (1997) 65-69, Agent X 1-6
Deadpool Classic Volume 10
Collects: Agent X #7 to #15, Fight-Man #1
Moon Knight, Vol. 1: The Bottom
Collects: Moon Knight (2006) #1-6
In the first volume of the mid-2000's Moon Knight series by Charlie Huston and David Finch, Taskmaster is hired by a secret organization to put down Marc "Moon Knight" Spector, leading to a confrontation in Spector's apartment. 
Working for the Man: Taskmaster in the 2000's, Part 2
The Taskmaster's fate is forever altered in this decade by three big Marvel events. After joining the Thunderbolts during Civil War, Masters finds himself working off his debt to society as a drill instructor training would-be heroes as part of the Fifty State Initiative. In the wake of the Secret Invasion of Earth by the Skrulls, newly-vetted hero Norman "Green Goblin" Osborn expands Taskmaster's role in the darker Initiative to include training villains for Osborn's nefarious purposes. Taskmaster becomes part of Norman's inner circle leading up to the Siege of Asgard, after which the Taskmaster finally cuts his losses and goes back to the mercenary life.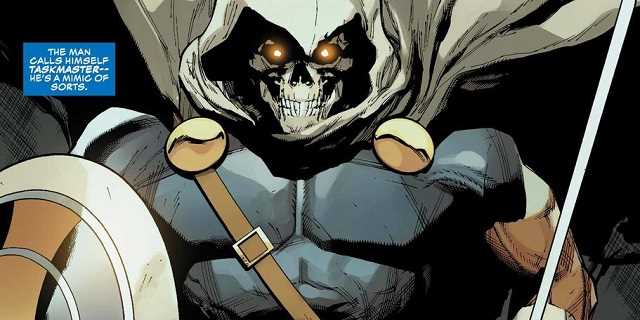 Collects: Civil War #1-7
Taskmaster gets involved in the second half of this confrontation that split the Marvel superhero world down the middle. Written by Mark Millar, with art by Steven McNiven.
Avengers: The Initiative – The Complete Collection Vol. 1
Collects: Avengers: The Initiative 1-19, Annual 1

In the aftermath of Civil War, the heroes you love become responsible for training a new generation of registered youths. The Taskmaster is recruited for the project around issue #8 as a drill instructor. Written by Dan Slott and Christos Gage, with art by Stefano Caselli and more.
Avengers: The Initiative – The Complete Collection Vol. 2
Collects: Avengers: The Initiative 20-35, Avengers: The Initiative Special 1, Avengers: The Initiative Featuring Reptil 1

Once Norman Osborn takes over as America's top cop, the Initiative's marching orders change as well. Taskmaster is back to training criminals, but now he's teaching them to act as heroes who might one day fill out the ranks of Norman's Dark Avengers. 
Collects: Siege #1-4: The Cabal, Siege Prologue
Norman Osborn's Dark Reign culminates with a siege of Asgard, now floating above Broxton, Oklahoma in Midgard. Taskmaster has joined Norman's super-villain Cabal and gets in on the action, facing off against not one, but two Captains America. Written by Brian Michael Bendis with art by Olivier Coipel.
Back to Basics: Taskmaster in the 2010's
In the wake of Norman Osborn's defeat at Asgard, Tony Masters goes back to mercenary work. The 2010's see a second Taskmaster mini-series courtesy of Fred Van Lente and Jefte Palo. It is here that Masters's long-hidden past as an agent of S.H.I.E.L.D. is finally revealed after the tables are turned and a bounty is placed on his head. The Taskmaster reunites with a wife he forgot long ago and must make some difficult choices about what's worth saving when his abilities and his memories are both on the line.
After tangling once again with the likes of Spider-Man, Alpha Flight, and Deadpool, the Taskmaster finds himself first facing off against the Secret Avengers, then joining them. A mission to infiltrate A.I.M. ends tragically for Masters, but a newly acquired skill saves his life: friendship.
Despite attempts to settle down in Bagalia, the Taskmaster continually finds himself wrapped up in the doings of Captain America and Hydra leading up the the events of Secret Empire, where Masters and his good (only?) friend Black Ant are conscripted into Hydra's team of Avengers, but only until a better option presents itself. In the years since, Taskmaster has slipped into mercenary work once again, often to the chagrin of his old enemy Spider-Man.
Collects: Taskmaster #1-4
This mini-series (also collected in Taskmaster: The Right Price) finally sheds some light on the Taskmaster's background, as well as presenting some hard choices for the usually stoic mercenary. Written by Fred Van Lente with art by Jefte Palo.
Secret Avengers by Rick Remender – Volume 2
Collects: Secret Avengers 26-32
In the second half of this collection, the Taskmaster is hired to steal an item that the Secret Avengers also have their eyes on. Such a conflict can only end one way: violence. Written by Rick Remender, with art by Renato Guedes and Matteo Scalera.
Secret Avengers Vol. 1: Reverie
Collects: Secret Avengers 1-5, material from Marvel Now! Point One
Oh how quickly foes can become friends! Nick Fury, Jr. recruits the Taskmaster to infiltrate A.I.M. in this new volume of Secret Avengers, written by Nick Spencer and drawn by Luke Scott.
Collects: Secret Avengers (2013) #6-11
Nick Spencer and a team of artists continue the story they started in Reverie, as developments on A.I.M. Island push Taskmaster to his limits of deception.
Secret Avengers Vol. 3: How to MA.I.M. a Mockingbird
Collects: Secret Avengers 12-16
Spencer, illustrator Butch Guice, and others wrap up their run on Secret Avengers as the mission on A.I.M. Island draws to a bloody close.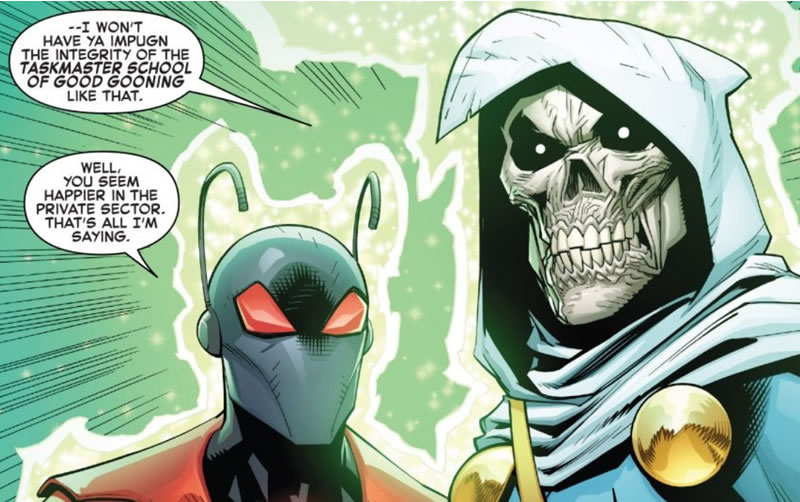 Captain America: Steve Rogers Vol. 1: Hail Hydra
Collects: Captain America: Steve Rogers 1-6, Free Comic Book Day 2016 (Captain America) 1
Nick Spencer brings Taskmaster with him as he begins his now infamous run writing America's top super soldier. Taskmaster and his partner Black Ant quickly become suspicious of a seemingly changed Captain America. Written by Spencer, with art by Jesus Saiz.
Captain America: Steve Rogers Vol. 2: The Trial of Maria Hill
Collects: Captain America: Steve Rogers 7-11, Civil War II: The Oath
As Nick Spencer and Jesis Saiz continue to unravel the tale of Steve Rogers: Hydra sleeper agent, Taskmaster and Black Ant continue to observe from the periphery.
Captain America: Steve Rogers Vol. 3: Empire Building
Collects: Captain America: Steve Rogers 12-16
As the road to Secret Empire narrows, Taskmaster and Black Ant find themselves more and more entwined in the secret goings-on of the would-be Hydra empire.
Collects: Secret Empire 0, Free Comic Book Day 2017 (Secret Empire 1), Secret Empire 1-10, Secret Empire Omega 1
Nick Spencer's epic Captain America run all leads to this, with Taskmaster and Black Ant conscripted into the ranks of Hydra somewhat against their will. It's not long though, before the pragmatic do-badders find an exit ramp.
Check out the full Comic Book Herald Secret Empire reading order.
Collects: Spider-Men II 1-5

Taskmaster is back at it, with a contract for both Peter Parker and Miles Morales, paid for by a very surprising individual. Written by Brian Michael Bendis with art by Sarah Pichelli, the Taskmaster makes this webby reunion a dangerous one.
Amazing Spider-Man by Nick Spencer Vol. 1: Back to Basics
Collects: Amazing Spider-Man 1-5, Free Comic Book Day 2018 (Amazing Spider-Man Story)

Nick Spencer reunites with Taskmaster and Black Ant once again! This time they are weaving their way through the background of Peter Parker's new life, eventually leading to a new confrontation with Kraven the Hunter.
Amazing Spider-Man by Nick Spencer Vol. 2: Friends and Foes
Collects: Amazing Spider-Man 6-10
Amazing Spider-Man by Nick Spencer Vol. 3: Lifetime Achievement
Collects: Amazing Spider-Man 11-15
Amazing Spider-Man by Nick Spencer Vol. 4: Hunted
Collects: Amazing Spider-Man#16-23, #16.HU and #18.HU-20.HU
The Future: Taskmaster in the 2020's
Taskmaster is poised for super-stardom with the impending release Black Widow in May 2020. The character's role in the film is still shrouded in a bit of mystery, but I wouldn't expect Marvel to wait to capitalize on that positioning; a new five-issue Taskmaster mini-series is set to debut in April, written by Jed Mackay with art by Alessandro Vitti. What does the future hold after that? Only time will tell, but you can be sure our old friend Tony Masters won't be far from his trusty sword for long.