Editor's Note: Tarot Readings are a major thematic and stylistic component of the 2020 X-Men comics event, X of Swords. Since it's not a field I know, I'm excited to bring in a specialist to provide unique readings based in the Tarot connections of the story. We'll be running these Tarot examinations following each of the event's 22 parts. Enjoy!
Chapter 9 in X of Swords, Excalibur #13
, corresponds with the Major Arcana card number #8 from Tarot. Determining which card that is can be a little tricky, but I'm pretty confident that in this case it relates to Strength. In some decks Strength and Justice switch places, but since the imagery evoked by Tarot (the mutant) and Saturnyne's readings is that of the RWS deck, then I guess it's safe to place Strength as card number 8.
* Spoilers For Discussed Comics Follow! *
Related Reading Orders:
Support For Comic Book Herald:
Comic Book Herald is reader-supported. When you buy through links on our site, we may earn a qualifying affiliate commission.
Comic Book Herald's reading orders and guides are also made possible by reader support on Patreon, and generous reader donations.
Any size contribution will help keep CBH alive and full of new comics guides and content. Support CBH on Patreon for exclusive rewards, or Donate here! Thank you for reading!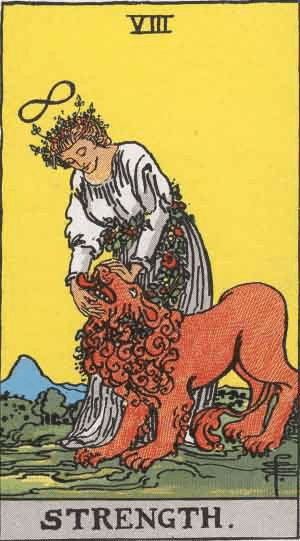 This card used to be known as Fortitude, one of the four cardinal virtues. According to the Greek philosopher Plato, these were qualities needed in order to live a virtuous life and he associated each of the virtues with a class of the city. Fortitude was assigned to the warrior class. I guess it is fair to say both Brian and Betsy are warriors, but unlike The Chariot card, which was about determination, this one is about bravery and courage. It's not about not being afraid, but to stand in the face of fear and face it.

You can see how The Chariot and Strength are fundamentally different when you look at the symbolism of the Strength card. The lion represents courage and animal passions, but it's more important than it appears once you take into consideration how the lion is a significant part of Brian's original uniform as Captain Britain. The girl on the card has no weapon and looking at her clothes and the flowers I doubt someone would think of her as a warrior. The same could be said for Betsy before she swiped bodies with the mutant ninja Kwannon.
I also find interesting the contrast between her psychic mutant powers and the physical abilities she gained when The Hand placed her in Kwannon's body. The strength of the card is about the power of the spirit not physical force; notice how the girl tames the lions with kindness. In Excalibur #13, Brian brings The Sword of Might but Betsy refuses to accept it despite Saturnyne's prophecy, and I also see that as another proof of Betsy's courage.
The Sword of Might and The Amulet of Right are part of the test to see if someone is worthy of becoming Captain Britain, and those who choose the Sword, a symbol of violence, fail the test. And even though Saturnyne doesn't consider Betsy a righteous Captain Britain, I guess we can say she proved herself more than once by refusing the sword multiple times and claiming instead the Starlight Sword.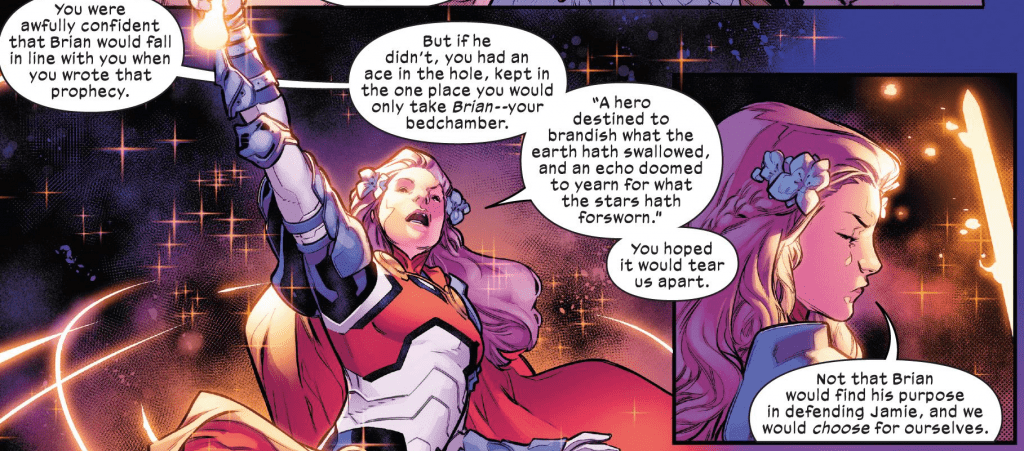 On the Thoth deck, Strength is called Lust and I think that's another interesting meaning regarding the lion. In the case of Brian, he still longs for his role as the original 616 Captain Britain and by doing so, he doomed himself to be the Braddock twin of the prophecy who would long for his lost destiny, but at least he was able to overcome Saturnyne's seduction. At the same time, Saturnyne's lust for Brian proved to be her undoing. Betsy instead was brave enough to choose her own fate and not be tempted by the Ominiversal Majextrix and her manipulations, she won not by physical means but instead by being strong enough to decide what role she wanted to fulfill.