Editor's Note: Tarot Readings are a major thematic and stylistic component of the 2020 X-Men comics event, X of Swords. Since it's not a field I know, I'm excited to bring in a specialist to provide unique readings based in the Tarot connections of the story. We'll be running these Tarot examinations following each of the event's 22 parts. Enjoy!
New Mutants #13 takes us on a deep dive on the meanings of The Lovers, Major Arcana number 6, the next chapter on The Fool's Journey.
* Spoilers For Discussed Comics Follow! *
Related Reading Orders:
Support For Comic Book Herald:
Comic Book Herald is reader-supported. When you buy through links on our site, we may earn a qualifying affiliate commission.
Comic Book Herald's reading orders and guides are also made possible by reader support on Patreon, and generous reader donations.
Any size contribution will help keep CBH alive and full of new comics guides and content. Support CBH on Patreon for exclusive rewards, or Donate here! Thank you for reading!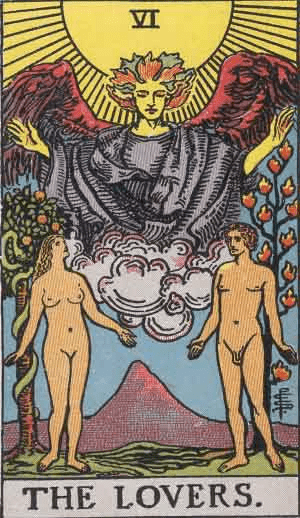 On this stage of the journey, you have reached a crossroad of sorts. It's the moment to face a choice, which path you will take depends on both parts of your mind, the conscious and subconscious represented by the male and female figures on the card, and once you make that decision there's no turning back.
Throughout this chapter of X of Swords we see Doug facing not only his own insecurities respecting his role as a champion of Krakoa in the Otherworld tournament, but also those of the people who care for him and/or also depend on his survival. He's not only afraid he might not make it out alive, he also has the great responsibility of being Krakoa's voice since he's the only mutant capable of understanding the living island. He must choose to fight and accept the task he's been assigned or to step back and relegate his place to someone more adequate for battle.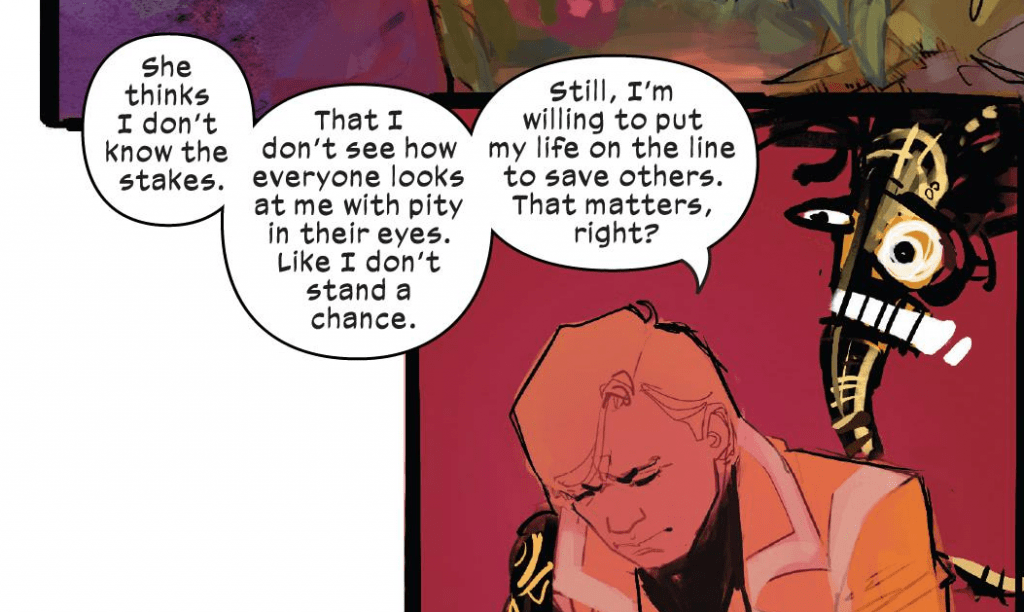 The scene displayed on the card is that of the Book of Genesis where Adam and Eve are tempted by the snake to taste the forbidden fruits from the Tree of Knowledge. The card is also about growing up, losing your innocence and being able to decide for yourself. When Adam and Eve ate the forbidden fruit they were banished from the Garden of Eden but they gained knowledge. Time and again, Doug is both patronized and tempted by everyone arounds him to quit but he chooses to do the right thing and not let anyone die for him, even if that implies he has to give up paradise.

The Lovers card also deals with relationships and any kind of human interactions, from friendship and family to actual lovers. Both Warlock and Krakoa were obvious connections to Doug. I find it interesting how on one hand Warlock doesn't try to stop him and serves him as his sword without hesitation, while on the other side Krakoa doesn't want him to go at all, but they both are willing to protect him. It's also curious how we know from the past, and from the future (through Moira's ninth life) that he's able to merge with the two beings.
However, I was struck to also see his relationship with Illyana being explored. It shouldn't surprise me since they are both part of the original New Mutants and were best friends with Kitty in the early days. Illyana calls him his family and there's a lot of links between the two of them. Their swords are examples of that. Although their natures, magical and technological, are opposites, they both adapt and change.
They are also key players in the Krakoan society, Cypher as a member of the Quiet Council as Krakoa's representative and Magik as one of the captains. She was also the first person he confessed his secret about hiding Warlock (In Giant Size X-Men: Nightcrawler
). I don't think there's a romantic relationship between the two of them, but they definitely share a connection.
Illyana tells Doug she doesn't think he's going to make it, and I don't think he will be killed, but it's worth taking in consideration that Adam and Eve didn't know what death was, and deciding to eat from the tree meant they chose to die.