Editor's Note: Tarot Readings are a major thematic and stylistic component of the 2020 X-Men comics event, X of Swords. Since it's not a field I know, I'm excited to bring in a specialist to provide unique readings based in the Tarot connections of the story. We'll be running these Tarot examinations following each of the event's 22 parts. Enjoy!
There's 22 Major Arcana cards in a tarot deck, and 22 chapters in X of Swords. I previously read into the connections between the first two chapters in the X-Men crossover and the cards number 0, The Fool, and number 1, The Magician. Now the next step on the journey is card number 2, The High Priestess.
* Spoilers For Discussed Comics Follow! *
Related Reading Orders:
Support For Comic Book Herald:
Comic Book Herald is reader-supported. When you buy through links on our site, we may earn a qualifying affiliate commission.
Comic Book Herald's reading orders and guides are also made possible by reader support on Patreon, and generous reader donations.
Any size contribution will help keep CBH alive and full of new comics guides and content. Support CBH on Patreon for exclusive rewards, or Donate here! Thank you for reading!
You were born, you've become a "self-conscious" individual and now you observe, you study, you prepare. This is a card of knowledge. While The Magician was more active, manifesting his will on this plane, The High Priestess prefers to work on the depths of herself. She sees inward and works to spiritually grow from her intuition. At first it can be odd to relate this card to Wolverine and his quest for Muramasa, but as we see in this issue, he reflects on his past, learning from it and not letting it stop him, but instead finding how it can serve him in the present.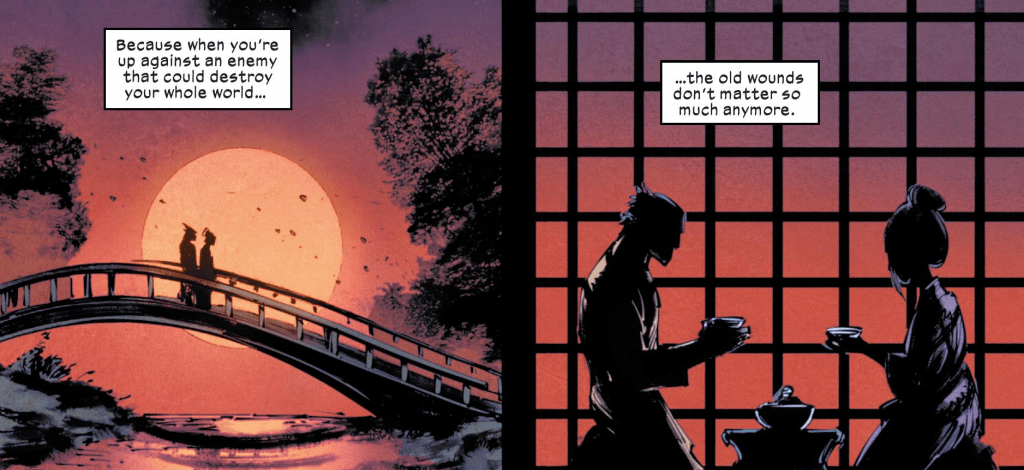 If you take a closer look at the card you can see how the priestess's dress becomes a flow of water, and at her feet there's a crescent moon. Both these symbols represent the subconscious, getting in touch with your intuition. Wolverine has been known for letting his intuition guide him, even when his senses are fooling him. You could even say his descent to Hell can be seen as a metaphor for descending to the dark corners of the subconscious mind.

The pillars on both sides of The High Priestess are Boaz and Jachim, from Solomon's Temple. They stand for duality, the dark and the light, the unknown and the truth. Finding revelation in what's hidden. Wolverine's path has been of his constant fight against himself, his animal side against his rational one. And I don't think either of them is the better one, both of those sides are part of him.
We see Wolverine confronting Krakoa itself since he doesn't trust it. Of course he doesn't know Krakoa wants its other half back, but he's divided between wanting the best for the mutant kind and trusting the living island. You could say it is either because of his intuition or his animal side, but he's been open about his unwillingness to sit back and enjoy paradise. The challenge of the card is being able to recognize when you're listening to your inner self and when you're just being paranoid. It is also a card of secrets, hence the veil behind her back, and she's considered the patron of the Tarot. After all "arcana" means "secrets."

On the Arakko side of things we got Solem, an ancient Arakkan mutant who has been sentenced to a lifetime in a pit, just like Sabretooh on Krakoa. But the truth is he could have gotten out whenever he wanted, much like The High Priestess he's been patient, like his name suggests, waiting for his moment.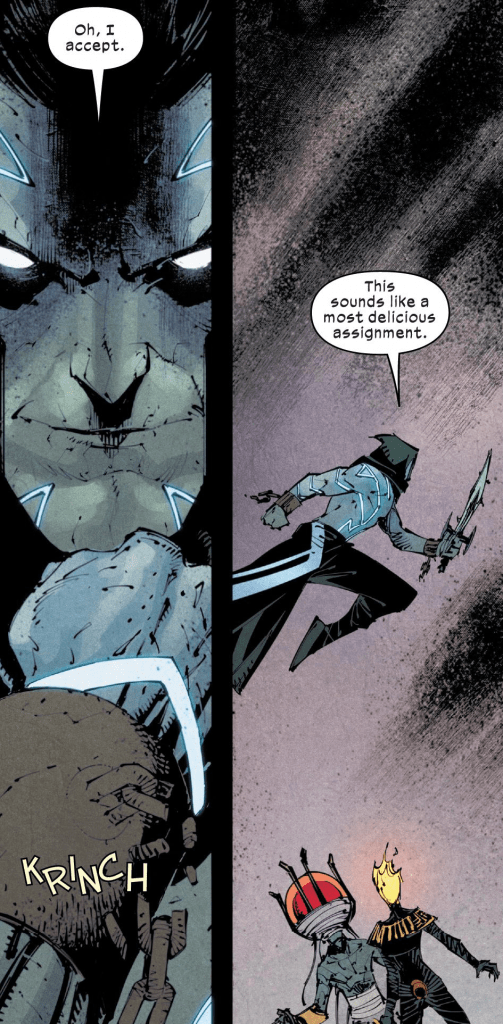 Finally, the priestess' hat has been linked with, among other things, the Egyptian goddess Hathor and her solar disk with cow horns, which at the same time, resembles Pestilence's head. One of Hathor's functions was to help souls in the after life and she was connected to tombs, maybe that's where the mummy-like design comes from.
Just like Polaris, Pestilence is responsible for enlisting the champions to fight in the Otherworld tournament. The Magician and the High Priestess are considered to be counterparts. Also, the crescent moon at the priestess's feet is a symbol of The Woman of the Apocalypse, in the Book of Revelation.