Editor's Note: Tarot Readings are a major thematic and stylistic component of the 2020 X-Men comics event, X of Swords. Since it's not a field I know, I'm excited to bring in a specialist to provide unique readings based in the Tarot connections of the story. We'll be running these Tarot examinations following each of the event's 22 parts. Enjoy!
The Fool's Journey continues, this time with major arcana number 17, The Star, and Hellions #6, chapter number 18 in the X of Swords event.
* Spoilers For Discussed Comics Follow! *
Related Reading Orders:
Support For Comic Book Herald:
Comic Book Herald is reader-supported. When you buy through links on our site, we may earn a qualifying affiliate commission.
Comic Book Herald's reading orders and guides are also made possible by reader support on Patreon, and generous reader donations.
Any size contribution will help keep CBH alive and full of new comics guides and content. Support CBH on Patreon for exclusive rewards, or Donate here! Thank you for reading!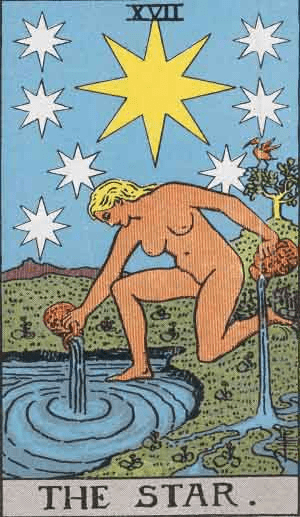 The Fool lost everything on The Tower, so he had to leave his comfort zone and build from the start. This card often comes up when things are not going your way. It's not exactly a happy card, but it lets you know that things will be fine. We see a naked lady, a sign of vulnerability, she's pouring water with one foot in the land and other on the water, like the angel from Temperance. Except that instead of mixing the water she's nurturing her body and material world by letting her emotions run free.
The Hellions were supposed to be Krakoa's hope of stopping the tournament before it even started, by retrieving the swords from the Arakii mutants. At the beginning of the issue we see them battered and exhausted after traveling to get to the Arakii portal but their voyage didn't bear any fruit because the champions already went to Otherworld by the time the Hellions arrived at their destination. The Star is the card of wishes and when it's reversed it could show deception, or circumstances that do not meet your expectations. Also, this may just be a coincidence, but there's 8 stars on the card, just like there's 8 Hellions on the Team, counting Sinister.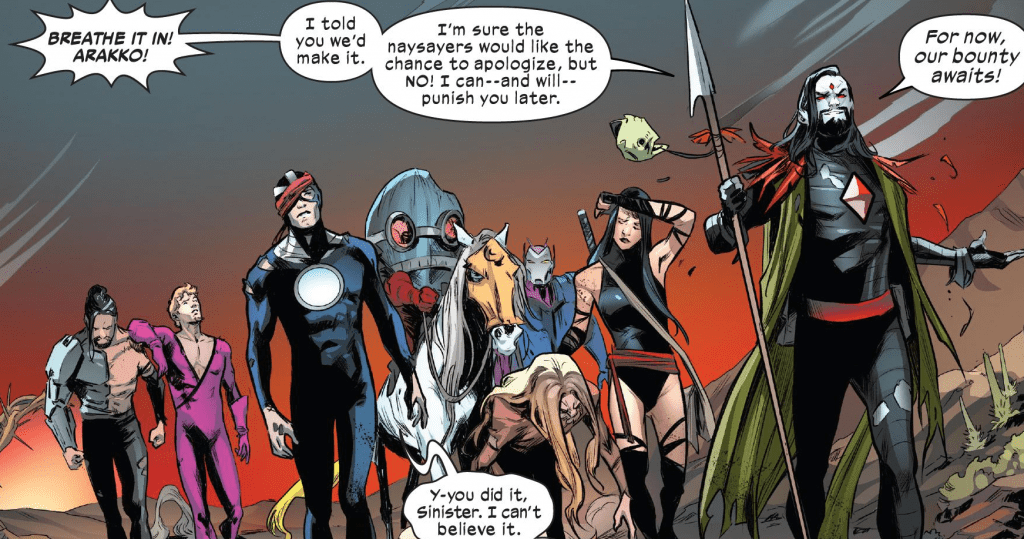 Things seem dire for everyone except for one person in particular, Sinister, whom I predicted wanted to get sent on this mission to accomplish his own desires, in this case, to collect the DNA from the mutants of Arakko. The Star is about the dreams that drive you forward, and there's nothing more motivating to Mr Essex than a chance to amplify his genetic stock.
We are also introduced to the Locus Vile, a group of mutants who follow Tarn the Uncaring as their star. He serves as a counterpart to Sinister since he has the power to manipulate the genes of the Arakii mutants and exalt their mutations, which happens to be what the Hellion's leader has done since always. The Star card also deals with pulling your talents, those that give you hope when all else is lost. We can consider mutants as gifted by their powers and the data page says that those who follow Tarn give themselves to him in order to undergo his macromutation.
Science and technology are also big themes represented in this card, as it deals with dreaming of the future, and technology helps humanity to get closer to achieve their collective dreams such as curing diseases or traveling to other planets. In the case of Sinister he just wishes to create the perfect mutants, first by getting his hands on Cyclops and Jean's DNA to create Cable, and now by creating chimeras made of the genes of different mutants, and who knows how his new prize will influence his plans. He doesn't care what he needs to do to accomplish his goals, not even deserting his own team. Speaking of the future, I wonder if Wildchild will be manipulated by Tarn and his powers and come back as part of the Locus Vile.