As Secret Wars hits a half-time break, its forward momentum farms out to several new tie-in books. Incumbent Star-Lord scribe Sam Humphries takes the opportunity to rebrand with fugitive Liferaft survivor Peter Quill hiding in plain sight, his new "undercover" status quo predicating more as a series of gags than any serious long-game plan. Building on this house of larks, it's no coincidence that his cover blows before too long.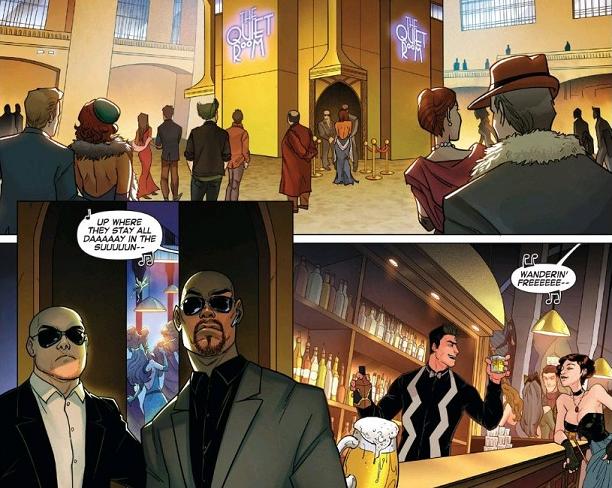 There's a vague sense that Humphries is outlining a high-stakes adventure/romance, however the first portion doesn't exactly sell that to its truest potential. Instead, we get an entertaining yet slightly silly lampoon on corporate synergy laced with noir-heavy retro overtones. Placing the action inside Black Bolt's Casablanca-esque night club, The Quiet Room, is a perfect fit as Humphries turns the proceedings into a cross between a classic Disney animated feature and Batman The Animated Series.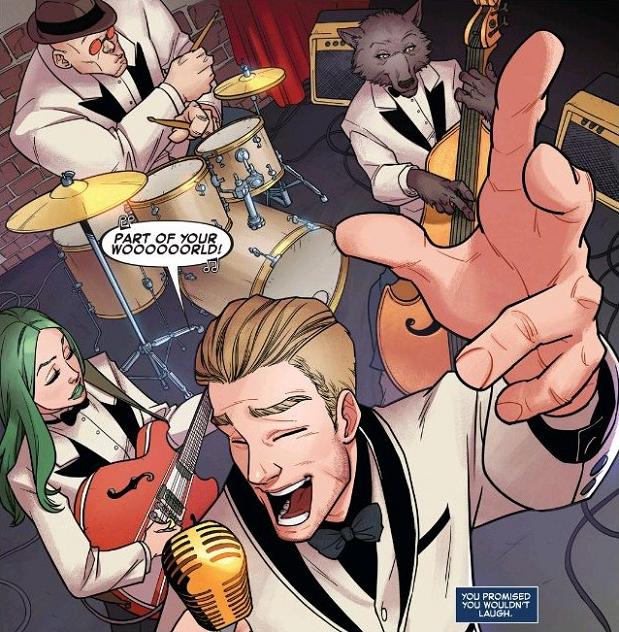 Trading more on zings and charm than a steady drive to a greater endpoint, there is an element of imbalance. Writing Star-Lord's solo exploits for well over a year, Humphries shows obvious familiarity and facility with the character. In fairness, the writer doesn't often portray Peter Quill immersively interacting with "Earth culture", so showcasing that here is indeed welcome. Quill's twist reasoning for his stage name ("'Swingin' Stevie Rogers") and "inspired musical genius" is also a very smart bit.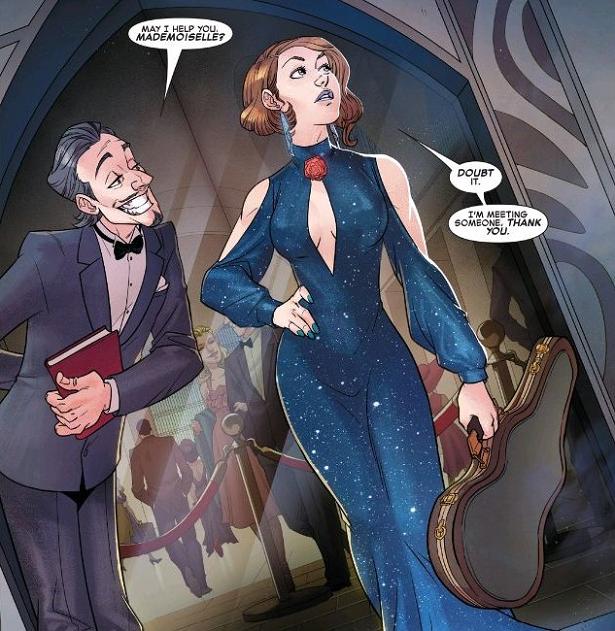 Sadly, in all this, Humphries downplays his new titular co-star. Kitty Pryde comes off as something as a blank slate despite her whip-smart intelligence and beguiling intensity. For all of Quill's winky POV and multiple informational flashback sequences, Humphries just kind of lazily assumes his audience understands that this is the Kitty Pryde from the legendary Age of Apocalypse. Depending on how you look at it, it's either a saving grace or yet another crutch that Pryde's contact, Gambit the Collector, bullet-points some of her current Battleworld credentials. Hopefully, this remedies and she gets more spotlight next issue.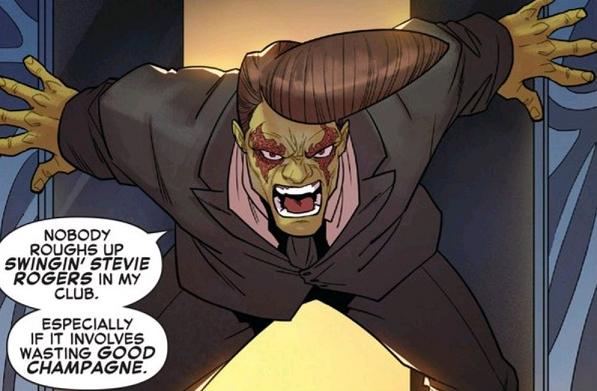 The most solid contribution definitely comes from the visual department, countering and complementing the schtickfest.  In addition to the punchy and expressive word-ballooning of veteran letterer Joe Sabino, the art team boasts a line-up of relative newcomers to the House of Ideas. Cover artist Yasmine Putri depicts a scene that is maybe more metaphoric interpretation of where this issue lands than any actual depiction of the interior contents. After a stint on the interdimensional X-Treme X-Men series a few years back, color artist Jessica Kholinne returns with fellow Heavy Metal Magazine alum, artist Alti Firmansyah, making her Marvel debut. There's an inherent streak of stylization but edginess is traded-off for lush flares of cartoonish absurdity (ie, Drax's monumental pompadour). Somewhere, Tex Avery smiles down on this comic…
Support For Comic Book Herald:
Comic Book Herald is reader-supported. When you buy through links on our site, we may earn a qualifying affiliate commission.
Comic Book Herald's reading orders and guides are also made possible by reader support on Patreon, and generous reader donations.
Any size contribution will help keep CBH alive and full of new comics guides and content. Support CBH on Patreon for exclusive rewards, or Donate here! Thank you for reading!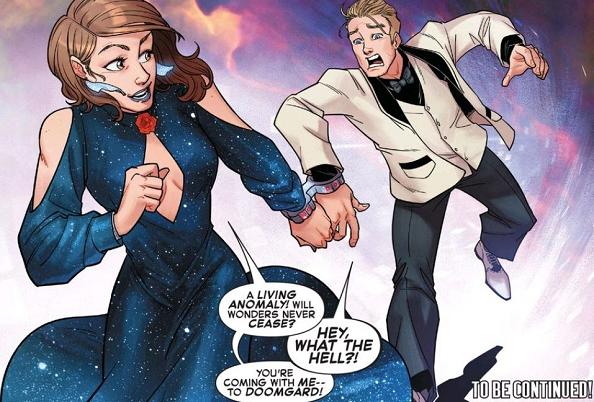 It seems Humphries and company intend a star-crossed rom-com with a hint of Midnight Run. That said, this issue is deceptively subtle in the route it takes getting underway. So far, we're treated to an ultra-swanky affair yet the current tenor reads more as an adversarial "Vs." than as a cooperative "And" (but that's how all great love stories start, right?). Featuring the "prime" Peter Quill, there's no question this story "counts" however it's opting for light-hearted larfs over it's potential for over-the-top drama and deep introspection. Not a perfect opener but amusing and beautifully constructed.