What do you want from a follow-up to Avengers: Endgame? Historically, Marvel has followed up the biggest most game-changing events in the MCU with lighter comedies or character introductions (Ant Man & The Wasp, Doctor Strange). The reaction has been a mix of praise (this mint after a heavy meal is exactly what was needed!) and resignation (well, I guess not every story can be the biggest one ever told).
For my money, the MCU's never needed a transition film with a sense of purpose as strongly as Spider-Man: Far From Home. The entire MCU has come to as close to an ending as a comic book storytelling perpetual motion machine can come. Which of course, leads to the question I've been pondering: "What do you want from a follow-up to Avengers: Endgame?" Before I get to how effectively Spider-Man: Far From Home meets my criteria, I should explain the muddled criteria.
1) 5 years later acknowledgment – Endgame jumping 5 years into the future – and for the first time putting the Marvel Cinematic Universe out of sync with our own timeline – is one of the boldest and most exciting developments in the film. "Far From Home" is the first movie that needs to make some sense of this!
2) Glimpse of the future – It's a new era for the MCU, and Spider-Man is predictably at the forefront of the new wave. It's "Far From Home's" job to clarify elements of this future.
3) Surprises – Above all, I want my expectations to be shattered, and to come face to face with ideas I hadn't anticipated! Oh, and while doing all of the above, I also want a killer Spider-Man movie. I don't ask for much, huh?
Support For Comic Book Herald:
Comic Book Herald is reader-supported. When you buy through links on our site, we may earn a qualifying affiliate commission.
Comic Book Herald's reading orders and guides are also made possible by reader support on Patreon, and generous reader donations.
Any size contribution will help keep CBH alive and full of new comics guides and content. Support CBH on Patreon for exclusive rewards, or Donate here! Thank you for reading!
* NOTE: Spoilers Follow *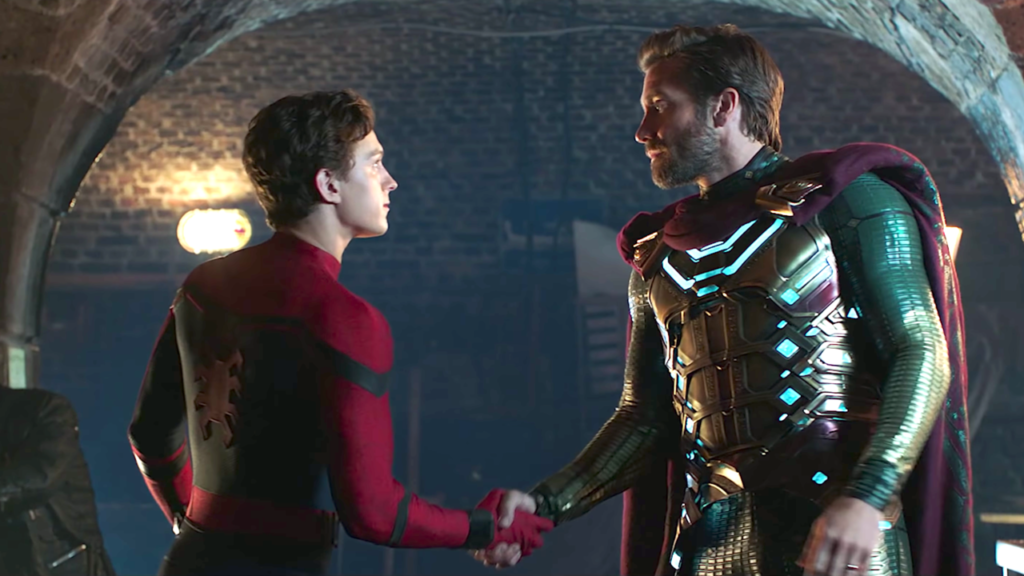 How Well Does Spider-Man: Far From Home Follow Avengers: Endgame?
First things first, Spider-Man: Far From Home is an extremely enjoyable Spider-Man movie, full of the wit, charm, and spectacular action that made Spider-Man: Homecoming one of my ten favorite entries in the MCU power rankings (updated rankings below!). There's really no question in my mind whether this is a worthwhile film, or whether the MCU continues its unprecedented reign of excellence.
Tom Holland is easily my favorite Peter Parker, Jake Gyllenhall transforms Quentin Beck into the *best* Spider-Man villain in the MCU, and Zendaya is so unquestionably the best Mary Jane in cinematic history it's offensive for anyone to even suggest otherwise. Everything about this Spider-Man universe makes me want it to continue for as long as humanly possible. With that said, let's explore how "Far From Home" works as the follow-up to Endgame.
1) 5 Years Later Acknowledgement
There were two potential on-ramps for "Far From Home's" first Endgame connections, and the high school powerpoint recap was definitely the right call. Rather than wallow in the emotion of Endgame's finale, "Far From Home" recapped the events in the tried and true Marvel Studios method of the comedic undercut.
There's still a part of me that wants to see "The Blip" explored more thoroughly (the world seemed borderline apocalyptic!) but that was never going to be "Far From Home's" lane. Instead we get the minimum requirements necessary to move on, with the likes of Aunt May hosting a benefit for those who blipped and suddenly found their lives uprooted, or Martin Starr's wife "pretending" to blip in order to run away with a new man.
There's definitely a part of me that feels like the world seemed a little too well recovered too quickly, allowing Peter's Europe vacation to carry on like very little had changed. The further we get from Endgame with the world overly "business as usual" is going to feel like a missed follow-up. All in all, I'd say "Far From Home" does just enough here to keep the chains moving, without really excelling.
2) Glimpse of the Future
Intriguingly, Spider-Man: Far From Home simultaneously appeared to address the dilemma of a post-Endgame Avengers, while never actually intending to answer the question. While I would have been curious to see some new look Avengers, or at least a sense of who's on call (Thor, Doctor Strange, and Captain Marvel were all firmly *out*, at least for the moment), "Far From Home" benefits from the feeling that nobody else is coming to save the day.
The result is a stakes-raising sense of isolation, but no real clues to the direction of the MCU at large. The biggest picture clues actually come from the final post-credits tease, with the *real* Nick Fury (and yes, I love that it wasn't actually Nick getting played by Quentin Beck) on a Skrull-y space station. I like to think Nick would come back from Endgame thinking he needs to point his eye on the cosmos at large, or get blindsided again.
3) Surprises
Has a post-credits sequence ever done more to elevate a film's standing than Spider-Man: Far From Home? The mid-credits scene is a direct continuation of Peter and MJ's first websling, and transforms a romantic ending into a completely new world for Spider-Man. In the words of Anchorman, "that escalated quickly!"
I was *expecting* either the reveal that Mysterio wasn't actually dead (never believe *anything* you see with Mysterio!), or the reveal that despite his BS, the multiverse was actually real (more on this in a moment). Instead, "Far From Home" catapulted Mysterio's lasting impact (he cements Spider-Man as a murderer *and* reveals his identity to the world), and dropped the return of the one and only J. Jonah Jameson, JK Simmons!!! Mysterio himself wasn't a surprise for me, but I still hadn't anticipated his exact game, his connections to Tony Stark, or even that the entire multiverse story would be a lie.
The real twist came in the mid-credits though, and for my money, it's a 5 star twist. Complete and absolute win on this front, changing the landscape of everything Spider-Man related from here on out. And that's all before we even talk about Skrulls!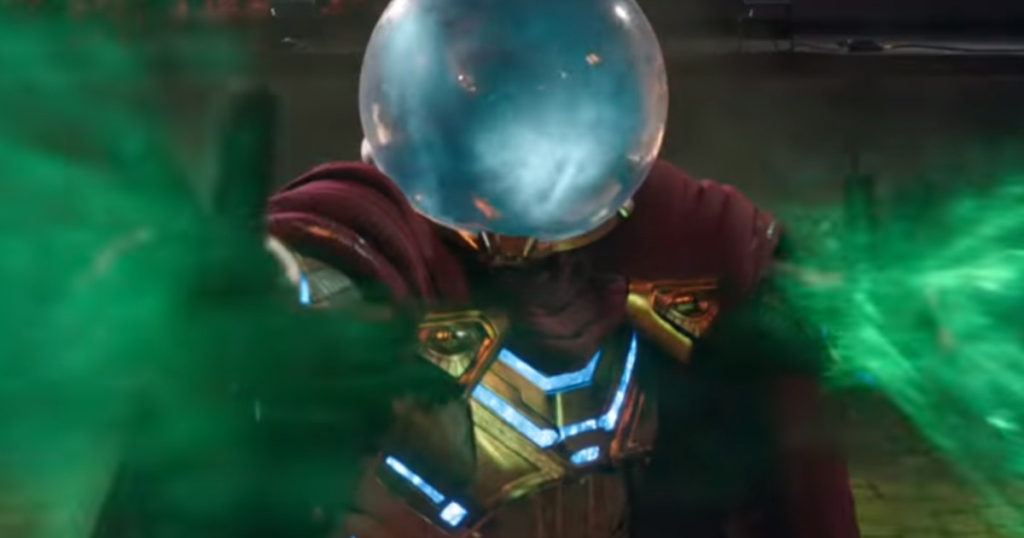 Where Does Spider-Man Far From Home Rank in the MCU Power Rankings
Whereas Marvel's other 2019 entries led to some serious hand-wringing (I ultimately placed Avengers: Endgame #2 all time, and Captain Marvel among the "Good" third tier), Spider-Man: Far From Home actually feels pretty easy to place.
The Spidey sequel's ceiling is Thor: Ragnarok (Far From Home simply isn't as funny, nor is it a serious contender for a Tier 1 "Best" movie), and the floor is Captain Marvel. I can make a case for Far From Home rivaling Netflix Daredevil (all three seasons), Spider-Man: Homecoming, and Iron Man (the OG). Ultimately, though, the real challenging question remains: is "Far From Home" better than "Homecoming."
My gut post-viewing reaction is a pretty easy "yes," but two things keep me from settling on the ranking that easily 1) How much is recency bias factoring into my ranking and 2) "Homecoming" is surprisingly divisive among Spider-fans, which kind of makes me want to stick to my guns and defend the movie wherever possible. "Homecoming" also benefits in my estimation for seamlessly weaving Spider-Man into the Marvel Cinematic Universe after around eight years of assumptions that he simply couldn't join.
Ultimately, though, I simply prefer the villain (good as Keaton's Vulture is, Mysterio is among my MCU favorites), visual effects, and stakes of "Far From Home." They're very comparable movies in many regards, but "Far From Home" feels like the better re-watch to me.
Tier 1: The Best
1) Avengers: Infinity War
2) Avengers: Endgame
3) Jessica Jones (Season 1)
4) Avengers
5) Guardians of the Galaxy
6) Thor: Ragnarok
Tier 2: Great
7) Captain America 3: Civil War
8) Black Panther
9) Captain America 2: The Winter Soldier
10) Daredevil (Seasons 1,2,3)
11) Spider-Man: Far From Home
12) Spider-Man: Homecoming
Tier 3: Good
13) Iron Man
14) Captain Marvel
15) Captain America: The First Avenger
Tier 4: Perfectly Average
16) Guardians of the Galaxy Vol. 2
17) Iron Man 3
18) The Punisher (S1, S2)
19) Ant-Man & The Wasp
20) Avengers 2: Age of Ultron
21) Ant-Man
Tier 5: Mixed Feelings
22) Runaways (Season 1)
23) Doctor Strange
24) Luke Cage (Seasons 1 & 2)
25) Thor 2: The Dark World
26) Cloak & Dagger (Season 1)
27) Defenders
Tier 6: I'll Only Watch With a Comic In Hand
28) Thor
29) Agents of SHIELD (Seasons 1 through 4)
30) Agent Carter (Seasons 1 & 2)
31) Iron Fist Season Two
32) Incredible Hulk
Tier 7: Nope
33) Iron Man 2
34) Jessica Jones (Season Two)
35) Missing a stair
36) Iron Fist Season 1
37) Cat sick in your bed
38) Inhumans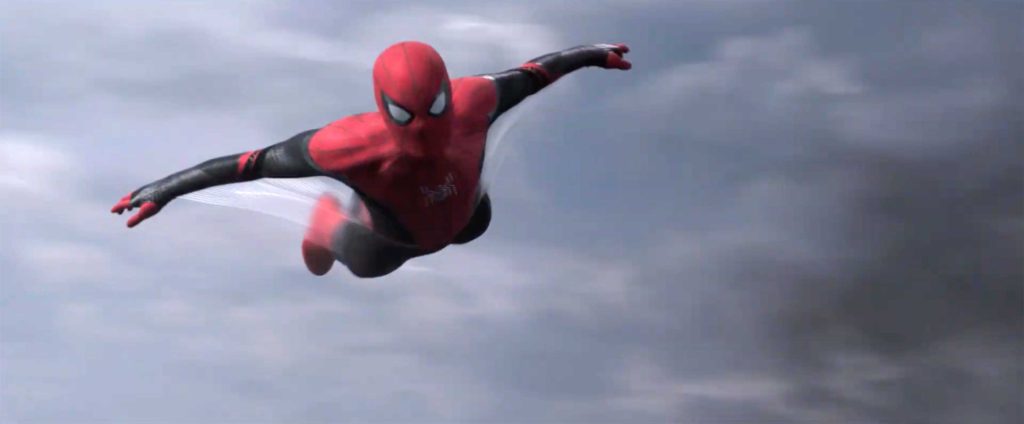 10 More Thoughts on Spider-Man: Far From Home
1) My "Far From Home" Dreams
Before viewing, I made a list of Spider-Man Far From Home hopes and dreams. Here's my list, and how the film stacked up!
+ Get WEIRD with that multiverse. I want Spider-Man and Mysterio to actually travel to alternate realities, instead of just "elemental monsters" coming to them. As unlikely as it is, too, a "dark" Tony Stark would blow people's damn heads off (I have a supply of fishbowls readily available).
What happened: Definitely not this! The multiverse was entirely a ruse, and alternate realities are still an apparent pipe dream in the MCU.
+ Ned as an agent of SHIELD.
What happened: Ned got married, and was too distracted with Betty Brandt to really be of much help to Peter. I can still totally see Ned running comms next to a baffled Maria Hill, but no dice.
+ Quentin Beck's world threatened by the Beyonder, and he's just trying to save his own butt.
What happened: I flippin' love Secret Wars.
+ At least one alternate reality hero busting through the multiverse and into the MCU for good.
What happened: Again, no multiverse. I really bought into that idea, huh?
+ No other spider-people. Let Sony's animated "Into the Spider-Verse" own the corner. It's fine.
What happened: Well, technically this one hit! It's not super relevant given the direction of "Far From Home," but anything resembling a "Spider-Verse" will be a really tough story to pull off in the MCU without looking like the imitators.
2) Multiversimilitude
While I tend to find it strange when fans are beholden to the plot promises of trailers, I actually found myself baited hook, line, and sinker into Mysterio's claims of a Marvel multiverse. I was too excited for this array of alternate realities to make it to the Marvel Cinematic Universe to even think straight.
So yes, I'll admit to some disappointment that the multiverse played zero role in "Far From Home," and worse, doesn't appear any more likely to happen in future films. This still feels like the clearest path to new franchise introductions (here's looking at you, Fantastic Four), but it's just foolishness to question the MCU brain trust at this point.
3) Sinister Six
I don't know that the film needed it, but the complete absence of Michael Keaton's Vulture and the would-be Scorpion was mildly surprising after "Homecoming's" tease that they'd remain relevant. Vulture was also keeping Spidey's identity in his back pocket, which sure seemed like an important detail, until it was, you know, broadcast to the world.
This could be the Spider-Man PS4 talking, but it's starting to feel like MCU Spider-Man is pretty well positioned for a Norman Osborn or Otto Octavius to corral the budding rogues gallery into a Sinister Six showcase.
4) What is Dead May Never Die
Marvel's actually been appreciatively careful about bringing characters back from the dead, but Mysterio would be a great first trial run. The illusion of his death is built into the character concept (whereas, say, Crossbones return would feel like diminishing the permanence of death).
Likewise, Gyllenhall's Mysterio as Avenging mentor was such a convincing performance that I'm actually rooting for the return of the version of his character who's like "No, I'm actually Mysterio from Earth 833." This will, of course, be a lie, but still!
5) There Is No Mandarin Award – 2019
The "There is no Mandarin Award" for villain most thoroughly wasted in service of the plot could well go to Mysterio! If he's actually dead (he's not), that would be an enormous waste of a great Spider-Man villain.
That said, even if Mysterio is dead for realsies, he still can't touch the astonishing repeated wastefulness of Ronan the Accuser (our frontrunner from Captain Marvel, and still champion). If that was Mysterio's one shot at glory, he maxed out pretty effectively. Meanwhile, Ronan's the only repeat winner of the coveted CBH "There is No Mandarin" award, a feat the entire Kree empire should be proud of.
Our past winners:
2013: The (Not) Mandarin
2014: Ronan the Accuser
2015: Baron Von Strucker
2016: Cottonmouth
2017: Surtur
2018: The Black Order
2019: Ronan the Accuser
6) Spider-Man YOLO More
On one hand, I get high school Peter Parker wanting to live a somewhat normal life. That said, it felt like Peter goes "Spider-Man No More" way too easily! Honestly the concept of Peter Parker taking a summer vacation with no plans to Spider-Man is quite at odds with the guilt typically motivating the character. It's believable, but it felt odd to me.
I was briefly irritated that he seemed to be turning his back on responsibility, but of course every time he does this, he gets pulled back in and can't help but, well, help people. I've never once taken issue with the franchise's shorthand for Uncle Ben, but this felt like a moment where a clearer Uncle Ben presence would have made not packing a Spidey suit a much more fraught decision.
7) The Gift
Tony's gift to Peter is… genuinely strange. The capability to order a drone strike is played for laughs but … wtf Tony?
I'll be honest, I find the entire Stark Enterprises / Peter Parker relationship pretty confusing. If Tony had indeed made up his mind that Peter was the future, why not formalize this with actual access to Stark industries equipment or facilities? Especially given his ongoing ties to Happy, how much access does Spider-Man actually have?
It's also worth calling out that Tony Stark – noted *former* weapons developr – has satellites all over the globe capable of devastation on near unimaginable scales. He died the hero, but the ethical implications of Tony's continued defense efforts look *weird* in high school Spidey's hands.
I'll admit this is all digging into a plot device mostly played for laughs, but I found it troubling. Cool glasses, though.
8) You Can't Fight Love
16 year old Ned basically getting married on the flight to Europe was a damn delight. Welcome to the MCU Betty Brandt!
9) Missing: Black Panther
I don't get why Spider-Man would ask what Avengers are available and stop after Doctor Strange, Thor, and Captain Marvel. Sure, Iron Man and Cap are off the board, but you're telling me SHIELD isn't in contact with Hulk, Hawkeye, Scarlet Witch, Sam Wilson, Bucky Barnes, Ant-Man, Wasp, or the nation of Wakanda? I get the future of the Avengers is uncertain, and "Far From Home" is taking a shortcut to keep this Spider-Man movie focused, but that seems like plenty of allies to consider.
My hope is T'Challa and Wakanda are responsible for getting the next wave of Avengers up and running.
10) The Unbeatable Hydro Man
Finally, Peter better hope he never faces the one true Hydro Man, given his approach to fighting the water elemental was shoot two webs, get soaked, and run around barely keeping buildings from collapsing. I don't want to say Spider-Man was useless, but not exactly using any of that Parker brain in the first skirmish.