Sentient
 was one of my favorite comics of 2019, and the TKO Studios sci-fi mini is now a 2020 Eisner nominee for "Best Limited Series." Creators Jeff Lemire, Gabriel Walta, Steve Wands and collaborators work to create an ambient, isolated space adventure with a mission gone horribly awry, and only children and their onboard artificial intelligence left to guide the vessel safely to a new homeland. It's a gripping and occasionally heartrending read, with Walta's gorgeous art and colors deliciously well-suited for the larger TKO Studios release format.
I had the chance to ask Lemire and Walta a variety of questions about the work in the wake of their Eisner recognition, and you'll find their thoughts on the work below!
*Some Spoilers for Sentient May Follow!*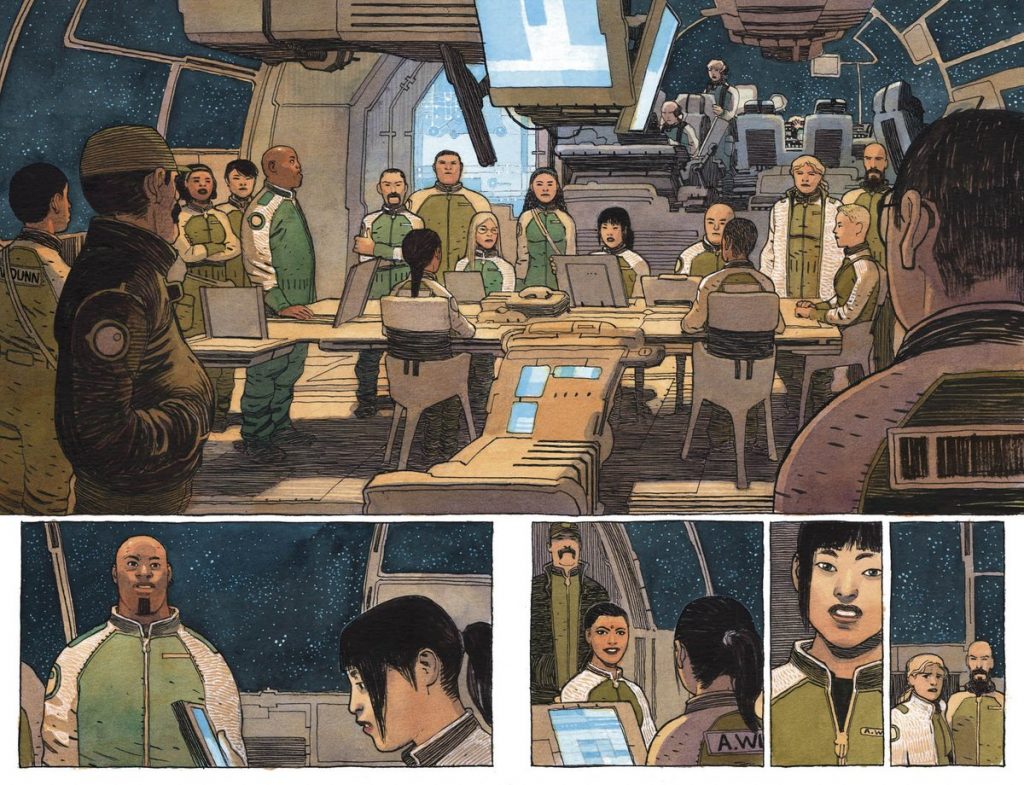 First off, for the Sentient team – I greatly enjoy the work, and congratulations on the Eisner nomination!
Gabriel Walta: Thanks so much!! I'm so happy for getting this nomination with a book I'm so proud of!
Support For Comic Book Herald:
Comic Book Herald is reader-supported. When you buy through links on our site, we may earn a qualifying affiliate commission.
Comic Book Herald's reading orders and guides are also made possible by reader support on Patreon, and generous reader donations.
Any size contribution will help keep CBH alive and full of new comics guides and content. Support CBH on Patreon for exclusive rewards, or Donate here! Thank you for reading!
How did this project come about? What drove the ideas and the collaboration?
Jeff Lemire: This was a unique project for me, in that the initial germ of the idea didn't come from me but rather from Tze Chun, the publisher at TKO. He had the basic log-line of "All the adults on a spaceship die and the ship's A.I.has to raise the children left behind." I was immediately taken by the idea and its potential and ran with it. The idea itself plays up to so many of the themes and ideas I like to explore in my personal work that it seemed like a natural fit.
And when Gabriel came on board and started making the ideas come to life, it all started to sing and I knew we may have something special.
Walta: I just sent a message to Jeff telling him how much I loved all his work (I had just finished the Spanish edition of Black Hammer
by that time) and he told me that we should do something together. I answered that I was about to finish my Marvel exclusive contract and that I'd LOVE to start a project with him…and a  couple of weeks after that I received the script for SENTIENT #1!
How do you approach writing/art for the TKO model of distribution differently?
Walta: The truth is that knowing that the reader will get the story all at once makes a huge difference, as you are able to think of the book as a whole in every aspect. Also, the fact that the deadlines were a lot more relaxed than in a monthly book allowed me to take my time to do a lot of sketches of the characters, the ships, the color palettes…
Lemire: I've been making comics for a while, so whenever you have the chance to do something a little differently, in this case with TKO's unique form of packaging and distribution, it's attractive to me. Having said that, I don't think the format of the distribution of the story influenced the way I wrote it. At the end of the day it was still a six issue comic collected into a graphic novel, so the actual format was in line with how I usually work. I just tried to find the most interesting and exciting elements of the idea and build around those.
While science fiction often warns us against the dangers of artificial intelligence, it's a rarity that AI takes a turn for the *better*. What inspired this approach to the story?
Lemire: I think there is a real tendency in today's society to automatically go to the negative. To expect the worst. But I think now, more than ever, we need to tell stories of hope. There is no reason why technology can't also help us and bring us together. We don't have to let it divide us like we are doing now. So I wanted to present a counter argument I guess.
How did you approach designing the look and feel of the technology in this far flung future?
Walta: I wanted the book to feel as organic as possible, even the hi-tech stuff. I always like to integrate the characters and their surroundings and, with the ship being the body of Valarie, in this book it was even more important to get that organic feel for all the elements of every panel (also, I'm really bad at drawing clean tech stuff!!).
Another thing that I used to design the ship were my memories of my boat trips as a kid when we visited our grandparents every summer.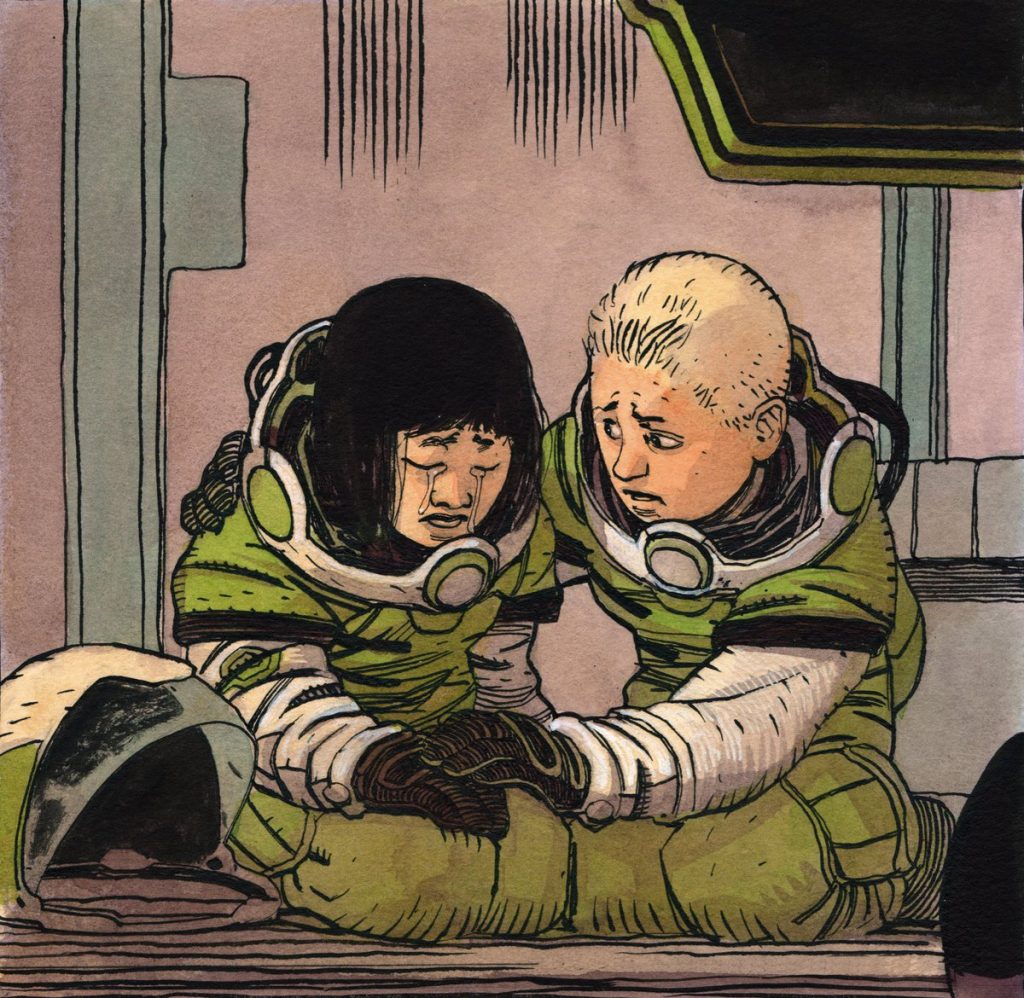 Your vast bibliography has its share of tearjerkers, but even so, the first two issues of Sentient are heartbreaking and occasionally horrific. What drove this approach, and why did you think it was essential to take the adults off the board so early?
Lemire: That's just how I tell stories I guess. I like really emotionally heightened stories. Things that make you feel something. In terms of taking out the adults right away, I felt the story needed to be set into motion right away. I feel like the first issues needed fully present the "mission statement" of a series and leave it in a place where the reader needs to come back for #2.  To do that you need. to emotionally invest in the characters and in the story.
Since the core characters are children (and a robot!), do you take a different approach to action and expressions?
Walta: I tried to draw the kids as real children, not small adults, and also wanted to make sure that the reader could get that they all had different personalities and different ages through their body language and face expressions.
For Valarie, I used the screen and mechanical arms as they were heads and that gave me some chances to use some kind of (mechanic) body language to work with.
Also, I have to say that Jeff's dialogues made all the characterizations a lot easier!
Across works like Ascender
and Trillium
, you've worked successfully in the realm of science fiction before. What is it about the world of Sentient that engages you in different ways?
Lemire: Unlike Sentient, Trillium plays more into the "mystery and awe" style of sci-fi like 2001: A Space Odyssey, and Descender/Ascender is straight up Space Opera. With Sentient I was able to scratch those "lonely, claustrophobic" sci fi stories that I also love, the ultimate example being Alien.
Valarie is a sentient AI charged with protecting children, so we're inherently on her side. That said, developing an emotional attachment for a "voice" that we only occasionally see even rooted in robotic tech is a challenge. How did you work to bring Val to life?
Lemire: I tried to present real change and progress in her personality. She starts off very mechanical and logical and then, along with the reader, she becomes more human and sympathetic. She was really a lot of fun to write. I loved that she rarely had a physical body on panel, it made everything she said even more bold and important to the story.
Throughout Sentient, you're frequently drawing sequences where the primary conversation is being held by onboard AI (Valarie/Victor), occasionally not even visible in panel. How do you choose where to focus attention and action during these sequences?
Walta: I just worked with Valarie as she were another character, so the kids would talk to her as if they were talking with a human being. That, along with the blue I used for her screens and "eyes", allowed me to focus attention on Val's every interaction.
Anyway, Valarie didn't feel alive until Steve Wands made the awesome lettering of the book.
Any plans or interest in returning to the world of Sentient?
Walta: Sure! I totally think that there are more stories to tell about Val and the kids!
Lemire: None at the moment. But never say never. Especially if Gabriel were involved.
If you returned to the world of Sentient, what would you be most interested in bringing to life?
Walta: I'd love to make a short story about the day the USS Montgomery left Earth and, of course, it would be great to show the new life of all the kids and Val in the colony.