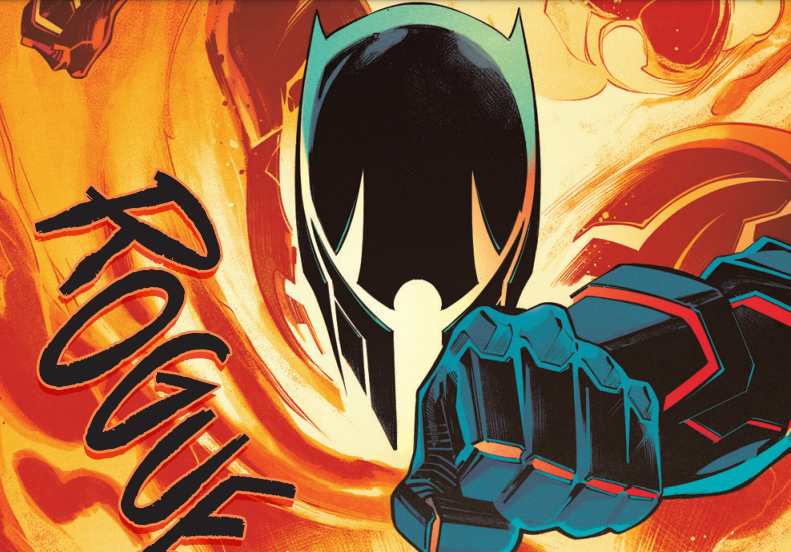 Earlier this year, we met the hero Rogue Sun during Supermassive, but we also learned he would die. So this is the set-up for the Rogue Sun comic. Dylan, the newest person to assume the mantle, has to find out who killed his dad and how to defeat a threat capable of that without knowing anything about being a hero. Writer Ryan Parrott and artist Abel craft a whodunnit mixed with a great superhero story.
In the first pages, we see Marcus Bell fighting a mysterious hooded being that knows who he is and how to mess up with the source of his powers, the sun stone. He is easily defeated. Then it cuts to Dylan, the son which Marcus abandoned. And Dylan, not surprisingly, hates his dad with all his might because the man didn't even try to get to know him. He only seemed good at one thing: making Gwen, Dylan's mom, sad.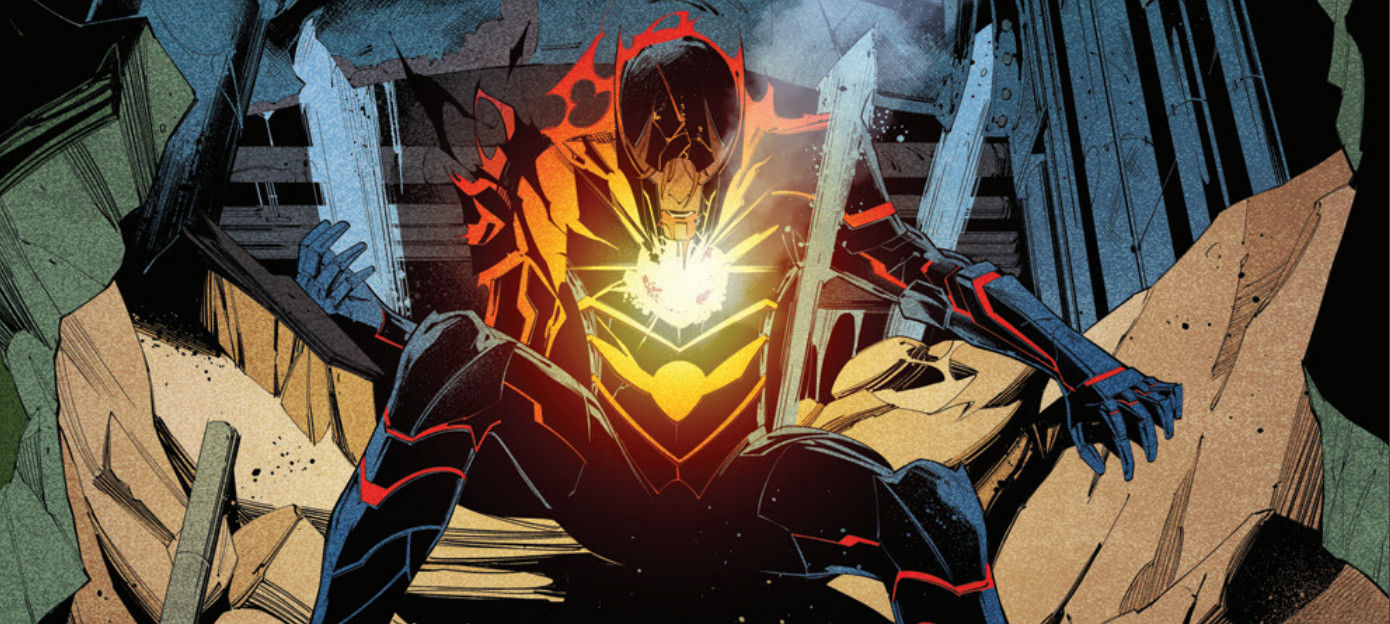 During the will reading, Dylan meets Juliette, Marcus' current wife, and Aurie and Brock Bell, his half-siblings. Differently from our protagonist, the other kids already knew everything about Rogue Sun, so they were secretly expecting to be chosen, but instead, Dylan was the one who became the hero.
Learning The Hard Way
That's where things start getting pretty interesting. Dylan, now Rogue Sun, encounters Suave, one of his dad's villains, and has his ass handed to him. Then Marcus' spirit says he's attached to the suit and will help his son if they work together to find out who killed him. The thing is, Dylan is not like Bruce Wayne or Tony Stark, he is thrown into a world that already exists with villains and creatures that already know Rogue Sun. He has to learn the ropes while everyone is already an expert, so, even though he hates his dad, he needs to accept his advice. It's a really cool concept.
And we also are learning more about that world with him, which makes everything even better. And speaking of that, the comic sets itself in a universe with mystical powers and beings like werewolves and witch doctors. But as it's in the Massive-verse, we may see some alien or otherwordly (I'm 100% sure this will be important) threats sometime soon.
Support For Comic Book Herald:
Comic Book Herald is reader-supported. When you buy through links on our site, we may earn a qualifying affiliate commission.
Comic Book Herald's reading orders and guides are also made possible by reader support on Patreon, and generous reader donations.
Any size contribution will help keep CBH alive and full of new comics guides and content. Support CBH on Patreon for exclusive rewards, or Donate here! Thank you for reading!
But Marcus isn't the only one that knows a lot of tricks on how to deal with the problems a superhero has to face, so Dylan also has to depend on his half-sister Aurie. After presenting him to Dotty, they showed what they do to villains: they lock them up in crystals. I really want to see how Ryan Parrot will explore this in the next volume, as Dylan himself doesn't like that method so much and there seems to be some kind of mystical force related to the sun stone applying rehabilitation.
Dylan also shows some common fears regarding his powers, like how he can't fly straight because he's afraid of the suit suddenly not working and making him fall, but he grows to learn more about his powers and his new rogue gallery by the end of the volume. However, we certainly have many more things to find out.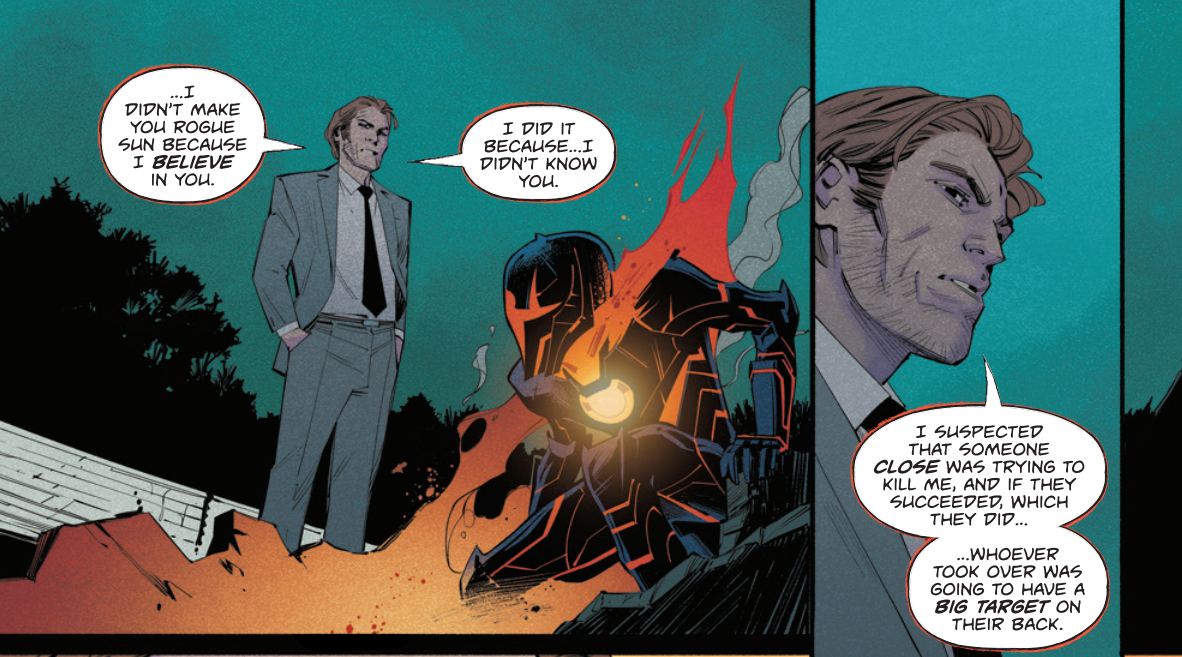 I'm Glad My Father Died
Dylan thinks Marcus is a jerk, and when we meet him, well… he proves himself to be one. The guy says he has only chosen Dylan to be the new Rogue Sun because he wouldn't care enough if he died. To make it worse, Marcus also doesn't believe his other son Brock and makes Dylan investigate him. And he believes one of his sons, a literal child, could've killed him and tells Dylan that he was chosen because he wouldn't care if he died. He just wouldn't enter a "top 10 worst fathers in comics" list because if you go deep enough in comic book lore you find a lot of crazy unbelievable stuff.
But, as much as Dylan hates his dad, they are kind of alike. In school, Dylan doesn't have almost any meaningful relationships; in fact, his only friend is a kid he bullies to do his homework. He has the fame of being someone people should not get involved with; someone selfish and arrogant who only involves himself in fights and problems. That makes me want to see more of Dylan's growth, not only as Rogue Sun but also as a person.
That kind of storytelling really gets me excited because of reminds me a lot of Spider-Man and other heroes I love, you don't get only their superhero lives, but also the development of who they are when they aren't saving the world. Getting the two sides of the coin makes the character more interesting and relatable. Also, the story feels fresh as we're not going from one action or investigation scene to another.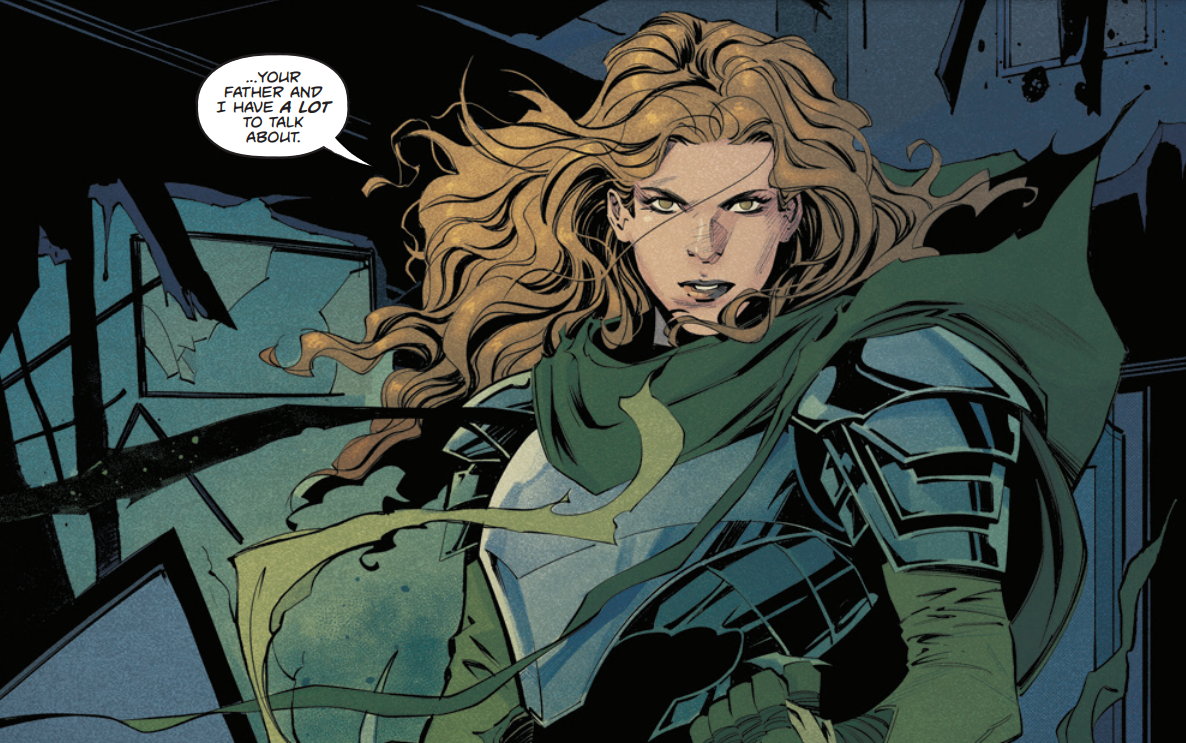 The Whodunnit Of It All
As I said before, this is also a mystery story. Dylan has to find out who killed his dad, and we get a lot of potential suspects throughout the comic (basically everyone but Dylan). First, it was Brock, but he obviously didn't try to do anything bad. But then the focus went to Aurie and her attempt to get the sun stone for herself.
Aurie released Demonika, a villain, to cause a ruckus and get Dylan's powers. Obviously, it'd make us think she is the mysterious hooded person who killed Marcus, and it'd explain how they knew so much about him and the sun stone. But after even her brother accused her of that, she said she was trying to get the suit back because it was the thing her dad loved the most, and Dylan didn't deserve it.
So we went back to square one. Kind of. After Dylan is almost killed by Demonika, the hooded figure saves him and reveals herself to be his mom. Gwen loved Marcus, but a little after Dylan was born, he disappeared for months and came back only to say he was leaving her without any explanation. Then years later (6 months before the story started, when Marcus had just learned he would die), he suddenly appeared at Gwen's house and said he would enter Dylan's life whether she wanted it or not. But she needed to protect her son, so she decided to make a deal with a magical creature, the god that Suave serves, and gain enough power to kill Rogue Sun.
I knew I should have expected something like that, but I honestly didn't. And I liked it quite a lot. Mainly seeing Gwen and Marcus' past. Finding out all the motivations and the events that led to the murder is definitely one of the best things about a whodunnit (trying to find out while you read makes it better, but I didn't do a good job this time, sorry).
Dylan was conflicted and didn't want to fight his mom until the end, but she tried to take the stone from him, which made him realize she also didn't trust him. She thought he wouldn't choose her if he had to, so she needed to decide for him. He reluctantly defeated and put her in one of the crystals, closing one chapter of the story, but giving space to many others.
What's next, Dylan?
In its first volume, Rogue Sun doesn't blow our minds, but it's a fun addition to the Massive-verse. We are shown many interesting elements that will be explored in the future, like the god that gave Gwen her powers, the werewolf family, and the crystal prison.
Besides, in the last chapter, Juliette invites Dylan to live with her and her kids. How will he fare in his new house? I believe he might form a friendship with Brock, but Aurie still gives ominous vibes, so I don't know if he will be able to trust her much. Also, now that he found out who killed his dad, he made Marcus swear he would disappear from the suit and leave him alone. Like, I'm 100% sure his dad won't disappear completely, but I want to know how he will deal with being Rogue Sun without his help, being finally alone.
But Dylan seems to be growing as a person too, even though only slowly. As he helped one of the kids he bullied. I really want to see more of his development and if he will start forging real relationships now.
Anyways, I'm definitely going to keep following his story to learn more about that universe, see how he and the people around him will grow, and – obviously – hope for some crossover with Radiant Black soon.