I spent the past week at Disneyworld with two very young children (including myself, my wife had to manage three!), and while I have some general dad tips, the big new adventure is the Star Wars Galaxy's Edge land in Hollywood Studios. While Galaxy's Edge opened in California's Disneyland first, Florida's Disneyworld is the first to offer the Rise of the Resistance ride, which brings some very unique changes to the Disney experience.

Disneyworld's Galaxys Edge Review!
Rise of the Resistance
Let's start with the biggest feature attraction, the insanely high demand immersive Rise of the Resistance ride / experience. You quite seriously can't just show up and get on this ride, so I'm outlining my experience below, along with tips I learned along the way to make sure you actually get to enjoy the ride.
First off, there are no fast passes available in Galaxy's Edge for the forseeable future. There are two rides; Millennium Falcon: Smuggler's Run which offers "line only" access (wait times average at least an hour), and Rise of the Resistance, which can only be joined if you're in a "boarding group."
In order to join a boarding group, you need to be through Hollywood Studios security prior to park opening (7 am). I was up and ready to catch a bus from Disney's Art of Animation resort at 5:45 a.m., which might seem absurd but for the fact that this is what everyone interested in Rise of the Resistance is doing. The park was absolutely packed by the time we arrived near 6:30 a.m.
Your whole party needs to be with you for the early morning registration. (The entire process reminded me of trying to register for college courses my freshman year, except with a smaller chance I'd be an English major taking an 8 am African American Religions class.) My brother-in-law theorized you could bring your parties' phones for them and register everyone that way, but I would strongly suspect it's based on Disney magic bands actually reading your location inside the park.
A few tips for registration via the Disney Experience app. Only open the my disney app once you've reached your final destination. Keep walking forward following the crowd, as far from the main gate as you can get. We *didn't* do this, thinking we could sneak through a side street once ropes were removed, but this strategy backfired. Once attempting to register, you can add families/friends to your boarding group. We were told this was not an option, but this is how we got a good group number. I'll note here that our family party was linked so we could add each other to fast passes and all that. Not sure if this is the default.
Fortunately one of our party had priority network access (to achieve this become a firefighter), so he got us all on group 51.
Now, if you're investigating the rides early days, you'll likely see that stoppages and breakdowns are fairly common. Boarding groups are updated throughout the day, and you can always check which numbers are available in the app. You have around 2 hours once your group is called. You should also receive a push notification for the person who booked the group.
The moment our group was called, the ride shut down anyone joining the line. So here's the "we can't go on Rise of the Resistance until the ride is fixed!" basics:
It was about 2 hours before the ride started up again.
You can go do anything during this time. After an hour and a Star Tours, we straight up went to a different park.
We received several assurances that we could come back any time during the day even if the boarding had moved past our group number.
One cast member *strongly* recommended we come back at least 2 hours before park closing to make sure we got in line. This was very good advice.
We entered the line six hours after shutdown, and at this point between regular group boarding and backups throughout the day the line was madness. Our wait was probably an hour and a half. At least.
I asked a cast member, and anyone who was actively in the ride during malfunctions was given a (otherwise non existent) fast pass for reentry later in the day.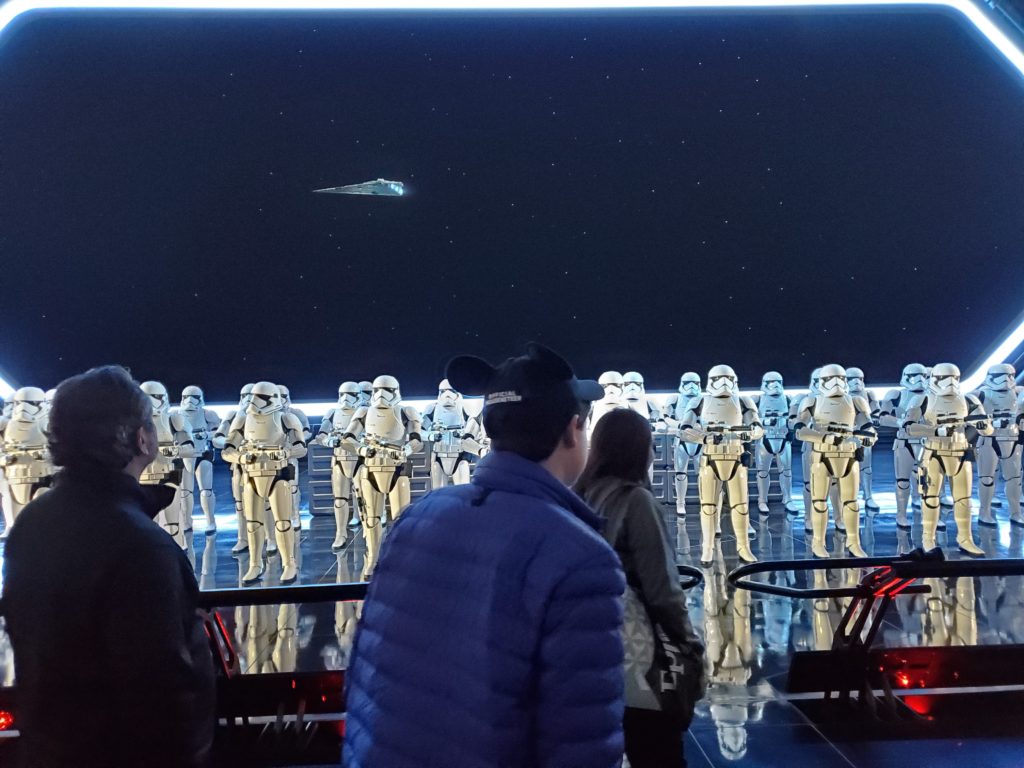 The ride itself is remarkably worth it. And then some. I heard several people who couldn't tell you a Fett from a feta say that the experience was still incredible.
Frankly I hesitate to overshare too many details because I don't want to ruin the magic of that first experience. I'd really recommend against watching videos of the ride or reading too much about it beforehand. I think that makes it the first ride you can spoil?
So without the specifics, I'll say Rise of the Resistance lives up to the hype. Its genuinely an interactive experience unlike anything I've seen in a theme park. If you're a Star Wars fan even thinking about a Disney vacation, it's a must.
Millennium Falcon: Smuggler's Run
Smugglers Run was extremely fun, although everyone I rode with maintains the experience is highly tied to your role on the Falcon. If you can swing it, I recommend riding at least twice so you can try out different roles.
Really, you just want to be positioned from front to back, right to left. Right pilot is best (you get to punch to lightspeed… I Wookie-yelled A LOT), and apparently engineers are borderline bantha fodder. I enjoyed the "gunner' role, but I'll note that if you really want to see the ride and not focus too much on your gunning buttons, set your targeting to automatic and just hold the button down!
A few crucial details for parents attending with kids in tow: there aren't any fast passes so it's really pretty important your kids can wait in line for at least an hour (I think I saw Smugglers Run dip to 55 mins a few times, but that's the absolute lowest, and odds are it was an R2 droid pulling a prank). I saw at least 5 families wait in line for most of the rides, only to bail at the last minute due to a sudden and desperate cry for the bathroom.
From what I can tell this might also mean there's no rideswap option, but I did actually forget to put this to the test. There *are* fast pass lanes at each ride, and I did see the odd person wandering through them (seriously odd people – one was wearing all black robes).
Ogas Cantina
About a week before our vacation, I realized there might be some Galaxy's Edge options that required advance reservations. Your options are Droid Depot (build-a-droid), Lightsaber workshop (build-a-lightsaber), and Oga's Cantina (build-a-rum-tolerance).
At this point, the only available Cantina options for a party of any size were very early, just after park opening. So my first tip is try to book this the moment you know you're going!
(I didn't know this when I made it, but arriving absurdly early is also a must for Rise of the Resistance… so kind of great planning on my part?)
My extra secret bonus tip, which is purely anecdotal and not even my own experience, is that during extra magic hours (when Hollywood Studios doesn't close until 11:30 pm) the Cantina began enthusiastically encouraging non reservation patrons to walk into the bar. It's not guaranteed, but this seems like the sneaky best way to check it out if you can't get the reservation you want.
As for the bar itself, I had a damn fun time, although I suspect the rest of my party was underwhelmed.
The pros:
Looks like a proper Star Wars cantina, with a nice array of aliens, lore and detail surrounding the bar
Robot DJ bumping Star Wars tunes
Capacity is super limited and restrictive, meaning that once you get in, it's really not that overcrowded at all.
Lunch and dinner drink menus were available first thing, which meant we some steaming cold drinks with bubbling alien foods rising in the mix like lava lamps.
You can get tipsy in a Star Wars bar!
Cons:
Food offerings are surprisingly limited. It's *not* a restaurant. For breakfast there's cinnamon rolls and cold oatmeal. It was… fine. Probably at best.
Everything is 2 to 3 times more expensive than anywhere else in the galaxy. This is also known as "going to Disney World" so no one should be surprised.
The drink reviews ranged from "not very good" to "too sweet" to "wait, $18?" My criteria was effectively "ooh spiked coffee and aliens!" so the standards were met.

Technically there's a 45 minute, two drink max limit. This is both good and bad. Our party was not forcefully shuffled out though,  even thought there was a good sized line waiting outside when we left after an hour or so.

A reservation does not ensure a seat. Our party of 9 was at a high top table (any more than 10 would have felt way too crowded). There were smaller parties in lounge seats,  so presumably it's first come first served.
All in all, I had a fun time, but I wouldn't rush to head back. It's slugging blue milks in the park for me from here on out.
Galaxy's Edge In Total
If our boarding had gone off without a hitch, we would have hit up Cantina reservations, Smugglers Run, Rise of the Resistance, and seen the entire land/shops/characters by around one o'clock.
If you toss in a meal at the restaurant, building a lightsaber/droid, and another ride on the falcon, you could probably come closer to 8+ dedicated hours in the park. Even so, the scope of it is more of a half day, with the remainder at the rest of Hollywood Studios.
For kids, if they're old enough to dig Star Wars, they're probably old enough to enjoy Galaxy's Edge. I'd hypothesize this around the 7 and up range, but little Von Doom and Scott Free Buesing aren't even 3 yet, so take that with a grain of inexperienced salt.