This week on "Previously On," I'm digging into New Mutants #1 and answering questions about the comics role in Dawn of X, and some theories about Marvel Cosmic connections.
Podcast: Play in new window | Download
https://www.youtube.com/watch?v=jNLzeewt4fM
1) Who Are the New Mutants?
The New Mutants debuted in 1982 in a graphic novel (Marvel Graphic Novel #4) by Chris Claremont and Bob McLeod.
Support For Comic Book Herald:
Comic Book Herald is reader-supported. When you buy through links on our site, we may earn a qualifying affiliate commission.
Comic Book Herald's reading orders and guides are also made possible by reader support on Patreon, and generous reader donations.
Any size contribution will help keep CBH alive and full of new comics guides and content. Support CBH on Patreon for exclusive rewards, or Donate here! Thank you for reading!
The original lineup includes Cannonball (Sam Guthrie), Wolfsbane (Rahne Sinclair), Karma (Shan Coy Manh), Psyche / Mirage (Dani Moonstar), Sunspot (Bobby Da Costa), Illyana Rasputin (Magick), Dough Ramsey (Cypher), Warlock and some Magma here and there.
This is the next generation of young mutants in the world of X-Men, and it's an important development to return the Xavier Mansion to a school for gifted youngsters and to re-instill the team's purpose of helping *new* mutants find their way in the Marvel Universe.
The series really takes off though when Chris Claremont is joined by revolutionary artist Bill Sienkiewicz, delivering such stone cold classics as "The Demon Bear" saga and the debut of Charles Xavier's son, Legion aka David Haller. The duo is so strongly tied to New Mutants, that they even regrouped for a "War Children" one-shot special in 2019, and lo and behold, it's quite good!
Following Louise Simonson's excellent work writing the title, the original lineup has been somewhat scattered since the 90s – the X-forcification of New Mutants began when Rob Liefeld was brought on as artist, and introduced the likes of Cable and Deadpool through the pages of New Mutants, before bringing many of those elements over to X-Force – which was the other X-Men first issue that came out this week!
Hickman himself is no stranger to the classic New Mutants – In addition to Sam and Bobby's role in his Avengers run (bigger than anyone could have anticipated!), Hickman and artist Nick Dragotta also have a lesser known six issue miniseries series, Astonishing Tales: Mojoworld, that stars Sam & Bobby.
Unsurprisingly, then, it's Bobby's desire to take the team to space to recover Sam that operates as the driving action in New Mutants #1.
2) What have the New Mutants been up to lately?
A) New Mutants: Dead Souls
Uncanny X-Men
I don't want to get too in the weeds on these 2018 through 2019 comics because frankly New Mutants #1 is pretty clear that while they *happened* Hickman, Brisson, Reis and company are all looking to move forward from page 1 panel 1.
Long story short both the New Mutants Dead Souls mini and Uncanny X-Men (particularly issues #11 to #22… the first 10 are really Age of X-Men prelude) build to a situation where the New Mutants are all taken over by Warlock's techno-organic virus. Team carries forward into the pages of Uncanny X-Men where some of them are brutally killed. Frankly, Uncanny X-Men devolved into a poorly executed murder-fest, and writer Matt Rosenberg has pretty publicly apologized, in particular for how upsetting many fans found the death of Wolfsbane.
Which again, brings us back to the cathartic release of hope found on Page 1 Panel one of Dawn of X New Mutants #1.
B) Cannonball can't stop going missing in space
The other recurring thread in the world of New Mutants is that Sam Guthrie can't stop going missing in space. At the end of the day, this kind of makes sense, because the Hickman era of Avengers develops a romance between Sam and the Sh'iar imperial guard's Smasher. They even have a kid together!
Most memorably, Sam Guthrie is lost and imprisoned on the Skrull world where the Skrulls all pretend to be mobsters (from Stan Lee and Jack Kirby's Fantastic Four!) in the pages of the Al Ewing written U.S.Avengers.
At this point we have to consider that Sam simply prefers space!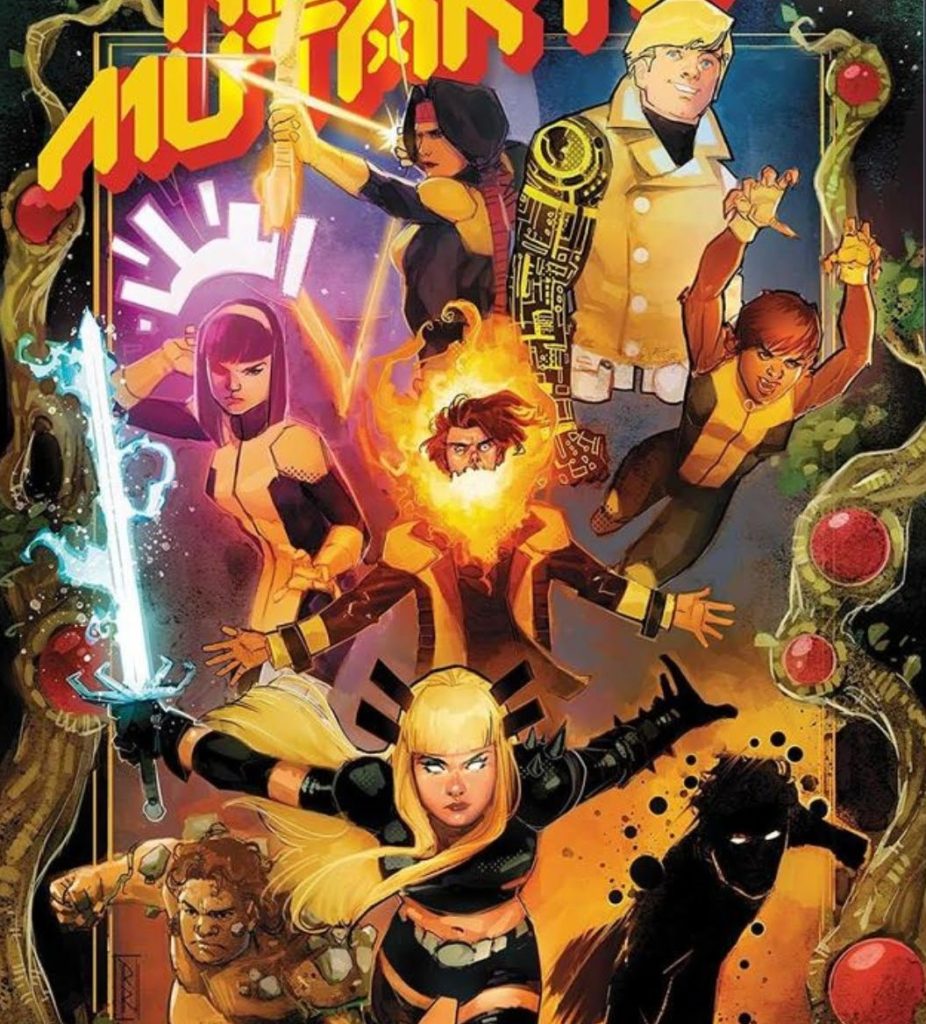 3) What's The Role of New Mutants in Dawn of X?
A) Renewal of hope. Renewal of younger generations in the world of mutants. This is in both a literal (resurrection) sense, and in a broader metaphor. We don't see it much in this issue, but the early understanding is that the more Ed Brisson focused work will revolve around non-OG new mutants like Armor and Glob Herman. The kids are the future, and this is the book to deliver that message.
B) Expanding our understanding – or at least the mystery – of Krakoa. This is part 1A of why I see Jonathan Hickman wanting to take a hand personally in this title, planting seeds – puns puns puns – for the future of Krakoa and mutantkind.
It makes sense to do this in New Mutants, where we have Doug Ramsey as a central character, basically experimenting on Generation X's own Mondo and his own connections to the sentient island nation.
There are two major learnings from New Mutants #1:
Krakoa can inhabit and speak through Mondo – perhaps others?
Flowers from Krakoa are *deadly* to certain species of life in outer space. It's this second that feels more obviously foreshadowing. A couple questions immediately come to mind, such as why are Krakoan flowers having this effect, and how will others react when they realize the harm the nation's reach is causing. Plus, what does this mean for those delicious Krakoan drugs the mutants are manufacturing for humankind. Are they perhaps not as benevolent as advertised?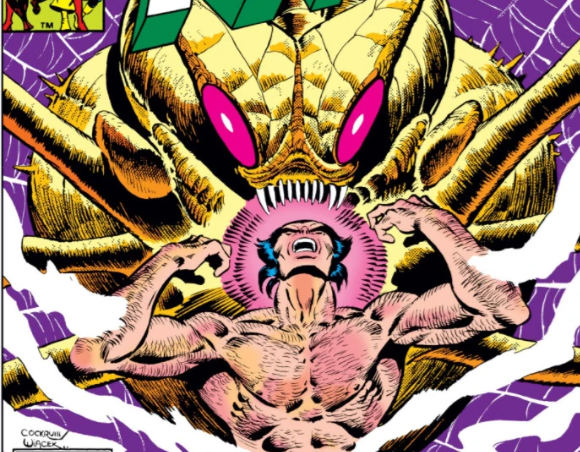 4) Let's Brood
Skrulls, Sh'iar and Brood oh my!
Most up my alley, New Mutants #1 is also the book that connects the World of X to Marvel Cosmic!
A) History of New Mutants and Brood
I talked about the New Mutant's original graphic novel debut in 1982 – importantly, that same publication year and into the next, Uncanny X-Men #162 to #167 by Chris Claremont, Paul Smith, and a returned Dave Cockrum gave us a new memorable alien for the X-Men to fear and battle, the Brood.
The Brood are not so terribly different from The Phalanx – they infect a host with an egg, and pass hive mind memories between hatched broodlings.
The Brood are somewhat interesting as cosmic races go because they seemingly harbor little ill will towards mutants specifically, instead more interested in bonding with "powered individuals" and leveraging those powers for more conquering. Importantly, the Brood are not merely mindless alien predators, and are intelligent beings capable of wielding technology and even sending their offspring to join Wolverine and the X-Men in the form of Broo!
B) History of Brood – Brood Queens. Have we ever seen a "King Egg" before?
Historically, the Brood follow the model of Ants or Bees, where a Brood Queen is ruler of the community. To my knowledge there have been no "Brood Kings" in Marvel before, or if they were out there, they were more or less the worker/prime-warrior drones.
For The New Mutants, Brood and Brood Queens are intrinsically tied to their origins. The New Mutants crew actually meets the X-Men when the team returns from space in Uncanny X-Men #167 and busts into the X-Mansion to beat the stuffing out of a brood infested Professor X. Charlie is actually infested by the Brood Queen!
This is the issue that leads to a moment I've liked talking about on Krakin' Krakoa, the need for Moira and the Sh'iar to clone a new body for Professor X after his was Brooded out. The end of the issue is when Xavier tells the X-Men he'll be training the New Mutants now!
In modern Marvel Cosmic, the Brood were actually decimated during the Annihilation Wave, and are a shell of their former power.
One thing we've seen a lot is that Hickman likes to connect to his own previous Marvel work, which I am all for. Well, as it turns out, this isn't the first time he's teased the Brood (in both SHIELD #1, and technically Infinity #3 as part of the Galactic Council), nor is it the first time he's teased deep and meaningful cosmic eggs! (Phoenix Egg in Secret Wars).
While it's interesting to theorize what the egg might mean moving forward (I personally quite like the idea of Bobby as a Brood King and transforming the Brood in a similar way he transformed A.I.M.), I actually think there's a more interesting question:
Why the hell are the Sh'iar keeping a King Egg in a space station?
This says more to me about the Sh'iar acting strangely, and preparing weapons (possibly for those invasive Krakoan flowers), than anything about the future of the Brood in X-Men.
Are there other Sh'iar installations out there protecting cosmic eggs (perhaps of a Phoenix variety)? Isn't it likely that the Starjammers are acting at least in conjunction with the basic wishes of Corsair's son Cyclops? There's a lot here to explore, and I can't wait to see how it unfolds in the rest of New Mutants!