This week on "Previously On," I review the first season of Doom Patrol, and consider where DC Universe now stands in the digital comics subscription market.

Feature Of the Week – 
Doom Patrol on DC Universe
(Spoilers For This Topic Follow!) 
I entered Doom Patrol with unrealistically high expectations – the bane of new art – and the DC Universe exclusive series managed to surpass them all. Through 15 episodes, Doom Patrol delivered on the promise of Grant Morrison and Richard Case's groundbreaking DC Comics work, and set the standard for what DC Universe exclusive TV can be going forward. 
In other words – It's so good. Like, two minutes of la petitie mort because Flex Mentallo flexed the wrong muscle good. Doom Patrol is literally the only TV show apart from Game of Thrones that I keep up with week to week like a common 1950's family man (with copious sexual secrets). 
In the early going, every single episode left me with a feeling of astonished delight and a deep desire to fly to social media and profess my adoration. One of the few criticisms I can even think of for Doom Patrol is that this infatuation dimmed marginally as the series progressed into Mr. Nobody's "character-driven schlock," or what I'd also refer to as highs of diminishing returns.  The show is so good at conditioning viewers to expect the unbelievable that it's easy to forget how strange this world truly is.
Support For Comic Book Herald:
Comic Book Herald is reader-supported. When you buy through links on our site, we may earn a qualifying affiliate commission.
Comic Book Herald's reading orders and guides are also made possible by reader support on Patreon, and generous reader donations.
Any size contribution will help keep CBH alive and full of new comics guides and content. Support CBH on Patreon for exclusive rewards, or Donate here! Thank you for reading!
I particularly love that every decision in Doom Patrol treats the series like it has one chance to deliver on all the glorious absurdity, instead of plodding pacing teasing out future installments of what's to come. Doom Patrol easily could have held off on Flex Mentallo, but instead his origin is delivered in episode thirteen. Danny the Street makes a triumphant midseason debut. Animal Vegetable Mineral man is a recurring gag throughout the entire series! 
Animal. Vegetable. Mineral. Man. 
Even the Beardhunter gets a memorable episode! 
One of my biggest concerns for Doom Patrol was that the powers that be wouldn't let the show get weird enough, and with minor exceptions, that's simply not been the case. From "the Donkey is a door" to "The butts are loose!" Doom Patrol doesn't hold back on the oddities that set it so deliberately apart from the superhero brethren the team ostensibly shares a universe (The Doom Patrol can't solve problems the Justice League would also tackle, or the conceit falls apart). 
Doom Patrol isn't all avant-garde mind-bender, though, it simply knows when to have Alan Tudyk's Mr. Nobody break the fourth wall and undercut superhero show tropes even as they unfold. In between the gender-queer sentient streets and genuinely hilarious one-liners, there's an emotional core to Doom Patrol that hits harder than comic book TV typically delivers. Yes, Doom Patrol is often very fun, but it's entertainment derived from defense mechanisms, as the team navigates body-horror, mental illness, and isolation. Rita Farr can barely keep her body together; Larry Trainor shares a body-cell with an alien form of energy; Cliff Steele is a brain trapped in a can – and not even a particularly sleek one! 
In every way, the clearest comic book TV comparison is FX's Legion, a show that embraces the strange and unbelievable, and remains committed to a singular creative vision. Intriguingly, Doom Patrol feels more "in universe" by virtue of the surprising addition of Cyborg to the team roster, as well as the fever dream supporting role in Titans.  As someone who appreciates shared universe storytelling, this appeals, as it's extremely easy to envision Doom Patrol remaining absolutely strange while meeting the likes of the Justice League. 
All in all, Doom Patrol is my favorite comic book TV show of 2019, and pretty easily my favorite since Legion debuted in early 2017. I enjoyed Umbrella Academy, but Doom Patrol is superior in every conceivable metric that doesn't include dance parties.  
If I ever get tired of hearing Brendan Frasier (Robotman) and Diane Guerrero (Jane) perform audio cursing acrobatics, I'll well and truly have lost my way. I'm in love with Doom Patrol, and I hope you'll give it a chance over on DC Universe!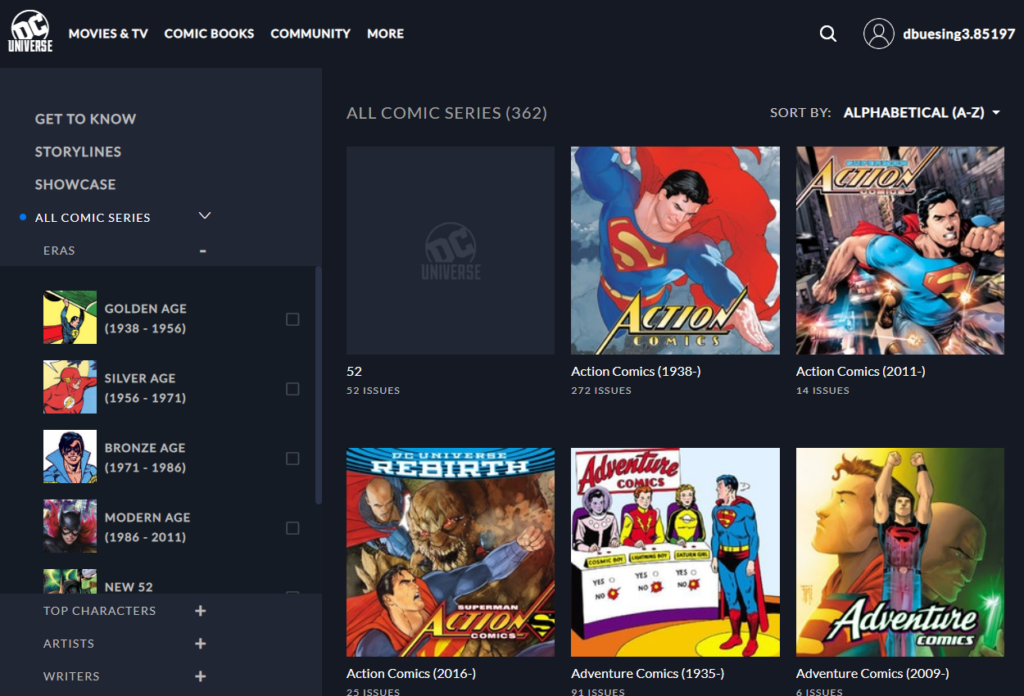 DC Comics
TREND: 
DC Universe On The Rise 
Considering Marvel has had over a decade head start on DC in the digital comics subscription market, it feels absurd to earnestly consider whether or not DC has pulled ahead. After all, DC Universe hasn't even been available for a full year, is only 1 month into their "full comics library availability" announcement, and is already pestered by an uncertain future as it relates to a Warner Bros subscription service to compete with Disney. 
Even so, when you couple the surprise success of Doom Patrol (surprising in the sense that it's *this* good) with a comparably full digital comics library, it's not at all hard to picture a world where DC Universe is the clear category leader. I say this as someone who has celebrated the value of Marvel Unlimited more than just about anybody: At this pace, DC Universe will offer more value by 2020.  
As awkwardly unprepared as DC was for the digital comics wars (you can't come to the table with four slices of bacon when your neighbor's offering a pig roast), they course corrected relatively quickly. Six months is actually a pretty short testing timeframe to realize this service needed a "complete" DC Comics backlog to compete. 
More important than just the comics, though (and having written that sentence down, I'll caveat: nothing is actually more important than comics), the move allows DC Universe to focus on the extreme value adds it offers over everybody else in comics. An affordable app subscription service with access to exclusive original TV series and animated movies, plus a sizable library of media you won't find elsewhere. It doesn't matter how many 90's X-Men comics Marvel fills into Marvel Unlimited, with apps priced at the same rate, DC is simply more for your money. 
Of course, this thinking all operates on the presumption that DC Universe content will remain *worthwhile.* My Swamp Thing excitement is seriously dampened following reports of a rushed conclusion, but the live action offerings could use back-to-back knockouts to prove Doom Patrol isn't a fluke. Same goes for the return (of the return of) Young Justice, which started fairly strong, but has a long road ahead.  
All that said, the path to the superior game in town is clearly visible, and Marvel's is suddenly significantly more cloudy. Disney+ is going to be the TV and movies arm of Marvel, but how does Marvel Unlimited fit into that picture? Will it remain separate? Will you be able to bundle the offerings together for competitive rates? Will Marvel Unlimited feel the competitive pressure that prompts them to upgrade things like offline reading? 
Obviously time will tell, but for now, Marvel Unlimited's heavyweight title is slipping. It's about time somebody else entered the ring.