This week I binge over 30 issues of Deadly Class, consider what kind of comics make for the best TV shows, and praise the My Marvelous Year listeners!

Featured Comic Of the Week –
(Spoilers For These Issues Follow! ALSO: Mature language is used in this review to describe characters – so if you don't like cussing, head for the hills!)
Title: Deadly Class
Writer: Rick Remender
Artist: Wes Craig
Support For Comic Book Herald:
Comic Book Herald is reader-supported. When you buy through links on our site, we may earn a qualifying affiliate commission.
Comic Book Herald's reading orders and guides are also made possible by reader support on Patreon, and generous reader donations.
Any size contribution will help keep CBH alive and full of new comics guides and content. Support CBH on Patreon for exclusive rewards, or Donate here! Thank you for reading!
Where to find: Deluxe Deadly Class (Vol. 1 + Vol. 2)
Deadly Class debuts on SyFy this week with a live-action TV series produced by the MCU-defining Russo Brothers. Given the talent attached, the series has all the makings of the next big comic book adaptation, which felt like reason enough to catch up on a series I lost track of as long ago as 2015.
I didn't necessarily see it when I read the first volume of Deadly Class and never returned (until now!), but the Rick Remender and Wes Craig creation follows clear paths laid by the likes of Preacher and The Walking Dead. In a move that would make Garth Ennis and Steve Dillon proud, the series' first major villain is a disfigured hillbilly who proudly goes by "Fuckface." It's far from the only thing going for the comic, but Deadly Class is the most violent and deliberately vulgar book in Remender's sturdy arsenal. Seeing as Walking Dead is the comics-to-TV blockbuster everyone's been chasing all decade (and that Preacher is having its own moderate success), Deadly Class is a sensible successor to the throne.
But let's take a step back: Deadly Class follows the story of a homeless teen named Marcus Arguello who is "rescued" and taken in to a secret school for teen assassins. The school is run by the mysterious Master Lin, with many of the students celebrated as heirs to some of the world's most notorious bosses, dons, killers, and all around practitioners of the art of murder. Metaphors about the war-like nature of high school have rarely come so loud.
The first arc of the comic is Fear and Loathing in Las Vegas meets X-Men by way of Wanted (the movie). While the Vegas bad trip makes no bones about its homage to Hunter S. Thompson – Marcus even mentions the effects of ether on the author – it's a rapid departure from the book's school of assassins. It's also a telling early decision; Deadly Class is way more interested in operating as a book about teenagers and the follies of youth than it is defining a murder-y "Xavier's Home for Gifted Youngsters."
I'd argue Deadly Class is increasingly interesting as the book progresses, surfing from covered up murder, to hillbilly cult raids, to all out Warriors in the streets of late 80's San Francisco. The first arc of Deadly Class finds Marcus proudly proclaiming his intent to "Kill Ronald Reagan," and while this era-specific declaration feels like a series mission statement, it's forgotten by the series' twentieth issue. Thoughts of "missions" and grand schemes are quickly overshadowed by the overriding imperative of pure survival.
In his creator-owned work, Remender has proven effective at the unlikable, morally compromised narrator (here's looking at you, Heath Hudson) and Marcus is right up there with the most obnoxious of them. For the record, this is not a bug with the writing, it's a decided feature. It's ultimate high school egoism, with every waking thought riddled with both arrogant superiority and crippling self-doubt. Amongst the cast of characters in Deadly Class I might actually be rooting least for Marcus, which likely means we've had a pretty successful look inside the head of an abused teenager.
I've also been pleasantly surprised on this catch-up how much more I enjoy the comic once the book begins ostensibly following a new class of freshman. The cast is simply more compelling, with hilarious D&D campaigns in the middle of an unthinkably violent school. It's no accident that the series showcases a character furious with the unfolding "Inferno" in the pages of 1980's Uncanny X-Men. This is "All-New All-Different" Deadly Class, and it's a similarly successful upgrade.
As comics go, I can't get around the fact that Deadly Class has never quite astonished me. It's hard to find particular fault with the creative pairing, especially when Wes Craig might be one of the most underrated artists in comics, and Remender's Marvel and Image works comprise some of my favorite comics of all time. That said, the series does actually seem to be improving with age, and there's no doubt I'll be seeing it through to the end.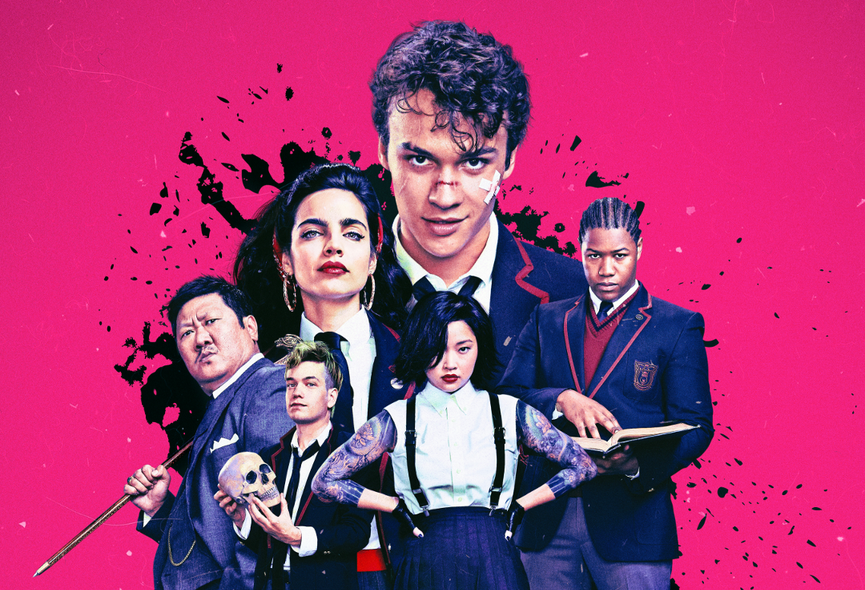 Comic Book TV!
TREND: Everything Gets Adapted
We're living through a mind-boggling era in which seemingly every comic story ever told and their cousin gets a live-action TV deal. Starting with Arrow, The Walking Dead, and the latter arrival of Daredevil, the comics to TV takeover initially seemed like incredible exposure for the medium.
As I grow wearier of each new release, I'm thinking more about what makes for the right kind of comics to TV transition. While "Superhero movie fatigue" is a laughable faux-trend, I do think the Comic Book TV market is obnoxiously overcrowded and only destined to get worse. So what kinds of comics should move to TV in a field where the competition is prestige shows well outside the niche of comics?
More and more I'm convinced that I don't want to see contained stories I love adapted into film or TV. Some of this is just long-standing "the book is better than the movie!" beliefs, but the bigger issue is that I'm very easily bored by stories I've already enjoyed. I'd apply this across shows like Preacher, parts of The Walking Dead, and my weariness towards the upcoming Watchmen, Deadly Class, Invincible… the list goes on.
I certainly don't begrudge someone the thrill of seeing The Walking Dead or Preacher for the first time on TV. This would be the ultimate in hypocrisy given my own fandom fueled by X-Men: The Animated Series. I just know that for myself, the value-add of "live-action" for a comic I love is borderline zero.
So what are the TV players that have succeeded and why? I think of shows like Legion, iZombie, and Lucifer (all of which I enjoyed) and the one consistent thread is that each show approached the source material very differently than established print comics. I also had less pre-conceived notions of the source material heading in, allowing the showrunners and cast to take me in the direction of their choice.
Stating that, it's clear that my thinking on this matter is uniformly clouded by experience. Of course I'm more open to creative worlds I don't know intimately. Of course I thought End of the F***king World was a breath of fresh air, with zero prior knowledge of the graphic novel that came first. It's not a world I already know, so with the right hook and craftsmanship, I'm eagerly along for the ride.
Which brings us, inevitably, always, to superhero shows. One of the strongest aspects of superhero TV – really across all spectrums – is that even at its most referential, each show creates its own version of events different from the known comics. Daredevil season three is inspired by the likes of Born Again, but it is far from a rehash. Undoubtedly, it's better for it.
Nonetheless, there's a general "raising of the bar" that is yet to happen for the genre. Critically, the peak of superhero TV may have come in 2015 with Jessica Jones, even though I'd be more than open to arguments for Legion since that time. Still, comics TV runs in to a lot of the same comparative problems as the more by-the-numbers superhero comics. Why would I watch 20+ episodes of The Flash when I could catch up on Atlanta? Why would I watch even a minute of Agents of SHIELD when I could watch Better Call Saul?
In broader terms, I think comic book TV needs to get more selective moving forward. HBO's Watchmen is undoubtedly going to try to raise the bar, and if it succeeds, I hope the answer is actually fewer shows going hard for gold than the fool's gold rush we're living through.
LOVE OF THE WEEK
The My Marvelous Year reading club podcast launched in earnest this week with Marvel Year One: 1962!
In addition to those who are supporting the show on our Patreon, I'm especially grateful for everyone writing in feedback for our listener response episodes! Every time Zack and I complete a year of Marvel publication, we'll take the next week's episode to share reading club feedback (and our thoughts) from as many participants as we can fit into the show.
Much like the club's first go in 2016, I'm endlessly fascinated by the different takes readers have on Marvel Comics through the ages. One clear thing I've learned is that each reader comes to these comics from a different perspective, and that any assumptions I have about quality don't necessarily match what the MMY club is picking up.
Plus, nothing beats a mass revelation that Ben Grimm is the absolute greatest.
If you're interested in sharing your own thoughts (as you play along with the reading club), you can send them to mymarvelousyear@gmail.com!