This week I cover Jeff Lemire's creator-owned comic Royal City, as well as his role in sparking a week of debate over the growing "Comics + gate" movement.

Featured Comic Of the Week –
(Spoilers For These Issues Follow!)
Title: Royal City
Writer: Jeff Lemire
Artist: Jeff Lemire
Support For Comic Book Herald:
Comic Book Herald is reader-supported. When you buy through links on our site, we may earn a qualifying affiliate commission.
Comic Book Herald's reading orders and guides are also made possible by reader support on Patreon, and generous reader donations.
Any size contribution will help keep CBH alive and full of new comics guides and content. Support CBH on Patreon for exclusive rewards, or Donate here! Thank you for reading!
Where To Find: Royal City Vol. 1
Creator Jeff Lemire's 2018 rate of output is astonishing, to say the least. Long one of the most reliable artists in comics (even garnering his own profile as the "Hardest-Working Man in Comics"), Lemire's run of quality comics titles this year is genuinely difficult to keep track of, but well worth the effort.
A quick Comixoloy creator search gave me no fewer than 11 major series Lemire is either writing or co-writing, and chances are that doesn't even cover everything. The Canadian artist has projects in the pipeline across DC (Hawkman, The Terrifics), Marvel (The Sentry), Dark Horse (The Black Hammer Universe), Image (Descender, Royal City, Gideon Falls), and Valiant (Bloodshot: Salvation).
I would assume with most creators that output on this scale diminishes the quality of product somewhere along the line, but with Lemire, this doesn't seem to really happen. I certainly have my preferences (anything related to Black Hammer), and my critiques (I thought Terrifics got off to a rough, disappointing start, albeit in no small part to a comically unstable rotation of artists), but all in all the man is remarkably prolific and consistent.
Oh, and he just wrote his first issue of Hit Girl, the Kick-Ass spinoff created by Mark Millar and John Romita Jr. Since he didn't have enough going on.
I bring this up for two reasons. First, I recently read the first volume of Lemire's written and drawn Royal City
, a slice of life drama about a dysfunctional family in a mysterious, supernatural small town. Like some of Lemire's stronger earlier works (Sweet Tooth, Essex County), the creator takes seemingly familiar concepts (the challenges of aging as a family) and injects heart, mystery, and realism. The world and characters feel lived in, even as literal ghosts of the past sweep in and out of Lemire's warmly painted pages. If you've liked any of Lemire's creator-owned works in the past, Royal City is a definite recommendation. If you're yet to try any, I'd stand by Underwater Welder
as maybe the quickest example of his style and tone.
The second reason I wanted to highlight Lemire, though, is that he helped spark this past week's denouncement of Comicsgate. I greatly admire Lemire's conviction in taking a stand on a growing issue too many well-known comics creators have seemed content to simply avoid.
Comicsgate is based on fear, intolerance, bigotry and anger. The comics creators emerging today are too talented, too smart and too loud to be beaten by these weak people. It's time we all started standing up for one another.

— Jeff Lemire (@JeffLemire) August 23, 2018
There are plenty of vocal comics buyers who are going to be angry with Lemire over this, and frankly, going to stop purchasing his books. Read the responses to his tweets, and you'll see a visceral reaction from many. I'm sure he knew this, and he made the decision to stand by his principles anyway.
COMIC BOOK COMMUNITY
TREND: COMICS GATE IN THE LIGHT
This past week marked an important moment in comic book culture, as a wide swath of well-known creators followed Jeff Lemire, Bill Sienkiewicz, and Tom Taylor's lead, posting the following to Twitter:
I want to thank every comic creator and everyone working in comics who has spoken out over the last few day, and to the thousands who joined us and backed us up. Thanks… https://t.co/HkCgVgRH7o

— Tom Taylor (@TomTaylorMade) August 29, 2018
While this templated seal of approval is relatively ambiguous in the abstract, the context and timing are clearly part of an effort to denounce the worst elements of harassment campaigns in the name of "Comics + gate." There's been plenty of good reporting on the movement, so rather than rehash the details in my own scattered shorthand, I'd recommend anyone unfamiliar read the following:  https://www.thedailybeast.com/comicsgate-how-an-anti-diversity-harassment-campaign-in-comics-got-uglyand-profitable
I know from the reporting I have seen, the hateful rhetoric of those tied to this "movement" is shameful and unacceptable. The worst of what I've seen (again, just read the story above) has made it abundantly clear to me that associations to this movement are against everything I believe in.
Harassment, bullying, and hate towards fellow comic book fans or creators (see also: people, in general) is wrong. No rationale can change that. I have zero tolerance for bullies, on Comic Book Herald or in day to day life.
Comics are better with varied voices telling stories. Comics are better with new perspectives, both from creators and characters. Many of my favorite comics of 2018 are from minority creators, or feature new perspectives on classic character archtypes (Mighty Thor
& All-New Wolverine
). If you're wondering where to find these stories, here are just a handful (not including literally everything published by the outworldly progressive publishing arm of Black Mask):
Eternity Girl
– Written by Magdalene Visaggio
Black Bolt
– Written by Saladin Ahmed
Black Panther
– Written by Ta-Nehesi Coates
Generation X
– Written by Christina Strain
Deathstroke
– Written by Christopher Priest
Unnatural
– Written and drawn by Mirka Andolfo
Now, I recognize that with the platform Comics + gate has developed, new fans or returned fans getting their info from this movement are going to get a warped sense of the medium. I've tried watching the YouTube channel espousing the problems with SJWs and comics, and it's underdeveloped comic book diatribe at best. The "review" of Marvel Legacy #1 featured the caricature of an angry fanboy literally ripping up his comic book after seeing an Esad Ribic drawing of a Celestial.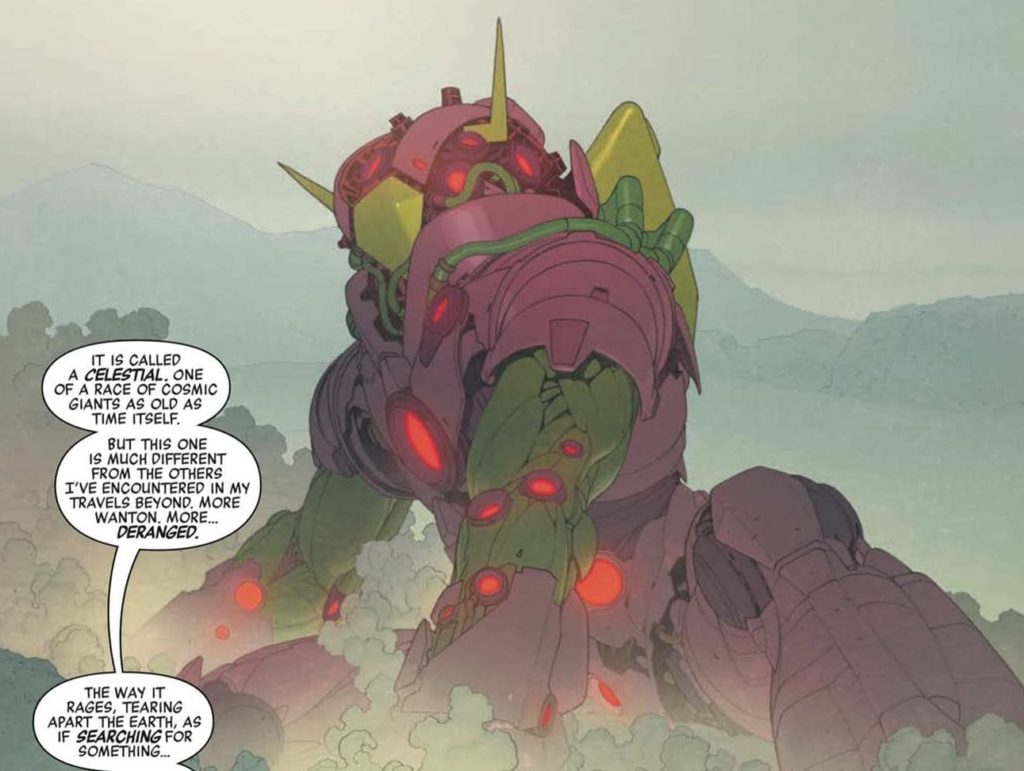 If you don't like Esad Ribic drawings of Celestials, you just might not ever be that into Marvel Comics.
So, yes, if all the media you consume about mainstream comics is of this variety, you will come away with a very negative perception surrounding the state of things. The modern state of comics will absolutely look very, very bad, and you may well be angry about it.
Which leads me to this question I got a while back.
Tony S. asks:

I'm a long time fan your website has helped me jump into the marvel universe started in the early 2000s with Inhumans and I'm just working my way through civil war. I was wondering wondering about your take on current Marvel I have seen a lot of YouTube like diverssity and comics(which I find entertaining but don't agree with everything) and it looks like current marvel books are really bad. I have always felt you had a very fair view of comics so just curious of your opinion.
Oddly, one of the most agreed upon claims in comics since 2016 is that Marvel's lost their way. Depending on your political bias, though, it's for completely different reasons. Right wing readers see forced diversity and SJW liberalism invading the Marvel Universe: Thor's a girl, Wolverine's a girl, Captain America is black, Iceman's gay, etc. Left wing readers see too few people of color writing comics, a catastrophically ill timed story starring a Nazi Captain America, and a new editor-in-chief who posed as a man of Japanese descent in order to get writing work with the company.
Personally, I see a degree of overlap in the above which culminates in the following: Marvel had zero cohesive strategy following the end of the impossibly excellent Secret Wars (2015), and has made some objectively poor decisions.
The short answer to the state of Marvel over the past two years is that there have actually been plenty of good comics (almost all fringe, or more idiosyncratic titles – think 'Vision' not 'Avengers') well worth your time. The shared universe as a whole, though, is in bad shape. There's not that cogent throughline anymore, and you can feel it in the big hero books. For the good stuff, here's a fast track I've put together of the essentials during this time: https://www.comicbookherald.com/all-new-all-different-marvel-fast-track-guide-20-essential-comics/
I think it's extremely reasonable to adopt a critical eye toward Marvel as a result. They've made a lot of mistakes, and I've been pretty clear about these issues on CBH, and in some of my freelancing on CBR. It's also extremely unreasonable to point to any one cause (especially one as subjective as emotionally charged identity politics) as the focal point of this "downfall."
And yes, "downfall" is very much in quotes because guess what? Marvel maintains the top market share in print comics (even through a resurgent period for DC Comics), the MCU is still the biggest damn game in town, and they're backed by Disney. I want them to keep improving, but Marvel's fine.
So for those of you on the fence about this whole situation, try reading some of the comics I mention above and see what you think. If they suck for you, there's an ocean's worth of other material you can check out instead. There are so many comics these days (if anything, too many) it's absurd to me that the stories not to your taste would dominate your free time. My aim is to talk loudly and proudly about comics I like, and allow room for others to do the same.