In this week's "Previously On," I review the first six issues of the Scott Snyder written Justice League (particularly in relation to my recent reads of Justice League International and the Justice maxi-series painted by Alex Ross), and talk about my year writing freelance article for CBR.com.

Featured Comic Of the Week –
(Spoilers For These Issues Follow!)
Title: Justice League
Writer: Scott Snyder
Artist: Jim Cheung, Jorge Jimenez
Support For Comic Book Herald:
Comic Book Herald is reader-supported. When you buy through links on our site, we may earn a qualifying affiliate commission.
Comic Book Herald's reading orders and guides are also made possible by reader support on Patreon, and generous reader donations.
Any size contribution will help keep CBH alive and full of new comics guides and content. Support CBH on Patreon for exclusive rewards, or Donate here! Thank you for reading!
Where To Find: Justice League Vol. 1
Justice comes in many forms, as I've had the pleasure of experiencing over the past couple weeks. Without really even planning it, over the course of two weeks, I read Volumes 3 to 6 of the Giffen/DeMatteis era of Justice League (including Justice League International, and Justice League Europe), Justice by Alex Ross, Doug Braithwaite, and Jim Krueger, and the first six issues of Scott Snyder, Jim Cheung, and Jorge Jimenez's ongoing "New Justice."
I was struck reading these different eras how tone shapes my enjoyment of a Justice League story, and how my tastes in tone have certainly shifted (and continue to shift on a rolling basis). The late 80's into early 90's JLI comics are all humor and undercutting anything getting too serious. I loved reading these issues as expert character arcs (it's impossible to come away from JLI not loving the likes of Blue Beetle, Booster Gold, and Martian Manhunter), that in many ways predate the MCU formula of heart + comedy + action = world takeover. The JLI's particularly special trick that separates them (mostly) from the likes of the MCU is the simultaneous status as B-list bunglers.
Snyder, Cheung, and Jimenez's "New Justice" is quite different in this regard, following on the heels of the darn near perfect Dark Knights: Metal with the restoration of 2000's kids classic Justice League lineup: Superman, Batman, Wonder Woman, Flash (Barry (boo!) Allen), John Stewart (Green Lantern), Sheira Hall (Hawkwoman), Aquaman and Martian Manhunter.
Snyder and company find a new balance in tone, able to play both light and dark notes effectively. The series begins with a series of Leaguers doing comical Batman impersonations, before resonating in a Legion of Doom takeover that results in serious harm to the heroes.
In this regard, "New Justice" is very comparable to the Legion of Doom's own master plan in Justice. The Justice 12 issue maxi series is very much of the mid-2000's era, with a "dark" narrative that brings the heroes to their lowest before they can save the day. You have Wonder Woman horribly scarred, Superman brutally beaten, Flash trapped in a literal running loop, and uh, Aquaman given brain surgery by Braniac. Unlike Krueger and Ross's previous work on Marvel's Earth-X, Justice never quite unleashes brilliant weirdness, and instead tells a fairly familiar story. Like Super Friends by way of "Acts of Vengeance," merged with the tonal shifts of Identity Crisis.
I'm excited to see where Snyder and the creative team can take Justice League, and am certainly invested and trusting enough of Snyder's previous work at DC that I'll be along for the whole ride. Nonetheless, purely as individual volumes of story go, Justice League Vol. 1 doesn't hold up very well as a standalone adventure. The character dynamics are more streamlined than the unwieldy No Justice
, but the arc still has the unmistakable feel of set-up. Unlike Metal, the cosmic insanity is only bristling along the edges of the narrative, and the righteous brainstorms are too fleeting. For example, the "invisible emotional spectrum" offering lantern rings for emotions like shame and guilt is mildly genius, but washed over without much exploration (apart from John Stewart's 8 millionth atonement for the events of Cosmic Odyssey
). 
In many ways, this first volume of Justice League reminds me of the potential Jonathan Hickman's early Avengers stories promised, and that's reason enough to seek out a cosmic doorknob at the Hall of Justice.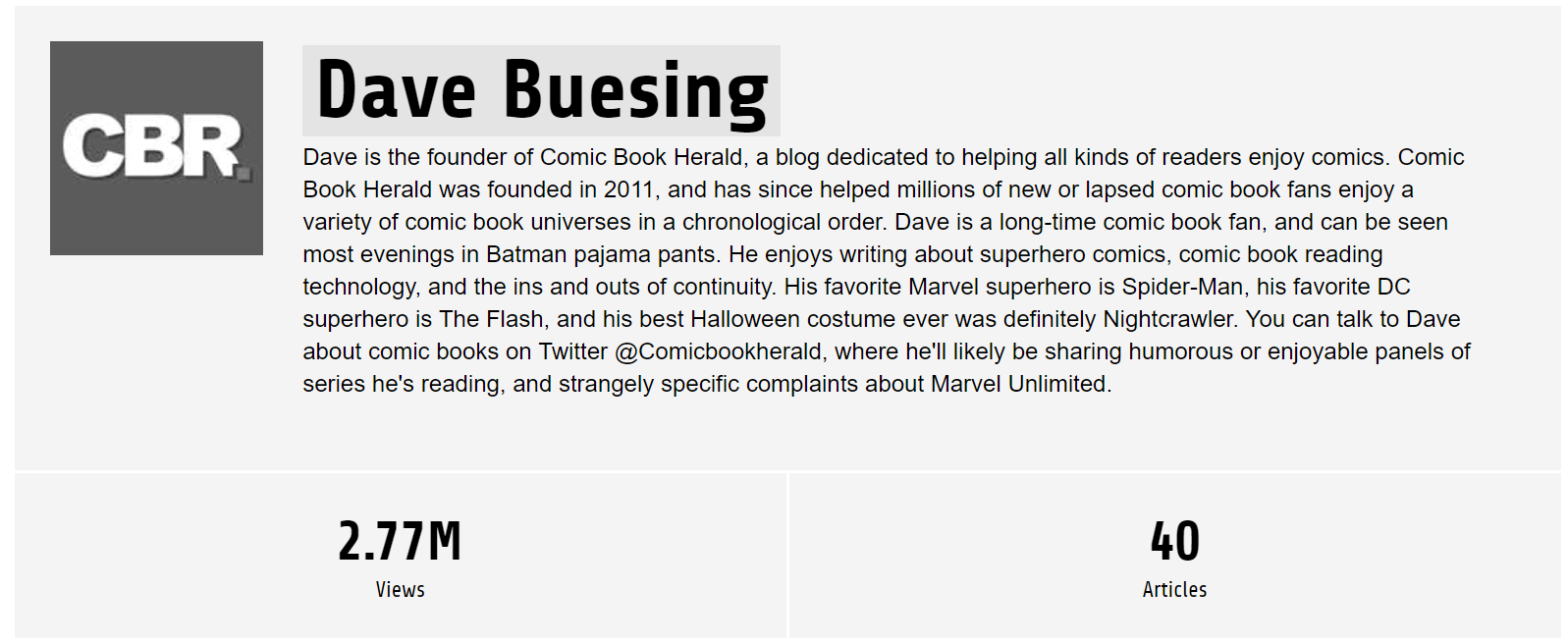 COMIC BOOK JOURNALISM
TREND: FREELANCE WRITING FOR CBR
This past week, I decided to formally end my time writing articles for mega comics website, CBR. Over the course of almost exactly one year, I wrote 40 "listicles" for CBR, approximately 100,000 words receiving nearly 3 million views.
I don't have any major statement to make about the decision to part ways aside from pure time commitment. One thing I'll always keep in mind is the hard work that goes in to easily derided "lists." CBR is one of few sites that pay writers to talk about comics, and they request that you work hard and on manageable yet demanding timelines (at least for someone with as many prior commitments as I have). As you can tell from the math above, an average of 2500 words per article is a lot to write in the span of 3 or so days.
Broadly speaking, it was a big deal for me to get in on the opportunity to write about comics for pay. I've applied plenty of places in an effort to cement more of a footing in the comic book journalism world beyond Comic Book Herald. CBR was easily one of the best opportunities I've had in that regard, and I'm rooting for the site moving forward.
In that light, I'll start with the positives about CBR. It's been fascinating just over the year I had minimal visibility into the inner workings of perhaps the biggest site in comics. I watched the site go from an editorial policy that championed negativity, sex, and violence, to one that's actively promoting things people actually like about comics. It's definitely a move in the right direction, although I do wonder if it's too late in the game for the site to truly perform an about face.
It's been strange and disheartening to inherit the vitriol of the CBR comments section on every written piece of content I've provided. Saying it's a negative environment is like saying Darth Vader dresses mostly in dark colors. Whether on Facebook or in the comments, the readership of CBR is consistently abusive, and full of anger and rage spewing into the void. In some cases it's easy enough to avoid, but it also made me question the value of writing for a site like that. Only so many pennies per word can justify writing for a crowd filled to capacity with preemptive disdain.
As a minor contributor, I do think many good works on CBR have gone overshadowed by folks looking to criticize CBR's obvious desperation manifest in the form of clickbait and obnoxious ad practices. I still think the site has the potential to find a healthier balance between respectable comics coverage and money-maker, but that's an incredibly complex feat to pull off on a website of that scale.
All in all, I wish CBR well, because comics coverage is better when the bigger, well-established voices are doing it well. In the meantime, though, I'll be putting the time I spent writing for "The man" back into Comic Book Herald!