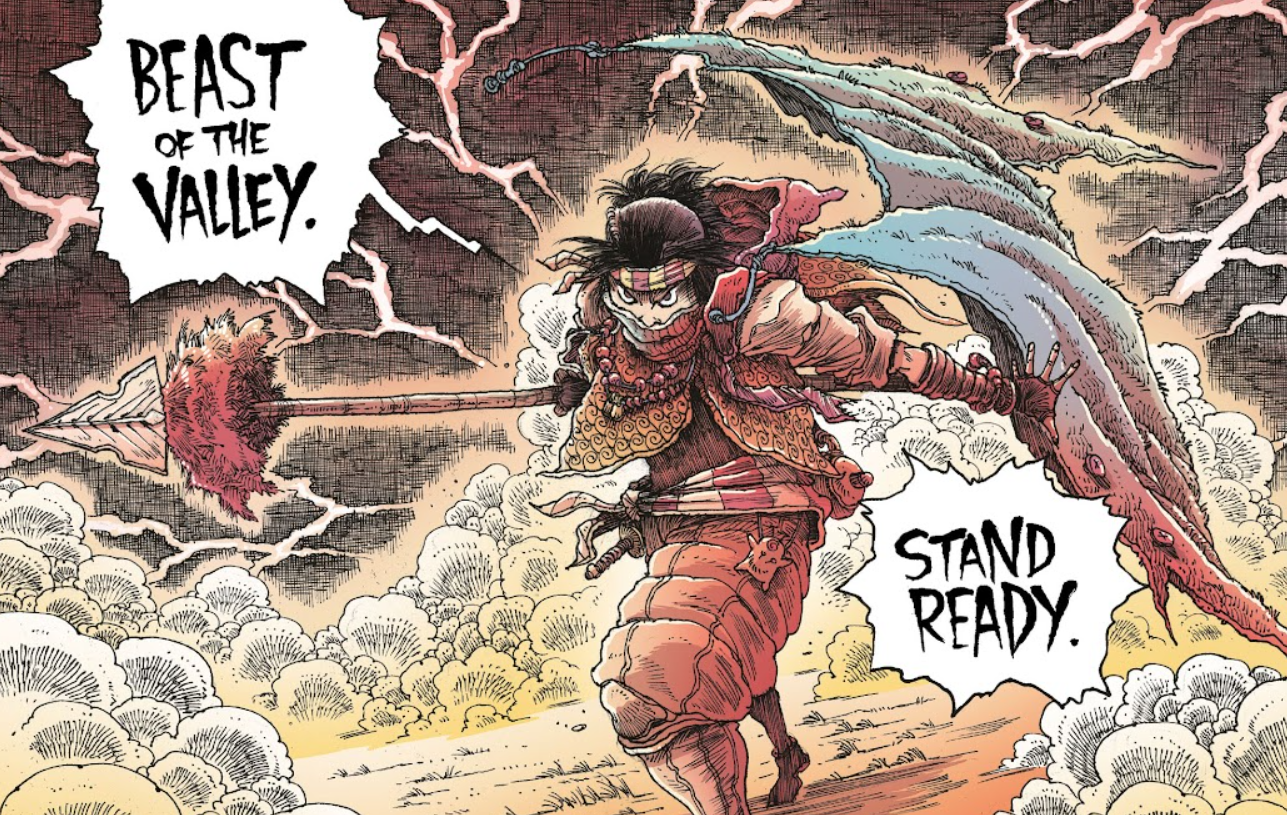 Chaos and camp. Those are the words for this comic, and I'm all for it. James Stokoe (Aliens: Dead Orbit) creates a crazy kung-fu-inspired world designed to impress and impact us in every way possible, from the writing to the coloring and the characters. He uses all elements at his disposal to make the reader exclaim how cool Orphan and the Five Beasts is. Well, it sure is cool as heck!
After she finds a dying man on the road, the warrior Mo learns from her master that his five past pupils are corrupting the valley and using their sacred techniques for evil. She goes on a journey to find and defeat all of them, almost as if they were video game bosses (again, cool as heck). In the first volume, by James Stokoe (writer, artist, lettering, and cover artist) and Daniel Chabon (editor), Mo manages to defeat two of them, making us eager to see a sequel soon.
But even though we follow Mo throughout the four chapters collected in the first volume, we don't learn much about her. It's cool to see her story, because she's strong, smart, and kind-hearted, but I hope we will get to know more about her past, like why she started learning martial arts and how she met her master.
Even I, someone who's not that big on watching classic martial arts movies, can realize Stokoe is paying tribute to them and putting a ton of fantastical elements into the mix. The clothes and weapons of the characters reflect the era. While Mo knows the five aspects of the art, each of the other pupils only mastered one, so they have different fighting styles. Thunderthighs, for example, is gifted with the "leg aspect", while Chopper Teng, the second corrupted pupil that appears, has the "arm aspect" and uses quick palm strikes to defeat his opponents. We also are presented with the view of how important martial arts are because the past students wouldn't have become corrupted if they had dedicated their lives to studying all five aspects of their master's sacred art. But as I said, Stokoe wanted to give the genre his own spin, so it's filled with exaggerated moments. From the master shouting his final wishes while inside a cauldron filled with hot water to a man destroying a horse with his thighs.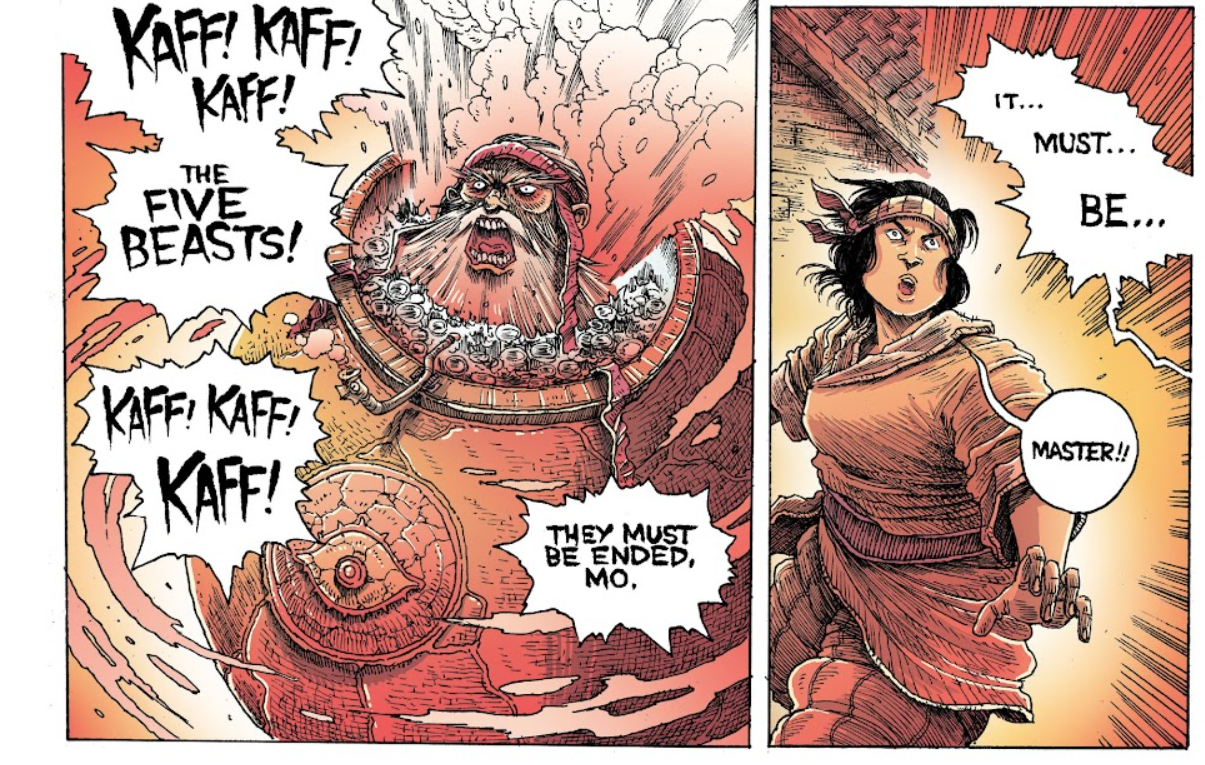 And that takes me to Thunderthighs, the first boss. When we see him, the story reaches another level. Obviously, per his name, when he is introduced, the sky roars with thunder to represent how dangerous he is. In addition, his thighs are pure muscle and would certainly kill any of us with a single strike. I said he killed the horse with them, but it wasn't only one; he killed every horse in the stable by mounting them and is proud none of them lasted many laps.
Support For Comic Book Herald:
Comic Book Herald is reader-supported. When you buy through links on our site, we may earn a qualifying affiliate commission.
Comic Book Herald's reading orders and guides are also made possible by reader support on Patreon, and generous reader donations.
Any size contribution will help keep CBH alive and full of new comics guides and content. Support CBH on Patreon for exclusive rewards, or Donate here! Thank you for reading!
During this first fight, we see two great things: Mo's fast and clever fighting style and Stokoe's taste for a good twist. Mo realizes her hits aren't as efficient as she would like because of Thunderthighs' muscles, so she uses her intelligence to defeat him. She tricks him into breaking a Bell Tower and then pretends to use the bell as a shield, but it's only a ploy to make the villain confused and perform a sneak attack. She cuts him in half and wins the fight. Great! But actually, she doesn't.
That moment changed everything. Thunderthighs cut in half proudly screams that Mo only helped by slashing him, almost as if that was his true form. It's that odd moment when something clicks in your brain; I knew I was having fun with this series, but I didn't expect it to become one of my favorite pieces of action media in general. That monstrous set of muscly legs jumping around and shooting logs made my day. Stokoe's art and coloring (mainly the bright orange he uses) bring even more energy and impact to the fight, and that sense is heightened by the heavy juxtaposition between orange and green.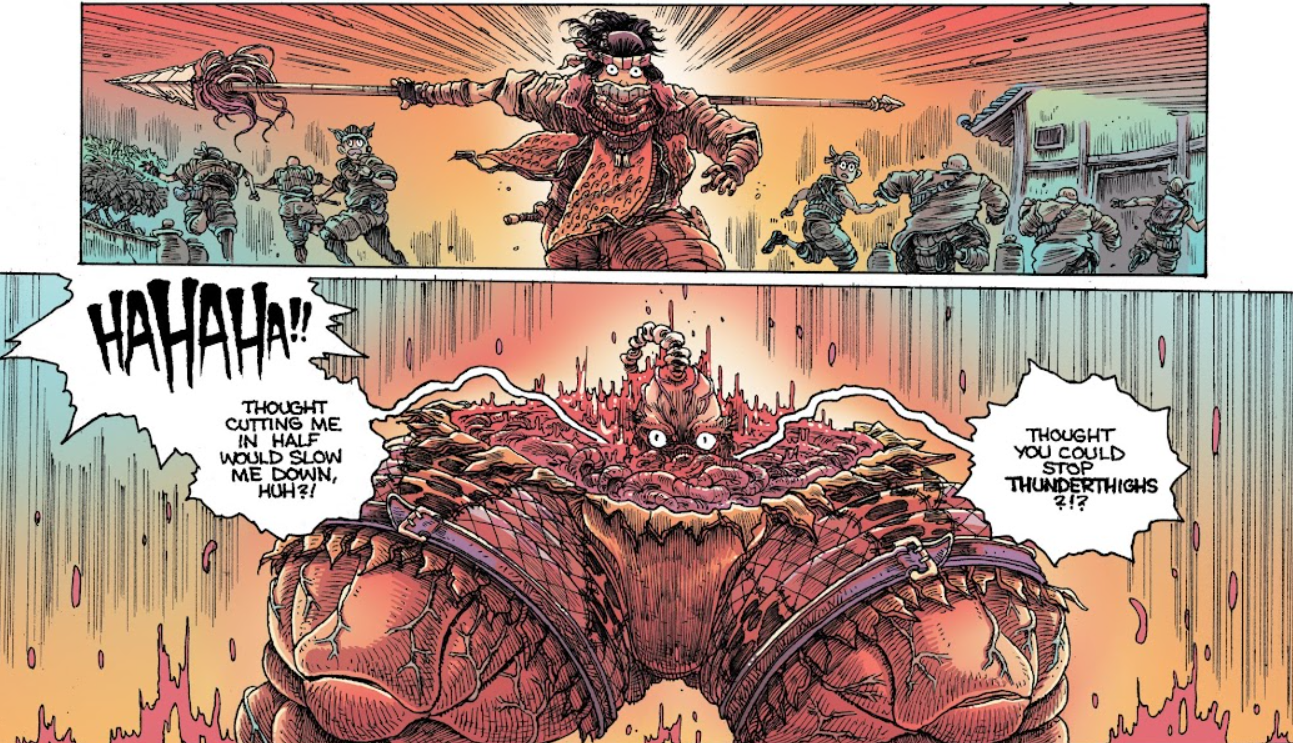 With the help of his minions, Mo rips Thunderthighs in half and kills him. Then they decide to join her in her mission. That takes them to another village where a strange shop attracts more and more customers every day; customers that are addicted to the meat they are eating. After hearing the rumors of it being an incredible restaurant, Mo goes to investigate and surprises the odd cook of the place when she tells him she's a vegetarian. Before she storms into his kitchen, I was already expecting some form of twist, but him killing the clients and using their meat would be too simple, so I thought we would find some kind of monster or demon there. To my surprise, he really was using human meat, but it was his own.
When I get to read the sequel, definitely one of the most entertaining things will be to guess what the next twist will be and what kind of fighting style the evil bosses use based on their design. The new villain, Chopper Teng, being able to regenerate himself and transform other people into basically mindless creatures is a cool concept that allows for an even more interesting battle. In an almost Alien-like nature, a giant vermin comes out of the customers and attacks Mo while Teng uses his regeneration to produce more and more arms, which he uses to overpower Mo. Gory imagery fills the pages whilst our protagonist tries to turn the table.
Let's do an exercise here. How can we kill someone that has a healing factor? Take Wolverine, for example, he was already zapped by an energy blast, got his heart ripped out, was incinerated by the sun's heat, and even got his skeleton turned into rubber (the best of them. Thanks, Thanos). So how does Mo defeat Chopper Teng? She batters and cooks him to death. Yeah, didn't expect that. Stokoe knows exactly how to surprise us and make that fun and campy so that we will still enjoy ourselves if we reread it.
Another thing that guarantees that is the way Stokoe draws action scenes. Orphan and the Five Beasts didn't become one of my favorite action books even just because of the campiness; during the fights, the fast slashes and the colors guide us, making everything really easy to follow. Stokoe's detailed art makes us stand and stare at his backgrounds (something I only feel the need to do when reading the likes of One Piece or Berserk), but he surprises us by abandoning that detail (that becomes only reserved for the characters) to create flashy and fluid scenes.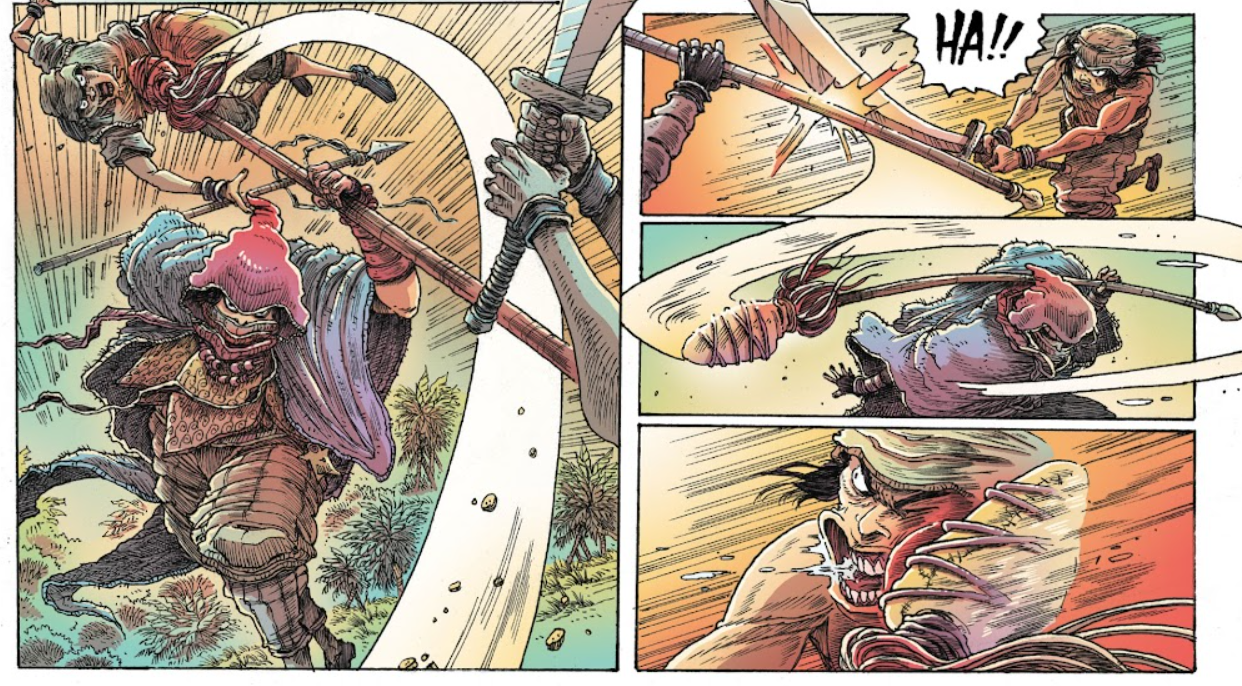 As there's not much story going on, it really feels like Mo is thrown into situations and we're just waiting for her to find the next boss fight. So having impeccable art and easy-to-follow action scenes is essential for the narrative. Also, as I've mentioned, the twists are built thinking about our usual expectations and mixed with campy elements to get us impressed with the fights no matter how many times we see them. Do you think you'll get used to and tired of seeing a giant muscly leg monster rampaging so soon? I sure won't.
To me, one of the only bad things about Orphan and the Five Beasts is the abrupt ending after the fight against Chopper Teng; we have no indication of where Mo is going next, nor a glimpse of what kind of corruption she'll face next. But still, Stokoe hits the right beats in basically every other aspect of the comic. It's a cool, fun, and surprising ride with detailed art, great use of colors, and some of the best character designs I've seen this year. I know that while I wait for Mo's next big boss fights, I'll explore other crazy and incredible universes created by James Stokoe.