One week into the new year and Marvel hits the ground running, unleashing a highly concentrated burst of properties across several media platforms. Headlining this pack is Agent Peggy Carter, who is not only reprised by actress Hayley Atwell in her own ABC-TV mini-series but, through no small coincidence, is the protagonist of a new five-issue limited similarly set during the onset of "the Atomic Age".
That's not to say Operation: S.I.N. is a straight comic book adaptation of the Agent Carter program. It is far from it with its focus lying entirely elsewhere. Aside from Peggy serving as lynchpin of both and the all-pervasive presence of the OG wisecracking Clark Gable-impersonator, Howard Stark, the comparisons pretty much stop right there. Astute readers should note that the cover logo is not only a nod to Jason Aaron's Original Sin event series from this past summer but also implies connection as a tangential prequel of sorts.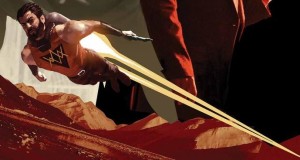 Writer Kathryn Immonen does a fine job capturing the mood of this period piece, offering mid-century contextual clues but for anyone looking to historically pinpoint specifically when this story must occur from the radio news blurbs, you might find yourself going cross-eyed staring into Google.
Suffice to say, accuracy falls just short of placing these events somewhere roughly between 1950 and 1952. It almost suggests that through the sliding scale of "Marvel Time", factual events are also subject to compression and overlap. In this regard, the only element that truly comes off as anachronistically jarring is how slick and modern artist Rich Ellis makes Stark's "wetworks" operatives. Even taking into account Stark Senior's innate genius or the unexplained telekinetic technopathy he's shown to wield in Jonathan Hickman's S.H.I.E.L.D. series, this is the era of vacuum tubes! Accordingly, even cutting-edge night vision headgear should look more art deco and less iPod.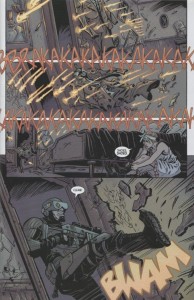 Despite the momentary presence of the Grandfathers of Sigma Six, the tone of the piece is fairly light-hearted, playing more as a high adventure globe-hopping romp than following through on any of the somber overtones established in Sin's previous (subsequent?) chapters. Even when brusque and burly "Man on the Wall" Woodrow McCord shows up presenting the de facto maguffin, the atmosphere shifts to accommodate his backwoods sexism but Peggy seems to unswervingly take it all in stride.
Support For Comic Book Herald:
Comic Book Herald is reader-supported. When you buy through links on our site, we may earn a qualifying affiliate commission.
Comic Book Herald's reading orders and guides are also made possible by reader support on Patreon, and generous reader donations.
Any size contribution will help keep CBH alive and full of new comics guides and content. Support CBH on Patreon for exclusive rewards, or Donate here! Thank you for reading!
However, the light and breezy approach also brings another character/story device under scrutiny: namely Peggy's Russian "handler". Through omniscient perspective, the reader is privy to the fact that she is not quite as she seems upon introduction. This being the case, the character acts transparently suspicious throughout the remainder of the issue. The way it relays, though, it's unclear whether Immonen is intentionally winking at the audience or if Carter and Stark are aware of the infiltration and are just playing along to see where it leads. Also, kudos to color artist Jordan Boyd for creative excellence in enlivening the drabness of Iron Curtain-era Soviet Russia and substantiating distinct flashback panels.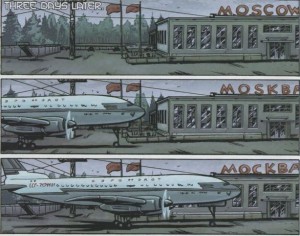 Twenty percent through the story and so far, so good. That being said, the mechanical predictability of hitting beats on time alone only goes so far. Sure, everything cues up to Plot Point 1's clockwork arrival but what's really compelling is the wide-open real estate of where this story could go.
Early press gave terse allusion to possible era-contemporary guest stars dropping in at some point. Given that the Cold War is now the domain of Marvel Time, the sucker bet is the obligatory Wolverine appearance (because everybody has a secret "Way Back When Logan" story). Instead, Immonen and company offer a fun, "just roll with it" kind of story that also subtly grounds Soviet-specific characters to their place in history. If upcoming cover solicits are any indicator, this is either a case for unheralded legacy characters or lends amazing credence to the whole "time is broken" ending to Age of Ultron. Yep, Marvel's 2015: The year that ate its own tail…