When Iron Fist was announced, I had exceedingly high hopes for the Kung-Fu mastery of Danny Rand on the prestige Netflix stage. From Winter Soldier's paranoid spy thriller to Ant Man's miniature heist, Marvel has proven skillful at genre-smashing superheroes, and the mystical Kung-Fu of Iron Fist offered endlessly fertile visual territory.
Depressingly, Iron Fist, a book steeped in Kung-Fu since its 70s origins, resolutely refuses to become an off the wall martial arts showcase set inside the Marvel Cinematic Universe. Instead, Iron Fist is a boardroom drama masquerading as set-up for The Hand's villainous role in Defenders, a slow burn in which Marvel simply forgets to light the candle.

* Spoilers for Iron Fist on Netflix follow *
Strategically, every decision behind Iron Fist's storytelling vision is baffling. I have never once read an Iron Fist comic and thought "I really wish we could spend less time in this mystical Kung-Fu tournament, and more in closed door C-suite offices," but that's exactly what Scott Buck and the creative team deliver.
Whereas Daredevil season one merged Batman Year One
with taking on the Kingpin of Crime, and Jessica Jones adapted the harrowing story of Purple Man's abusive manipulations, Danny Rand largely deals with the challenges of proving he's Danny Rand. Here's the thing about watching a show about Danny Rand: We know who he is! In retrospect, Iron Fist would have been infinitely more interesting if after all that time it turned out Finn Jones wasn't the real Danny Rand, and he was a Hand imposter with the real Iron Fist trapped in K'un L'un.
Support For Comic Book Herald:
Comic Book Herald is reader-supported. When you buy through links on our site, we may earn a qualifying affiliate commission.
Comic Book Herald's reading orders and guides are also made possible by reader support on Patreon, and generous reader donations.
Any size contribution will help keep CBH alive and full of new comics guides and content. Support CBH on Patreon for exclusive rewards, or Donate here! Thank you for reading!
Speaking of the mystical capital city of heaven where Danny Rand is raised, the refusal to flashback to any K'un L'un training is so rigid it feels an almost admirable overreaction to differentiate from Arrow, which so effectively mirrored Lost in season one. Danny's affiliation with this magical realm is what differentiates the character from Tony Stark, Bruce Wayne, or Stephen Strange, yet Marvel tapped into almost none of this. Hopefully that magical realm budget is being used wisely for Thor: Ragnarok later this year, because it was clearly non-existent for Iron Fist.
Iron Fist's crutch was always going to be in the choreography, but the action is brutally sparse, and embarrassingly forgettable when it occurs. Watch the first 10 minutes of AMC's Into the Badlands after Iron Fist, and it's like sitting courtside at the NBA after 13 hours of junior high bricks.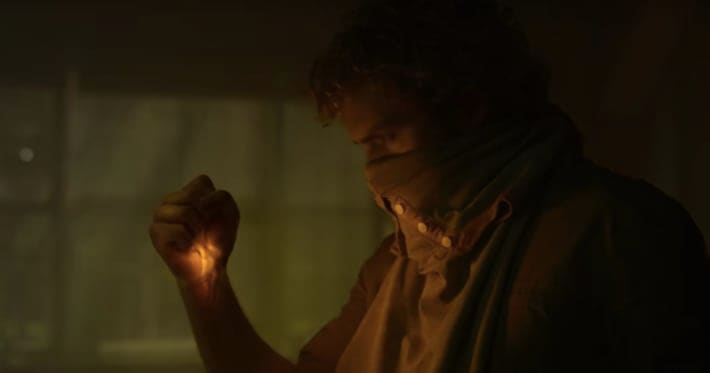 To be fair, there are brief moments of hope throughout Iron Fist. Once we get past the abhorrent slog of episode one, Iron Fist takes a deliciously Lemire and Smallwood Moon Knight turn, and episode 2 does play with interesting notions of whether Danny made the whole Iron Fist saga up in his head. Sure, FX's Legion is doing laps around this type of superpowered psychoanalysis, but it's a fine direction for early Iron Fist.
Likewise,Episode 6 finally delivers on kung fu challenges, with a surprise Bride of Nine Spiders cameo, but it's the exception, not the norm.
None of this can save the series, though. Iron Fist is 13 hours long and it feels like 130. In the time it takes to watch Iron Fist ep 1, K'un L'un cycles in and out of alignment with earth. Twice.
There will be plenty of Marvel Netflix fans who enjoy this series, and obviously that's the nature of opinions. For me, though, Iron Fist is the biggest disappointment of the Marvel Netflix output, and speaks to absolutely none of what I love about the character.
Marvel Cinematic Universe Power Rankings
Every time a new Marvel movie or TV series is released I like to update my Marvel Cinematic Univese power rankings. As we hit 20+ entries, I've broken the power rankings into tiers that started with my Dr. Strange review.
Tier 1: The Best
1) Avengers
2) Alias aka Jessica Jones
3) Guardians of the Galaxy
4) Captain America 3: Civil War
Tier 2: Great
5) Daredevil (Seasons 1 & 2)
6) Captain America 2: The Winter Soldier
7) Iron Man 3
8) Iron Man
Tier 3: Good
9) Avengers 2: Age of Ultron
10) Dr. Strange
11) Captain America: The First Avenger
12) Ant-Man
Tier 4: Mixed Feelings
13) Luke Cage
14) Thor 2: The Dark World
Tier 5: Sick Day, Sure, I'll Watch
15) Thor
16) Agent Carter (Season One, pretending Season Two didn't happen)
17) Incredible Hulk
Tier 6: Making Me Sick Day
18) Iron Fist
19) Iron Man 2
20) Spending hours on the phone with customer support and your problem never gets resolved
21) Agents of SHIELD
7 Reasons I Love Iron Fist
Since the vast majority of Netflix Iron Fist just makes me mad, and a giant negative nellie, I do want to share some highlights of why Danny Rand, aka the Iron Fist, is an awesome Marvel character.
For anyone wanting proof, I recommend you look no farther than Marvel's Immortal Iron Fist
, one of my favorite comic book stories of the 2000's.
For everyone else, below you'll find the seven capital reasons I love Iron Fist.
Danny solves business transactions gone awry by punching trains to death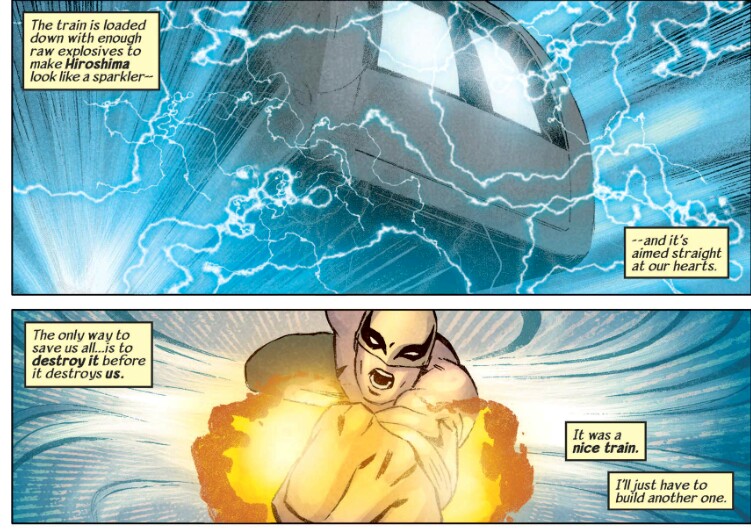 2) Luke Cage & Danny Rand, pals for life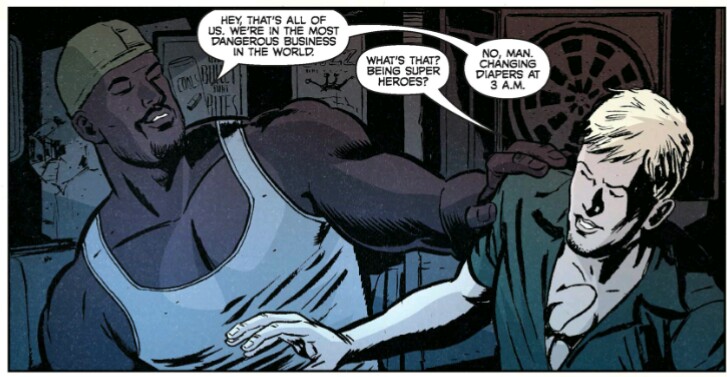 3) Misty Knight saving Iron Fist's butt and wearing monogrammed belts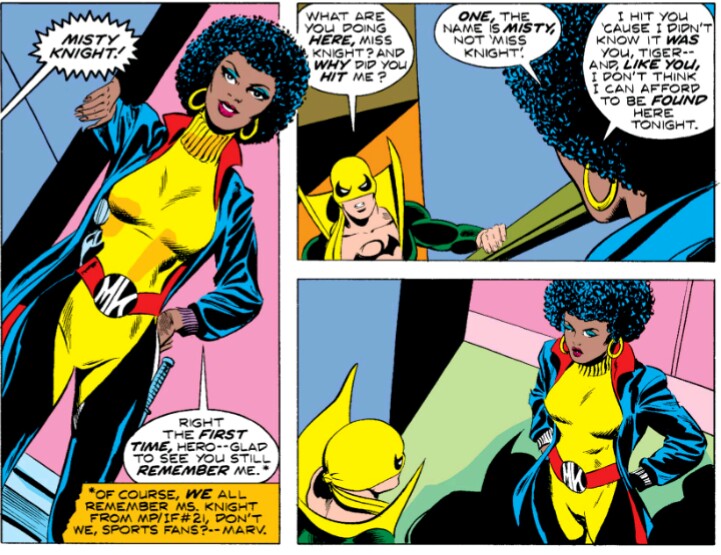 4) The Immortal Weapons Kung Fu tournament is the absolute coolest
5) The history of Fat Cobra voices over so many good ideas per square panel I had a seizure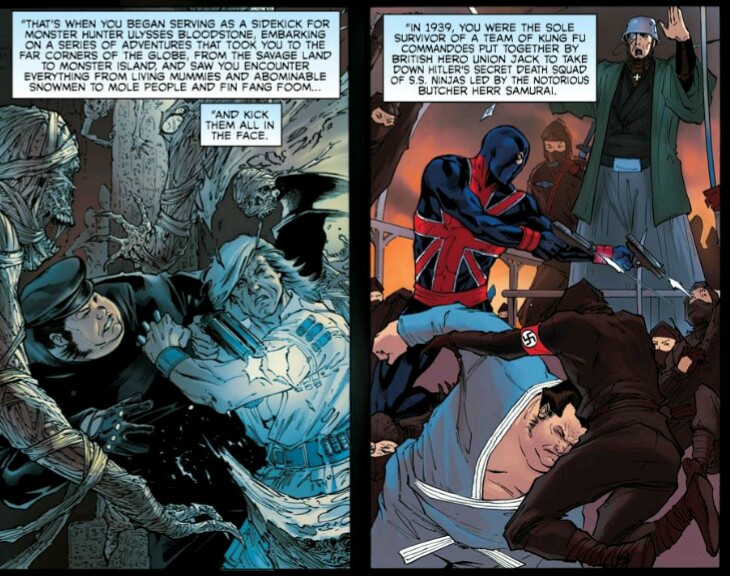 6) Concussed Danny has a sense of humor

7) Iron Fist Fighting Legions of Hydra With Kung-Fu Moves