Below you'll find our reading selections for the year of 1966, and at the end of our reading, you'll find my thoughts on the year and our winners for hero and villain of the year.
Feel free to discuss the comics and any related thoughts below in the comments!
1966 Comic Reading List
| | | |
| --- | --- | --- |
| 1966 | Comic Book Title | Issues |
| 1 | Amazing Spider-Man | #31 to #33 |
| 2 | Fantastic Four | #46 to #53 |
| 3 | Tales of Suspense | #78 |
| 4 | Tales to Astonish | #76 |
| 5 | Daredevil | #18 |
| 6 | Strange Tales | #146 |
| 7 | Tales of Suspense | #79, #80, #81 |
| 8 | Avengers | #25, 29 |
| 9 | Amazing Spider-Man | #39, #40 |
| 10 | Thor | #131 to #133 |
The Voting – 1966

The Marvel Hero of the Year: 1966
Halfway through the 1960's, we've seen the Fantastic Four and Spider-Man trade Hero of the Year titles in an impossibly competitive series of votes. Nonetheless, nothing to date has been as excruciatingly, hair-pullingly, how-do-i-even-decide-this-sanely close as the duo's 1966.
In fairness to the other heroes in Marvel's roster, there are a lot of worthy votes for stories like Iron Man's battle with The Titanium Man, Cap's battle against a Red Skull wielding Cosmic Cube, and Black Panther single-handedly taking down the Fantastic Four (for kicks no less!).
That said, the consistency across Spider-Man and Fantastic Four throughout 1966 is hard to really do justice. The highlights go on to define each title's legacy, from Spider-Man's heroism and relationship with Norman Osborn, to the Coming of Galactus.
Support For Comic Book Herald:
Comic Book Herald is reader-supported. When you buy through links on our site, we may earn a qualifying affiliate commission.
Comic Book Herald's reading orders and guides are also made possible by reader support on Patreon, and generous reader donations.
Any size contribution will help keep CBH alive and full of new comics guides and content. Support CBH on Patreon for exclusive rewards, or Donate here! Thank you for reading!
Inarguably, the Fantastic Four's year does more for the Marvel Universe as a whole. Jolly Jack Kirby and Stanly the Manly dreamed up the Inhumans, Black Panther and Silver Surfer within the span of 7 issues (not to mention Galactus and Wyatt Wingfoot). It doesn't take much more than a cursory glance at the upcoming MCU calendar to realize that the Fantastic Four's adventures were so imaginative they synthesized universes of their own.
Even while the Fantastic Four soared through big picture EVENTS, and saved the entire Earth all at once, Stan and Jack still found time for Fantastic Four #51. "This Man, This Monster" is a perfectly executed glimpse into Ben and Reed's relationship and heroism. I can never rememer if we even hear the name of our "villain," but that's entirely the point. This isn't necessarily my favorite Ben Grimm story (how could it be when most of The Thing's actions are from a fake!), but it's an all-time great.
Spider-Man continues to operate on an appropriately smaller scale, albeit with more complicated personal stakes. Steve Ditko would be done with the web-slinger after Amazing Spider-Man #38, but that still gave him time to plot and draw "If This Be My Destiny" in issues #31 to #33.
Amazing Spider-Man #31 to #33 are simply some of the best Spidey comics you will ever read, and never cease to inspire me. It's safe to say that Peter Parker's stubborn courage throughout these three issues is the reason he's my favorite Marvel superhero of all time.
Honestly, AMS #31 to #33 would be enough to make me consider Spidey a contender vs. The Fantastic Four, but it's Amazing Spider-Man #39 to #40 that seal the deal. John Romita took over for Steve Ditko on art, and not only did he not miss a beat, but he came out of the gates with the first definitive Green Goblin story! For all intents and purposes, these two issues are the backbone of Sam Raimi's first Spider-Man movie, and capture and stolen secret identity of Peter Parker make for tense, riveting comics. The scenes of Peter fighting the Green Goblin in plain street clothes outside his home with Aunt May are some of my favorite panels of the year.
So, where did the votes net out? Do we award the Fantastic Four for size and staying power of their adventures, or does 1966 go to Spider-Man for a third title?
Spider-Man won the vote by a narrow 3%, and although I'm glad I don't have to deal out a tie-breaker here, Spider-Man gets my vote as well.
1966 Hero of the Year: Spider-Man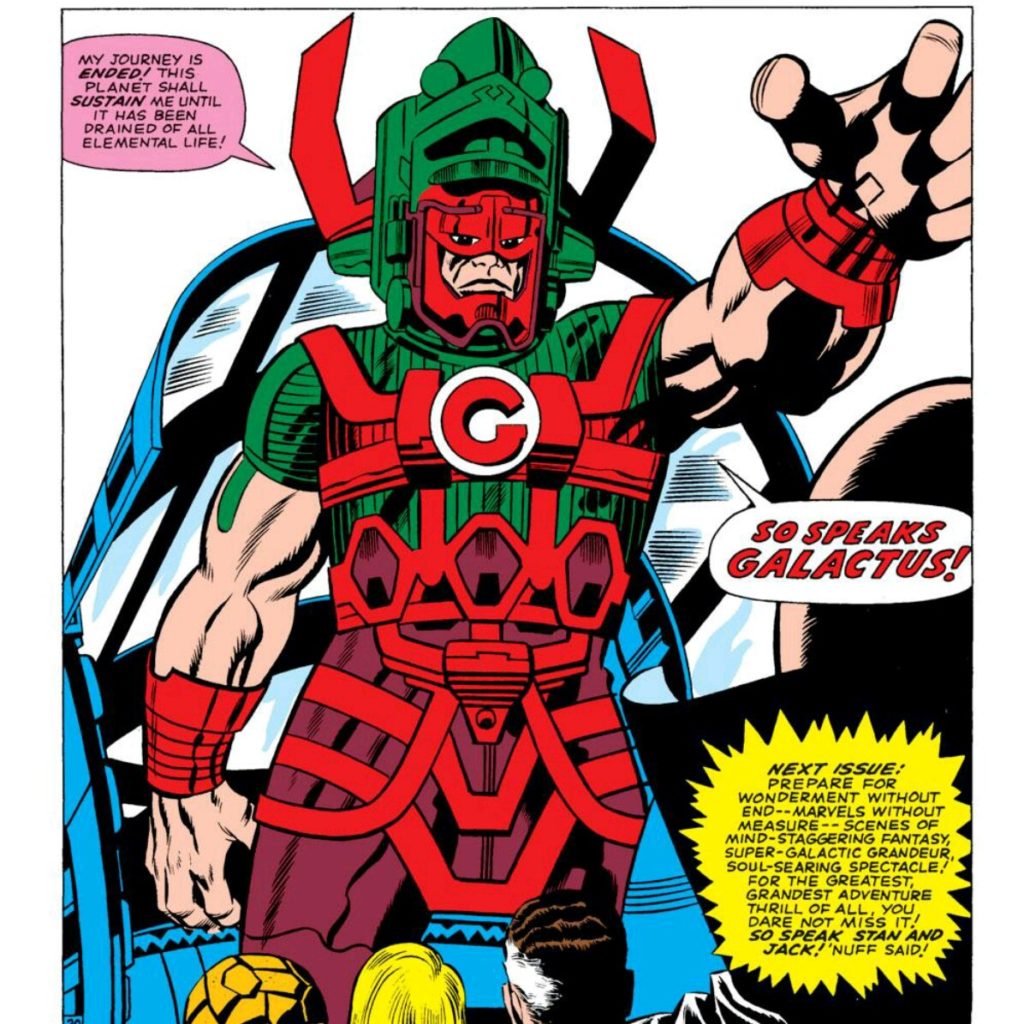 The Marvel Villain of the Year: 1966
Villain of the Year proved to be a much easier decision yet again, and let's face it, there's only one contender on this list who EATS PLANETS.
That's right, Galactus is our Villain of the Year. Apparently his mid-Earth snack costume change (from green to purple armor!) did nothing to dissuade the mighty marvelous year voters!
As memory serves, Galactus is the first Fantastic Four villain that the FF can't truly beat. Sure the Thing has a hard time clobberin' the Hulk, and Doctor Doom always gives the team a heart attack, but there's no fighting or outsmarting their way vs. Galactus, at least under conventional measures.
The use of the Ultimate Nullifier has always been a curious plot turn from Fantastic Four #50. Reed Richards would rather wipe out all of existence than see Galactus eat Earth? It's selfish, sure, but it's also how I'd have to think most human beings would approach a scenario. It's a stark contrast to Richard's later understanding of the World-Eater as well.
I'll always wonder… what if Galactus had called Uatu and Reed's bluff? Would they have done it?
Fortunately, we never have to find out, leaving us to crown Galactus with his first Villain of the Year title.
1966 Villain of the Year: Galactus
The Marvel Comic Issue of The Year: 1966
I'll always remember and be inspired by the opening pages of AMS #33.
What never ceases to amaze me is that after that herculean effort, Spider-Man still has to get out of the underwater base and fight the Master Planner's remaining henchmen! I can barely perform a second task after I shovel snow, and here Spider-Man is taking on an army after lifting the whole base on his back!
The Coming of Galactus received several votes for issue of the year as well, but it's Amazing Spider-Man #33 that takes home a 50% majority.
1966 Issue of the Year: Amazing Spider-Man #33
Next: 1967
Heroically Support Comic Book Herald!
If you like Comic Book Herald, and are able to donate, any small contribution will help keep CBH alive and full of new comics guides and content. Donate here! Or, support CBH on Patreon for exclusive rewards! Or you can even check out the CBH Merch store and get something nice with a small portion benefiting the site! Thank you for reading!