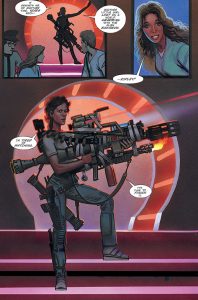 If you have yet to get into the Aliens comic franchise, you are in for a treat. Appearing mostly as one-shots and limited series starting in the late '80s continuing up to this very day, these comics tend to be wildly violent and epically dystopian. Though centered around our beloved Xenomorphs (and sometimes Ripley!), the Aliens comics have also introduced a lot of brand new characters and concepts that, alongside the Alien novels, only helps add to the mythos of the films.
Aliens Omnibus Vol. 1 collects hundreds of pages of the classic Dark Horse-era Aliens output. It should be noted that there has already been an Aliens Omnibus series that is now out of print. The Marvel omnibus gathers more issues into a single volume and seems to be fully collecting not just the central series but the fill-ins and back-up stories that appeared in anthology series like Dark Horse Presents.
Collects: Aliens (1988) 1-6, Aliens (1989) 1-4, Aliens: Earth War (1990) 1-4, Aliens: Genocide (1991) 1-4, Aliens: Hive (1992) 1-4, Aliens: Tribes (1992) 1, Aliens: Newt's Tale (1992) 1-2, Alien 3 (1992) 1-3, Aliens: Space Marines (1992) 1-12; material from Dark Horse Presents (1986) 24, 42-43, 56; Dark Horse Presents Fifth Anniversary Special (1991) 1; Dark Horse Insider (1989) 14-27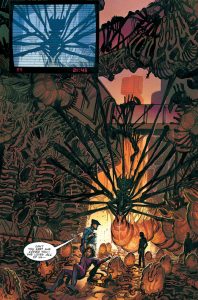 The Creative Teams
Some of the best creators in the biz at the very top of their game have worked on Aliens comics, and these early stories are full of incredible talent. Writer Mark Verheiden wrote the first few Aliens series, and would go on to be the writer and producer of shows like Smallville, Constantine, Swamp Thing, and Ash vs Evil Dead, just to name a few. The Female War has fantastic illustrations from a pre-Maxx Sam Keith, while Tribes was written by Saga of the Swamp Thing illustrator Steve Bissette. Before Kelley Jones' iconic Batman run, his pencils appeared in Aliens: Harvest. To say this is a star-studded book is no exaggeration, as so many of these creators have done incredible work in comics and other mediums.
There is something about Aliens comics that brings out a sense of anxiety-induced, chaotic, paranoid doom in its creative teams. Depending on the creative team but regularly throughout this volume, the Xenomorphs become an almost heroic presence when pitted against human greed. Commentary on the excess of the U.S. military, corporate criminals ravaging the earth through pollution, and classic human shortsightedness are all under attack as we see the Aliens build much more egalitarian societies than we ever have.
Support For Comic Book Herald:
Comic Book Herald is reader-supported. When you buy through links on our site, we may earn a qualifying affiliate commission.
Comic Book Herald's reading orders and guides are also made possible by reader support on Patreon, and generous reader donations.
Any size contribution will help keep CBH alive and full of new comics guides and content. Support CBH on Patreon for exclusive rewards, or Donate here! Thank you for reading!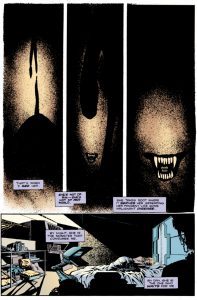 Outbreak
These first stories were originally written using characters from the first two films, Newt and Hicks, but when Aliens 3 confirmed both of them to be deceased, the characters were given new names. This is why we have a seemingly random woman named Billie and a man named Wilkes at the center of this saga. When Billie is held in a mental institution against her will for insisting that the Xenomorphs are real, Wilkes busts her out and they, along with a team of Marines, go on a last ditch mission to destroy the Xenomorph homeworld. They utterly fail in this objective, and both characters linger ever closer to the edge. But various psychiatric sessions and studies lead a psychologist to realize that there is already an Alien Queen living on Earth and preparing to attack. By the time Billie and Wilkes return, humanity is devastated and at war with the Xenomorphs that have infiltrated the planet.
The military base where they land is run by a man named General Spears who insists on capturing Xenomorphs and attempting to "train" them as soldiers, which, of course, blows up in his face almost immediately. It is obvious that the aliens are only tolerating him and waiting him out, and they quickly take over the base and kill Spears.
Billie has a strange love story with an android named Bueller who at first seems like the perfect partner. When he is torn in half and becomes emotionally overwhelmed, Billie believes that he was only pretending to be in love with her, but he saves them by dooming himself to stay alive but terribly damaged and isolated until he eventually shuts down. This is incredibly tragic but by this time Billie has been through so much that it barely registers as a plot point. It's strange, melancholic moments like these amid the explosions and chaos that define the franchise.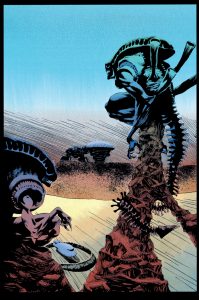 Ripley's Return
Of course, this wouldn't be Aliens if there were no Ripley, and the iconic protagonist of the film series makes her return at the end of the second Aliens series, Nightmare Asylum. She is retconned to be a synthetic Ripley in later volumes, but the classic Ripley attitude and fortitude is there. She is denied her return to Earth and sent on a mission to kidnap the Queen Mother of the Xenomorphs on a ship that begins to self-destruct the moment they land. Stranded and hopeless, Ripley goes into a one-on-one battle with the Queen.
The Colonel Marines, a ten-issue series, is collected in full. Focusing on an all-new cast of characters as they discover a species of human/Xenomorph hybrids they dub "The Bug Men," this was a series that broke a lot of new ground as far as what's possible within the Alien universe by centering a team that constantly ends up with more than they can handle. The creative team of The Colonel Marines changes sporadically and it certainly feels like a series that was cut short and changed drastically by editorial whims, but there's still something to be said for the all-out gore-splattered action sequences that make up major parts of the series.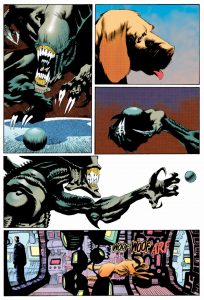 I for One Welcome Our Xenomorph Overlords
These series don't linger on the complexities of human emotion for long, but there is the chance to further delve into characters that got the short end of the stick, like the ill-fated Newt in Newt's Tale. Likewise, we don't get particularly close to understanding any greater design than survival behind the Xenomorphs motivations, but their hyper-intelligence is repeatedly in the spotlight.
In Hive, a scientist who once wrote a book about creating a cybernetic ant to infiltrate a hive becomes partners with a young thief who wishes to use a Xenomorph version of this ant to infiltrate the Xenomorphs in order to steal the royal jelly of the Queen. This leads to a long series of missteps, betrayals, and revelations for the humans, but for the Aliens, they again emerge as victorious by always being one step ahead of the game. The cybernetic Xenomorph Norbert quickly becomes one of the most surprisingly sympathetic characters of the whole omnibus, which should perhaps say something about the overall lack of morality of the humans involved in these stories.
There is so much going on in the omnibus that it's hard to do it justice with a description, but most fans of the Alien films will find something to love about these comics. As different as they are from one another, there is still a unifying overtone of questioning and even parodying some of humanity's most hostile inclinations. At every turn, when our characters become enraged with the Xenomorphs, the Xenomorphs continue to be set on survival. There may be moments of triumph for our heroes, but they remain well above us on the cosmic food chain. By telling complicated stories about complex, traumatized humans at odds with a species set to eradicate us and rapidly succeeding in their mission, the Aliens comics tap into a level of social commentary that could only be hinted at within the films.