I had the great experience of interviewing Matt Kindt, creator of Mind MGMT
and many, many more, and you can hear our full conversation on Comic Book Herald's "Creannotators," on the podcast.
But since some people prefer the ancient art of "reading," we've also transcribed the interview below, talking with Matt about his time on the great book, as well as what comes next from his Flux House imprint. The transcription has been slightly edited for clarity. Read and enjoy!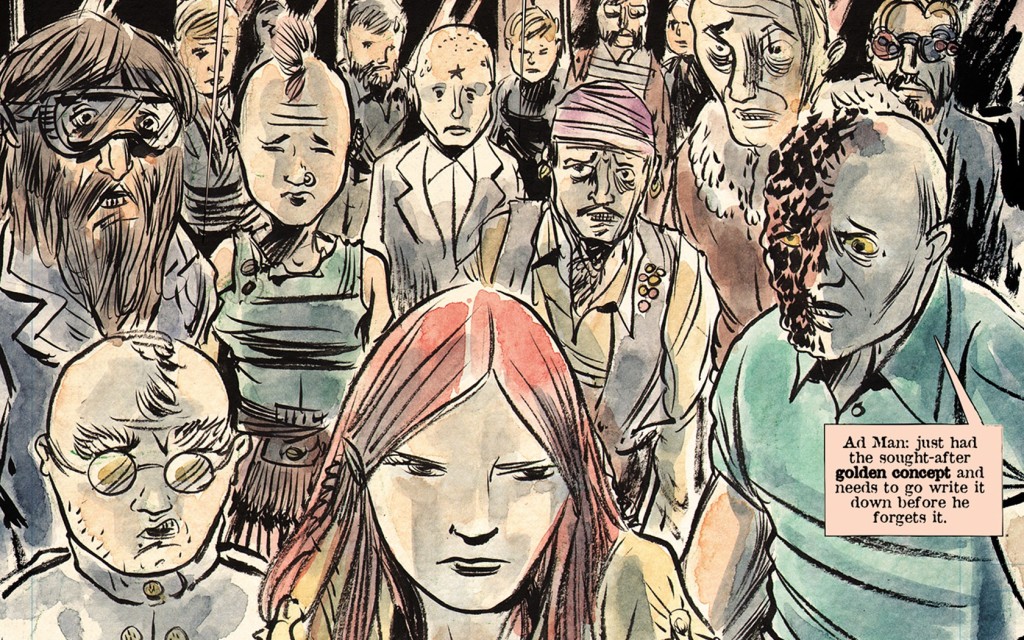 CBH: Today, we're going to be talking about the launch of Matt's new imprint at Dark Horse Comics, Flux House, which is going to be kicking off with MIND MGMT: Bootleg. The return of one of my favorite comic series of all time. I think I have it ranked sixth or fifth of all time right now. I reread it recently and we're going to be talking about that series in a little bit as well as this line. Matt, let's start here. First off, thanks so much for joining. Second, it feels like an era of creators setting up shop as their own mini publishers, with their own imprints. That's definitely a trend that's been happening. What for you is the appeal of Flux House and how long has it been in the works with Dark Horse?
Kindt: I guess I've been working on it for over a year. I started developing a few books here and there and having some fun ideas about how I wanted to promote the books and what I want for the design. Like, different weird things with production, design, and marketing and I realized that I wanted to do something that was going to be across all of the books. Something that would unite them in their weirdness and uniqueness. And really, I think it was because I'm blaming digital comics for this because I've started reading comics on my iPad so much because they look so good. You can get them right away, and I'm so lazy now too about getting out of the house, but if I can download and read it right away, I was like "oh, I'll do that." And they look so great and they're bright, so I think because I was enjoying that so much, it made me question what I was doing. Like why am I doing these books like 24 page Monday comics, why am I doing graphic novels, why am I doing that? I needed to think of a reason that they needed to be books, you know? And if I couldn't think of a reason for them to be books, then I needed to figure out what they needed to be then, like is it going to be webcomics? Is it going to be something you read on your phone?
And I do really still like books. I like having books on my shelf, I like walking by looking at books, remembering books just by looking at the spines and having that connection to stuff I've read in the past. And I realized that I was reading books on the Kindle for a while and then even on the iPad, you sort of forget what you've read. People will ask me "oh, what are you reading right now?" and then I'm like "oh no, I've just read like a hundred books, but they're all in the computer or wherever, in a folder somewhere." And so I don't feel as connected to those. There's a disconnect and so I really want to do books that had to be books. They'll work great as comic books when they come out and we'll collect them and then the books will be very special. They'll have interesting covers or ways to interact with them. Something that you can't get any other way.
Support For Comic Book Herald:
Comic Book Herald is reader-supported. When you buy through links on our site, we may earn a qualifying affiliate commission.
Comic Book Herald's reading orders and guides are also made possible by reader support on Patreon, and generous reader donations.
Any size contribution will help keep CBH alive and full of new comics guides and content. Support CBH on Patreon for exclusive rewards, or Donate here! Thank you for reading!
CBH: Yeah, I love that. Okay, cool. I always found it interesting, rereading MIND MGMT—I've got the nice field guide, omnibus editions so I had a chance to peruse those, which was super fun—and one thing that I've always loved about it is just creatively, structurally, like, you include messages in the gutters. But there's a physicality to literally turning the book, like for the optimal reading experience, which I always thought it was sort of a digital destroyer because, if you do that on your iPad, it's super annoying because your screen's going to rotate. You know? So just little things like that that create that value in print. I love that. I love that idea that you're incorporating it into Flux, fighting against compelling reasons to read digitally, to have a real purpose about "okay, if we're going to buy this in print, why are we doing that?" You've done stuff in the past and you've talked about some nontraditional methods of selling that, right? You've done records, the read along records. I have a copy of MIND MGMT. You've talked about doing a deck of cards. Some really innovative sort of things. What are your favorite nontraditional methods that you've done or you have down the pipeline for some of these?
Kindt: I think one of my favorites is the book Red Handed, that I designed to have a page where I burn a corner of the page off, like when I sign the book, I get a lighter and I burn half the page and it sort of works with the page behind it, so the panel I've burned off reveals the text below, so when you're reading that page with the burned page, you're reading the text below it. And then you flip the page and then it changes the meaning of everything. Just by burning that corner off. So that's probably my favorite thing.
And what happens is that I sit on ideas like that, and it really comes from that I really want to burn a page in a book. But not for no reason, so I have to sort of hang on to those impulses to do something weird and then wait until it fits the story. Because to me, it has to fit the story as well. It has to be part of the narrative in some way and the beauty with MIND MGMT is just the concept of MIND MGMT. It's sort of intruding on your world anyway. The idea is that it's trying to make you feel paranoid while you're reading this book, like am I getting everything? Is there secret messages? Because a lot of them are kind of obvious to see, so then you're looking for them all over the place. So for me, MIND MGMT was a perfect way to explore all these weird ideas of delivering story in unique ways and it's still part of the theme, part of the story, part of the character.
CBH: Yeah. That's cool. Did people ever freak out at cons when you took out a lighter to their comic?
Kindt: Yeah. I did a book release party and in the book release party, I did this thing. I only did it once, but there's a short story within this crime book, Red Handed, there's this short story in there where a guy buys a famous painting and then he cuts it up into a hundred pieces and sells just the pieces of it, so everybody who's buying it knows "oh, I'm getting a little piece of this famous painting." And that way, he's able to sell it a hundred times and also get rid of the famous painting, so no one person is the receiver of the stolen art, because the art, in a way, has been destroyed. And everybody owns a piece. So, for that, I did a book reading where I did a live reading of the book, and while I was doing it, I painted a big picture—like, an image from the book—and I timed it out so that I painted the whole thing and then cut it into a hundred pieces and then signed and handed them out at the end of the signing. And that was fun, but I was also then burning the books when people lined up afterwards. I was burning the books and then a woman came up—she was a librarian—and she was like "you're not burning my book." And I tried to explain that it was part of the story and she was like "no, no, no, you're not burning the book." She wasn't having it, so it was one of the only times—probably the only time—I didn't do it.
CBH: That's great. So, before we get into Flux a little more and the tenants of the argument of what you're trying to do, you mentioned in passing there that one thing you're looking to do is connect your creator-owned works. That was actually something I was going to ask because in Fear Case—the book you did as one of your projects with Tyler Jenkins, and you've done a ton of great books with Tyler and Hilary on Grass Kings, Black Badge, for example—there's a reference to a novel by Philip Verge, which is super close to Phil Verve. So I was going to ask, are we teasing some crossover universe stuff? How onto that am I? Is that happening? Is that part of the plan here?
Kindt: Yeah, Philip Verge showed up in Revolver, it was for a book I did for Vertigo and he was sort of a reality hopping guy. He could pop in between universes. That was his whole thing. He could pop back and forth and use his knowledge of one universe to exploit another, so that was a self contained book, but then I kind of named him after a character that had showed up in Two Sisters or Super Spy or in an earlier book, and I was like, oh, this is going to be that guy. He's going to be my villain. Every book needs a villain. And I was like, I don't know, but I kept plugging him in and plugging him in. So he was in Revolver, and then he showed up in Mind MGMT as the husband of the main Eraser. She was kind of the villain, or whatever of that book. He shows up in there for a little bit and then I was like "oh, that makes sense," because he's popping into the other universes, so it makes sense for him to be in everything I do. You know? And sometimes he's the main character, and sometimes he's just a secondary or in the background, or he's just referenced, but I like the idea that he's a writer too. He's a writer and he shows up as a main character in BANG!, the series I do with Wilfredo, so he's the main character again in that and he's more of an author figure there, but he's the same character in all of it. And the interesting thing is that I changed his name to Verge because that BANG! And then a couple ones that Scott [unclear] got and they're developing the movie/TV versions, so if you're going to option BANG!, I thought, well, we might want to change his name because he's in MIND MGMT, which is being developed somewhere else for TV, so I didn't want for all the different people optioning to get mad that "hey look! This is our character!" like, no, no. He's no one's character. He's trolling me there, he just shows up in everything. So my solution was to tweak his name a little bit so every time he shows up now, his name's going to be a little bit different just because I want to keep my continuity, but I'm also not building a cinematic universe. I have different people optioning different things. It's a little bit different.
CBH: That's so cool. I love that. That's funny because I read Revolver well before I had read MIND MGMT, so I didn't even make the connection. Now that you say it, I'm like, oh yeah, that wasn't hidden! I should have recognized that!
Kindt: It's alright! It doesn't matter. You don't need to care about it. Like, I love when people go through Tarantino's universe and go "oh there's a lot of overlap with those weird characters," like I love that stuff, but also I'm too lazy to really figure it out or care about it, you know?
CBH: It's just there! It just is. That's awesome. So, with Fluxus, like Fluxus is a real art movement. You've got people who've read MIND MGMT, you know, you've referenced flux houses, you've referenced Marcel DuChamp, Salvador Dali. You know, they come up as influences and as artists who are sort of part of the narrative. But there's also real history there. With the actual Fluxus movement, that could get real avant garde, right? That could get extremely out there and one thing that I've appreciated about what you've done with comics and your creator-owned stuff, is that there's a really nice balance between accessibility but then also pushing boundaries. How far out do you want to get with this imprint? Do you want to take it further? How's that sort of ethos going to infect these books?
Kindt: Yeah, I'm going to try to walk that razor's edge, thread the needle, whatever it is, because I'm trying to do something new that hasn't been done. Not to show off, but because I've gotten bored. I've been doing it for twenty years, so I'm trying to stay interested, so I want to do something in a format or in a way that keeps me excited, like waking up in the morning and going, I can't wait to draw that, or I can't wait to design that, or figure out the puzzle of how that's going to work. But, I'm also a fan of genres, so it's going to be crime stories, it's going to be sci-fi, it's going to be horror, which I haven't done a whole lot of. I've done a horror book, so I want to still check the boxes of this is the genre stuff, this is what you want. You know? When you're reading a crime book, you want a murder. So I want that, but I also want to do it in a way that seems new or a little weird. For me, the Fluxus movement is all about change and about shocking the viewer or doing something that is so off the wall, and what I want to do is try to take that and steer it into a narrative, so you're still getting a beginning, a middle, and end, you're getting characters that you care about. But we just do it in an interesting way that's slightly different. I mean, just the way comics work is a crazy medium. It's not prose, it's not words, it's not movies. It's its own thing, so already, just making something a comic book is sort of making it strange.
CBH: Sure. Comparatively. So, I'm curious then, as you're talking about different ways of designing things and different ways of keeping yourself engaged and doing new stuff, something that you've done recently with MIND MGMT is you've extended the narrative to this hidden movement boardgame, and this thing is incredible. I don't have it. I've only watched the videos somewhat recently, I missed the Kickstarter somehow and now I'm just obsessed with this thing. It looks so cool. It reminds me, I have Chris Ware's Building Stories, and it's like that, but a game. When you're doing something like that, do you view it as an extension of that universe, like, as an extension of that story? I guess I'll pause there. Do you view it as that this is the next chapter, but it's a boardgame?
Kindt: Yeah, for sure. When I was doing MIND MGMT, I was doing a monthly book by myself and I was writing, drawing, coloring, lettering, doing the production, the design. There was no ads in the book, so the back covers, the inside-back covers, everything. There was nothing that didn't show up in print that wasn't something that I touched and put there. And I did that for three years and then when I was done, I was done. To me, it was like my perfect book. Everything I wanted to do was in there. I got to do it exactly how I wanted to do it. It was just everything. I wasn't ever going to reboot it or restart it or, you know, do more of it. I'm done with that. I just wanted to do some other books, tell other stories. But, the problem was that after doing it for three years, I'm like, oh my god, I'm always thinking MIND MGMT. It's sort of brainwashed me into how I think about stories and characters and ideas.
So, every idea I was getting was like, oh, this would be a perfect MIND MGMT story, but I wasn't going to do that, so my solution was to just do stories, do the ideas, but do them in a different way every time. So, I did a book and record where you read along and then there's a comic book and then you listen to the record, but then the record is supposed to read it to you, except what it's actually reading to you is not what you're seeing at all. It's something different, so it works. It sort of subverts what you're looking at. And then I put secret messages in it, so if you run it back, there's a secret message. So, I did a story like that, I did a mini-comic with florescent ink. It was like a small run thing. And then I did the boardgame and I was like "this is great." I see it as an extension in that it's not just repeating the story of what I did, you know? It's not like licensed stuff where it's like "oh I've read this story and now here's a game version of it," I wanted it to be something that was, if you'd read everything, well here's something extra, here's a different story you can get, or now, here's this game where it's actually indoctrinating you and making you an agent of MIND MGMT.
So the whole thing works as like a kit that you would get in the mail within the reality of the comic, where they would send you this game and the game is actually training you to be an agent. So, in my mind, that's what it is. It's like a real thing. It's training you to be a MIND MGMT agent. And I just felt like I wanted to keep telling the stories, but I wanted it to take a different form every time. So, we did the board game and there's this deck of cards with art and then it's a 52 deck of cards. It's a standard deck, but every card has a different rule on it that sort of ties into the characters. So, you can play a normal game, or you can follow the rules on those, and it messes up any card game you'd ever play. Which gave me another idea for doing a series of books. I'm working on a series of graphic novels, mini graphic novels, that are decks of cards that you read and flip and you reshuffle them and it changes the story. What else was I going to say?
CBH: Is that going to be coming out through the Flux House line?
Kindt: Yeah. I'm working on those now. The first one's a time travel story and I should go get the map of it because the idea is that you read through it and then at the end, the guy goes back, changes something in time, and so you have to put the deck in a different order and the read it again. And so it's so complicated. But I like the idea too having a book where you hold a deck of cards, it's not too dissimilar from swiping on your phone and reading on your phone, but I liked having the deck of cards and you have to shuffle them again. Also, maybe they work as a deck of cards that you can repurpose those. Yeah, I thought that launching this new series, the long version of it is that I wanted to a launch and an imprint, I want people to be excited about it but maybe starting with something familiar. Like, MIND MGMT, people have read it, so you kind of know. Some people know it, some people have at least heard of it. So, we'll start with that, but I didn't want to write and draw another thing like normal, so I approached this like in its title, Bootleg, because I wanted other artists to come in and almost make it feel like I wasn't totally in control of it, or like, here's other artists coming in and sort of doing their version of it, or doing an unofficial sequel. You know, it's not a sequel, but it's an official version that's, like, not fully condoned by me or Dark Horse. So, that was sort of the idea. And then, it allowed me to team up with some of my favorite artists and let them put their spin on it.
CBH: Yeah, for sure. That's really cool. So, it will be forty issues and that's starting from about a month from the time we're recording. Would you say if people are looking to pick it up, do they need to have read the original run? Again, I highly recommend it. I think it's a great read, but do they need that story to pick up Bootleg?
Kindt: No, here's the thing. Everybody always says "oh, it's not a reboot and it's not a sequel," and anybody who's ever done a longer run always says "oh, here's a good jumping on point" and it's never a good jumping on point. It's always a lie! Like, they only want people to buy the new one. But we tested this on someone that's helping us with the marketing and everything, and she had never read MIND MGMT, and she didn't know anything about it, she never read any of the old stuff, picked it up, read it, and she approved of it as something she didn't need to know what happened before and it worked for her. So, we have tested it on a human subject.
CBH: Human trials have already been taken care of. Okay. Amazing. Alright. Cool. So, Bootleg, we're definitely going to be looking forward to with the return. I guess from there, I don't think anything has been announced, but where are you hoping to move the imprint to? What are the order of operations or what people should be excited about after MIND MGMT?
Kindt: Yeah, I'm writing and drawing another one right now that my wife, Charline, is painting. We worked together in department eight, so this is the first painting she's done since then. She wanted to take a break because doing a monthly comic is hard. So we took a little time off. So, I'm working on one now that is all written, I'm drawing it, so that should be coming out in December. We haven't announced it yet. But it's basically [unclear]. If you've read anything of mine, you know it's either going to have spies in it, it's going to be science fiction, or it's going to be a little bit of both. So that's more of a spy book that's coming out, and then, again, we're playing with format, so the covers for that, it's spy, so I wanted to do it with a normal cover but it's going to come wrapped in a grocery bag. Like, a paper grocery bag, so on the shelf, it will kind of look like a piece of trash. But it sort of just disguises itself, you know, to go with the spy themes. So, that's as weird as it gets, but inside, if you want a story with characters and things you want to care about, all that's there. We're just making the object interesting. We're just playing with that. So, that's coming out. I'm working on doing a book with David Rubin. Right now, he's drawing something with literally a thousand characters in it. I don't want to say what it's about. It's a little bit of science fiction, maybe a little, slightly superhero. I haven't done any creator superhero stuff, so I'm dipping my toe a little bit into that and literally there's a thousand characters I'm writing all the backstories for, all of them. It's insane. And what else? Wilfredo Torres is drawing one now, though we can't talk about it, he did BANG! with me and we wanted to do another thing, so we're doing it. Yeah, and a couple other things. Sorry to be vague, but I can at least tell you who I'm working with.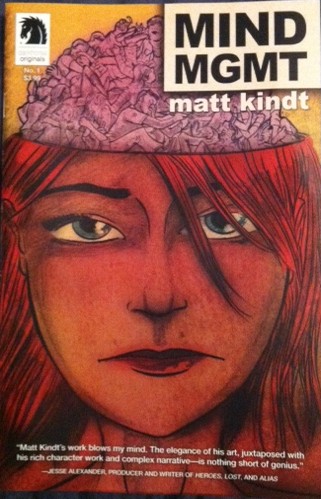 CBH: Awesome, alright. Yeah, I definitely got my shop on alert, like, I want whatever is coming out from this line. I want to check it out, so I recommend people do the same. You've mentioned that you haven't done superheroes, but one of my favorite things with MIND MGMT is that it kind of sneakily functions as a crossover espionage and superhero universe, you know? Because you have all these imaginative powersets with psychic or mind managing abilities. Do you have any favorite abilities that you didn't get to use, or if not, what's your personal favorite one that you came up with? Because there's such a fun degree of specificity with the way that the powers are applied. What are your favorites?
Kindt: That's tough. It's funny, I was still immersed in MIND MGMT and so focused on making it seem grounded and it's very important to me that if someone has an ability to do something fantastical, that there's at least a science—a fake science—rational for how it works. So, I was very careful to do that. But when it was done, someone was like "oh this is like X-Men." It's like "damn it." It kind of is! We can't get around it, but yeah. As far as that goes, I just wrote a thing. I guess I just liked the idea of contagious ideas, which I think is not far from a real thing. Like, I think you see things happening in the world and it plants seeds of ideas in peoples' heads, and I like the idea of having a character who could do that but do it with purpose as a way to do good. Like, oh instead of these bad thoughts, the idea of being about to get inside peoples' heads to be able to plant these contagious ideas that get people to improve the world or something. I don't know. It sounds dumb when I say it outloud, but in the story, it's good. Of course, it all goes wrong. I'm saying it like it's going to be this great thing, but of course, it all goes wrong and it's horrible. Similar to the opening of MIND MGMT when Zanzibar is on fire and everybody's destroying everything.
CBH: Yeah, yeah. The best intentions. But some ultimately negative outcomes. Alongside that same kind of thinking, again, I mentioned earlier that I love the secret messages that are coded into the gutters of MIND MGMT. That sort of approach to comics, mini comics, at the bottom of the page, so at any given time you potentially have three or four stories per page going on. But the way they all intersect, there's a degree at which I actually have to focus on this. Like, you know that you're demanding of the reader. What kind of works inspired you to do that style of comics? Because definitely for me, MIND MGMT was one of the first comics I ever picked up in print. I didn't start collecting comics until the 2010s.
Kindt: I'm so sorry.
CBH: Right? But I loved it! It was mind blowing! I'd never seen anything like that. Was there stuff that you'd seen like that that inspired you to do it, or did the inspirations come from other forms?
Kindt: All I can say is that the things that I like reading and that I get ahold of are all sort of…gosh I'm trying to think of my earliest influences, but I think something like Catch 22 were one of the earlier influences where it's a story that's just jumbled up, so you have characters that are living in one chapter and then dead in the next and then alive again. And he got a lot of irony out of that, so that was a complex web of character and things happening, so you had to reassemble it in your head as you read along, so I love the structure of that book. There's a book while I was doing MIND MGMT, House of Leaves, it was just a horror book that sort of played with the structure, even the layout of the book, where at the end it's just you're reading it in a spiral. I love that. And then, I think Dave Eggers, I think it was Heartbreaking Work of Staggering Genius, where he had a lot of footnotes. And I love footnotes as narrative, as a way to increase the value of what's going on in the book, in the main narrative.
In a lot of ways, I felt like with MIND MGMT, those are some of my early influences, but as I was doing the book, I was like it's like four dollars for a 24 page comic. I don't want people reading it in five minutes. You pay four or five bucks for it, you can go and see a movie for ten dollars and be entertained for two hours, so at a minimum, I want you to take like, twenty minutes to read it. You know? So, I felt like that was in the back of my mind with this. I want people to take their time with this book. I want them to read it once and then go back through and read it again, so I add the text on the sides, not to interrupt the narrative, but just so you see it. I mean, you notice it at the end and go back, like "okay, now I'm going to go read that" to sort of see how it works. It gives you a little more interactivity with the thing rather than you read it and then forget about it. And I feel like that was my main mission was to pack every page with something interesting, so you're looking at it and to try and slow the reader down a little bit.
I remember one of my earlier books, I did this three-book story History of the Giant Man, and it took me like a year to do it and it was maybe two hundred and fifty pages, and I was at my first convention with the book and was selling it and was excited. And then a guy came up, bought it, and then left, and then came back like twenty minutes later and was like "I read this over lunch and it was awesome!" And it was like I had a realization that I spent a year of my life so that this guy could read the book in twenty minutes over a sandwich, and I was like, I need to work harder. These books, there needs to be more to them, you know? So, the flipside, people come up to me and say "I feel like I'm not getting it all" and I'm like "that's okay." Like, you can read MIND MGMT, just the art and the word balloons, just read it only like that and you'll get it. The extra stuff is there so you don't feel cheated. You spend twenty bucks for the paperback, I want you to get your money's worth.
CBH: Yeah. I get that. That's funny. I feel like twenty minutes is too fast to read through the story, for the record.
Kindt: I do so too!
CBH: Yeah, there's more to digest there. Are there any secrets to MIND MGMT, or frankly any of your other works because it's not like it's the only work that has codes, that folks haven't discovered that you had hoped they would? Is there anything that you've snuck into a book that you're like "I can't believe nobody's figured that out yet?"
Kindt: Yeah, there's a couple of things. There's a few things. I'll forget and then I'll flip through something and I'll realize that there's something there. There's a couple things where I'll go through and go "oh, this is weird, but it was for a reason" and I forgot why, and so I was looking at one the other day and I'm like "oh yeah, this is what it is," like, it spells out a secret message if you read in the art in the background is letters and when you read it over the course of a few pages, it's something. And there's an earlier issue of MIND MGMT with Dusty, who's the music kid, and in his origin story, the panels of his origin story is Morse code, and so it's like dashes and dots, dashes and dots for the whole issue that's panel boarders and nobody ever saw. It was so hard to figure that out, and it forced you into certain layouts because it had to be long and short, long and short, so it was so hard to read that nobody noticed. And I was like, "what am I doing with my life?" You know? But I guess it was worth it.
CBH: That's amazing. That's honestly very, very cool. Now that it's out there, someone's got to put this together.
Kindt: Yeah, and those were things that I was like "I'm never going to say anything, but nobody notices, so I might as well blab about it."
CBH: Yeah, right? You've got to get the credit at some point. It's been a decade since it launched now. That's incredible. So, like, the whole focus on the Fluxus and the movement of things, you'd mentioned George Brex, The Case, as an influence and that kind of led me down a rabbit hole of researching Flux kits. So, like, picture a briefcase full of stuff and little art projects, and one of them that I loved, the description was that it was mini poems about beans and it was stored next to dried beans. Like, that was it!
Kindt: Amazing! That's so fun.
CBH: Yeah, exactly. How do you think you're going to mirror that with Fluxus?
Kindt: I'm hoping that if I disguise my books in paperbags and it makes you walk past it, like, I'm always thinking about the racket in retail shops. It's all the big, bright, colorful comics with stuff going on, so I'm always picturing my books in that context, and it's just like those Flux kits where they put the fishing tackle box with weird stuff in it, or when you're walking through a museum—we love museums, so we're always going to museums—and you walk through and it's all these amazing paintings and all this stuff. And then you see this beat up briefcase with stuff in it and it's like "what in the world? What is that?" That's what I want. I want people to walk into a comic shop and then they're looking at all this great art and everything, all these fun comics, and then they'll see my thing, and be like "what is that?" So, that's the feeling I'm trying to get, so like, we're going to do it with the design and the size of the books. Some of them are going to be magazine sized, so we're not doing horizontal books. Somebody's already said "oh, retailers hate horizontal, weird formatted things," and I'm like, "we're not doing that," but I want to do larger format things; magazine sized.
Play with fold outs and game folds, and with MIND MGMT: Bootleg, the special version is coming polybagged and when it's printed, it's florescent pink printed bag and then there's a playing card inside it, and those playing cards are standard playing cards except that they have extra rules on them too. Each issue is going to have its own special card that sort of ties into the theme of the issue, but it's also a playing card that you can put with any deck of cards, and then it changes the rules of whatever game you're playing. Kind of like the whole deck we did, but these are just individual cards that are designed to work on their own with a deck. So that way, we're just trying to insert that paranoia of MIND MGMT into your everyday life, if you play cards. We play cards all the time, so really, I did it for us so I could put this card in there and it has a weird rule on it. So, there's four different ones, and then the backs are different, so they're not going to match with your deck. It's the same size, but it doesn't match, so the beauty of it is even though the other person has that card, but then you won't know which one they have because there's four of them and they all break the game in some way. So which one does that person have? You don't know. So you're waiting for them to play it and then the other person, they know that you know that they have it, so you have to play that card in a different way. It adds this sort of weird, outside the game layer to the game that I think is kind of fun. I don't know. I'm just trying to have fun. That Fluxus movement and the things they were doing, they're just having fun. You know? Like, let's make comics fun. Make something that stands out or feels out of place.
CBH: Well, I so appreciate that, because I think a lot these days about why am I collecting the things I'm collecting? And especially with print, right? And it's like, I've said it a bunch of times. I love comics to death, I've got so many of them in all these long boxes, but I constantly say "it doesn't make sense." It's not a logical financial purchase often. It's just a thing I like to have, so when you talk about putting value into them, whether it's within the pages or because it's styled and designed differently, like, that's increasingly really important, to stand out in shops because otherwise, it's like, well, why did I put down four bucks for—like you said—fifteen minutes of story that I could have read digitally and I wouldn't have had to leave the house? Would have been easier. You know? So there's a real challenge there, I think.
Kindt: Yeah. I want people going into shops, right? Supporting your local retailer. I want people to be excited to read a single comic again, you know? So I want it to work that way, and I think mostly because I'm like you. We've been collecting so long, you sort of just do it out of habit, but it doesn't have that same spark that it had when I was twenty and going in every Wednesday and getting a stack of comics and then going home and look at them all and put them all in order and then I was going to read them, and read them, and then skip to whatever. I'm trying to figure out how to capture that again as a creator, but also for people reading. We've got to do that. I want to be excited. There's no better feeling than getting a stack of books or comics and seeing them, and you don't have the time to read them, but seeing them waiting there for you and being like "oh, I can't wait. Oh my god, I can't wait for the new…" whatever it is. And then you flip through it, and you're just excited. Like, that anticipation, that's what I'm trying to get back.
CBH: Love it. So, I have two fairly specific questions. I have no transition. I just have two questions that I want to ask. The boardgames; are there any plans to get those back in stock for the folks who are wanting to buy it?
Kindt: Yeah, I'm glad you asked. We did the Kickstarter last year and it did great, and there's a huge demand. I'm a huge boardgame nerd, that's my hobby now because comics isn't really a hobby. It's like a job. But, I got into boardgames in the last few years, but the guys at "Shut Up and Sit Down," they're this channel that did a video of the game and showed it off, and we immediately spiked. It sold out right away, and so we went right back to press. The short answer is that there should be copies for sale starting August. Like, late August. I'd say September for sure, but probably August. It just depends on shipping and everything like that. It's been a little bit weird. But yeah, there'll be enough for everybody. Retailers should be able to order them. They'll be there or you can get them online, or I'll have them on my website, but we've printed a bunch and so there will be more of those. And they come with that deck of cards too. We did a deck of cards to go with it because I always wanted to do playing card art.
CBH: Yeah, no, it's pretty. I watched your unboxing video on YouTube and then I watched some other reviews, and it was just glowing reviews from these boardgame folks. And just the game looks so cool, so that must have been exciting.
Kindt: It was so fun. And I don't know, it was like two years of play testing the game. I didn't design how it works. Jay and Sen were the designers, they designed all the mechanics of it. So I didn't know. I'd been playing it so much and was so close to it that I was like "I don't know if this game's any good. There's no way to tell." You know? Like, I don't know. I'd played it so much that I'm just not playing it in the way that I play normal games, or I'm just playing for fun. I'm just playing to make sure that it isn't broken or to make sure that all the pieces work, judging the art, so it's just different. But I'm so happy people liked it. But yea, there's so many secret things in that game. There's so many secret things in there. I jammed more into that than anything else I've ever done. Like, there's a little red disc that is a round marker. It's like a clear, red thing you can see through, but then that decodes things all over the place. Like the cards, the construction manual, the box, the inside of the box, the inside edge of the box has stuff on it. I might have a problem.
CBH: Well it sounds super fun. I mean, I saw you on the video. I saw some people on message boards are trying to decode it and you were just casually like "yeah, they don't have all of it. Not even close."
Kindt: No, nobody's gotten all of it.
CBH: Which is pretty fun.
Kindt: Like, if you enjoy that stuff.
CBH: That's amazing. I love it. Okay, cool. So that will be back in stock. That's exciting. The other thing I wanted to ask, with MIND MGMT, so in the first volume—this is not a spoiler—the Field Guide is introduced to us, and then three or four issues in, a voice starts shouting at us through the Field Guide. It's like, "you've seen this before," and it's clearly trying to tell Meru to wake up. Whose voice is that? Is that her subconscious? Is that her triconscious? Like, what is that coming from?
Kindt: Yeah, yeah. It's a minor spoiler, but I always felt like that was her voice trying to break her out of the loop she's in, you know? Because when you first meet her—and this is kind of a spoiler—but when you first meet her, she's done all that before. So it's her old self being like "come on. Stop following the rules. Stop listening to this." It's her trying to break out of it. So that's a good question.
It's funny because she, at the end of the first arc, she gets an envelope in the mail and it's from herself, trying to wake herself up, I think. When I was actually doing this series, issue three, I wasn't going to know if I was going to get to do more than six issues until I was already drawing the sixth issue. So, I was drawing it and waiting to see what the sales numbers were to see if I was even going to get to do the whole run or not, so I did an alternate ending where it ends totally differently and it just ends. So I drew those as a backup, so they'd be done, and then the series got renewed and I was able to finish the whole thing. But, if you look carefully at the end of issue six when she goes to get the thing, there's a knock on the door and she goes to get the mail, there's space between the panels and I put the original ending there, so it was almost like an alternate ending. Like, if she hadn't woken herself up or broken out of the loop, that was the ending. So, I put that in there, like, the art for the parallel universe where I only did six issues, and that was the ending. So, I put that in there as a sort of background, parallel universe ending.
CBH: So wait, it's like hiding behind the panels?
Kindt: Yeah, so like, there's the normal panels, and then there's the little gaps between those and those blue lines, which are like pencil blue lines of the other version where she doesn't break out of her loop.
CBH: That's amazing. So, in one of Phil Verve, or Verge's alternate universes, MIND MGMT ended at issue six. That's incredible.
Kindt: Exactly.
CBH: I'm glad it kept going, because it definitely gave me a lot of joy over the years and it was a blast to go back to. So, okay, Matt, this has been awesome. I'm super excited to see what comes next for Bootleg and all these projects you're describing. In terms of what's next for you, it sounds like you got a super full plate with Flux House. Is there anything else on the radar that people should be aware of?
Kindt: Yeah, I don't know. Just, please keep buying the books, order the books, support your local shops, get the books monthly. They're all going to be collected eventually, but supporting the monthly books is important for artists and getting everybody paid monthly. Regular paychecks are good. Also, yeah TV. I was hoping we'd have some TV announcements in time for the summer, so maybe we will, maybe we won't. If we do, let's do this again. We'll talk about it.
CBH: No, yeah, for sure. That'd be a blast. So you said you've got MIND MGMT in development—I forget—BANG!, you said as well. Any others that you're waiting on?
Kindt: Yeah. Dept H too. For some reason they all started happening around the same time and they're at almost the same stage, so it might be a thing where we announce them all at once. But we'll see.
CBH: Hopefully getting close then. That'll be exciting to be able to talk about too. Cool, cool. Well, that's good news. Matt, anything else? Anywhere you want people to go to find or anything like that?
Kindt: I'm good if you follow me on whatever. I'm on all the social stuff, so you can find updates there.
CBH: Perfect. Well, thanks for so much for your time. I appreciate you hopping on. People can find me at Comic Book Herald, of course. It's pretty much everywhere; comicbookherald.com. And Matt, this was a blast. Thank you.
Kindt: Thanks man. I appreciate it.