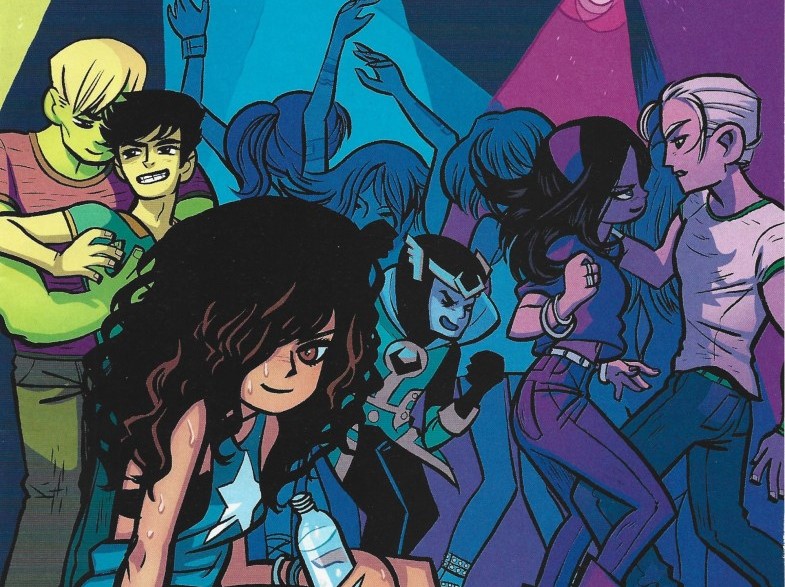 Despite the Young Avengers being a fan-favorite title and team (especially amongst younger comics fans), they have had surprisingly few series to their name in the now 17 years since their creation, only two official volumes and one Avengers crossover series, each between 9 to 15 issues long, plus a handful of tie-ins to different late 2000s events. This scarcity has made each Young Avengers series feel like a small event in itself, and it's all the more true for their Marvel NOW! revamp, as written by Kieron Gillen and drawn by Jamie McKelvie (plus Kate Brown guesting on issue #6, and various guest artists in the last two issues), with Matt Wilson on colors and Clayton Cowles on letters.
Teenage heroes can be hard to deal with over time in the Marvel universe, as the sliding timescale often causes them to stay young forever; if Tony Stark, Carol Danvers and the other adult heroes have to stay in their thirties forever and never retire, that means the next generation of heroes can never fully grow up and take their place. Teams like the New Mutants, or more contemporary to the Young Avengers, the Runaways, have sometimes had trouble growing up alongside their audience. But in Young Avengers Vol.2, the kids that used to be 14 to 16 years old teenagers are now reaching young adulthood, with all the questions and anxieties that being at that age entails.
Previously: Marvel Then, 10 years later!
The McKelvie + The Gillen
Kieron Gillen and Jamie McKelvie have been frequent collaborators since the mid-2000s and are well known for working together on Image series Phonogram and The Wicked + The Divine. And to understand Young Avengers, it's important to understand the book's place, not only in the Marvel universe, but also in Gillen and McKelvie's shared bibliography.
Young Avengers fits right between Phonogram (the first two series of which had come out between 2006 and 2010) and WicDiv, which immediately followed (and was born from ideas the pair had while doing) Young Avengers. In a YouTube interview with Boom! CEO Ross Richie, Gillen explained that when looking at how to craft a new version of YA, he chose to treat the title as if he and McKelvie owned the characters and to write the book in the same way he would with an indie work, referencing Phonogram specifically. The result is a fascinating chimera of Marvel characters put under an indie-inspired lens, a hybrid mix of Gillen's creator-owned endeavors mixed with his previous contributions to the Marvel universe, especially his mythical and Vertigo-inspired take on Kid Loki in Journey Into Mystery (a must-read for anyone interested in the Young Avengers, Loki, or Kieron Gillen's work in general).
Support For Comic Book Herald:
Comic Book Herald is reader-supported. When you buy through links on our site, we may earn a qualifying affiliate commission.
Comic Book Herald's reading orders and guides are also made possible by reader support on Patreon, and generous reader donations.
Any size contribution will help keep CBH alive and full of new comics guides and content. Support CBH on Patreon for exclusive rewards, or Donate here! Thank you for reading!
In Phonogram, Gillen tells a story entirely based around the metaphor of "music = magic" (keep that in mind : Gillen is a big metaphors guy, especially in Young Avengers). The main character, David Kohl, is a phonomancer (understand : a magician whose magic is based around music, specifically Britpop), and the whole book uses the comic book medium to tell a story halfway between urban fantasy and music journalism (highly influenced by Gillen's background in the domain), advancing to the beat of the songs the characters are both listening to and talking about. Young Avengers Vol.2 similarly makes use of music (see Marvel Boy taking a quick break during a fight scene to put on Candi Staton's Young Hearts Run Free, as well as the after party playlist Gillen shares in issue #14), accompanied by the presence of a more formalistic approach in panel structure, most present in the book's fight scenes, which pave the way towards WicDiv.
Style > Substance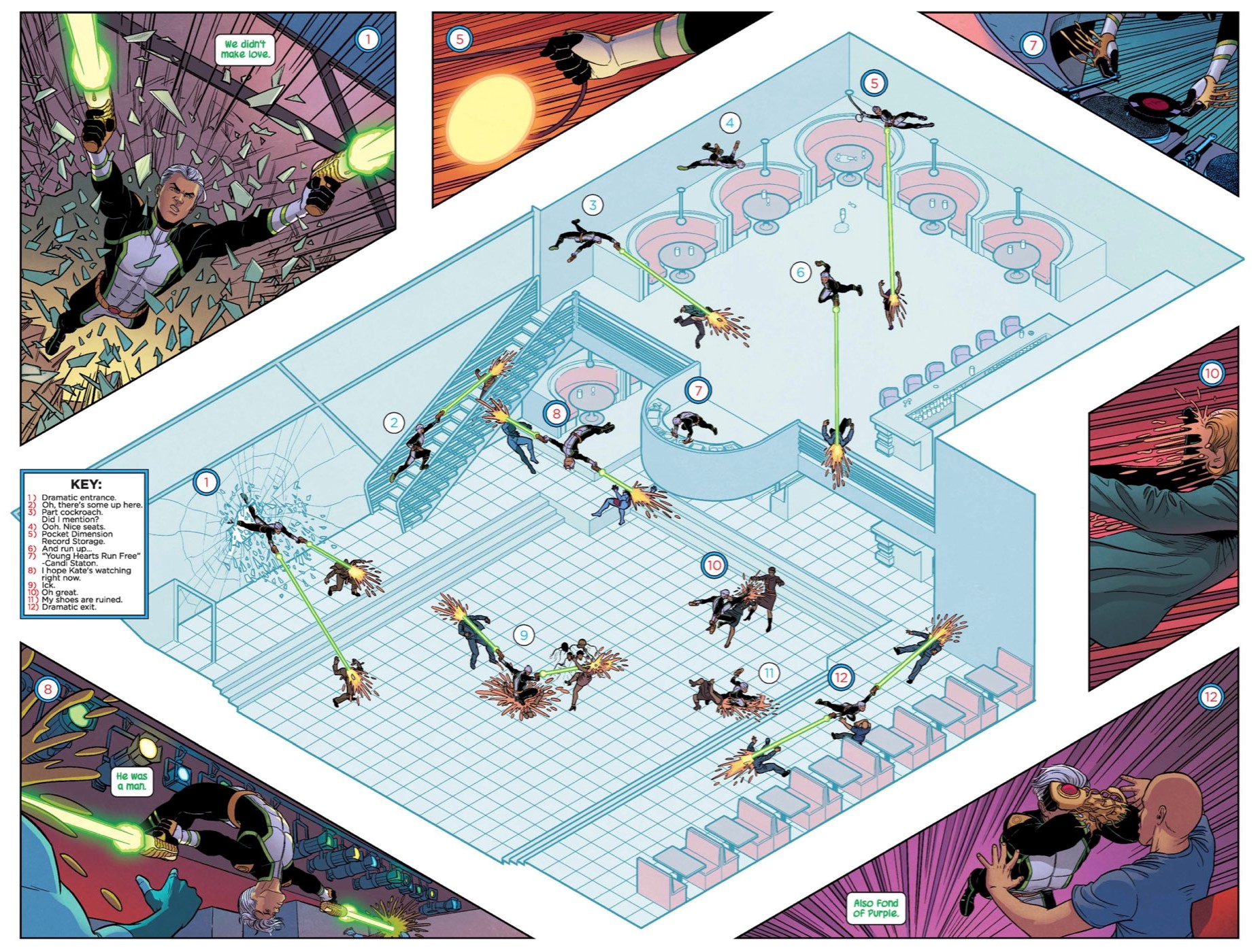 The name for the first Young Avengers trade doesn't lie; every fight scene in YA is an occasion to try something new and formalistically different, with Jamie McKelvie crafting a full spread of Marvel Boy fighting his way across the schematic map of a nightclub-turned-battlefield (see above), another spread of panels twisted by Wiccan and Mother's magic battle. Always innovative in its form, the comic makes each fight feel special and distinct from those in any other superhero book at the time.
Beyond its fight scenes, YA's visual experiments also include the credits pages, presented in the form of anything from a diner menu to a passport or a movie poster; as well as the recaps, shown through Tumblr Yamblr posts at the beginning of each issue. Gimmicky as they may be, these visual quirks give the book its own identity, tied to cultural points of reference shared by most teenage readers (also very fun is the visual representation of the teen superhero network in a colorful data page, setting up the gathering of the Thin Spandex Line, the last line of defense to save humanity, made entirely of young heroes).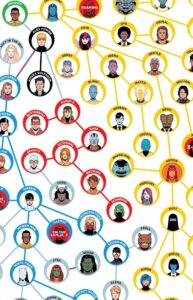 Who Are The Young Avengers ?
Initially created in 2005 by Allan Heinberg and Jim Cheung during the post-Avengers Disassembled era, the first version of the team (entirely created for the book) was heavily derivative of the adult Avengers, with superhero personas strongly inspired by their heroes' names and costumes (Iron Lad, Hulkling, etc), and some of them even having been specifically chosen for their ties to some classic Avengers characters.
Over the course of the original run and its 2010 sequel Avengers: The Children's Crusade, we learn that Stature is Ant-Man's daughter, Hulkling is the son of the original Captain Marvel, Wiccan and Speed are the Scarlet Witch and the Vision's reincarnated sons, Patriot is the grandchild of former Captain America Isaiah Bradley, and Iron Lad is even a teen version of longtime Avengers supervillain Kang the Conqueror.
These ties to the "classic" Avengers reflected a willingness from the original creative team to create a junior generation that would be very tied and reverential to Avengers history and who might someday continue the original Avengers' team (as seen in the Avengers: The Children's Crusade – Young Avengers one-shot, showing a future where Hulkling is now Captain Marvel, Patriot is now Captain America, etc).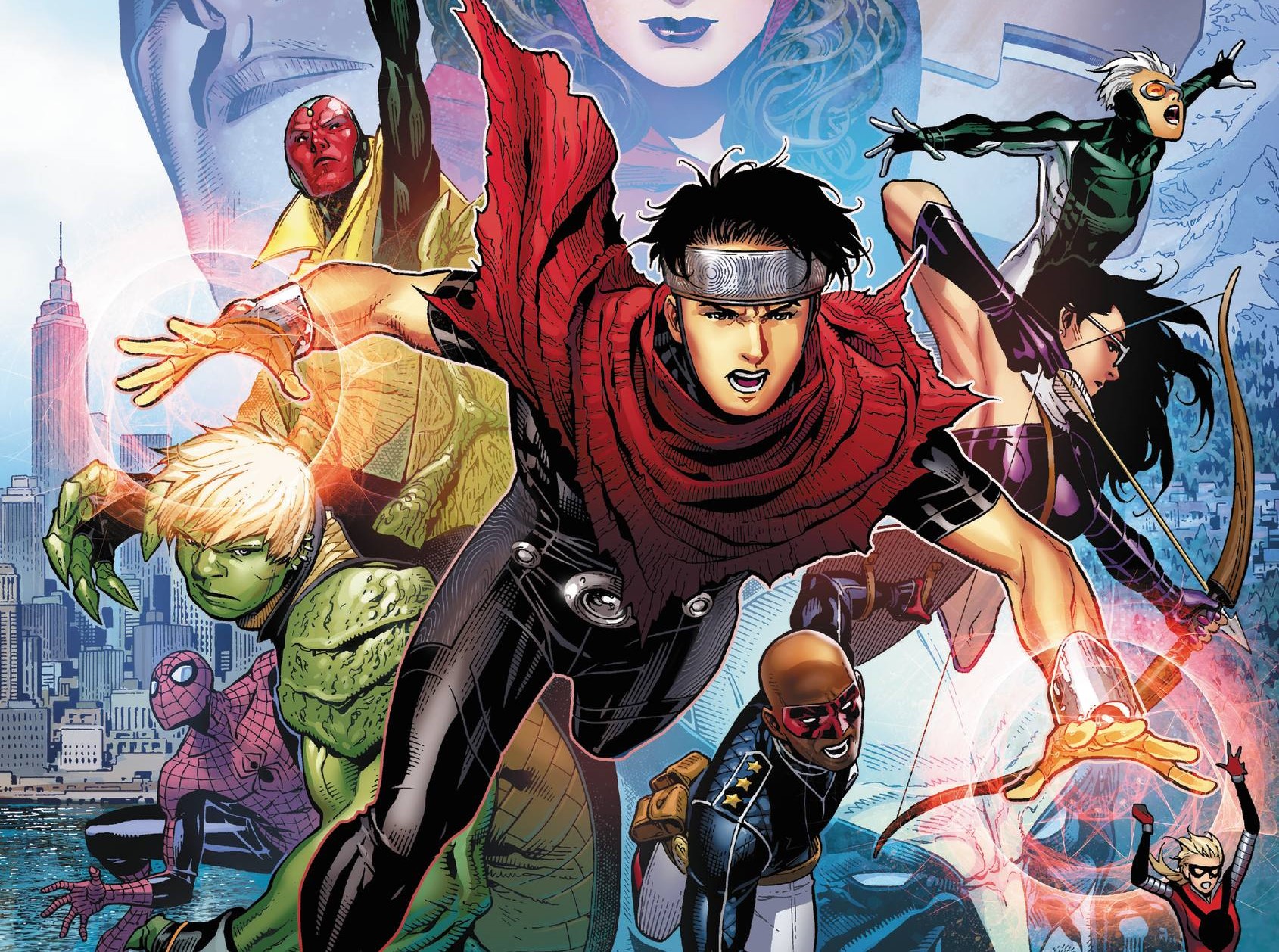 But when the title was given to Kieron Gillen and Jamie McKelvie as part of the Marvel NOW! relaunch in 2013, the Young Avengers became a different beast altogether. To use Gillen's own words, whereas volume one was deeply tied to the adult Avengers' mythology, volume two would be focused on the teenage characters' personal mythologies as they grow into young adulthood (drawn visibly older by McKelvie than they were in Cheung's slightly softer and rounder art style) and forge their own path in the Marvel universe.
Mother Knows Best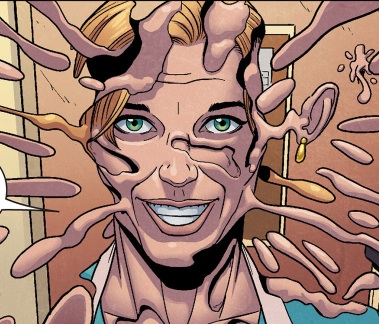 The most meaningful formalistic trick the creative team pulls off is everything they do when depicting the character of Mother. The Tangled reference is a bit obvious, but it's also accurate. Mother, the Young Avengers' main antagonist in their second volume, is basically Rapunzel's Mother Gothel played as a cosmic transdimensional parasite wearing the skin of Hulkling's deceased mother, feeding on magic and ideas (which, here, are the same thing) and literally eating the narration box at the beginning of issue #10. During the course of the comic, she uses her powers to mind-control every adult in the Young Avengers' lives, parents and superheroes alike, in order to feed on Wiccan's powers, but the true genius and menace of Mother resides in the visual representation of her powers.

Mother can manipulate matter and dimensions, and McKelvie sells that menace very effectively by showing her controlling the comic book structure itself. Mother lives in a completely blank dimension where the only visible structures are floating white panels containing unfinished sketches of human beings/characters. She can twist the borders of the comic book panels into tentacles which grab her enemies, and she even traps Wiccan and Hulkling inside completely blank nine-panel grids, only for them to be rescued by Loki strolling around the gutter and literally breaking the panels to free them. If the Marvel universe is everything inside the comic book panels, Mother's dimension is the white space in-between, actively trying to overtake them.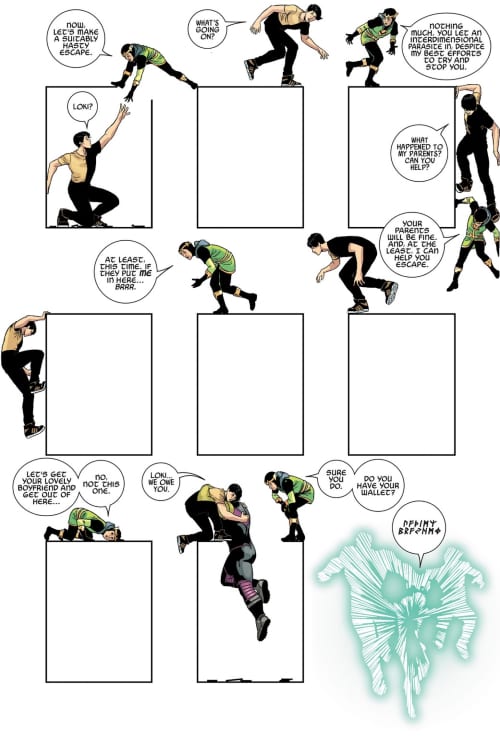 Beyond her control of the comic book itself, Mother also mind-controls the Young Avengers' parents, as well as the Avengers themselves. Not only does this lead to the Young Avengers having to fight their own parents (and for some of them, their own deceased parents), but Mother's control of the Avengers also literalizes the divide and difficult communication between adults and young adults.
The mind controlled Avengers' reaction to Billy and Teddy asking for help after Mother's initial attack is basically to send the kids home and tell them they'll realize it wasn't that bad once they're older. The impossibility to ask the "adult" heroes for help creates the feeling that the teenage and adult characters exist on two completely separate planes of reality, unable to understand or communicate with the other.
The Avengers are completely blind to Mother's actions, even as she attacks the Young Avengers right in front of them. During the final battle, the teenage heroes realize that they can't wait for the Avengers to solve their problems; they are the Avengers now, and Young or not, it's on them to save the world.
It's a Young Avengers World
The choice of giving the Young Avengers a brand-new antagonist, designed to oppose them specifically, is also crucial to making the team and the book stand apart from the rest of Marvel. Mother is summoned by a Young Avenger because of another Young Avenger's scheming, and can only be stopped by the Young Avengers.
Other than Mother, there is also the presence of Leah's Supporting Group of Evil Exes, both an evident reference to Brian Lee O'Malley's Scott Pilgrim and a way to bring back and reference the heroes' specific histories, with characters that are tied directly to them (characters such as Leah, who was created by Gillen himself in Journey into Mystery). By using characters and ideas from characters' individual pasts rather than from the general Avengers mythos, Gillen creates a small Young Avengers world inside the Marvel universe.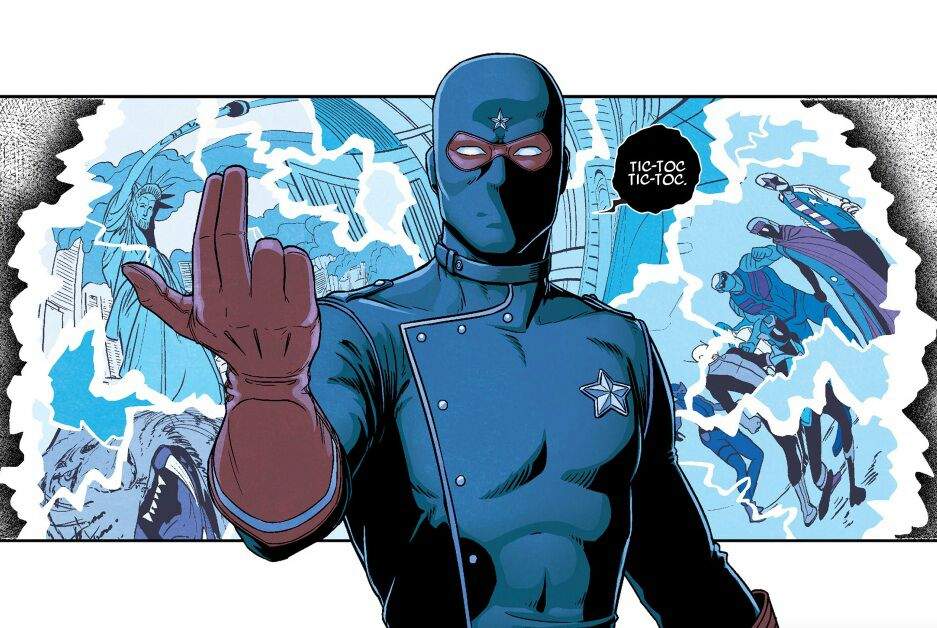 Another antagonistic force is the mysterious entity wearing the costume of the former Young Avenger Patriot (call him Patri-Not), and who after having seemingly captured their friend Speed, plays the role of the White Rabbit, leading the team to travel through the multiverse as they fight alternate versions of themselves while trying to catch up to him. By the end of the comic, Prodigy theorizes that Patri-Not might be a future version of one of the Young Avengers, having come back in time to make sure that the right future is brought forward… Therefore, the teens are literally chasing their own future, a future without a face and whose intentions are as mysterious as his identity, but who is understood via representations of the past (as the suit he's wearing is the one Patriot only wore in the initial 5-issue arc of Young Avengers Vol.1).
So on top of their parents, mentors and exes, you can add their own futures to the list of things the Young Avengers have to deal with (who ever said superheroes weren't relatable ?). This general theme of an uncertain future, and how the characters deal with it, is meaningful here not only because it is a recurrent one with young protagonists coming into their own (both the anxiety of their personal futures, but also the future of the world they are about to inherit); but on a more meta level, it could also be read as the uncertain future of new(ish) characters being passed over to new creators, and whether they'll stay stuck as what they used to be, or if they'll continue to grow in new and interesting ways.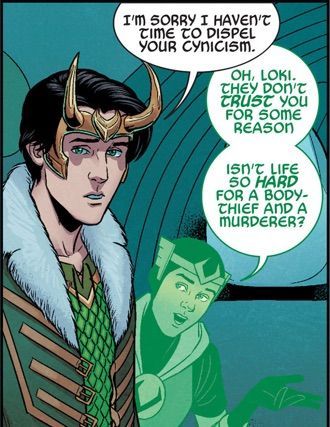 Speaking of weird timey-wimey-multiple-selves, Loki is confronted by both his kind-of-ex Leah and his own child self, which he killed before taking over his life. It's a long story (read Journey into Mystery!), but the gist of it is: this new version of Loki was created with the memories of Old Villain Loki and was used to kill and replace Kid Loki, but he now feels remorse for what he did/was made to do. And thus, you have an immortal god with the thematic anxieties of a young adult: his childhood was literally killed by his older self, but now he's in a state in-between and he doesn't want to go back to his worst self (all of this is further reinforced by revelations that come late in the book, but it wouldn't be fun spoiling those for anyone!). Although he's existed as an important Marvel player ever since Journey into Mystery #85 in 1962, here, Loki feels just as much like a Young Avenger as any other member of the team, and that's thanks to Gillen's work both on Journey into Mystery and in building a new, fresh take on Loki here in Young Avengers.
As a god, a creature of story, Loki understands that his different selves are merely roles to play, and that all he can do is to play his current role for as long as he possibly can.
Between the trauma of his past and the fear of his future, he tries to move forward in the present, though he can't help but be Loki and manipulate the people around him to do what needs to be done. Of course, in the comic, Loki is talking about gods and myths, but his words are applicable to comic book characters who play many different roles during their history. The message is both stated and put into action, as Gillen focuses on writing new roles for his characters in the present, evolving from but not too tied to their past roles, and creating new opportunities for their futures.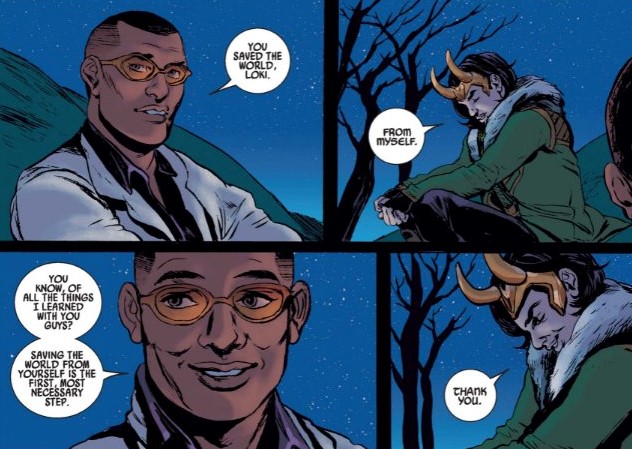 Prodigy, who's been around the proverbial mutant block, was left disillusioned by the schisms and failures of the older generations of X-Men and represents the generational rift between heroes on the mutant side. "It was never about us. It was about us being what they wanted us to be": so it was for David and the other Academy X kids on Utopia, and so it is now for the Young Avengers finding themselves outside of the Avengers' shadow. But for Prodigy, the mutant metaphor allows for an added comment on young activists joining a cause they believe in, only to feel betrayed and disillusioned by the older generations who use them to gain political power before discarding them. As far as he's concerned, his mentors were only interested in him as long as he was of use, and when that time ended, he and his friends could be tossed aside and forgotten.; But now, with the Young Avengers, he has a chance to save the world for the children, and with the children.
Then there are the oldest of the group, Hawkeye and Marvel Boy. Getting close to 21 years old, Kate is anxious that her becoming an adult will endanger the team by making her susceptible to Mother's control. And on the other hand, you have Marvel Boy, who is already 21, having been a member of both the Dark Avengers (even taking on the name of Captain Marvel!) and the Avengers, and with years of experience traveling space and dimensions and no doubts whatsoever about his youth. The two develop a romance during the story, in a way that feels very specifically true to the characters' age, as the way they approach it is halfway between teenage couple and adult relationship. They appear to have met in what was essentially a one night stand, which then developed into an I-guess-we're-dating-now sort of romance (as we don't ever see them actually having a conversation about the change in their relationship; it just seems to happen when they join the team as a unit). Although they get less to do than the rest of the team, they are very fun to have around, especially as Kate's popularity is increasing in the pages of Fraction and Aja's Hawkeye during the same time.

Scheming as always, Loki plants the thought in Hulkling's mind that Wiccan, with his incredibly powerful reality warping powers, might have unconsciously created him to be his perfect boyfriend, or at least be controlling him in some way. This leads Hulkling to temporarily leave the team to figure things out on his own, and it's refreshing to see a complication in what had mostly been depicted so far as a perfect relationship. Wiccan and Hulkling deeply love each other, anyone can see that; but they're also young, afraid and messy, and it makes sense that superteens would have superanxieties such as reality warping affecting their relationship.
As for Wiccan, because he is the reason Mother is attacking, he struggles a lot with feelings of guilt, but it's also suggested that he deals with mental illness, as shown by his immediate willingness to essentially commit suicide to save everyone, which he almost does before Loki stops him just in time. The hero-sacrificing-themself-to-save-everyone trope is a common one, but here, with the context of a young person who is clearly dealing with a lot of pressure and fears, trying to sacrifice himself with something as brutally real as a gun (even a space one) makes it take on a completely different meaning and power. Wiccan is someone who deals with deep feelings of worthlessness and self-loathing, in part because of his similarities with the Scarlet Witch and the complicated feelings the superhero community, and mutants especially hold towards her (as explored in The Children's Crusade). These feelings almost reach a breaking point from the pressure of what is expected (or feared) of him.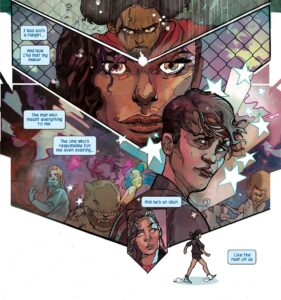 However, this is in part helped by America Chavez, because of her origins and the perspective it gives her over the Young Avengers' present. America comes from a dimension created in the future by Wiccan, once he becomes the Demiurge, the god of all magic. She knows very well he is destined for big things, things that go far beyond the Avengers. "You're never going to get a chance to be Captain America. Thor. Iron Man. Your mom. Those positions are filled. You're Billy &%&$%&% Kaplan. Own it." To America, growing up, Billy was her hero in the very same way the Avengers were for her teammates. And by fighting side-by-side with him, she learned he's both a hero and, to quote her : "an idiot. Like the rest of us". The Young Avengers are flawed and tragically human, but so were their idols, and so will be the next generation that grows to admire them in turn, yet all of them can only become heroes by learning to be true to who they are, and not to who the previous generation was.
The Casual Queerness of the Young Avengers
The Young Avengers' queerness feels for the most part very real, which rarely tends to be the case in superhero comics dealing with young queer people and young characters in general (hello Brian K. Vaughan's Runaways!); and this is coming from a queer person who was a teenager not that long ago.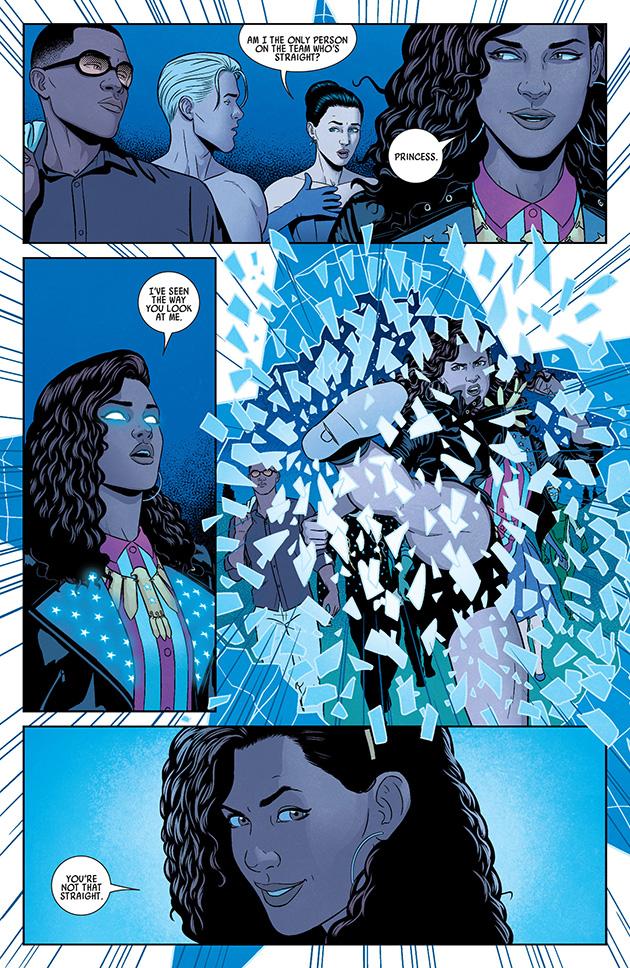 When Young Avengers Vol.1 came out, having a teen gay couple on a team of Avengers might have been perceived by some as a small revolution. But by the 2010s, if a teen superhero team wanted to represent its teenage readership, it needed to do more than provide breadcrumbs. It is incredibly refreshing to have the Young Avengers be almost entirely made up of queer heroes, something that is still all-too rare in the Marvel universe (the only two comparable examples I can think of are incredibly recent : Leah William's X-Factor and Al Ewing's Guardians of the Galaxy — both featuring former Young Avengers in their rosters).
Where Billy and Teddy's queerness was understated and almost stealthy in the original run (the couple only kissed for the first time at the end of Children's Crusade, years after their first apparitions), it is prominent, proud, and impossible to ignore in the 2013 version. The same goes for Prodigy discussing his bisexuality, a huge part of his personal arc, America having two moms, as well as, towards the end of the run, casual confirmations of America Chavez, Loki, and Marvel Boy being queer (all the more interesting because the three of them come from imagined worlds with different societal norms, and therefore reflect the possibility of change and of having a world in which sexual and/or gender queerness doesn't result in discrimination and marginalization). And though Young Avengers' queer representation is still focused only on non-heterosexual identities, with no sign of trans and gender non-conforming identities anywhere, it's still a huge leap forward for Marvel at the time (one that comes very late in Marvel history, but still noteworthy nonetheless).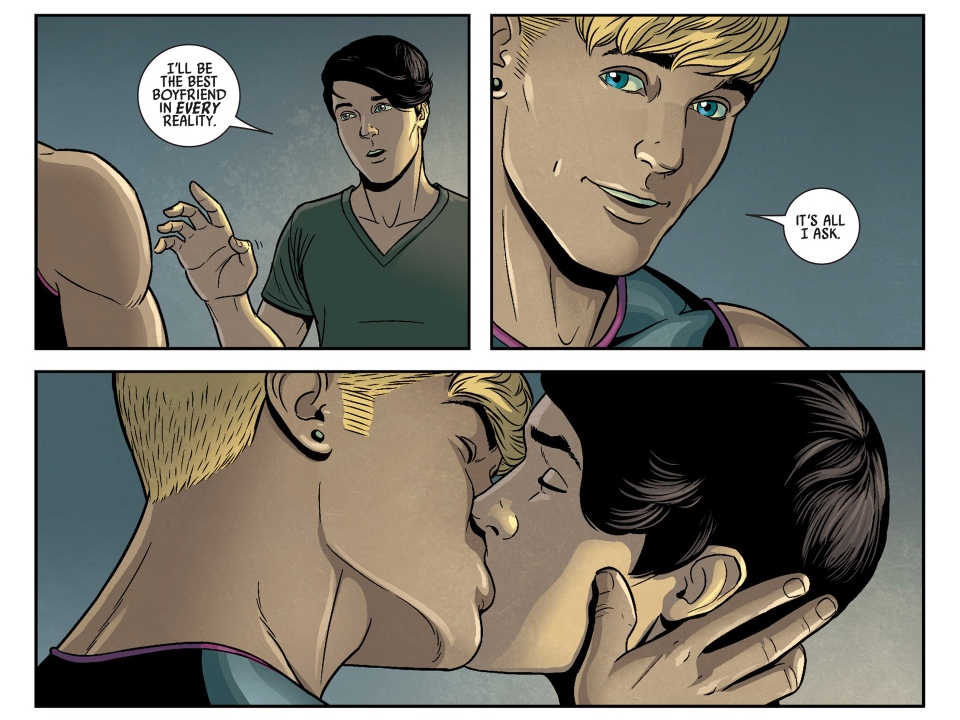 And because Kieron Gillen loves his metaphors, the team embracing their queerness is also reflected in their relationship with the traditionally non-queer adult Avengers. In the first volume, the Young Avengers were a lot more reverential towards — and seeking acceptance from — the adult team and the socially accepted and revered higher authority that they represented. In volume two, they create their own path in the universe — their own subculture if you will, incarnated by the teen superhero community that is the Thin Spandex Line — and find acceptance in each other instead.
Legacy and Future
It's no wonder the Young Avengers are one of the main Big Marvel Things fans want to see in the MCU (despite how deeply tied to the comic book form, and therefore difficult to adapt in a cinematographic medium, volume two is, which makes it probable that Marvel Studios might chose to mostly take inspiration from volume one). The book gathered a significant fanbase online while it was coming out, especially on Tumblr, a fanbase which followed Gillen and McKelvie to their subsequent endeavor The Wicked + The Divine, a story about super-powered young adult pop stars, perfect for anyone left hungry for more after reading Young Avengers Vol.2. Even today, YA is a gateway into Marvel Comics for many young fans, appealing to new readers with plenty of ties to the universe, while still carving out its own small world in it.
And that's great, because in the years since Young Avengers Vol.2 came out, most of the team's members have gone on to be part of important stories and moments in the Marvel universe. Kate Bishop has, of course, become a fan-favorite Hawkeye both in the comics and on Disney+; Prodigy was a member of the recent Krakoan relaunch of X-Factor; America Chavez and Marvel Boy were part of Al Ewing's excellent Ultimates and Guardians of the Galaxy runs respectively. And perhaps most notably, Wiccan and Hulkling have not only joined an "adult" Avengers team (written by Al Ewing in the pages of his New Avengers), but they have also been at the center of Marvel's 2020 summer event Empyre, with Teddy taking his rightful place as King of Space, emperor of the Kree-Skrull Alliance, and major player in Marvel's subsequent galactic stories. The characters who young fans have learned to love are now all over the universe, and hopefully will stay for a long time.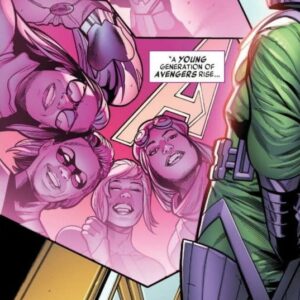 However, while the Young Avengers' legacy has been scattered across the Marvel universe, as an actual team they have mostly been gone since the end of Gillen and McKelvie's series (outside of a short reunion here and there, most notably during a certain couple's wedding in the pages of Empyre). This might be changing soon, however, as the recent Timeless one-shot teased that a new team of Young Avengers could be assembling in the near future, including in their ranks what seems to be several members of the Runaways.
Let's hope this new iteration paves a new, exciting future for what remains one of my all-time favorite superhero teams, and that it continues a tradition of Young Avengers being a truly special event comic in the best of senses, one that comes back every once in a while when it is time for it to mark a whole new generation of young Marvel fans.