Within the Marvel Universe, there are segments of thematic or tonal connections that create subcategories of "mini" universes readers can follow. One of the most prominent is Marvel Cosmic, but in the wake of WandaVision (honestly in a way I didn't feel after Doctor Strange), I'm increasingly interested in the universe of Marvel Magic.
Now, the below guide will assuredly not capture every instance of magic use in Marvel Comics (I have a family you animals!), but it will give you a decades-spanning look at how magic, supernatural, and mystical elements have progressed throughout Marvel history.
Related:
Support For Comic Book Herald:
Comic Book Herald is reader-supported. When you buy through links on our site, we may earn a qualifying affiliate commission.
Comic Book Herald's reading orders and guides are also made possible by reader support on Patreon, and generous reader donations.
Any size contribution will help keep CBH alive and full of new comics guides and content. Support CBH on Patreon for exclusive rewards, or Donate here! Thank you for reading!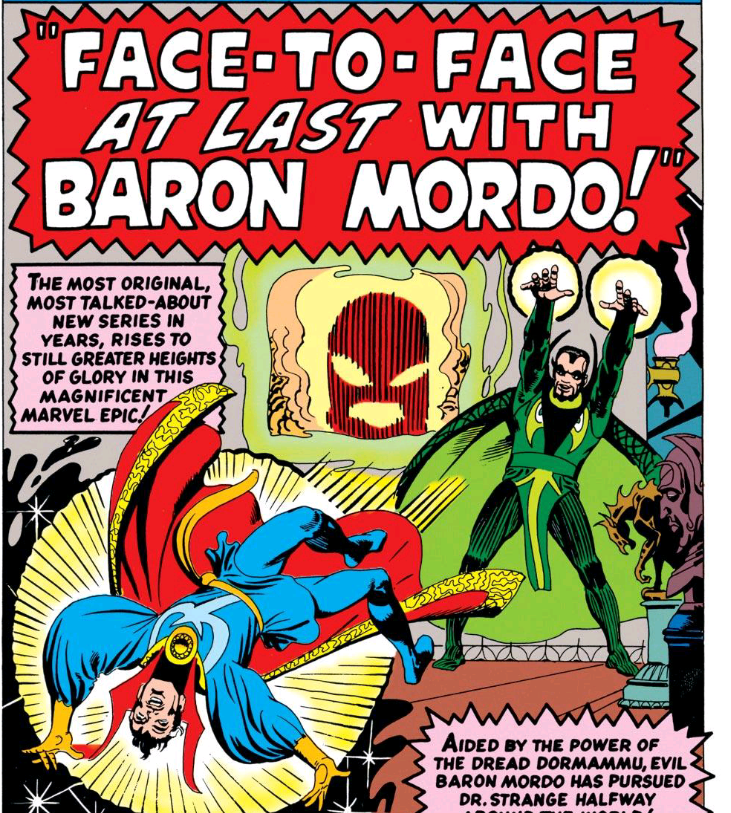 The Origins of Marvel Magic & The Darkhold Saga
Doctor Strange: Master of the Mystic Arts
Collects: Strange Tales (1951) 110-111, 114-146; Amazing Spider-Man Annual (1964) 2
Brother Voodoo Masterworks Vol. 1
Collects: Strange Tales (1951) #169-173; Marvel Team-Up (1972) #24, Werewolf by Night (1972) #39-41, Marvel Two-In-One (1974) #41, Doctor Strange (1974) #41, Moon Knight (1980) #21; material from Tales of the Zombie (1973) #6, 10, Tomb of Dracula (1972) #34-37, Werewolf by Night (1972) #38, Marvel Super-Heroes (1990) #1, Doctor Strange (1988) #16-17, 20.
Avengers: Agatha and Wanda
Agatha Harkness debuts as a supporting character in the pages of Fantastic Four, oddly enough as Reed and Sue Richards chosen nanny for their son Franklin. Following the wedding of Quicksilver and Crystal of the Inhumans, though, Agatha begins working with Wanda Maximoff in the pages of the Steve Engelhart written Avengers.
Man-Thing by Steve Gerber: The Complete Collection Vol. 1
Collects: Adventure into Fear #11 to #19
Gerber's Man-Thing is a consistently interesting Marvel Bronze Age work, and weaves in mystical and magical elements such as the Nexus of All Realities, Jennifer Kale, and Dakimh the Enchanter.
Avengers/Doctor Strange: Rise Of The Darkhold
Collects: Marvel Spotlight (1971) #3-4; Werewolf By Night (1972) #1, #3 And #15; Tomb Of Dracula (1972) #18-19; Marvel Chillers #1-2; Avengers (1963) #185-187; Doctor Strange (1974) #59-62, #67 and #81; Thor (1966) #332-333 and material From Dracula Lives #6; Amazing Spider-Man Annual #22; X-Men Annual (1970) #12 and Doctor Strange, Sorcerer Supreme #9-13 and #15
Marvel's "Rise of the Darkhold" collection is one of the better journeys through the vast tapestry of Marvel magic, and the darker end of a loosely connected supernatural saga that begins in the early 1970's Bronze Age.
The collected issues are inclusive of "The Witch of Wundagore Mountain," a Scarlet Witch saga from Avengers #185 to #187. In addition to once again shifting Pietro and Wanda Maximoff's maleable pasts, these Avengers issues connect Scarlet Witch to the dark elder god Chthon, the presence associated with Marvel's Darkhold.
Marvel Magic Matures
X-Men: Magik – Storm & Illyana
Collects: Uncanny X-Men #160, Magik #1-4
As her codename suggests, Illyana Rasputin becomes the demon sorceress of the X-Men family, starting here with her childhood spent in Belasco's limbo.
New Mutants Epic Collection: The Demon Bear Saga
Collects: New Mutants #13-31, Annual #1
The now-teenaged Illyana continued to drift around the X-books after her mysterious aging, but once her backstory was revealed, Magik joined the cast of New Mutants. The "Demon Bear" saga is one of my favorite New Mutants stories ever, and it also connects to Illyana's mystical powers, using them to battle the magical Bear.
Meggan vs. Baba Yaga! Thanks for the My Marvelous Year slack community for the recommendation.
Uncanny X-Men vs Kulan Gath
Collects: Uncanny X-Men #189 to #191
Collects: Marvel Original Graphic Novel #22
Peter Parker getting caught up in the wild fantasy world of a 12 year old sorceress is very on-brand.
Kraven's Last Hunt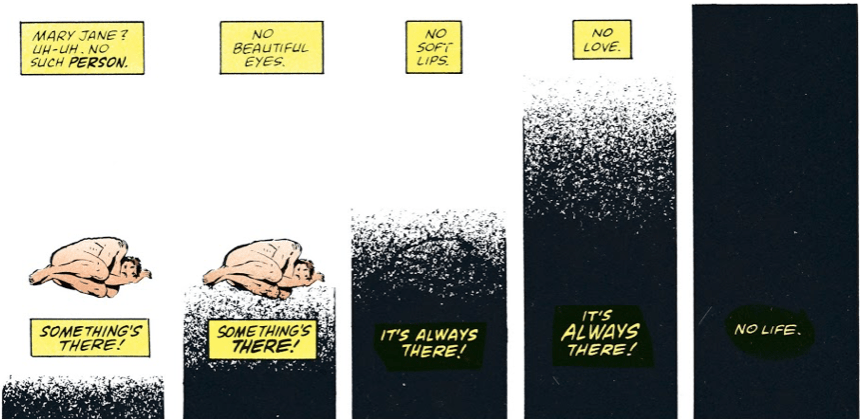 Sean Dillon: In a list about the mystical side of the Marvel Universe, this may seem like an odd inclusion. Kraven's Last Hunt is, after all, a Spider-Man story about the web swinger being shot by one of his baddies, the titular Kraven the Hunter, and subsequently being replaced by said hunter in a dark and gritty reboot of the Spider-Man concept as a look at the various shades of toxic masculinity, the death of monarchism in the 20th century, and being a wife guy. However, at the mid-point of the comic, Peter Parker experiences what can only be described as a mystical experience.
This is, I should note, not done in the traditional methodology that superhero comics approach the mystical, wherein the hero enters a cave or some other space made to suspiciously reference that scene from Star Wars right down to confronting a dark mirror of themselves, which they defeat in a battle of finger beams. Rather, this is more in line with real life mystical experiences wherein one's mind is expanded (by drugs) and they encounter vague symbols that don't make traditional, rational sense. In the case of Kraven's Last Hunt, Peter encounters visions of a man who died in an adventure that involved Peter killing someone, followed by Peter rejecting the Man aspect of his identity, then rejecting the Spider part (both of which end in him being killed). It's only when he embraces both parts of his identity (via a declaration of love towards his wife, Mary Jane Watson) that he is able to dig his way out of his own grave after being dead for two weeks.
These mystical and subconscious implications would lie within the subtext of DeMatteis' run on Spectacular Spider-Man, never fully going all the way with the implication of Spider-Man as a mystical character (an implication only fulfilled in Spider-Man: Hooky and Donny Cates' final issue of Doctor Strange). That is, with the exception of JM DeMatteis and Mick Zeck's follow up to Kraven's Last Hunt, Soul of the Hunter, wherein Spider-Man helps the ghost of Kraven the Hunter move on from Purgatorio via rejecting the death drive (as symbolically represented by the zombified remains of Kraven the Hunter). Initial attempts at defeating the death drive via physical violence only amount to Peter being dragged ever closer to his grave. It's not until he is able to come up with reasons to live rather than survive that Peter is able to overcome the death drive and help Kraven move on to somewhere better. (Tellingly, the final moment of the confrontation isn't Spider-Man punching the corpse of Kraven the Hunter, but stopping himself from punching the corpse and making a connection via a hug.)
Kraven's Last Hunt is, in short, a fascinating text with a great number of rabbit holes, follow ups, and more that are worth diving into.
Dr. Strange and Doctor Doom: Triumph and Torment
Collects: Marvel Original Graphic Novel #49 (1989)
I don't want to play favorites, but there's a reason "Triumph and Torment" is one of my 100 favorite comics of all time. If you can read only one Doctor Strange comic published before 2000, make it Triumph and Torment.
Roger Stern and an early Mike Mignola (Hellboy
) tightly craft one of the best Doctor Strange, Doctor Doom, and frankly Marvel team-up stories in Marvel's history. It's an incredible accomplishment and goes a long way to establishing Doom as a sympathetic (if ultimately irredeemable) villain. It also cements Strange as the rare the Marvel hero with a skillset Doom envies, as Doom literally copies Strange's magic technique as he continues to develop his sorcery.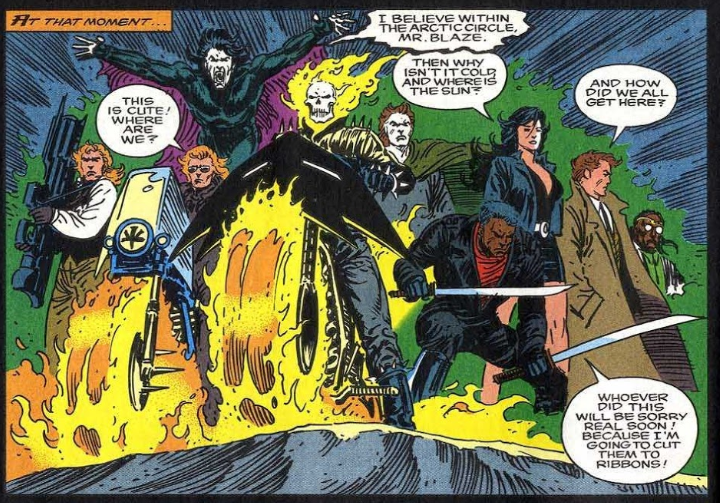 90s: Supernatural Return of the Darkhold and the Midnight Sons
Spirits of Vengeance: Rise of the Midnight Sons
Collects: Ghost Rider (1990) #28 & 31, Ghost Rider/Blaze: Spirits of Vengeance (1992) #1-6, Morbius: The Living Vampire (1992) #1, Darkhold: Pages From the Book of Sins (1992) #1, Nightstalkers (1992) #1, Web Of Spider-Man (1985) #95-96, Material from Midnight Sons Unlimited (1993) #1
It's not quite the Defenders but Doc is on hand to quasi-officiate the inception of this vampire-fightin' extended cast supernatural team-up featuring Ghost Rider(s) and Blade!
For more context, check out Comic Book Herald's Midnight Sons reading order.
Darkhold: Pages From The Book Of Sins – The Complete Collection
Collected: Darkhold: Pages From The Book Of Sins #1 to #16, Doctor Strange Sorcerer Supreme #90, Midnight Sons Unlimited #1 to #2, Marvel Comics Presents #145
Collects: Scarlet Witch (1994) #1 to #4
Post "Vision Quest," Wanda spends her time training herself in magic with Agatha and physically training with Wonder Man, and seems to find a sense of balance by the end that she'd never had before. The Wanda solo series by Dan Abnett and Andy Lanning also establishes the concept of Wanda as a Nexus Being unique in the multiverse.
2000s: Modern Marvel Magic!
Doctor Strange: The Oath
More light-hearted, more humorous, and more concise, "The Oath" is just about everybody's favorite Doctor Strange comic during the 2000's. Leave it to Brian K. Vaughn (Saga, Y: The Last Man) and Marcos Martin (Private Eye) to craft a gorgeous murder mystery with Strange as Sherlock Holmes, Wong as Watson, and the Night Nurse as… the sexy yet equally skilled Night Nurse.
This is a must-read, and one of my favorite 100 Marvel Comics from 1998 to 2015.
New Avengers Vol. 11: Search for the Sorcerer Supreme
Collects: New Avengers #51 to #55
Following the evens of New Avengers: Illumanti and World War Hulk, Stephen Strange is on the hunt for a new sorcerer supreme.
Young Avengers

Sean Dillon: In many regards, Kieron Gillen and Jamie McKelvie's Young Avengers is another odd choice. There are certainly mystical characters within the text, such as Wiccan and Loki, but it's also a comic about going to parallel universes to escape an abusive ex, coming to terms with the cosmic degrees to which your dad was an asshole, and puns based around metagags involving this being a comic. It's a story about a lot of things, magic being just one of them. But it's through the mystical lens of this story that we bear witness to The Demiurge. Not so much a creator God as a follow up God, someone who changes the universe into a shape they see fit. In this case, it's revealed that Billy Kaplan, Wiccan, will, one day, become The Demiurge. Naturally, various evil beings want this power for themselves so they can control the universe. The full extent of Billy's potential has yet to be fully achieved, though there are some close calls in comics by Al Ewing.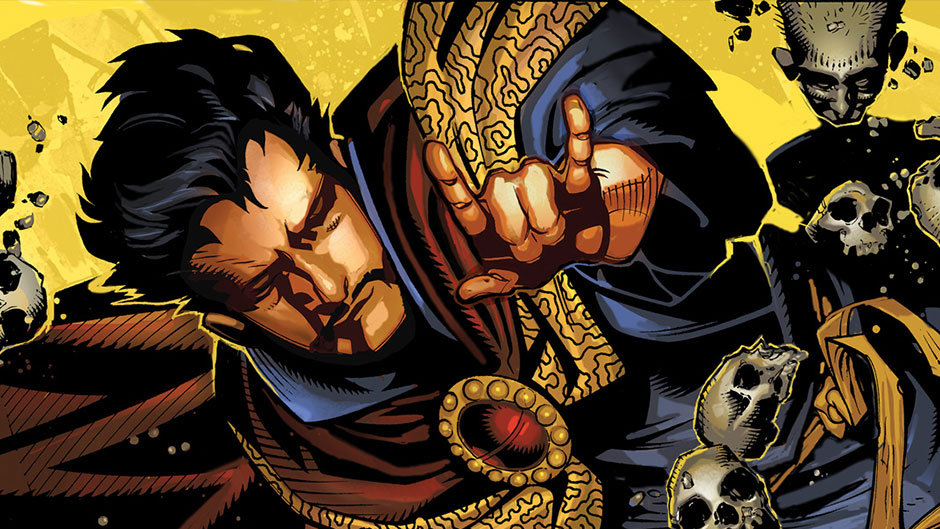 After 2015's Secret Wars: Marvel Magic Expands
Jason Aaron Doctor Strange / Doctor Strange and the Sorcerers Supreme Vol. 1: Out of Time
Following the conclusion of Secret Wars, Doctor Strange was given an All-New All-Different title with Jason Aaron (Scalped
, Star Wars
) at the helm. It's a quirkier, less tortured Doctor Strange, with an emphasis on mystical dimensions and the Sanctum Sanctorum.
Mark Turetsky: The release of the Doctor Strange movie in 2016 created a rare possibility: the existence of two ongoing Doctor Strange comics. The "main" book was Jason Aaron and Chris Bachalo's celebrated run, but in order to have a new #1 issue to sell alongside the release of the film, Marvel released Doctor Strange and the Sorcerers Supreme, a team book with pencils by Javier Rodriguez (with Nathan Stockman filling in for four issues), words by Robbie Thompson, inks by Álvaro López and colors by Jordie Bellaire.
It's a team book featuring Stephen Strange time traveling with other Sorcerers Supreme, including Sir Isaac Newton, Wiccan, and introducing Kushala the Demon Rider and Nina the Conjurer. Thompson lets his stellar art team run rampant, with Rodriguez' layouts married to Bellaire's colors creating a mindbending run that calls to mind black light posters one might find at a head shop. This series features such creative issues as an entire issue as a giant spellbook that the characters explore as you the reader flips the pages, a choose-your-own style issue, and a "widescreen" finale.
Doctor Strange by Donny Cates Vol. 1: God of Magic
Collects: Doctor Strange 381 to 385
Loki, god of magic, and new sorcerer supreme?!
What if? Magik was the Sorcerer Supreme

Sean Dillon: As with the most interesting of mystical stories, magic is part in parcel with metaphor. (Recall that Alan Moore worships a god who is a Snake Puppet and Grant Morrison talks about ideas that are so powerful as to alter reality. These are mystics who work in storytelling after all.) With regards to Leah Williams and Filipe Andrade's foray into the What If scene, that metaphor is tied with abuse. Illyana Rasputin, in her own words, grew up in hell. She was kidnapped, tortured, and abused for a good portion of a decade of her life, essentially her childhood. She escaped thanks to her mutant ability to create portals. Magic, in the context of this story, takes on two metaphors. The first, and most obvious, is abuse. From the "tutelage" of Belasco to Illyana's own self-loathing, this shape of magic is a means of destruction. A means to hurt everyone around you.
By contrast, Dr. Strange attempts to teach Illyana Creation Magic, as a means to help her heal from the abuse she received. Note that Dr. Strange refers to his Sanctum Sanctorum not as a place to learn, but as a safe space. This is a story about someone who has done the unforgivable learning that there is no point of no return, no moment where they should just kill themselves. That, no matter how far gone we think we are, we can always grow into something better.
Savage Avengers
Collects: The whole run!
Writer Gerry Duggan's Savage Avengers integrates Conan the Barbarian into the Marvel Universe, dragging the dark magics of Kulan Gath with him.
Excalibur
Collects: Excalibur #1 to #6
As part of Marvel's Dawn of X, writer Tini Howard and artist Marcus To expand the concept of mutant magic in the Marvel Universe!
Strange Academy
Collects: Strange Academy #1 to #6
Doctor Strange and friends establish the school for magic in the Marvel Universe. Great concept by Skottie Young and Humberto Ramos.
Collects: Darkhold Alpha #1, The Darkhold (2020), The Darkhold Omega #1