When I was first getting into Marvel Comics, reading Earth X was one of the most confusing experiences of my fledgling life. It wasn't quite Final Crisis
levels of "what is happening????!!" but I was real confused.
Coming back to Earth X years later as part of My Marvelous Year, I realized that the series is a love letter to Marvel lore (and, uh, Machine Man), speckled with moments of absolute brilliance. The trilogy also features an uncanny ability predict the future of the Marvel Universe. The epic by Jim Krueger, Alex Ross, and John Paul Leon is well worth a read, but only with a few caveats acknowledged!
Earth X, and the ensuing Universe X and Paradise X are absolutely alternate reality Marvel Comics. They do not occur along the standard Earth-616 comics timeline, and can be read removed from the events of Comic Book Herald's Complete Marvel Reading Order.
I recommend the Earth X trilogy for Marvel fans with a medium to heavy knowledge of the Marvel Universe and history. It will simply be more enjoyable, in my opinion.
Finally, in addition to the crossover issues reading order placement, I also call out Marvel Unlimited oddities below. For some reason, Earth X, which should be quite easy to read in order, includes the last issue of the series as one of the first published issues. Failure to follow this order (as I did!) will lead to tremendous confusion, and possibly cataracts.
Earth X, Universe X, and Paradise X Trade Reading Order
Earth X
Universe X, Vol. 1
Universe X, Vol. 2
Paradise X, Vol. 1
Support For Comic Book Herald:
Comic Book Herald's reading orders and guides are made possible by reader support on Patreon, and generous reader donations.
If you like Comic Book Herald reading orders and want exclusive reader rewards, your support on Patreon would be tremendously appreciated! Rewards include:
Custom monthly reading playlists
Priority reading order requests + Q&A
Weekly continuity updates
Reading order update logs
A direct hand in growing CBH!
Any size contribution will help keep CBH alive and full of new comics guides and content. Support CBH on Patreon for exclusive rewards, or Donate here! Thank you for reading!
Paradise X, Vol. 2
Earth X Comic Book Reading Order
Earth X (1999) – Publication date of March 01, 1999 in Marvel Unlimited. Do not read Earth X (1999) with publication date of March 10, 1999 at this time!
Earth X (1999) #1 to #12
Earth (1999) – Publication date of March 10, 1999
Universe X Comic Book Reading Order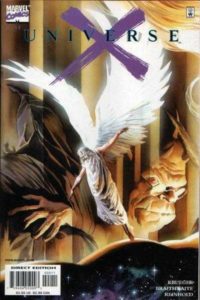 Universe X #0 – Publication date Sept 01, 2000. This is one of two issues to share that publication date, and the thumbnail screenshot in MU is (currently) wrong. The thumbnail shouldshow Captain Marvel soaring (not Cap leading a group!) and the actual cover you want is with old Angel in the center.
Universe X: 4 #1
Universe X #1 to #3
Universe X: Spidey #1
Universe X #4
Universe X: Cap #1
Universe X #5 to #8
Universe X: Beasts #1
Universe X #9 to #11
Universe X: Iron Men #1
Universe X #12
Universe X #X – This is the second issue in Marvel Unlimited with a Sept 01, 2000 publication date, and shows Captain America leading a group in the cover thumbnail. When you open this issue in MU it will clarify that it is Universe X #X.
Paradise X Comic Book Reading Order
Paradise X: Heralds #1 to #3
Paradise X #0 to #2
Paradise X: Xen #1
Paradise X #3 to #5
Paradise X: Devils #1
Paradise X #6 to #8
Paradise X: Ragnarok #1 to #2
Paradise X #9 to #12
Paradise X: A #1
Paradise X #X
You can find more reading orders on Comic Book Herald's complete Marvel reading order!