It's only been a few short weeks since the release of Avengers: Endgame and, as expected, speculation is huge as to what comes next. Certainly, there's already some definite franchises to anchor the MCU into Phase 4 and beyond. However, for as much bankability of, say, a Black Panther 2 or the already-announced intentions for a live-action Shang-Chi, Master of Kung Fu, there's still a ton of Marvel properties that have yet to be translated into a filmed medium.
Let's take a look at some now and pretend "elevator pitch" these concepts into an ever-expanding Marvel Cinematic Multiverse.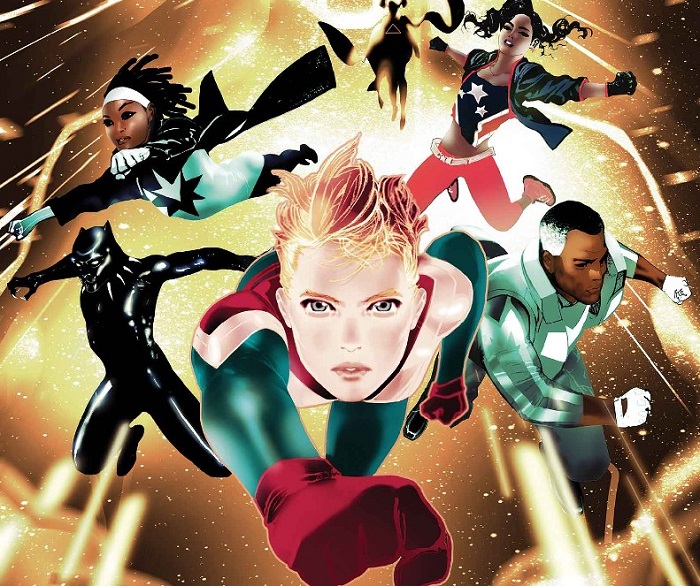 Ultimates/ Alpha Flight
This is really a no-brainer considering Captain Marvel and the Black Panther are key players in Marvel Comics' relaunched Ultimates
. Carol has stated she has a whole universe to protect and certainly after Thanos' invasion of Wakanda, T'Challa will want to turn his country's resources toward the stars. That said, what better than this super-science squad of heavy hitters?
Rounding out the rest of the team would allow for a now-adult and super-powered Monica Rambeau as well as the addition of multiversal experts, America Chavez and the Blue Marvel (Total fancast want: is it too much to get Stephanie Beatriz and Andre Braugher from Brooklyn 99 in these respective roles, please?!?)
As for the Alpha Flight component: sure they started out as part of Wolverine's mysterious backstory and the original team kinda looks like action figures, but since the reinvention of the Marvel Comics Universe post-2015 Secret Wars
Support For Comic Book Herald:
Comic Book Herald is reader-supported. When you buy through links on our site, we may earn a qualifying affiliate commission.
Comic Book Herald's reading orders and guides are also made possible by reader support on Patreon, and generous reader donations.
Any size contribution will help keep CBH alive and full of new comics guides and content. Support CBH on Patreon for exclusive rewards, or Donate here! Thank you for reading!
, they've been Carol's supporting cast. Keeping them around as a super-powered "home base" team on the space satellite would be a nice balance to the Ultimates' "away team" explorations. It would almost be like combining Star Treks: The Next Generation and Deep Space Nine into one thing- just Marvel style.
Angela
Okay, she's made some not-so-iconic cartoon and cinematic appearances already back when the character was attached to Todd McFarlane's Spawn mythology, but since co-creator Neil Gaiman brought her over to Marvel, it's fair game for re-invention! In the comics, she's already proven herself a member of both the Guardians and the Asgardians of the Galaxy
and with Thor once again taking to space in the MCU and the GotG franchise being all about "family"- what better way to introduce the Odinson to a long-lost sibling who actually turns out to be more friend than foe for once. (Wouldn't that be nice?)
Agents of Atlas
Suggested Reading: Agents of Atlas
Despite occasional forays into "period pieces" (Captain America: The First Avenger, Captain Marvel, the short-lived Agent Carter TV show), there is a tremendous amount of hidden Marvel history yet to be had. Who's to say there wasn't maybe another super-team along the way?
Stemming from an alternate reality concept of "What If the Avengers Formed in the 1950s", this bands together some of Marvel's pre-Fantastic Four properties as a top secret government-sponsored crime-fighting unit. And yeah, the MCU already has a Jimmy Woo (from Ant-Man and the Wasp fame) but who's to say he isn't Jimmy Woo, Junior and that his old man maybe could've been the Nick Fury-type precursor to this team?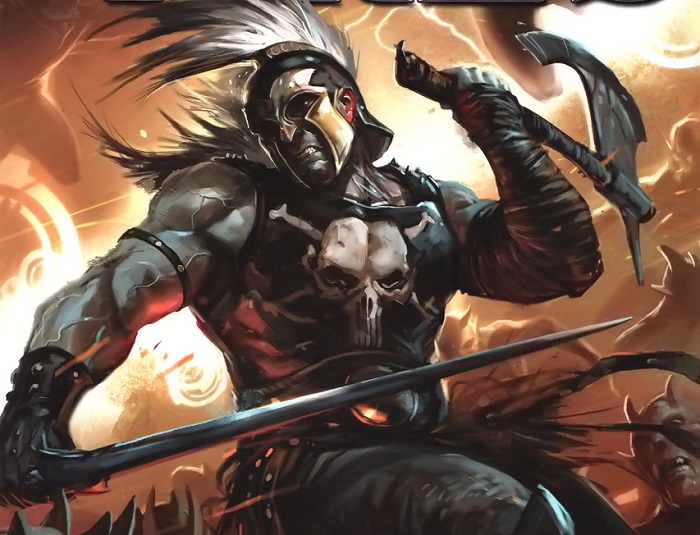 Ares/ Hercules/ The Olympians
Norse mythology isn't the only one to get co-mingled in the Mighty Marvel Manner. Since the mid-60s, the Greco-Roman pantheon has featured in the comics, but typically they wind up playing second fiddle to the Asgardians. Case in point: the Avengers need some godly might and Thor's unreachable? Uh, good chance Hercules is asleep on the couch just over in the next room.
However, taking the recent comedic turns the MCU Thor character has taken, finding a different niche for Herc might be the order instead.
The God of War, though, may prove the key to distinction and really, it wouldn't mean much more than adapting the 2006 Ares
mini-series by Michael Avon Oeming and Travel Foreman. In the source material, by coincidence, the destruction of Asgard has had a domino effect on the cosmology of the other pantheons. Japanese void monster Amatsu-Mikaboshi invades and destroys Mount Olympus, causing Zeus and family to call on their black sheep member as the only one who can save the day.
The juxtaposition of antiquity figures and modern weapons of warfare isn't necessarily a new thing but that doesn't make it any less cool. Just look at Karl Urban's Skurge the Executioner in Thor: Ragnarok– picture something like that. Only maybe not such a comedically redemptive arc and maybe more of a gritty, hard-boiled revenge flick. Of literal mythic proportions.
Moon Knight
When soldier of fortune Marc Spector is betrayed and left for dead on a mercenary mission in the Egyptian desert, his body is brought to a temple where he is resurrected as Khonshu the Moon God's Fist of Vengeance: the Moon Knight!
Spector cycles back to world and becomes something of a Batman-type vigilante (rich guy, mansion, nocturnal theme, costumed acrobat with really thematically-specific gadgets and vehicles) however his Dissociative Identity Disorder often leads to some wild and unexpected characterizations.
Like Ares, a near-straight source adaptation may actually prove the ticket, though. The 2011 Brian Michael Bendis and Alex Maleev edition
takes Spector to LA and repositions him as a showrunner for a slightly cheesy TV production about a mercenary left for dead and resurrected by an Egyptian god. How delightfully through-the-looking-glass meta and exactly the kind of script-flip that would be needed to stand out in an increasingly crowded super-entertainment marketplace.
Also, moving a Marvel hero to another city that is not New York for once would also be a welcome change of pace. Plus, as an ongoing TV show and not a movie, Moon Knight would be a great vehicle for introducing some of Marvel's weirder Left Coast denizens such as Shroud, the Night Shift and quite possibly, private investigator… Jessica Drew??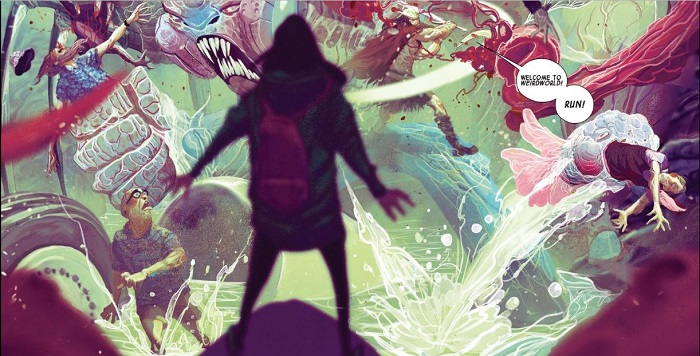 Weirdworld
Another concept that would probably work better as a TV show than as a movie mostly due to its pre-existing anthological nature. In this, the setting is really the star of the show and the characters may come and go as needed.
In the comics, there have been two short-lived recent-ish volumes of Weirdworld
– each following a different protagonist. It's also shown up as a locale and plot point in several other titles, so having the ability to plug-and-play interject a swords and sorcery-type scenario into the Marvel Universe without having to resort to time travel is something that both fans and creators seem be getting a lot of enjoyment from.
There is some loose talk about sometime-Avenger Dane Whitman, the Black Knight joining the MCU in the possible near future but really this would be the best home for a modern-day scientist struggling with the legacy of a cursed sword from the Sixth Century.
Exiles
Alternate reality takes of characters banding together to stop some sort of multiversal crisis. It really doesn't get much more 'Nuff Said than that!
It may seem like a bit of a novelty but the comic has amassed almost one hundred-fifty issues over several volumes since 2001
. A TV show running on this premise could easily get five seasons- especially if it could so easily cross-pollinate the incoming Fox properties with the regular MCU. Sure, you might not get Hugh Jackman or Robert Downey Jr. per se, but it would certainly warm many a fans heart to see a clawed, Wolverine-type figure teaming up with an Iron Man (maybe a great way to intro Arno Stark and Iron Man 2020, perhaps?).
These are just a few ideas and, really, as Marvel is boasting a character bench 5,000 deep, this could easily become a never-ending list. Perhaps a few of these will happen or perhaps the next big thing is an even greater unseen commodity- who can say? All the same, it's truly a wondrous age to be a comic book fan when possibilities of this nature are quickly becoming reality. Guess really all that's left to say is: keep your eyes to the screens!