Below you will find a complete list of comic reading order guides organized by Marvel characters. Click here for a chronological guide of the entire Marvel Universe.
The List: In Progress (Last Update: 6/10/12)
————————————————————————————————————–
T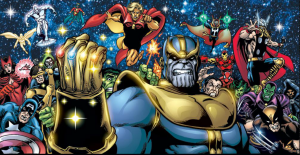 Thanos – The mad Titan is set to star as the villain in Marvel Studio's The Avengers 2. Read up on one of the coolest cosmic characters Marvel has ever created with The Complete Thanos Reading Order Guide.
————————————————————————————————————–