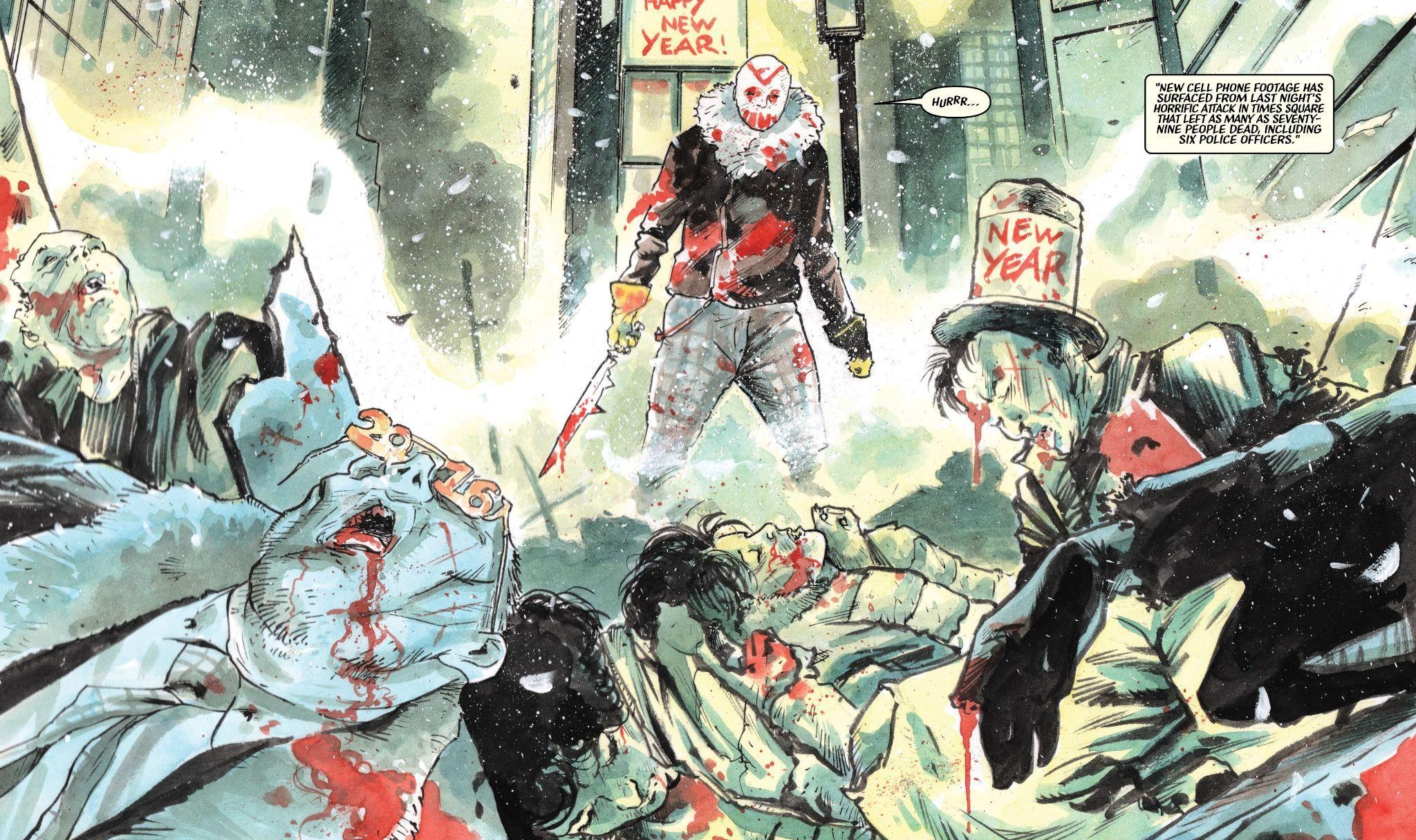 Elliott Kalan and Andrea Mutti open up Maniac of New York: The Death Train with the above image. It already warns you the story will be filled with the kinds of violence and gory deaths characteristic of the slasher genre. In our day and age, with so many sequels and remakes, everyone knows the basics of slasher flicks like Halloween and The Texas Chainsaw Massacre, so – in a way – we are already familiar with Harry, our Jason-like serial killer. But his role is also a bit different from the other characters mentioned.
Some light spoilers ahead
After Harry killed 493 people and caused a massacre in Times Square, Gina Greene volunteers herself to be the new director of the Maniac Task Force. She asks for the help of Zelda Pettibone, a disgruntled officer with a fair share of past regrets. Together, forming a classic buddy-cop duo, they investigate how to deal with Harry; and they better work fast because he has only started his killing spree. As the mayor inaugurates the city's first automated subway train, Harry sets his sights on new targets.
"Let me tell you what I told the last three folks who had your job. The maniac isn't something that gets solved. It just is." ~ Zelda
Harry not only seems like a supernatural figure – a monster that can't be stopped – he certainly is; it's hard not to be shaken when seeing the piles of bloody corpses left by him. But Harry "just is" because his function is being an obstacle to people's lives, he's simply an element of our lives and there's nothing we can do about it. The comic states a lot of times that we need to keep moving on, the world won't stop because we are scared, but at the same time, our biggest mistake is to pretend everything is normal. We have no choice whatsoever. We fear and pray he doesn't come for us. So we finally realize that, for now, Harry is mostly just a force of nature; in fact, we should drive our attention to the other characters and their realities. That's what makes Maniac of New York so interesting. I couldn't stop reading it when I realized it wasn't a story about random merciless killings, but one about how a disaster can suddenly become part of your life and ruin all your plans.
The great art and colors by Andrea Mutti aren't there just to make the gory scenes hit harder, but also to set the mood of the comic. In issues #1 and #2, we see the people taking the train before Harry attacks them. Some had been going through incredible things in their lives, and others still had a lot to experience; either way, they were going to die. When you think about the story and the situation the citizens of New York are trapped in, it's obvious the comic will have a depressing tone, and the art makes you even more immersed in it. It's easily one of the high points for me.
Support For Comic Book Herald:
Comic Book Herald is reader-supported. When you buy through links on our site, we may earn a qualifying affiliate commission.
Comic Book Herald's reading orders and guides are also made possible by reader support on Patreon, and generous reader donations.
Any size contribution will help keep CBH alive and full of new comics guides and content. Support CBH on Patreon for exclusive rewards, or Donate here! Thank you for reading!

But it's not only the depressing mood that affects the citizens and the city, Harry is so much a part of their lives that at moments – when they see someone annoying, for example – they say the killer is doing his job wrong. The question isn't "why would someone do something as horrible as this?" anymore, but "why isn't he killing the right people?". Dissatisfaction runs through the citizens' veins. And that can be felt everywhere. There are characters who actively spread hate and conspiracy theories, and to make it worse this kind of behavior is encouraged.
Unfortunately, the ones who should be protecting us also don't care at all about what's happening. When Gina arrives at the police station, she's motivated and prepared to see a whole team waiting for her, only to realize her expectations got the best of her. Nobody wants to be part of the Maniac Task Force; not only that, but she's laughed at whenever she talks about stopping Harry. Everyone has lost hope; they see him as an unstoppable monster and don't even try to do anything.
Mayor de Manzio also completely ignores the threat of the Maniac, he doesn't even try to meet up with Gina at the start to discuss the task force. But his case is even worse, believe me, Kalan really wants you to dislike him. The Mayor is lost in a game of appearances; when needed, he'll make meaningless speeches about having to stop Harry, despite being as quick to blame the victims. Mayor de Manzio actually solely cares about the success of the new automated subway train, which he believes is his ticket to being reelected. Even when Harry invades it, the problem isn't that it will result in the death of many people, but that – in his words – Harry's "on MY train." He only cares because it affects him negatively.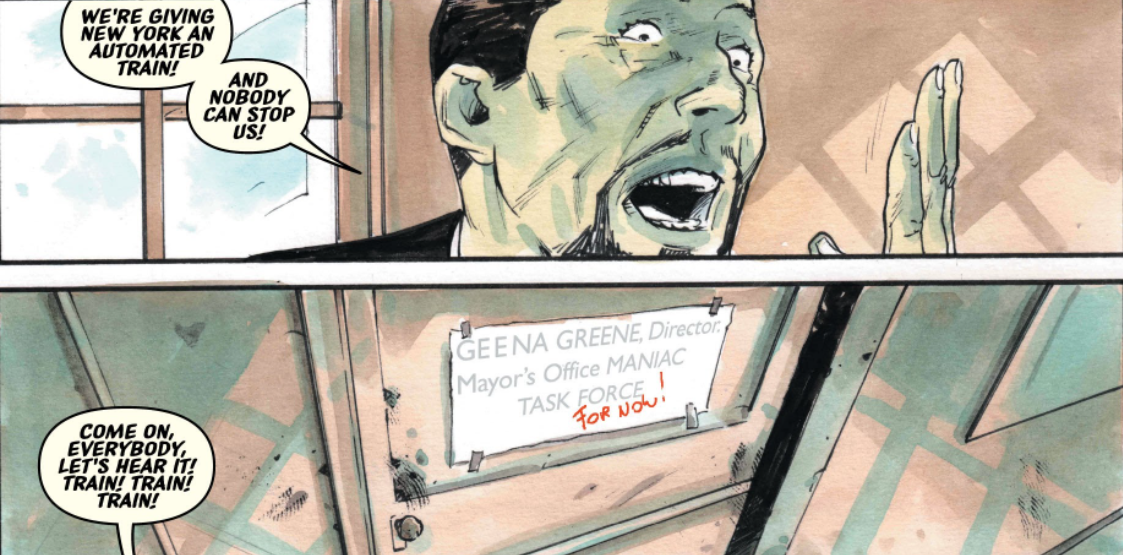 We also have Gardener Bernbaum; he wrote a book about the maniac and is planning on writing a new one. To him, the attack on the train is entertainment; it means a subject to talk about in his next book. He also omits a few facts that might help people, like the existence of a mysterious Harry-free zone and that the maniac actually already got hurt one time, because it will be interesting to put them in the sequel. Even though he could be helping the New York citizens, he only cares about himself and his money.
As you can see, Maniac of New York has a diverse cast of characters, but not all of them are as hateful as the ones I just mentioned. Gina and Zelda are highlights of the comic, and learning more about them is pretty rewarding. With each chapter, you understand more to what lengths Gina will go and how Harry has affected her life; you also see more of what being a cop means to Zelda and why she became so hopeless. But the best part is seeing them interacting and confronting each other. At the start of the story, you have an impression of Gina that, after you finish it, seems to suit more with Zelda and vice versa. That not only makes their relationship more fascinating, but it fits the aspect of things not being exactly what they seem.
Men who should be informing people about the maniac are actually just spreading hate or keeping information to themselves. The ones who should be protecting you don't even try to help. Lastly, even Harry appears to have some kind of past trauma and a relation with the supernatural (I'm gonna leave it at that, go check out the comic if you wanna know more).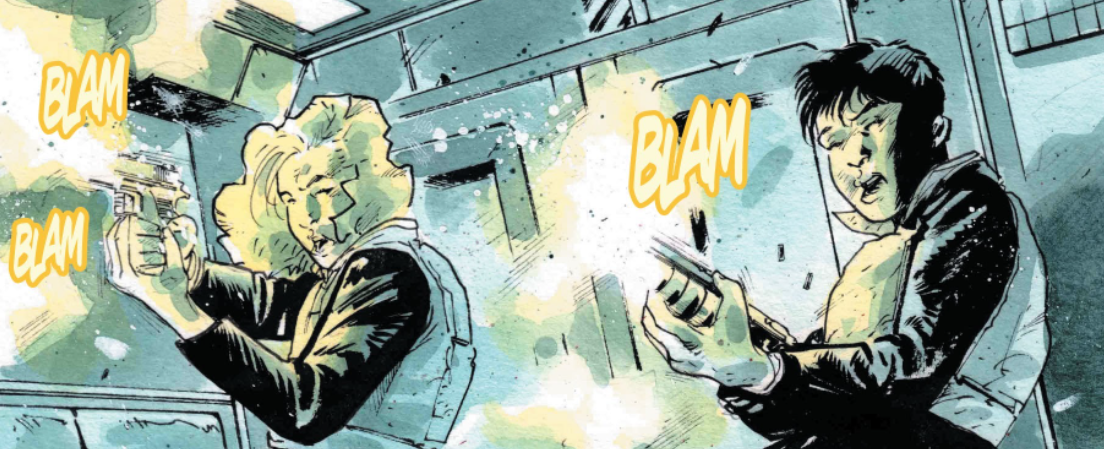 If you like horror and slasher stories, you can't miss Maniac of New York. The art itself should already convince you to read it, but the comic also offers good characters, tone and setting that pulls you in, a compelling story, and an interesting villain. It's all you ever wanted Jason Takes Manhattan to be. Also, the events continue on Maniac Of New York, Vol 2: The Bronx Is Burning, which will soon be published, so you have a lot more of these characters and mysteries to see.