Here comes Man of Steel! I'm pumped for the film's release and hoping Superman can put DC's movie future back on track. There's a lot riding on Clark Kent's shoulders, but really it was silly to think the future of a Justice League movie might play out any other way. Putting my faith in Green Lantern just got me a headache and an anger management problem.
Two pre-movie links to keep your Superman needs fed:
1) I wrote a detailed post about the best superman comics to read alongside Man of Steel. Superman's one of the trickier heroes to start reading (where do you even start?), so I broke down my recent reading experience. You can check out the whole thing here.
I focused primarily on Superman origin comics that might play a role in the film, so a few notable exclusions didn't quite make the cut.
One of my favorites is Jeph Loeb and Tim Sale's Superman: For All Seasons. As you'd expect from the dudes who gave us Batman: The Long Halloween,  these are four high quality Superman issues within a fun gimmick. Each issue references one of the four seasons (not the Frankie Vallie kind… although I'm not sure what's preventing that series), and is narrated by a different character from Superman's world (Lana Lang, Lex Luthor, Larry Lujack, etc).
Support For Comic Book Herald:
Comic Book Herald is reader-supported. When you buy through links on our site, we may earn a qualifying affiliate commission.
Comic Book Herald's reading orders and guides are also made possible by reader support on Patreon, and generous reader donations.
Any size contribution will help keep CBH alive and full of new comics guides and content. Support CBH on Patreon for exclusive rewards, or Donate here! Thank you for reading!
I also read John Byrne's original Man of Steel series which was apparently transformative for the Superman mythos following DC's Crisis on Infinite Earths. I can't really verify because I didn't exist at the time, but I was disappointed with this read today. Hence my preference towards Waid's Birthright update.
If you're looking for even more Superman reading options, I'd head on over to the Reddit Supes thread – there's a pretty comprehensive starting guide in one of the widgets in the righthand column.
2) Speaking of the Man of Steel comic series, Gillette's running a promotion in conjunction with the film titled "How Does He Shave?"
If you've been on Twitter, YouTube, or a non-Kryptonian solar system for the last couple weeks you've probably seen this promotion. It's actually a lot of fun, and in my opinion a pretty awesome bit of brand marketing as experts like Bill Nye the Science Guy, the Mythbuster's dudes, and Kevin Smith (well, "experts") tackle the life-altering question: How Does Superman Shave?
Byrne's 1986 Man of Steel series actually attempted to answer this (possibly unasked) question with the following sequence.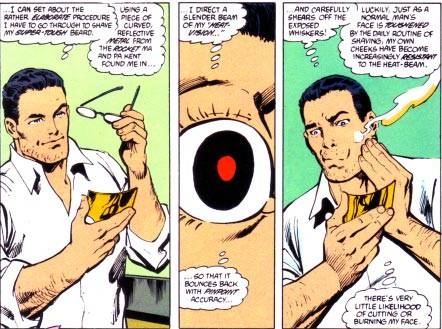 This answer has been replicated several times throughout the years, but Gillette apparently wasn't content to just reference the mass amount of media attention to Man of Steel #3 (or whatever).
"Yes, I realize there are thousands of you caught up in the Man of Steel movie hysteria, but if you all could please direct your attention to a comic book from 1986… No… No… Ok yes, I realize you might feel inclined to heap oodles of press and attention upon our YouTube account and brand name, but really, guys, we swear this question has already been answered. Just watch the video!"
End of the day, I'm pretty ok accepting some sort of heat-vision based shave theory, although it actually leads itself to a much more pressing question: How does Superman get his hair cut?
This questions is equally relevant for Wolverine, but the heat-vision theory doesn't quite cut it for a haircut. I mean, Clark Kent's hair is immaculately styled at all times, in really all incarnations. From Christopher Reeves to Tom Welling, nobody walks around thinking "when was the last time he got a haircut?"
Some sort of Kryptonian technology left behind in the Fortress of Solitude renders the point moot (ok, ok fair enough – point was basically the definition of moot to begin with), but it doesn't answer how Clark Kent got his haircut in Smallville. Growing up.
There's a scene in Superman: For All Seasons where Clark's hair breaks the barbers scissors. The old-farmey barber acts like it's the scissors fault, but of course we secretly know that Clark's hair just up and broke steel. Hair of Steel.
The bright minds behind the Gillette promotion come up with a variety of theories that might handle this, but I'm still of the opinion that Superman should have a particularly shaggy past, before he got it all figured it out. Clark's been walking around like he's been getting finger-width barber work for way too long.
Anyway, we know Marvel's Iron Man 3 has really put the pressure on Man of Steel this weekend. What do you all think – is this movie going to pave the road for a future of Justice League? Or should we just go ahead and read those Superman comics and call it a day?