This week gives us the final story in this arc of MAGNETO before this book starts to directly tie into the upcoming AXIS event. Another superb outing by Cullen Bunn, each issue in this series has been building up to what happens, and what is bound to happen, in this comic series.
I can't say enough of how much I enjoy this book, and how it is one of the few books in my pull list at my local comic shop (The Comic Depot) that I am genuinely excited for each month. This is due in no short part to Declan Shalvey and Jordan Bellaire's awesome covers. The primal energy that this week's issue emits, as well as the well placed title character 'manipulating' his own title, is just visceral and awesome. I hope that this team continues to do covers for this book, through the AXIS event and beyond, because they are just knocking them out of the park.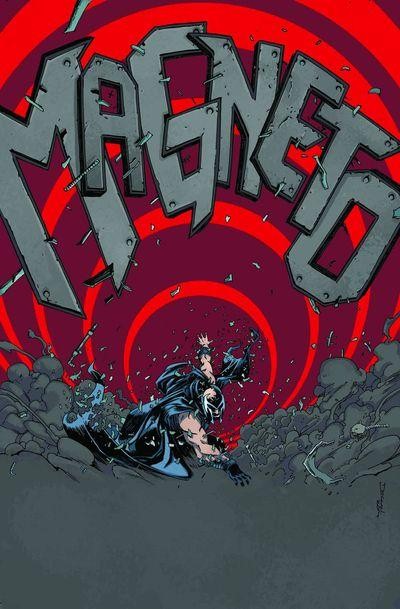 This issue opens up mere hours after the events of last issue took place. Magneto had found a gritty underground 'fight club' so to speak, but instead of mano e mano, it was mutant versus Predator X, a beast meant only to hunt and kill mutants. Any mutant that died in the arena, was then converted into the infamous MGH serum, or Mutant Growth Hormone. A serum so powerful it can heighten the powers of a mutant, or change the genetic makeup of a homo sapien and give them mutant powers. Magneto has been on a rampage lately trying to take this and other operations down, and he did so in a very violent way last issue. We see the S.H.I.E.L.D. team that is tailing him show up to the site and try and ascertain where he is headed next. Cullen Bunn does a great job making a lot of the exposition from the S.H.E.I.L.D. agents not feel trite or boring, and moves the story along real nicely until they catch up with Magneto, who has found the 'cook' and the goons that help process the dead mutants into MGH. Some interesting fights break out between all three parties, and Magneto manages to escape with the cook, revealing that he wants him to perfect his serum to something "…befitting the Master of Magnetism".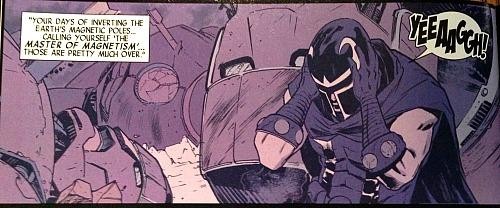 That's some heavy stuff, because this whole ride through the last seven issues we have seen Magneto wanting to inflict his own brand of Punisher-style justice on people and groups that are doing harm to mutants. Also, it has been shown that Magneto is half the man he used to be, and everyone seems to know it. Bunn crafts the beginning of this story with Magneto talking about how a town is a living thing, and the metaphor about his own life is drawn beautifully by Javier Fernandez with colors by Dan Brown. This plays out by the end, as we find out that even Magneto knows he wants to be back at full strength, and this might be the only way to do it.
Personally, I like a powered up, slightly holier-than-thou Magneto. I prefer it to the whiny Magneto, or the apologetic Magneto, or the Magneto on the X-Men. (Still never understood that choice). So the idea that he is working towards powering himself up more to his full strength, so he can hopefully continue down this path of vengeance, sounds pretty awesome to me. He says at one point when he walks into the cook den, and his name is uttered, that there is a wave of tension, and it comforts him to know that he still has that effect. I want the old days of when he shows up, everyone goes "Oh S!#T, it's Magneto!" This book seems to be building towards that conclusion, but AXIS might put a spin on it, we will have to see.
Support For Comic Book Herald:
Comic Book Herald is reader-supported. When you buy through links on our site, we may earn a qualifying affiliate commission.
Comic Book Herald's reading orders and guides are also made possible by reader support on Patreon, and generous reader donations.
Any size contribution will help keep CBH alive and full of new comics guides and content. Support CBH on Patreon for exclusive rewards, or Donate here! Thank you for reading!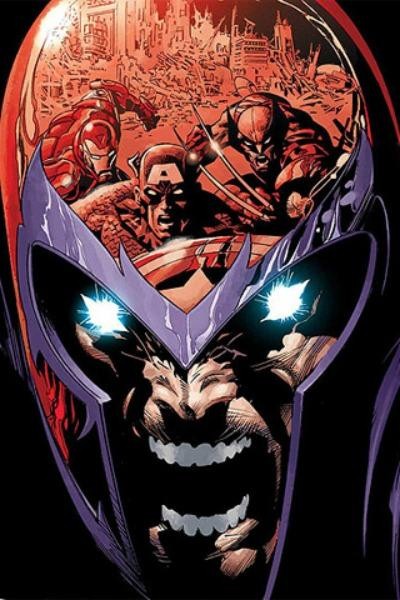 The "Best There Is":
The whole passage where Magneto is talking about a town as a living thing, that can rise and fall, and the art is paralleling his life to the metaphor he is using, is brilliant. Even if this is the first issue you pick up from this series, you will be impressed. Also, as a lead in to a lead in for the upcoming Marvel event of AXIS, it wouldn't hurt to get this issue, as I have heard that MAGNETO has a lot of repercussions in AXIS.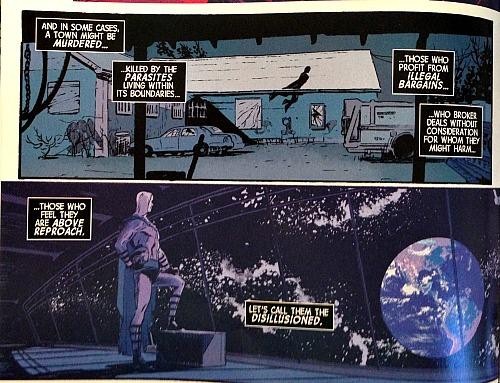 The "Isn't Very Nice":
This issue is a well oiled machine. It gives not one but three separate perspectives on the action, and also continues a clear, even pace throughout. It begins like a CSI episode, then moves into a hero driven act two, then culminates with a big fight, and a cool reveal. The only thing wrong with this issue is that we have to wait until next month for more.
CBH: 5 out of 5. Perfect marks because I actually like Magneto as a character again, and I hope he plays a large part in AXIS.