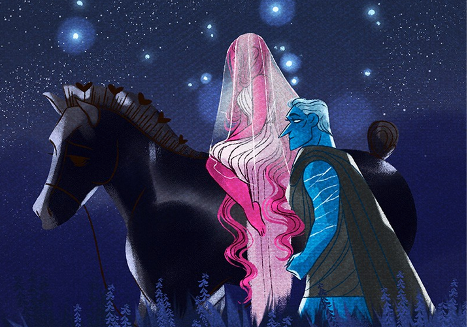 Ancient Greek mythology has been a popular subject of reading and study for centuries, largely thanks to the codification of The Iliad, The Odyssey, and Hesiod's Works and Days among many, many other works that helped to preserve this complex mythology for millennia. Now, anyone familiar with ancient Greek mythology knows that it is far from internally consistent. These stories persisted for millennia even before they were written down. Many have been lost and others fragmented along the narrative telephone of history, and that's not even touching on regional variations. The stories come with multiple versions, many of which conflict, and many more disagree with modern sensibilities. I mean, the most common inciting incident in approximately twenty percent of the myths and the origin story of three-fourths of the heroes is "unfortunately, Zeus was feeling horny" which is only a singular facet of what makes the mythology uncomfortable to consume at best, and unsuitable in the cases of younger audiences at worst. As someone who grew up reading nearly every book on ancient Greek mythology that I could get my hands on, it wasn't until I was a fair bit older that I fully realized just how sanitized those tellings were and how—in a word—uncomfortable the full mythos was.
It seems to be a running theme nowadays to rewrite ancient Greek mythos into something a bit more palatable. Right now, the most popular retelling of ancient Greek mythology is Rick Riordan's Percy Jackson, which was a smash hit in the early 2000s and by all accounts, not a terrible modernization of a convoluted web of ancient stories, made suitable and engaging for a younger audience. I haven't read them in a while, but I definitely recall that Riordan's stories drew strongly from Ovid's Metamorphosis, which is understandable since Ovid's work makes for a convenient reference as a singular book rather than a mess of scattered fragmentary stories. This is not a criticism of Riordan's stories, but more of an observation. After all, tackling the subject of Greek mythology is no simple feat given its scope and breadth alone, but that's probably part of what makes this material so magnetic for storytellers that they keep tapping back into it.
There are infinite ways that storytellers can rearrange the fragments of Greek mythology we have, and this is exactly what Rachel Smythe did with Lore Olympus.
So, About That Persephone
The story of how Persephone married Hades is a famous one and a favorite for romantic story tellers who love the concept of two opposite people coming together into the most functional and healthy relationship in the whole of the Greek Pantheon. Of course, the original telling—or what we have of it—is a lot more complicated and disagreeable. While there are plenty of writers out there who emphasize the romance of opposites attracting, there are many more who put more weight on the facts that Persephone—then, Kore—was abducted without warning or consent and carried off to the Underworld by Hades. Who is technically her uncle since her father in the mythos proper is Zeus.
Gross.
Support For Comic Book Herald:
Comic Book Herald is reader-supported. When you buy through links on our site, we may earn a qualifying affiliate commission.
Comic Book Herald's reading orders and guides are also made possible by reader support on Patreon, and generous reader donations.
Any size contribution will help keep CBH alive and full of new comics guides and content. Support CBH on Patreon for exclusive rewards, or Donate here! Thank you for reading!
Of course, that's really the best word to describe the tumble weed that is the Olympian family tree. So much incest.
The earliest account of this in Homer's "Hymn to Demeter" which essentially boils down to a prolonged mythologized metaphor about a mother's anguish over a daughter being married off to a man in another, far off town. It's important to note that in the original telling, Zeus gave Hades the okay to take and marry Persephone since he was her father, so by the standards of the time, the union was a bit more than a man kidnapping and Stockholm-ing a girl who was barely of age. Really, the bit with the pomegranate that lead to Persephone's binding to the Underworld was the only problematic thing Hades did during the whole thing as in the older tellings, he did it without Persephone's knowledge or consent. At least, as far as we're aware. The account of this story is physically torn at this part, so readers and comparative mythology scholars have to fill in the blanks. Such are the woes of reading thousand-year-old stories.
Still, this singular story functionally lampooned Hades' reputation among modern audiences, which was only further worsened by viewing the Greek pantheon through a Christian lens that crammed Hades into the role of Satan analog. A rather unfair treatment, in my opinion, given that Hades is one of the less "problematic" members of the pantheon.
Suffice to say, Smythe had her work cut out for her with this story alone, but she handled it quite well, all things considered.
Writing a relationship between a god who had canonically existed for millennia and a canonically newer goddess, for one, is a challenge. This fact alone would have had some audiences up in arms if it were a modern story, but Smythe doesn't leave the considerable age, experience, and power gap between Hades and Persephone unaddressed.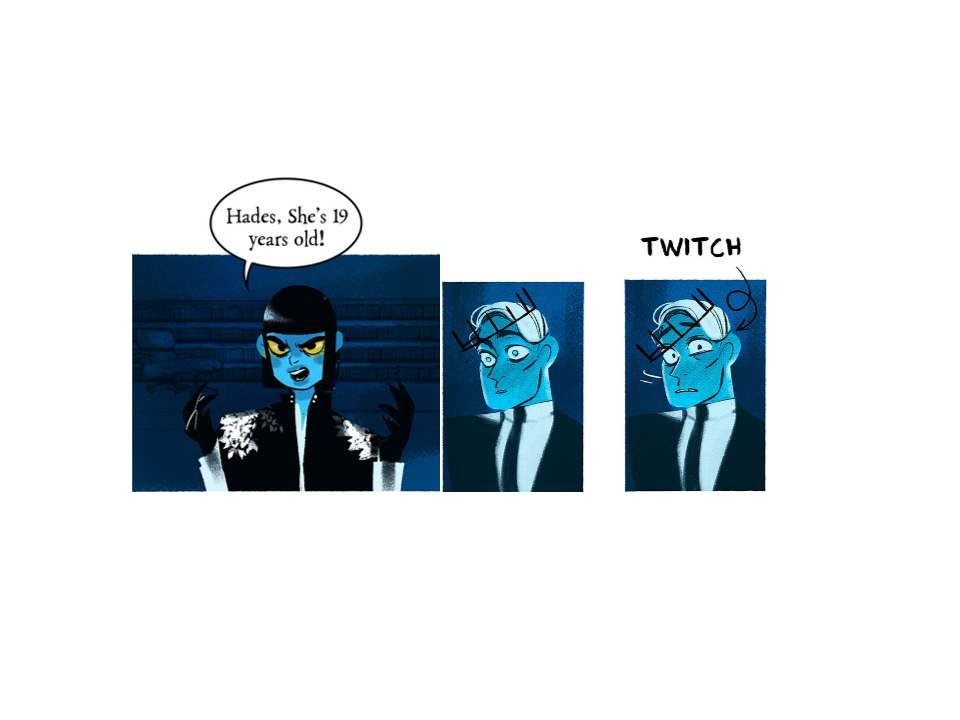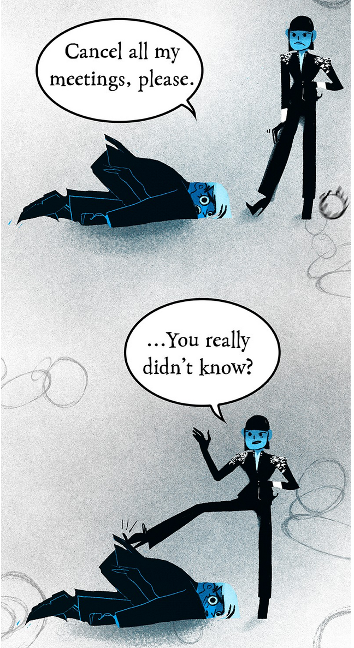 [Lore Olympus Episode 34]He is a dork, your honor.
Ultimately, there's not really much that can be done for this given the core of the story involves Hades and Persephone ending up together, but it was good to see the gap in age and experience be starkly pointed out over the course of several chapters. Furthermore, Hades tries to be mindful of the power and weight he lugs around while Persephone has very little in the wider scope of their society. In terms of their relationship—which is a complicated mess of mutual pining at the moment—Persephone is the one who sets the pace and Hades does his best to follow it and respect her boundaries despite his own clear infatuation with her. Were this set during the original tellings (and if he were literally any other god in the pantheon), this would have been license enough for him to act.
It's clear that Hades falls for Persephone hard and fast, and the feeling is mutual, but their relationship is very sweet and caring. Honestly, it's so adorable how Hades just turns into a big ol' dork whenever Persephone is involved. The man is clearly smitten, and Persephone is as well, but since she's much younger and less experienced, she doesn't know what to do with such strong and sudden feelings.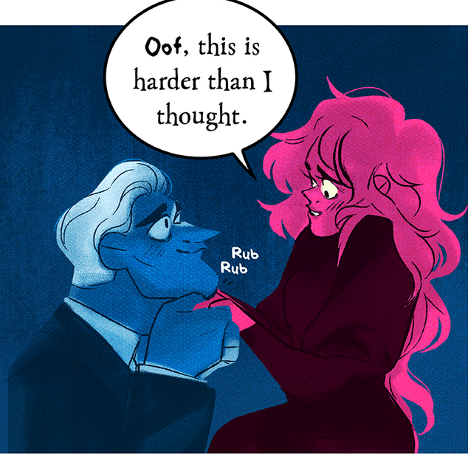 I mean seriously, look at him. He's head over heels and it's adorable.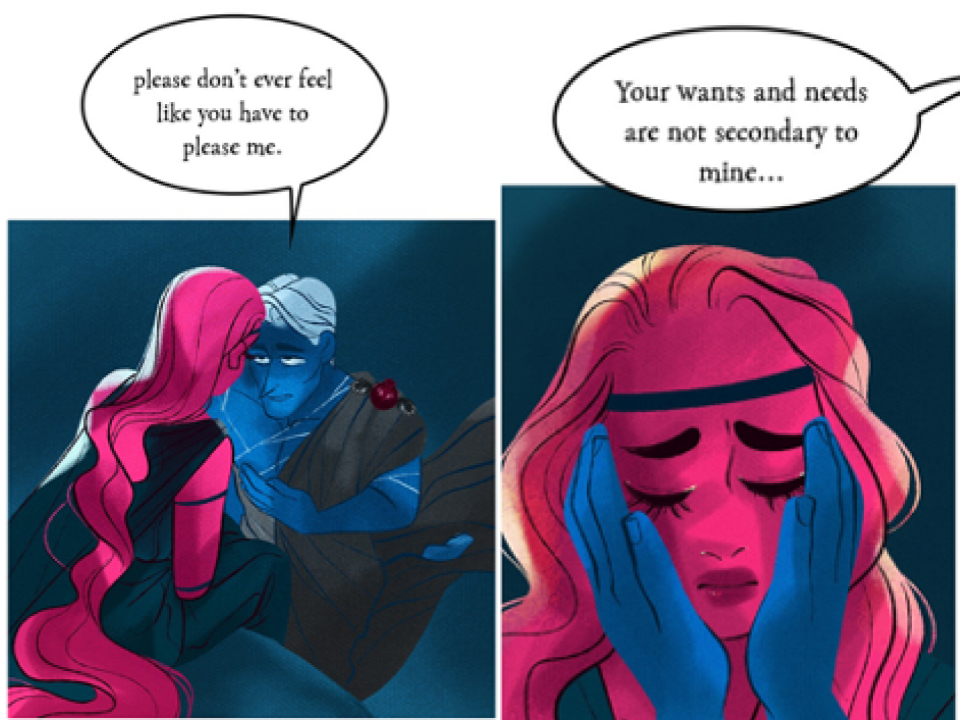 They look out for each other and for their needs. As mentioned above, they're also mindful of their positions in society. The primary cause for the "will they/won't they" for the first part of the story is that a) Persephone is on scholarship from The Goddesses of Eternal Maidenhood, which entails that she will eventually take a vow of chastity and become one of the virgin goddesses like Artemis, Athena, and Hestia, and b) there's the matter of appearances as Persephone is a new-comer and an intern in the Underworld, and being in a committed relationship with Hades–an established and respected god who also happens to be her boss–would paint her as someone who "sleeps her way to the top" and gets special treatment. This second point is already a problem because Hades' clear fondness for Persephone has embittered some individuals and in some ways is getting special treatment, and that her budding fondness for Hades puts the plans for her to become a virgin goddess in question. Which could cost her the scholarship.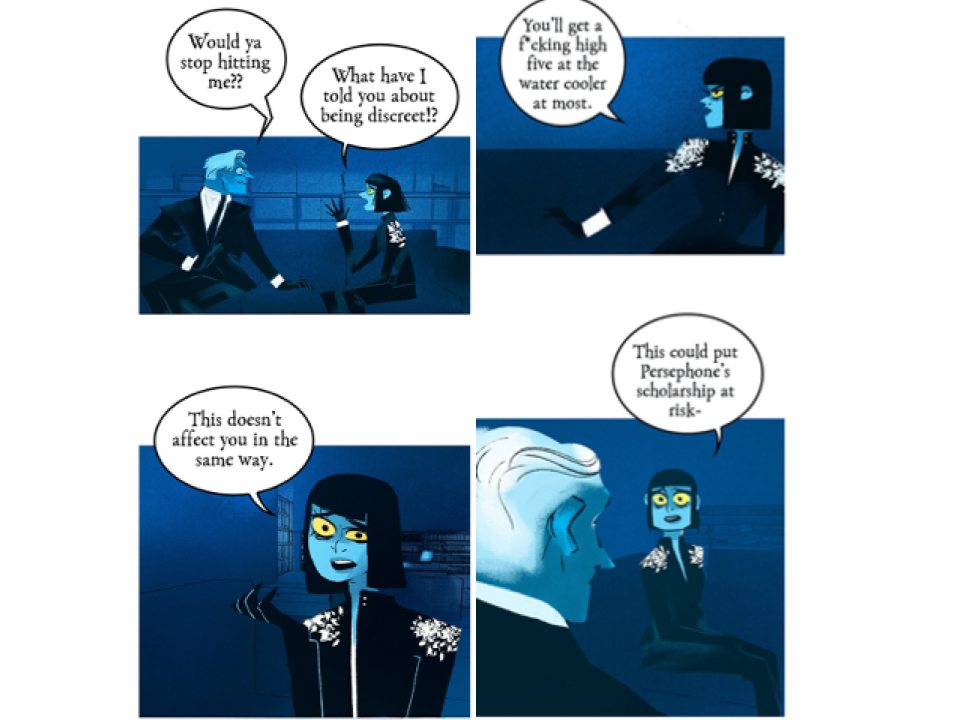 Most of the consequences wouldn't really affect Hades, but part of what makes his relationship with Persephone so good is that he doesn't care if it affects him or not; he cares that it affects Persephone because her position is a lot more precarious.
Ultimately, their relationship is the epitome of tender and respectful, and that is the crux of what makes it work.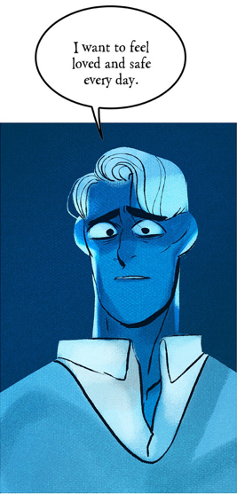 Discussions on the Topic of Sexual Assault
Some pretty art before we get to the heavy stuff. This is Eros, by the way. He is the god of love and a total dork, but has a heart of pure gold. He makes some questionable choices at the start of the story, but he gets better.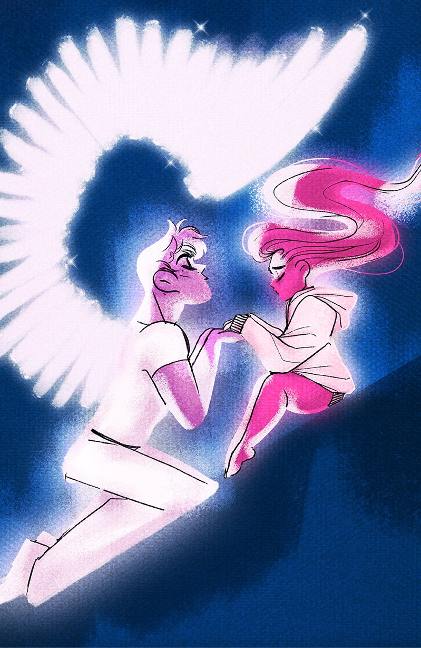 If this subject matter is triggering for readers, please feel free to skip ahead to the next header. Smythe also makes a point to label any potentially triggering content before presenting it, so it's also possible to avoid the worst of it in the story, but it's never graphic.
It's an unfortunate reality that sexual assault is part and parcel for Greek mythology. As I mentioned earlier, most inciting incidents and hero origin stories in the mythos involve Zeus putting his dick where he shouldn't and then suddenly there are consequences (though usually not for him). Of course, it's not just Zeus that does this. Many of the other gods do it as well and it's not always consensual.
Gods like Apollo, who in Lore Olympus, is cast in a rather unfavorable light that is in no way undeserved.
And most importantly, the severity of his misdeeds to Persephone are in no way minimized by the narrative.
This scene that I'm showing you all panels of is what made Eros one of my favorite characters in the story. Smythe's portrayal of sexual assault and its effects is achingly real and echoes the stories of countless people regardless of era or gender, and Eros's unwavering support of Persephone and affirmation that she did nothing wrong is such an important thing to say.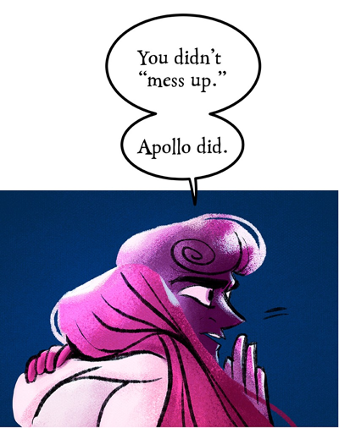 It would have been easy for Smythe to avoid the topic of sexual assault and rape in her story, but the fact that she not only included it, but made it a central element of Persephone's story is admirable. It's an ugly part of the mythos, but unfortunately a central one.
Smythe also doesn't shy away from the trauma Persephone endures just being reminded of Apollo and what he did to her and the consequences it could have for her. After all, she's a nobody goddess from the mortal world and Apollo is a respected and beloved Olympian. If she were to talk about it publicly, Persephone would be at a grotesque disadvantage. This dynamic is strongly reminiscent of the reality that was dragged to the light during the height of the publicization of the "Me Too" movement. Powerful men take advantage of those in a lower position than them, and their reputation and wealth shield them from accountability.
Furthermore, the way Apollo is portrayed, especially in his relationships to other characters who have relationships with Persephone is also important. Like the inclusion of the assault in the first place, it would have been easy to cast Apollo as a straight up monster, and a monster he is, but the way Smythe writes him, Apollo is a more human monster. He has a sister, Artemis, who loves him for all that he annoys her as siblings do. He's friends and roommates with Hermes, who he clearly has a positive relationship with. Both Artemis and Hermes have a close friendship with Persephone and care deeply for her. However, as is an unfortunate reality, they remain largely unaware of just how badly Apollo wronged Persephone. They both can sense something is off, but their own, more favorable experiences with Apollo make it difficult for them to imagine that he would rape someone, let alone a mutual friend.
Subversions and Adaptation of Myth
Turning to lighter topics, for mythology nerds like me, picking out the threads of specific myths is part of the fun of consuming material based on mythology. I won't claim that I'm an authority on the topic or know every single myth, but a lot of the elements of Lore Olympus carry echoes of the source material, though with some differences. Here's a selection of some of the myths and elements I picked up during my read through and a discussion of how Smythe subverted some of them.
The Olympian Family Tree
As I mentioned before, the Olympian family tree is less tree and more tumbleweed and this can be considered true on virtually all levels. According to Hesiod's telling, Gaea made Ouranos specifically to be her partner, which can be interpreted in some not great ways, and Kronos and Rhea were explicitly siblings, as were Zeus and Hera, and Demeter and Hades. That level of inbreeding makes love stories about these settings quite awkward to read.
So, Smythe got creative by changing the story. Originally, Zeus, Poseidon, Hades, Hera, Demeter, and Hestia were all siblings and children of Kronos and Rhea.
In Lore Olympus, Hera, Demeter, and Hestia were created by Metis: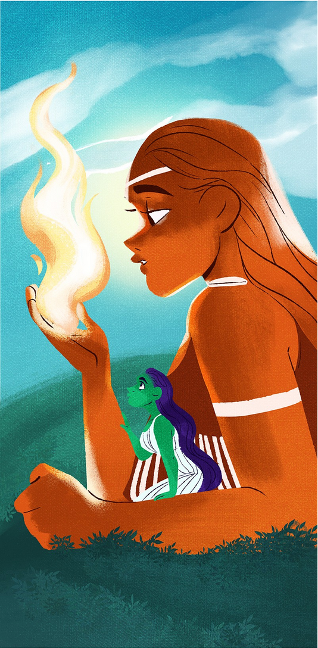 While Hades, Poseidon, and Zeus were the sons of Kronos: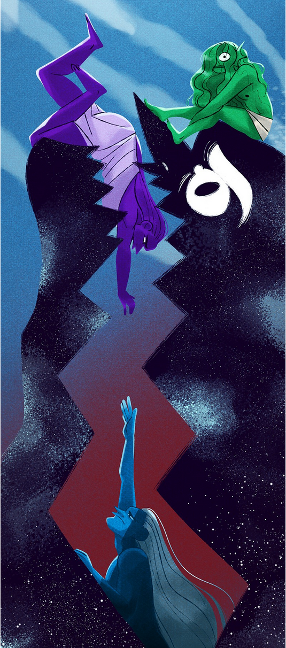 Which handily deals with the matter of incest amongst the initial six deities and eliminates any familial relation Hades and Persephone had in the mythos in one stroke. This origin for Hera, Demeter, and Hestia also provides an in-story precedent for Persephone's in Lore Olympus, as she is the fatherless daughter of Demeter, created through the same method that Metis used to make Demeter in this telling.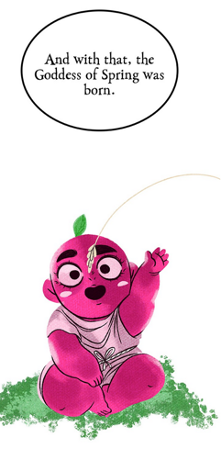 Of course, Metis and Zeus had a relationship in the mythology; Metis being the brains behind the plan to rescue Zeus's siblings from Kronos's stomach. Zeus then ate her while she was pregnant with Athena on Gaea's warnings in order to subvert the cycle of usurpation, as Gaea prophesized that Metis would one day bear a son by Zeus that would overthrow him as he did to Kronos, and Kronos did to Ouranos. Given how Smythe has established a similar cycle but with fertility goddesses as the catalyst, while Zeus's motives haven't been clearly stated yet, I imagine that in Lore Olympus they were similar to the myth due to Metis being a fertility goddess in Smythe's telling.
Eros & Psyche
The story of Eros and Psyche is a fairly well known one. I can't really think of specific pieces of media that adapted the story, but I do see it referenced at the very least. Smythe included this myth in a way that I really enjoyed.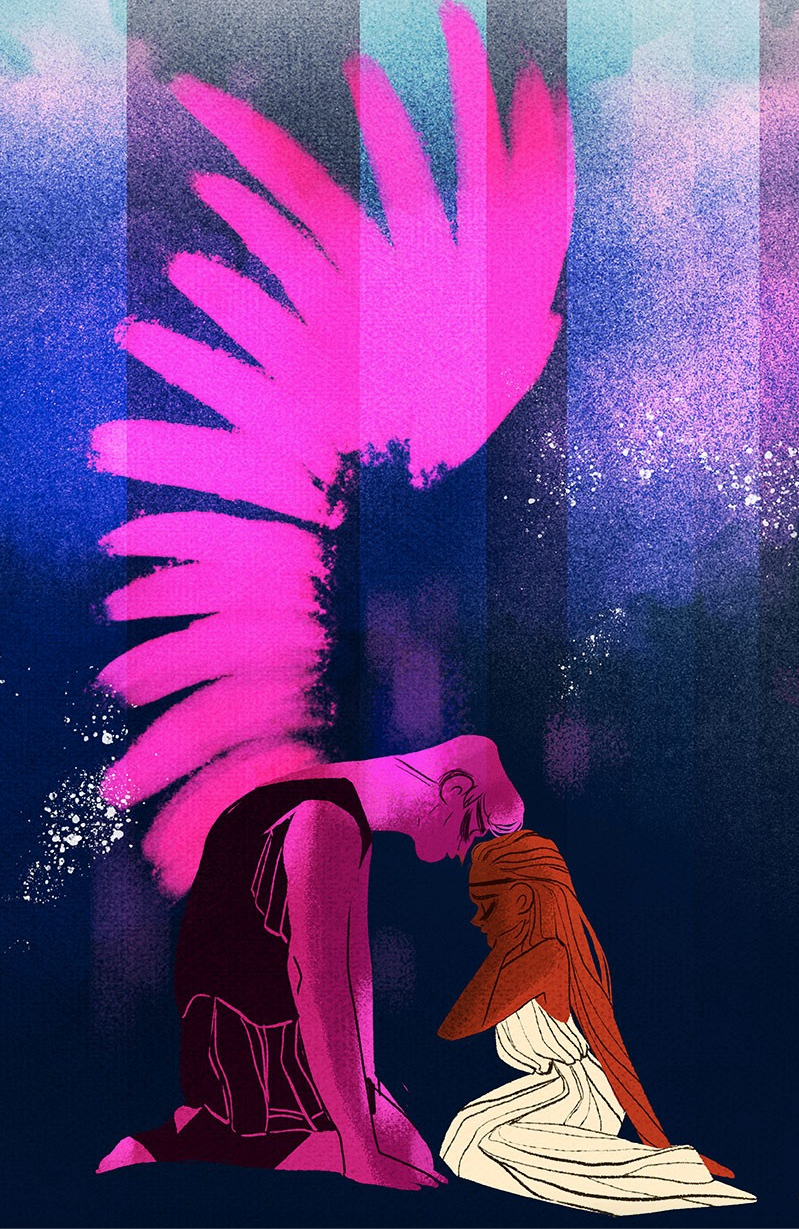 In the story that I'm most familiar with, Psyche is a fairly passive character, constantly shuttled from one plot point to another and frequently pitied by those who witness her woes. Having Aphrodite disguise Psyche as a nymph rather than send her on a bunch of impossible tasks worked really well with this narrative. While Psyche still is passive in her own situation, in this way, she's still included in the story proper and have her interact with the other characters without diverting too much narrative attention the way her mythological trials would have.
Additionally, it's worth noting that in the story of Eros and Psyche—or at least the one that I'm familiar with—Persephone as Queen of the Underworld was an element of one of Psyche's tasks. This wouldn't work in this case because it would have needed Persephone to already be Queen of the Underworld and this story centers around how Persephone rose to that role.
Some Famous Nymphs
A lot of the stories of ancient Greek mythology center around the gods and heroes, but nymphs also play a role in the story. They are the spirits of the land, usually embodying anything from trees to lakes to the ocean. Frequently they're portrayed as servants, helpful exposition or intervention for heroes, or an unfortunate victim of the gods' attention.
Firstly, there's the myth of Daphne, a water nymph who unfortunately caught the eye of Apollo and when she wouldn't consent to a relationship with him, he chased her until she begged her father, the river god Peneus, to turn her into a tree just to get away from him. In Lore Olympus, Psyche ended up feeding into by inadvertently revealing Apollo's true nature to Daphne with one of Eros's arrows of hate, causing the chase–which is canonical in some tellings as Apollo did garner Eros's ire at some point prior. Another main difference in Smythe's rendition is that Daphne didn't die, she just went dormant for a while.
Sidebar, but, I'm really liking the budding romance between her and Thanatos that's developing. I doubt that it's myth-accurate, but it definitely fits for the story as they help to bring out the best in each other and actually seem to like each other. In Lore Olympus, Apollo only shows interest in Daphne because she looks a lot like Persephone, and Thanatos ends up falling in with a bad crowd that only encourages his worse traits and doesn't treat him well.
Honestly, as soon as Daphne was introduced, I knew she was going to get trouble from Apollo. Really, anyone familiar with the mythology would know that too, and I really like the direction Smythe took this otherwise flat character in by giving her depth and letting her grow as a person, and you know, actually have a personality. And she's really freaking fun.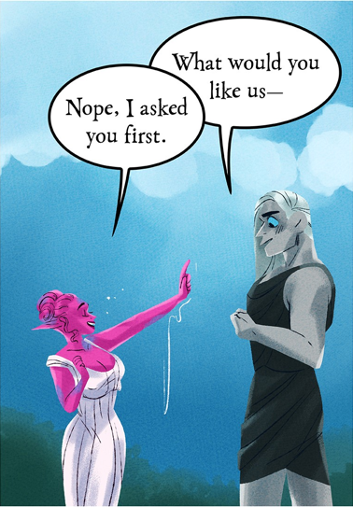 Next is Echo, who is most famous for her pining crush on Narcissus, the man so vain he fell in love with his own reflection. In some stories, Echo also was an ally of Zeus's, aiding him by distracting Hera so that he could go be horny in peace. When Hera found out about this ploy that Echo was party to, she cursed Echo to…well…echo. This made it that she could only repeat things that she had just heard, which made confessing her feelings to Narcissus pretty hard. Eventually, she wasted away to nothing but her voice and her curse, serving as the mythical explanation for echoes.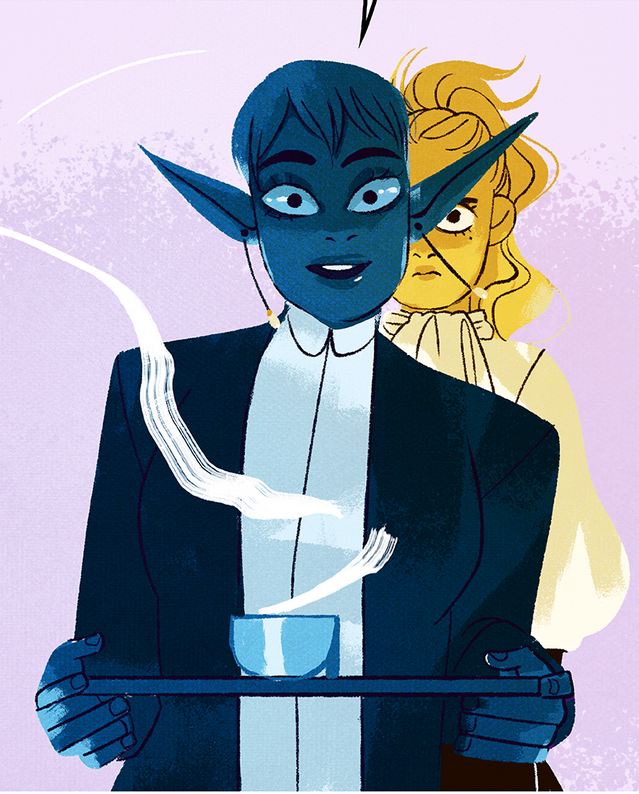 As of writing this article, Echo hasn't had much of a role yet, though she was assigned to Hera as an assistant by Zeus. Notably, she has a very keen eye and has presently endeared herself to Hera for her competence. I'm eager to see what will happen to her. Smythe has managed to subvert the tragic fates of nymphs somewhat–Daphne being a prime example of that–or take them in interesting directions, so I'm excited to see what direction she takes Echo's story in.
Next, there's Thetis, and boy, is she a character in Lore Olympus.
In mythology, Thetis is most famous for a prophecy concerning her that foretells that her son will be greater than his father. This leads to her being married off to the mortal king, Peleus, and giving birth to Achilles. She's also responsible for dipping Achilles in the river Styx, which in some tellings bestowed him with invulnerability, save for the spot on his heel where Thetis held him that would later prove to be his downfall.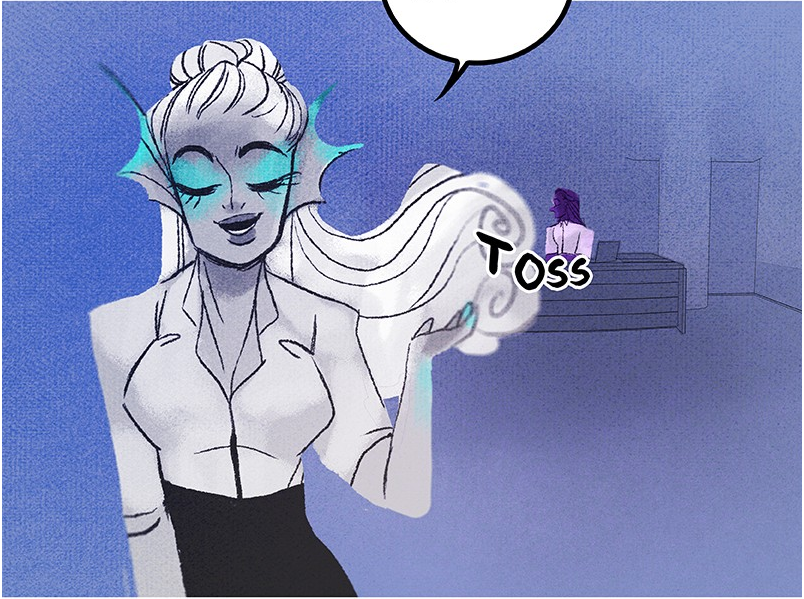 Smythe has Thetis as Zeus's personal assistant and his most frequent extra-marital hook-up. It seems that the prophecy concerning Thetis has yet to be revealed as Zeus willingly and frequently consorts with her. Something he immediately avoided in the myth in order to once again avoid the threat of being overthrown as his father and grandfather were.
Thetis is also friends with Minthe, but it's not a good friendship. Their dynamic is quite toxic, with Thetis frequently encouraging Minthe's self-destructive tendencies when Thetis starts to feel that Minthe is doing better than her. She's sneaky and underhanded, manipulating things from behind the scenes, setting people against each other and just generally trying to put herself in the most advantageous position possible. Regardless of if she has to tear someone down along the way. Or perhaps, so she can tear someone down.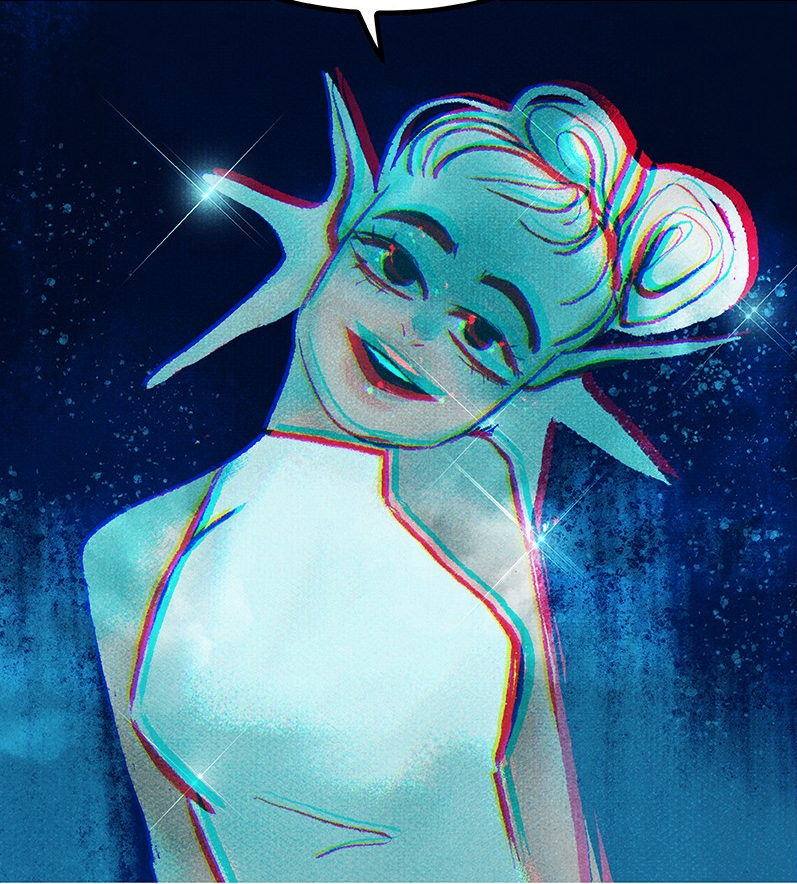 Since the prophecy around Thetis and her future son is such a central part of her story in the mythos, it's almost a guarantee that it will come up eventually. So, I'm very interested to see what Smythe does with that part and how–or if–she knocks this Queen of Mean off her throne.
Considering that in the mythology proper, it's Themis, the titaness of justice who delivers the prophecy, needless to say, the payoff will be sweet.
The Goddess of Discord
Thetis may be a pro at sowing discord, but Eris is not meant to be out-shined in her own domain.
Eris makes an appearance in Lore Olympus after being snubbed from a major gathering, which mirrors her most famous appearance in mythology in the story of Peleus and Thetis's wedding. In that story, Eris hadn't been invited for the reasoning that having the goddess of discord at a wedding would be a bad omen, but in retribution, Eris set off a chain of events that led to the onset of the Trojan War. Maleficent only wishes she had what Eris has.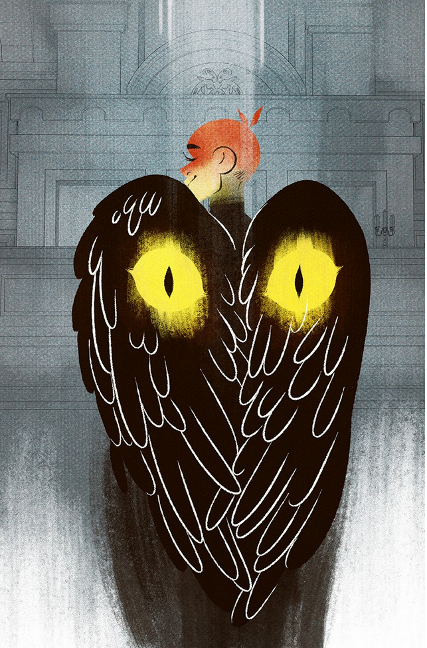 Smythe's design for Eris is also really cool.
She also has an interesting history and dynamic with Persephone. I won't get too much into it since it's fairly late in the story, but the two of them do end up becoming friends of sorts. Ultimately, she's a fairly unaligned character, banished from Olympus and estranged from her parents–Zeus and Hera, fittingly enough given how discordious their relationship is–and has a very "I do what I want" kind of personality.
It's also blatantly stated during this same episode that whenever Eris shows up, the gods do whatever they can to appease her so that she causes as little trouble as possible.
The Wrath of Demeter
An important myth of Demeter's also makes an appearance, though it's spun to be an inciting incident for Persephone to become…well…Persephone. Specifically, this myth was the one of King Erysichthon, who in his hubris, destroyed Demeter's sacred grove where her favorite dryads and nymphs live. Nymphs are connected to aspects of nature, so when that aspect is destroyed, they perish with it.
The consequences of this transgression are somewhat predictable and expected, but the way Smythe translates this to have Persephone be the offended goddess and the consequences of it, is quite incredible as she foreshadows this critical moment from the very start of the story.
Zeus, King of the Gods (and One-Night Stands)
There's also the matter of some of Zeus's lovers. At this point, it's unclear if Zeus fathered Hermes as he did in the myth, but with the brief appearance of Semele and the introduction of Leto, there's still plenty of Zeus's affair children rattling around regardless.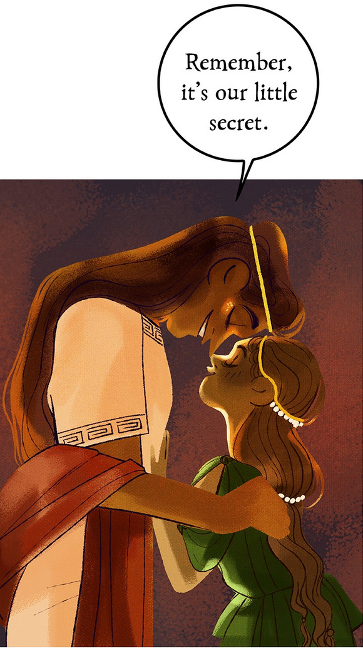 For those who are unfamiliar, Semele, she is a mortal who in most tellings, is the mother of Dionysus. Aside from that, her only other claim to fame is being tricked by Hera into getting Zeus to reveal his true, godly form to her to prove his identity, which vaporized her instantly. She was already pregnant at the time, so Zeus saved Dionysus by sewing him into his…"leg" to finish growing. I put scare quotes there because "leg" often meant genitals, but that's often how it's told.
Now, mythologically speaking, Dionysus is actually an incredibly fascinating and complex figure, who actually has some mythological connections to the Underworld, so I'm interested to see if Smythe includes him and if she does, how she'll use him.
And then there's Leto, who is a Titaness and as such is immortal, unlike poor Semele. She is the mother of Artemis and Apollo, the twin gods of the moon and sun. In the mythology, while she was pregnant with the twins, she was forbade by Hera to give birth on Olympus or any land under the sun. So, functionally, anywhere. Leto found a loophole in Delos, a patch of ground that wasn't attached to the seafloor and thus didn't count as land. It's also said that Hera tried to prevent Leto from giving birth by keeping the goddess of childbirth, Eileithyia, on Olympus until Hera was persuaded or tricked into releasing her.
Lore Olympus, on the other hand, hasn't necessarily mentioned anything like this as it actually is revealed that no one other than Leto herself knew that Artemis and Apollo were Zeus's kids. Regardless, Hera cast Leto into a social exile after she discovered Leto's affair with Zeus.
I'm definitely interested to see how many other affairs of Zeus's feature in Lore Olympus because Zeus had a lot of them and spawned off several lineages of classical heroes. For now, Smythe seems to be focusing on the affairs of Zeus's that generated godly offspring, but I'm interested to see if she'll include any of Zeus's mortal children.
An Older Myth Has Made an Appearance!
There's even a reference to an older Persephone myth from Mycenean Greece—which is functionally the ancient Greece before ancient Greece—that has Poseidon and Demeter having a horse son. In the version of the myth that I know, at the time, Poseidon filled the role of head god and was a major chthonic deity—meaning that he dealt with a lot of underworld stuff—and shenanigans happened that resulted in Poseidon and Demeter having a horse child because both parties were horse-shaped at the time. Supposedly, this happened while Demeter was looking for Persephone.
According to some tellings, this intercourse between Poseidon and Demeter resulted in Arion, the fastest horse in the world.
It's weird.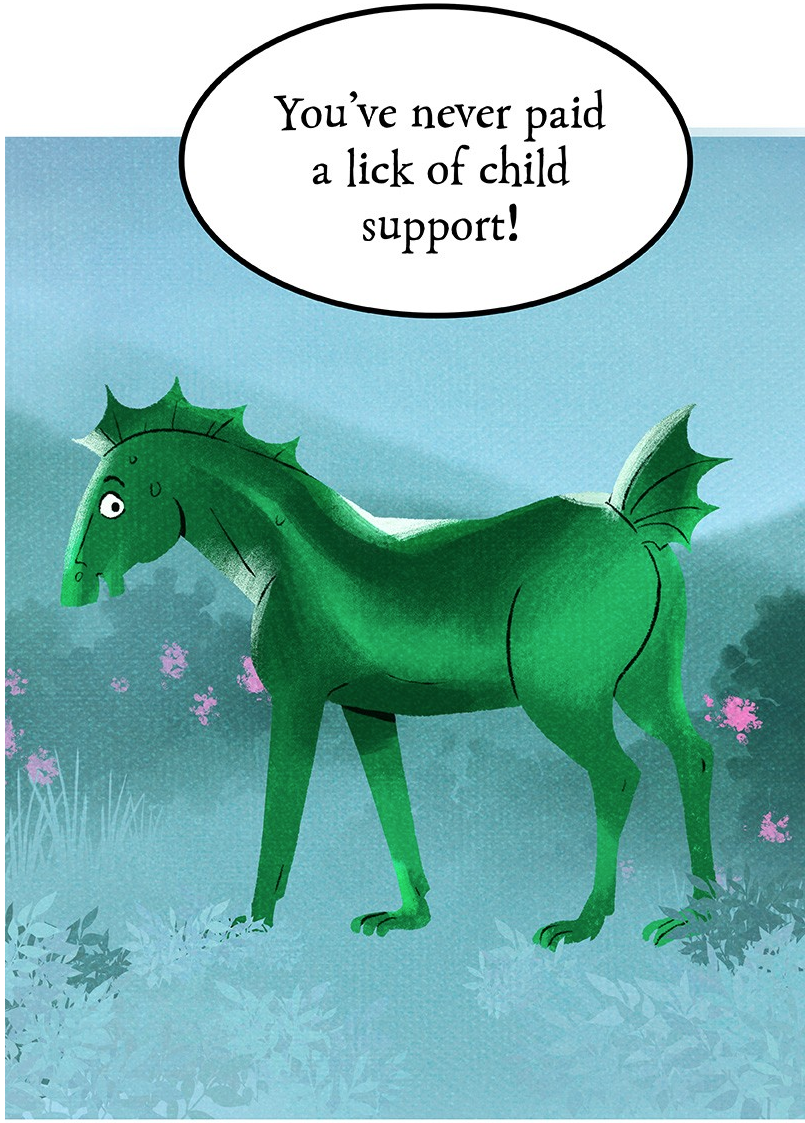 But it was cool seeing this story referenced.
Minthe
In doing some research for this article, I found that Minthe is actually a mythological figure, which I didn't know. She's a Naiad nymph of the Cocytus river—the River of Wailing in the Underworld—who consorted with Hades. Later, Persephone turned her into a mint plant because Hades was cheating on her with Minthe. In Lore Olympus, Persephone does in fact turn Minthe into a mint plant for saying some truly awful things to Hades after their breakup, though Persephone does it by accident rather than intentionally and then later undoes it.
Hilariously enough, Minthe's baleful polymorph was foreshadowed by Zeus giving Minthe the nickname "Minty" because he couldn't have been bothered to remember her name correctly.
I know that Minthe should probably fall under the "Some Famous Nymphs" subheader, but she's prominent enough in Lore Olympus's story that I felt that she deserved her own subheader.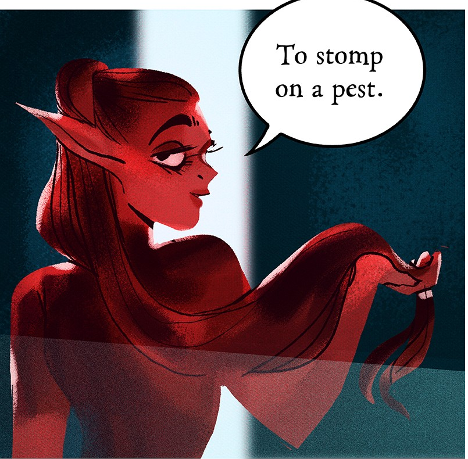 In Lore Olympus, Minthe is Hades's on-again-off-again toxic girlfriend. Like in the mythology itself, a lot of her character is tied up in her relationship with Hades. This, in ancient mythology results in a very flat character, but in a more modern medium translates to codependence and self-destructive mindsets. Persephone's presence and Hades's attraction to her threatens what has inadvertently become a huge part of Minthe's identity and sense of stability, so she does what she always does when she feels threatened: she lashes out.
This ends up kicking off a major plot point that drags a lot of secrets to light, though she misconstrued them to something way worse than it was in truth.
Minthe is a pretty complicated character who seems to be stuck in a self-perpetuating cycle of self-hate that she takes out on herself and on those around her. One minute, she's riding high and the next, she's at rock bottom. The company she keeps certainly doesn't help and her relationship with Hades was anything but healthy. Honestly, I'm rooting for her to turn her life around, but with how often she self-sabotages and sometimes is actually sabotaged, it's going to be an uphill battle.
What's Waiting in the Wings
And of course, there's also the matter of the pomegranate.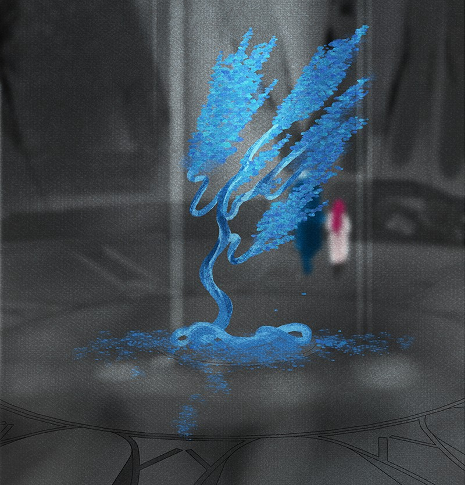 As of writing this, Persephone hasn't eaten from the pomegranate that would bind her to the Underworld and cement her role as Queen, but it has been introduced as a Chekhov's Gun. It's noted that so far, only Hades has eaten the pomegranate in order to claim the right to rule the Underworld after the defeat of Kronos and he remarks how afterwards, he can no longer leave the Underworld for long periods of time.
Honestly, I could go on for ages about the references to ancient Greek mythos that Smythe worked into Lore Olympus, but I think this covers a good amount of the more significant ones. The sheer scope of depth in these details really shows Smythe's love and dedication to her research and—at least for me—contributes to how enjoyable it is to read.
Ancient Greece, Modern Olympus
One of the most genius things about Lore Olympus is that while the Mortal Realm is set in the ambiguously ancient time that the myths took place, Olympus and the Underworld are completely modern. Apollo's Sun Chariot is a gold sports car, everyone has smartphones and laptops, the Underworld is functionally a corporate city, there's newspapers and gossip journals with paparazzi, and everyone on Olympus dresses in modern clothing.
It's a wonderful blend of modern that still acknowledges the ancient aesthetics.
I also think that it's quite clever that Smythe made Olympus and the Underworld alien to the Mortal Realm by keeping the Mortal Realm more in line with the original mythological timeline while the divine realms were modern.
It really does let her have the best of both worlds. She can choose to draw characters in classical outfits while still being free to draw them in various modern clothes and with modern fixtures. And it's pretty obvious to me that Smythe really enjoys designing characters with different hairstyles and outfits as evidenced with Persephone, who is canonically Smythe's favorite to draw.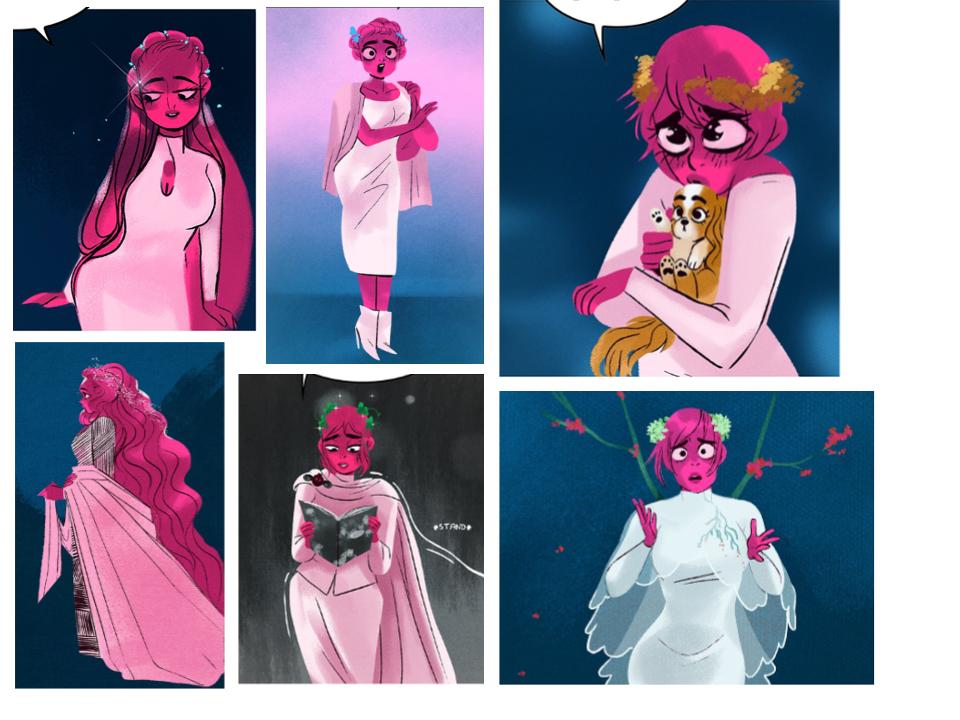 Not that I'm complaining, of course, because I too enjoy seeing characters in fun, fancy clothes. I also adore it when writers adapt ancient mythos to a modern setting and we as readers get to spot the references.
Conclusion
Honestly, there's so much to love about Lore Olympus from its simple but impactful art style to its themes and writing. What I personally love most about it, however, is how it reimagines millennia-old stories that have been told over and over but still stays true to the source material as possible; warts and all. It's a brave thing to take on controversial material, let alone one as internally inconsistent as ancient Greek mythos, but it can be incredible when done well and I think Smythe accomplished that.
Lore Olympus is even going to physical print, so if you want to read a physical copy of this incredible story, you can order the first two volumes covering episodes one to forty-nine on Amazon. The third hardcopy volume will be published in October of 2022. I highly recommend checking this incredible story out, even if you aren't a mythology nerd like me. The story is perfectly enjoyable even without deep knowledge of the mythos, but it definitely does add a fun element to reading it.
I will leave it here, so enjoy some pictures of Hades and his various doggos: