Lavender Jack is a comic on Webtoon by Dan Schkade (that's pronounced "Shkah-dee") set in the fictional country of Gallery in the early 20th century. The story is moderately ahistorical, most notably with an in-universe war known as the Platinum War, which at this point has only been vaguely referenced, but Schkade does a wonderful job in weaving together a compelling world and narrative.
So, let's start with a basic summary. Lavender Jack is three "seasons" long, though it is currently on a temporary hiatus to organize the script for the final stretch of the last season, as well as for an authorial health break. It opens in the office of Gallery's Lord Mayor Quincy Monmouth, reading a detective novel. His peace is abruptly interrupted by Lady Lackshore, an acquaintance and the city's largest land developer, bursting into the office in a fit. The night before, a masked man broke into her home, beat up her butler—a veteran from the aforementioned Platinum War—and stole damning proof of her corruption before vanishing into the night. And setting her living room on fire with some strange, almost magical power.
However, this masked man is more than some common night robber. To a modern audience, he's more akin to a vigilante, but more on him in a tick. Apparently, this vigilante, this Lavender Jack as the press has taken to calling him, has struck three times previously, his actions leading to the exposure of the corrupt actions of an upper-class individual and the ruin of their reputation. Lackshore demands that Quincy deal with Lavender Jack immediately before he can do more damage to the ruling class. In response, Quincy calls in his childhood hero and the subject of the book he was reading as Lackshore burst in: Madame Theresa Ferrier, the world's greatest detective.
This singular action sets off a chain of events that have consequences that are felt throughout the rest of the presently published series.
For now, I'll keep my description of the comic's plot sparse to avoid spoiling any of the story's twists and revelations and instead turn my attention to the characters featuring in this lovely little display.
Support For Comic Book Herald:
Comic Book Herald is reader-supported. When you buy through links on our site, we may earn a qualifying affiliate commission.
Comic Book Herald's reading orders and guides are also made possible by reader support on Patreon, and generous reader donations.
Any size contribution will help keep CBH alive and full of new comics guides and content. Support CBH on Patreon for exclusive rewards, or Donate here! Thank you for reading!
THE CAST
To start, let me introduce you to Sir Mimley Cedarbrook Bastrop. He is the last of a blue blood line of nobles and a brilliant inventor to boot—for which he was knighted–though most people have forgotten that second aspect of his character in the face of his witty humor and generally jovial nature. To most of Gallery, Mimely isn't anyone of much note as he generally keeps himself shut off in his family estate with his housemaid Maureen "Ducky" DeCecco following his jaunt through America. However, as my long-winded build-up has likely clued you all in to, behind the scenes, this seemingly bumbling shut-in coasting off a massive family inheritance is in truth the titular Lavender Jack.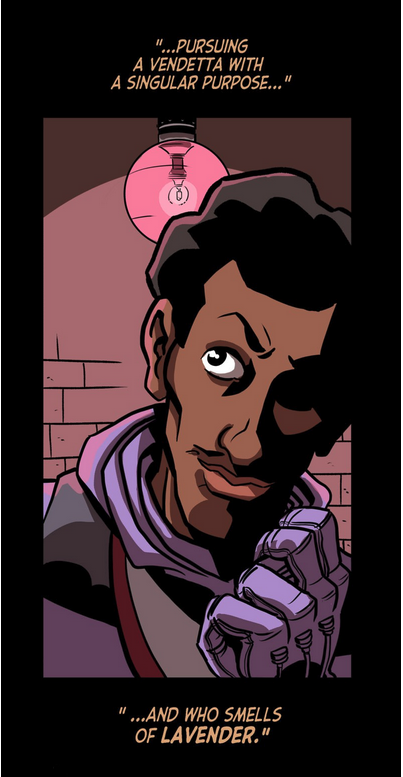 (Lavender Jack Episode 3)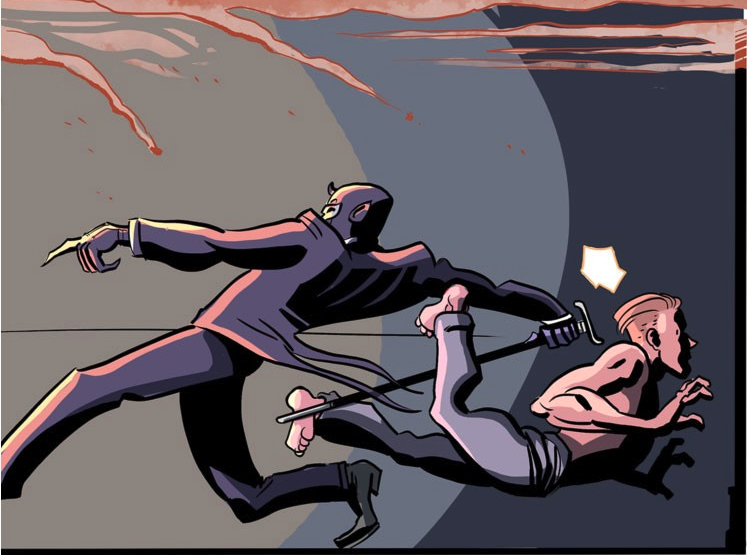 (Lavender Jack Episode 1)
In general, Mimely is a fantastic character that I would describe as a cross between Spider-Man and Batman. He has Spider-Man's sense for witty banter—though suitably refined to reflect Mimely's background—and Batman's intellect, resources, and training. Though I guess he also has notes of Iron Man too, having invented his own "powers." And while the rig he carries with him is one of his most potent weapons, Mimely doesn't shun his physical prowess either, mostly defaulting to hand-to-hand when his rig is rendered useless.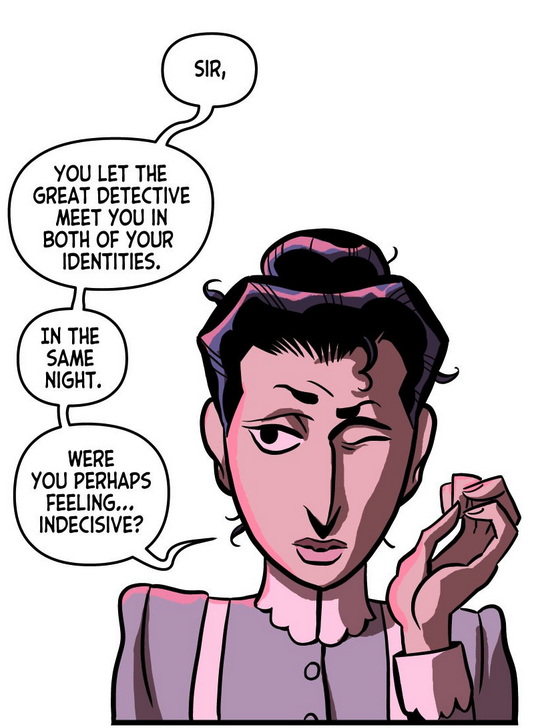 (Lavender Jack Episode 13)
But where Mimely really shines is through his interactions with Ducky. While Mimely is the one wearing the costume, "Lavender Jack" is, in truth, a duo. Mimely is a brilliant inventor and athlete with a talent for thinking on his feet and using his environment to his advantage. Ducky, however, is the true mastermind of the two. She is wickedly clever and the one responsible for intel gathering and a large portion of the big-picture planning; often using her status as a servant to spy and gather gossip from the servants of her and Mimely's targets without discovery. And she's very good at it. In general, Ducky functions as Mimely's Alfred: a close confidant and advisor who picks up on note-worthy things that Mimely himself might miss. They're a package deal. Even more so following the events of season two, but I'll leave it at that.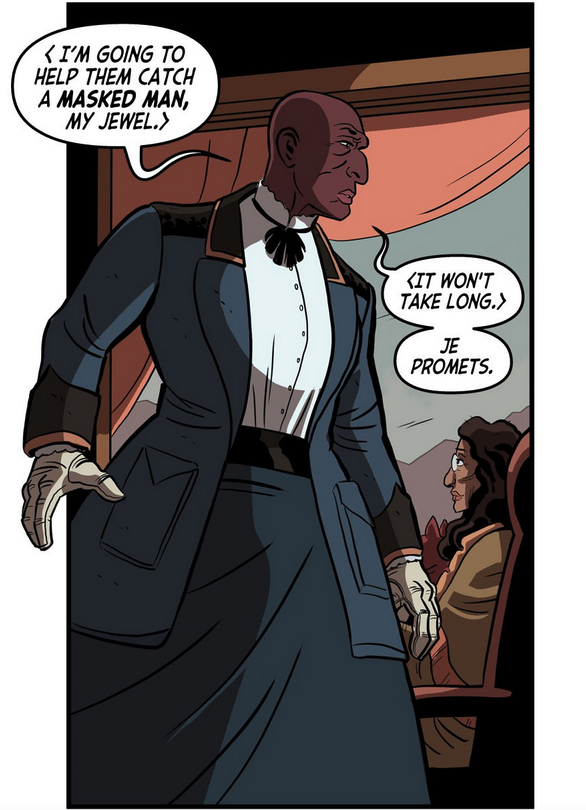 (Lavender Jack Episode 2)
Next, I would like to introduce the illustrious Madame Theresa Ferrier. She is a sixty-five-year-old French detective and easily one of my favorite characters in the series. Schkade admits in his second intermission that Madame Ferrier was inspired by the great fictional detectives like Hercule Poirot and Sherlock Holmes, with her deductive methodology more closely resembling C. Auguste Dupin from Edgar Allan Poe. These inspirations all come together to inform a fascinating character who, while in the context of the story is considered past her prime, is still a formidable opponent in both an intellectual sense and a physical one. Madame Ferrier is more than six feet tall and despite the wear of forty years of fast-paced detective work taking its toll, is still a force to be reckoned with. In a sense, both physically and mentally, Madame Ferrier is an unstoppable force in her pursuit of truth. Once she arrives in Gallery following the Lord Mayor's request for her to catch and unmask Lavender Jack, she simultaneously begins to unravel a secret conspiracy among Gallery's wealthy elite despite several forces trying to stand in her way.
(And yes, she has a wife. Her name's Marguerite and she was a famous painter before she contracted an unfortunate brain tumor. They're both still very much in love.)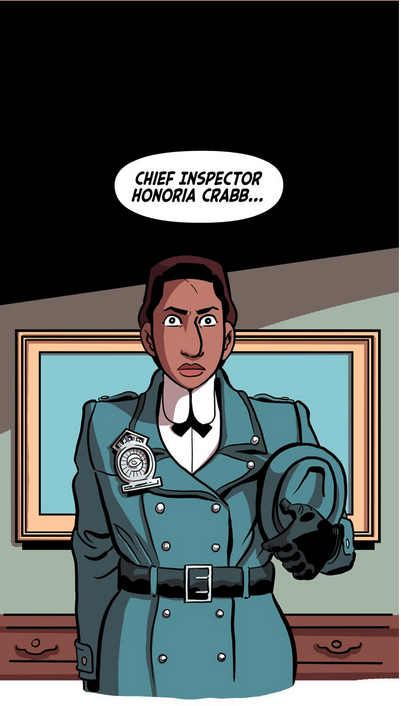 (Lavender Jack Episode 3)
One of the forces meant to hinder Madame Ferrier, as it so happens, is Special Inspector Honoria Crabb. She's the Lord Mayor's favorite police officer after she stopped an attempt to assassinate him and was assigned to accompany Madame Ferrier in her investigation at the insistence of the mysterious Lady Hawthorne (more on her later). Initially Honoria acts as a largely ineffective obstacle in Madame Ferrier's investigations as the Madame begins to unravel threads that Honoria—and her superiors—would rather be left unpulled. Of all the characters in the first season, Honoria has the starkest character arc as she transforms from an unquestioningly loyal stooge to a budding pursuer of the truth. She even grows to have something of a friendship—or at least alliance—with Lavender Jack, who was the very person she had been tasked with hunting down before the story proper even began.
By the climax of the season, Honoria's relationship with Madame Ferrier transforms into a mentor-student dynamic as Honoria finds her orders more and more disagreeable and the truth harder to ignore. She strikes me as something of a Dick Tracy type detective character by the start of season two, but that could just be that striking trench coat and fedora combo she starts to favor. That, and the fact that she gets into fist fights on the regular. Honoria is something of the film noir detective to Madame Ferrier's classic literature detective, which I find fitting given the gap between them in terms of age.
That's about all for the protagonists, so now let's talk villains. Or more precisely, villain, because there's really only one that I want to talk about here in much detail as the rest are quite minor in comparison.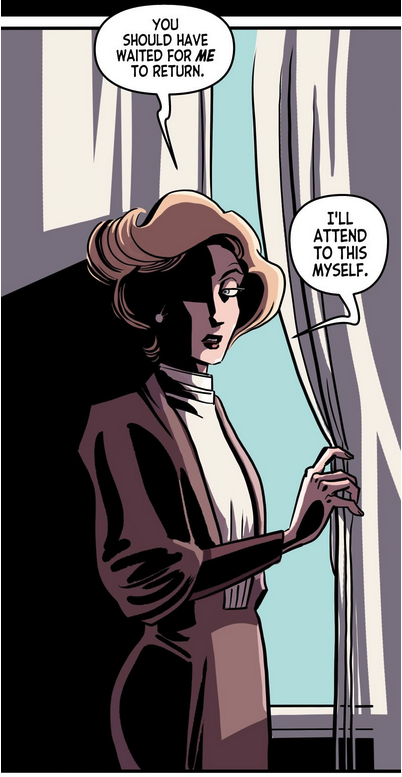 (Lavender Jack Episode 2)
This is Lady Hawthorne, and she—along with her husband, Lord Hawthorne, but I don't want to spoil too much about his shocking introduction because he's such a fascinating and impactful character—is functionally the main villain of the series. She is a stone-cold and calculating villainess who functions like a kingpin wherever she goes. Lady Hawthorne is as terrifying as they come and is Lavender Jack and company's greatest advisory in both an intellectual sense and as an influence on the workings of the city. She has been ruling Gallery from the shadows for twenty years and is not at all afraid to stain her hands should anything—or anyone—jeopardize that power. Intentionally or otherwise. Lady Hawthorne is the Lex Luthor to the Lavender Crew's Superman, seemingly always one step ahead and locked onto them with a personal vendetta. And she has no intention of letting our heroes off easy. In fact, she won't stop until she ruins and destroys them and everything they hold dear. Hopefully our heroes can put a stop to her for good before she finishes them instead.
Other antagonistic forces of the story include Chief Justice Endo Gall, a hardline by-the-book man who provides a stark contrast to the soft-spined Lord Mayor. He explicitly denies being a villain, though a lot of the policies he pushes for makes him toe the line between "lawful neutral" and "lawful evil" as he pushes a lot of warmongering rhetoric and doesn't tolerate disagreement. The man has a lot of skeletons in his closet that he will do whatever he legally–and sometimes less legally–can to keep secret and detests anyone who rocks his carefully curated boat.
Then there's the main antagonist of season two, the ever-mysterious Black Note. He's got a lot of shades of the Phantom of the Opera in him, in more ways than one. I won't say much about him for the sake of spoilers, but he's also in a similar stripe of villain as The Batman's interpretation of the Riddler in how he plays a very similar game as the protagonist but manages to stay a step ahead of them until the climax.
THE FABRIC OF THE STORY ITSELF
While the characters of Lavender Jack certainly shine well on their own and I would eat up an episodic serial of these people running around solving smaller-scale mysteries, another strong point for this comic is its continuity and worldbuilding. Everything that happens over the course of the narrative has a very clear cause and effect and Schkade does a fantastic job at foreshadowing future plot points and weaving in believable consequences for the choices characters make. I won't spoil most of it because it's all bloody brilliant, but I will drop one little line to you all: keep an eye out for green rings because those play a big role in season two.
This use of choice and consequence shows up strongest in Madame Ferrier's part of the story, where she does in a handful of weeks what the police of Gallery had been trying at for months: discovering Lavender Jack's identity. Of course, that's not as much of a spoiler as you might think. Really, it's evident from the start that regardless of how careful Mimely and Ducky are, the Madame Detective would catch up to them eventually. Even they knew that.
Every choice the characters make—protagonist or antagonist—has an effect that the audience can see. For example, Mimely and Ducky's discovery by Madame Ferrier lead to them moving their secret lab, which comes into play at the end of season two and the start of season three; Lavender Jack's seemingly miraculous ability to destroy loaded guns from a distance draws the attention of the military, who desire a similar weapon for the upcoming war; and the protagonists running afoul of Lady Hawthorne leads to her concerted effort to make their lives in Gallery as difficult as possible. And these are just a few examples.
THE STORY'S IMPACT
The themes of Lavender Jack hit a bit close to home. The story centers around holding the wealthy and powerful accountable for the misdeeds they committed to attain and keep that wealth and power. As Honoria once put it, it's nice to know that someone is punching up at those who stomp down. As a whole, this comic seems to be about accountability and consequences. As I stated earlier, every decision the characters make has a consequence later down the line, whether they're protagonist or antagonist. However, both groups make choices to different ends. The protagonists make choices to mend a system that while functional, is deeply biased towards the wealthy and influential. Every one of them investigate the reasons why things work the way they do, why they benefit the people that they do, and they drag the truth kicking and screaming into the light for all to see in the court of public opinion. Meanwhile, the antagonists do everything they can to not only keep their power, but crush any opposition to it. The antagonists–aside from Black Note, who is more like a dark mirror to Lavender Jack–are people who think themselves above reproach and treat the lives and well-being of those around them as pawns in a larger game they play with and against each other. The starkest example of this is in the elections for Lord Mayor in season 2, which really only represented a change from one regime of powerful nobles to another.
While the protagonists are a force for positive change and truth, the antagonists are a monument to deception and the maintenance of the status quo. Unstoppable force meeting immovable object.
From my perspective, I think the true impact of this theme of–essentially–revolution against a deeply biased system is not in Lavender Jack himself and his crew, but in the everyday people who respond to their actions. Even the antagonists acknowledge the power that the people potentially hold. It's the whole reason why the events of the comic happened the way they did: powerful people feared the consequences of their misdeeds and tried to subvert them as they always do in order to minimize the magnitude of their corruption. Except the protagonists didn't let them sweep it all under the rug. They kept dragging out more dirt and handing it over to the press to spread through the whole city. Throughout Lavender Jack, we see everyday people rebel against a seemingly inescapable system through things as small as acts of kindness to the larger acts such as printing and circulating messages, information, and ideas that those in power would disagree with.
I feel that Lavender Jack can be summed up by this quote from Ursula K. Le Guinn:
"We live in capitalism. Its power seems inescapable. So did the divine right of kings. Any human power can be resisted and changed by human beings. Resistance and change often begin in art, and very often in our art, the art of words."
This whole story began with one man leaking damning evidence of the elite's corruption to the press, and with every victory and setback our protagonists face, there are people who constantly prove that not everyone is in lockstep behind the antagonists. And it's a lot of people. So much, that even the elite from their ivory towers fear what they could accomplish if allowed to organize. While Lavender Jack was the catalyst, it was up to the common people of Gallery to keep up the chain reaction, and they did in ways big and small. So I feel that it's a very powerful message, especially for this day and age.
CONCLUSION
Lavender Jack is an amazing story that harkens back to classic media with its classy heroes, daring storylines, and dastardly villains but still feels fresh and new. The author took great care in the planning of this story, and it shows plainly—even on a first read-through—how one choice leads to consequences that impact the heroes in ways big and small. The characters themselves are vivid and complex despite their tropes being obvious and standard for the genre. Regardless, even from the start, these characters are more than their archetypes. Reading Lavender Jack is akin to that feeling of reading an alternate historical story that's just our world but a little to the right that comes from reading mainstream comics and it's delightful.
The art is gorgeous too with its bright colors, detailed scenery and costume design, and unique character silhouettes. The artists also use heavy black shadows quite effectively and have a knack for setting up dynamic and striking panels.
I binge-read the entire series in two days and only sort of regretted it because I ended up neglecting to eat lunch. It was that hard to put down. Lavender Jack is such an addicting story that once you pick it up, you can hardly put it down again. If you're looking for a new story involving a hero who is essentially the intellectual love child of Batman and Iron Man with an agenda that falls somewhere between Spider-Man and Robin Hood, I recommend this comic. If you're looking for an engaging mystery plot that puts just as much—and if not more—narrative weight on detective skills as physical fighting prowess, this is the story for you.