Alan Moore is a titan among comics writers, and when we reflect back on his licensed superhero work, the creator's contributions to DC Comics – Swamp Thing, Batman: The Killing Joke, "For the Man Who Has Everything' and of course, Watchmen (among others!) – stand out above everything. Before all of that, though, Moore contributed stories to Marvel UK from 1980 to 1984, and it's here that we find lasting impact on Captain Britain, the X-Men, and the Marvel Universe – truly multi or omniverse – as a whole.
The conversation around Moore's Marvel Universe creations is muted and often forgotten – the Captain Britain work I'm discussing today has been out of print since the early 2000's, and is decidedly not in Marvel Unlimited – but the legacy remains. In fact, in a recent AIPT interview with the X-writers prior to the X of Swords event, the team was asked what comics would be good to read prior to the 2020 event, and in addition to, like, all of Excalibur, writer Zeb Wells called out the Alan Moore and Alan Davis era of Captain Britain
.
So given the creative legacy of the Alans, the modern X-Men connections, and the fact that I overpaid by like 4x the retail price for a used trade of the Captain Britain run, I thought it'd be interesting to re-read and dissect the work. In the process, 1) I had a really good time re-exploring this solid, fairly straight-forward-superhero fare (by Alan Moore's standards) and 2) I picked up on a lot of influences and ideas that connect to the era of Hickman's X-Men.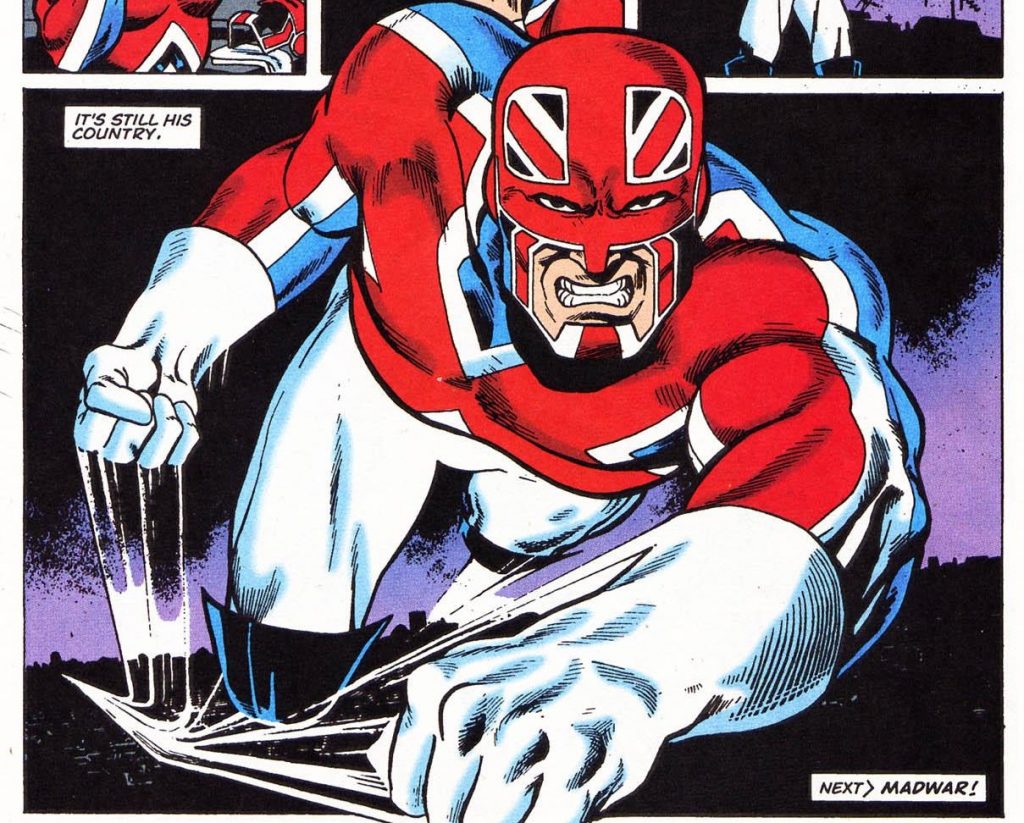 Resurrection Protocols: Rebuilding Captain Britain
In an approach Moore would forever make iconic with John Totleben and Stephen Bissette on Swamp Thing's "Anatomy Lesson," the Alan's kick off their collaboration with the destruction, death, and resurrection of Captain Britain. Like Swamp Thing, it's an approach that allows Moore to inherit a character in the middle of shared superhero continuity, then ground to dust and recontextualize with the full weight of his storytelling ambitions. In the case the story runs approximately 2 years, from '82 to '84, across the titles "Marvel Super-Heroes," "The Daredevils," and "The Mighty World of Marvel" (again all Marvel UK titles only).
Brian Braddock is tormented and coldly killed on an alternate Earth in which superheroes have been banned, hunted, and assassinated by The Fury, a seemingly invincible superhero hunting Cybiote – part animal, part machine, all party animal/machine. Prior to this pitiful execution on an alternate reality, Captain Britain is left behind by her Whyness, Saturnyne and her Avant Guard, and meets the reality warping mutant Jim Jaspers, who has shaped the events that led to this desolate state. What's especially clever here is all of these seeds and supporting characters will play a significant role over the course of the run. We begin with post-apocalyptic disaster, and we proceed from there to see how the same disaster could play out on the Marvel Earth we all know.
Support For Comic Book Herald:
Comic Book Herald is reader-supported. When you buy through links on our site, we may earn a qualifying affiliate commission.
Comic Book Herald's reading orders and guides are also made possible by reader support on Patreon, and generous reader donations.
Any size contribution will help keep CBH alive and full of new comics guides and content. Support CBH on Patreon for exclusive rewards, or Donate here! Thank you for reading!
The resurrection of Brian Braddock is particularly interesting given the state of mutant resurrection in the X-Men's Dawn of X, and the parallels between questions of body, soul, and a person's essence through such a process. In Captain Britain, resurrection is the work of Merlin and his daughter Roma, who watch the events of the omniverse from a cosmic outsiders perspective, like Marvel's Elders of the Universe (the fact that they are later playing Chess with the players of course also brings to mind Marvel's Grandmaster).
Merlin and Roma are the supernatural presences Brian Braddock encounters way back in 1976's Captain Britain #1, in an origin story by Chris Claremont and Herb Trimpe (longtime Hulk artist, and co-creator of Wolverine), with Marie Severin colors, and Larry Lieber (Stan Lee's brother) editing. If there's anyone Saturnyne and the bureaucracy of the Omniverse report to, it's effectively Merlin and Roma. Even with these powers and perspectives, though, Merlin questions their resurrection of Brian Braddock, and Braddock questions his own sanity upon return to his home Earth.
Merlin "we rebuilt his body quite adequately. But his mind… did we do as much for his mind?" To me, it's an interesting thing to consider the flaws reliant in methods of resurrection, especially as more and more of mutantdom undergoes the Krakoan procedures in the Dawn of X. There's a lot of skepticism from fans that mutants are coming back without any manipulation taking place, and we know some actual textual examples where mutants come back with slightly altered powersets (for example, Synch resurrects with enhanced abilities).
The rebuilt Captain Britain is quickly put on a path back to Saturnyne, who is currently on trial in the Omniversal council, and held prisoner by the debut of the Captain Britain Corps, with members such as Captain UK, Captain Albion, and Captain Airstrip-One. Given her abandonment and the immediate effects (the death of his friend Jackdaw, and his own death), Captain Britain deeply distrusts the scheming Saturnyne, and aptly refers to her as "selfish, callous, and conceited." Nonetheless, in the interest of justice, Captain Britain agrees to offer testimony as the only witness who can confirm Saturnyne is not responsible for the destruction of an Earth, and the impending chaos it means for all of reality.
On this scale alone, Captain Britain is one of Moore's most direct superhero comics, but still full of big ideas that will dictate the future of Captain Britain, and perhaps more importantly, the Marvel Omniverse for generations of creators.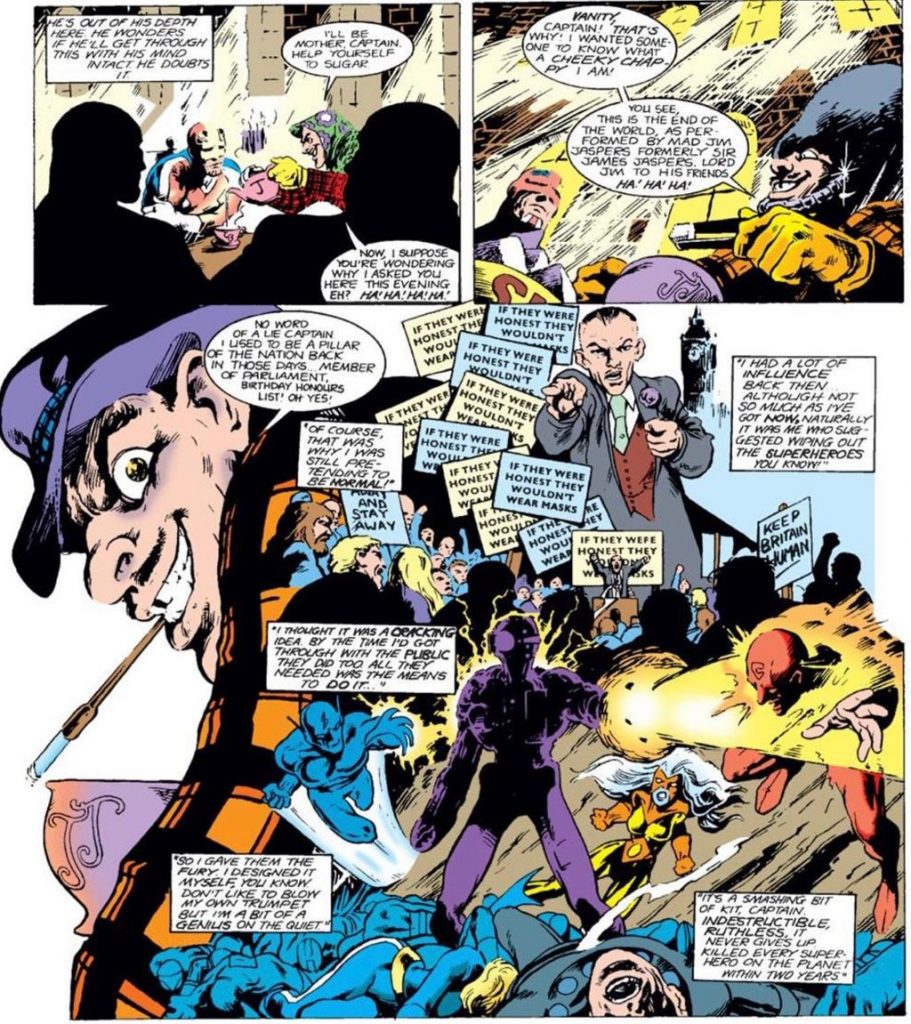 Mad Jim Jaspers and the End of Supers
For my money, Moore and Davis's most interesting mutant creation in these pages is Jim Jaspers (aka Mad Jim Jaspers) a British politician campaigning on putting an end to the dangers of superheroes, and a reality warping mutant himself. Jaspers powers an ability to absolutely toy with the very fabric of reality is deeply reminiscent of the role Jamie Braddock will go on to take in the world of Excalibur and X-Men, except despite Jamie's omega level mutant status, Jaspers own reality manipulation – and residual threats to the entire Omniverse – honestly feel grander than anything Jamie's every done.
Jaspers preying on the fears about safety from superheroes – he holds up American President Reagon's pardon of the Hulk as a particularly heinous example of a broken system not designed to protect the common man – drives to a campaign centered around calls for superhero legislation and registration. As modern Marvel readers know, this predates Marvel's 2006-2007 Civil War by over 30 years, with the key difference that Jaspers is hellbent on eradicating superheroes entirely
One of the absolute biggest misses of this run on Captain Britain, is that Moore and Davis simply don't have – or make – time to explore Jaspers motivations and character. He rapidly goes from a conversative politician hobnobbing with Sebastian Shaw and Peter Gyrich in the UK, and using his burgeoning mutant abilities to shift white wine to red, to locking himself in his office wearing a Mad Hatter hat and just full-on embracing his insanity.
This undermines a fairly interesting mutant, whose rise to power makes all superheroes face the same kind of prejudices we see frequently hurled against the likes of mutantkind. Jaspers dystopia sees publication a few years after Claremont and John Byrne's "Days of Future Past," but again the inverted relationship between Death Camps for mutants and Death Camps for superheroes and their supporters is one that doesn't get enough space. When you break it down, what are the differences between the Avengers and the X-Men or the Fantastic Four? Why is one group feared and hated, and the other gets to hop on conference calls with the Pentagon as a trusted ally?
The subtle brilliance of Moore and Davis's Jaspers is that he makes regular old supers just like mutants. Obviously, distrust of those who wield power as superheroes is a major theme of Moore's future writing in Watchmen, and can be found in earlier non-Moore works like the novel Superfolks. Nonetheless, this plot from the mind of an extremely powerful mutant is something I find immensely interesting. It simply changes the implications and the weight, and in my read, is almost a deliberately scorned manifestation of Jaspers' rage at society's treatment of people like him.
Technically, Jaspers would show up as an anti-mutant prosecutor next in the pages of Uncanny X-Men #200, aka "The Trial of Magneto," but it's not until the Uncanny X-Men mid 2000's House of M tie-ins (by Chris Claremont and Alan Davis, reunited after 15 years) that Jim Jaspers returns to the Marvel Universe in earnest, as a clear reference to his involvement in the run by the Alans. It's an odd fact of Jaspers existence that defeating him leaves the character utterly untouched for decades, but by the nature of his reality warping existence, the ability to bring him back into play is always at the ready.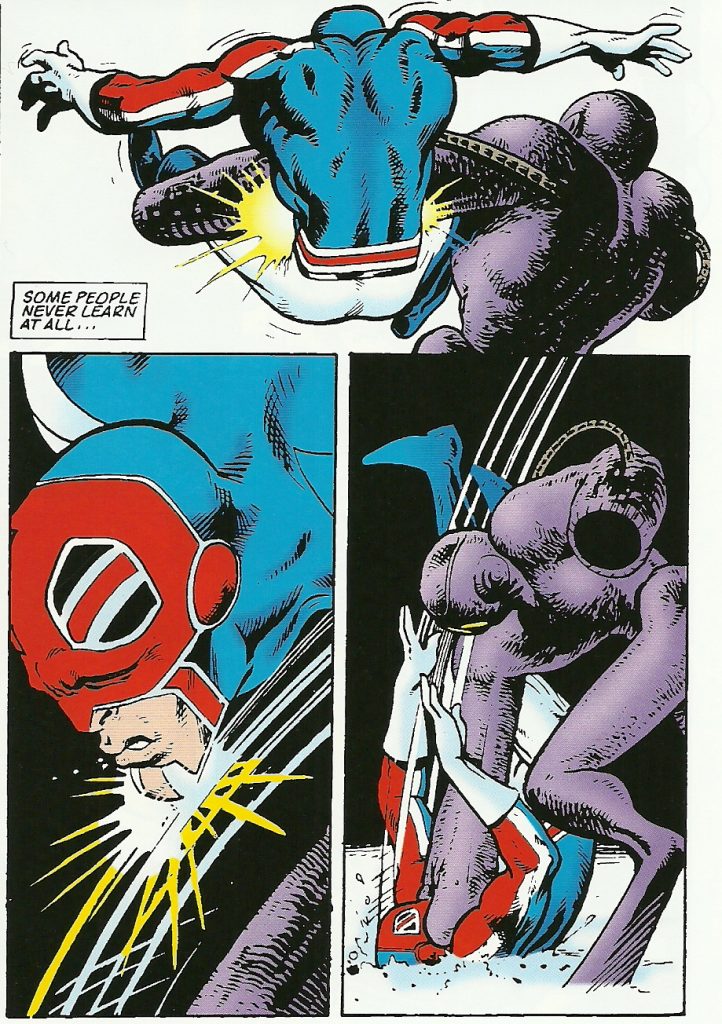 Jaspers' Creation: Extra Dimensional Mutant Hunting Nightmares
Of course, the reason Jaspers needs his own resurrection is due to the Fury, his own creation, and a techno-organic killing machine. The Fury is definitely the scariest creation of the Alans, a nigh-on invulnerable machine intelligence with mission parameters to eradicate all superhumans. If this sounds a whole lot like Sentinels, and more specifically, Nimrod, yeah, I fully agree. Nimrod would debut in Uncanny X-Men #191, with a cover date March 1985, shortly after the Fury's exit stage murder.
One of the stated aims of Hickman's X-Men is to make Sentinels scary again – the way they can feel in the likes of "Days of Future Past" – and The Fury taps into this essence of menace incredibly well. The fear the Fury instills in Captain Britain is palpable, with Alan Davis perfecting his emotive mask expressions every time Brian Braddock spots the re-emergence of the terrifying killer. Captain UK is particularly traumatized by The Fury, after witnessing the death of her entire world of heroes. Ultimately, this makes overcoming The Fury enormously impactful – it's simply not possible until the Fury is finally weakened through an extended battle with Jim Jaspers.
Part of the Fury's intrigue is also that the hunter/killer is outside Merlin's near omniscient view of the Omniverse. Given the importance of Nimrod in Hickman's Powers of X and Moira's 9th life, it's interesting to consider whether a similar function would be possible for the mutant-hunting entity.
Like Jaspers, the Fury more or less only reappears in the Uncanny issues of House of M and X-Men Die by the Sword. Resurrecting the concept in the current era of the Dawn of X feels somewhat redundant with the role of Nimrod, but that could make the Fury all the more formidable if we see an alliance between entities like Nimrod, Master Mold, and the Fury. Since we've already seen each of these defeated individually, what happens when they combine their deadly aim?
Stray Mutant Touchpoints
The most direct X-Men connection in the Alans run comes from the prominent inclusion of Betsy Braddock, our longtime Psylocke and current Captain Britain, before she'd ever step foot in the pages of Chris Claremont's Uncanny X-Men (but not before Claremont would write her in his original run on Captain Britain!). When we meet Betsy here, she's a purple-haired Englishwoman, Brian's beloved but estranged sister (when they reconnect the two literally don't recognize one another), and working for STRIKE's psydivision (the equivalent of England's SHIELD for psychics!).
I'm honestly not sure if Betsy is even called a mutant during this run (obviously in hindsight we know this to be true) but she is capable of telepathy and – in my favorite detail – precognitive abilities. This particular ability doesn't come up nearly as often once Betsy becomes Psylocke, but it's very much a part of her history, and a fascinating one given Moira MacTaggert's current "no precogs" on Krakoa rule.
The X-Men universe cameos – apart from Betsy – are slight but present throughout. For starters, Jaspers calls to end supers are financially and politically backed by Sebastian Shaw, the current Black King of the Marauders, which actually makes a lot of sense given Shaw's additional backing of project wideawake during the Chris Claremont era of X-Men. Shaw's a profit opportunist and doesn't really care much who gets hurt along the way until it comes to his doorstep.
In a good bit of comics trivia, we also get the debut of Meggan here as a bat like creature trapped in one of Jaspers death camps in "The Candlelight Dialogues." Meggan will go on to have a major role with Captain Britain and in the pages of Excalibur, although let's be very clear here that Alan Davis has more to do with that – and so much of the Captain Britain mythos – than anyone.
At the end of the day, the lasting impact on X-Men stems from the Braddock family, with Betsy and Jamie of course our known mutants, and Captain Britain a longtime ally as part of Excalibur. And of course, Alan Davis would go on to expand these relationships in the pages of the 1985 Captain Britain ongoing written by Jamie Delano (and yes, it's wild that it took Moore's evacuation for the character to finally get their own series name!).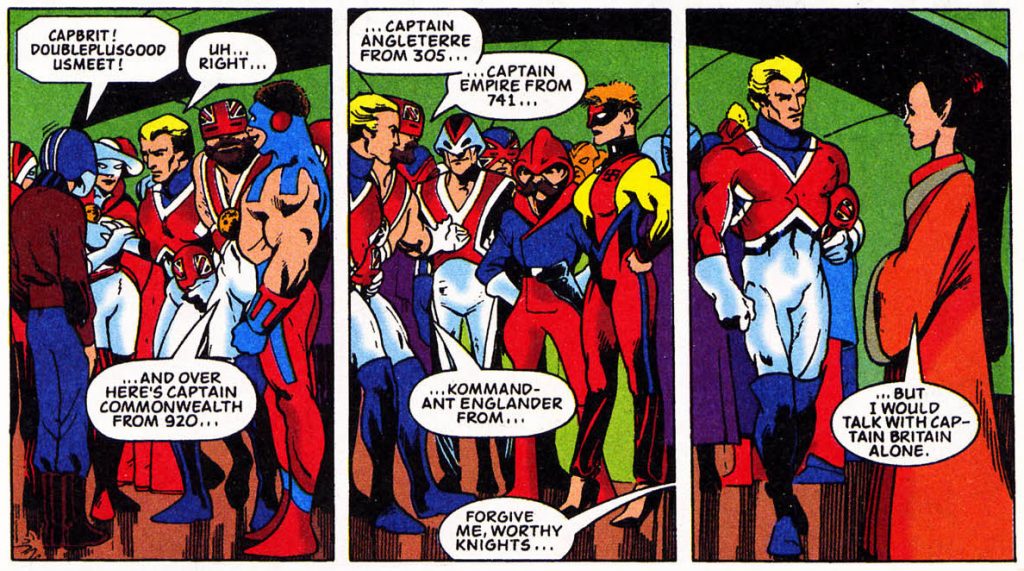 Keys to the Omniverse
Big picture, the most notable legacy is what the Alans do for the Marvel multiverse. This run is arguably the creation of prime Earth as Earth-616, and the omniverse / multiverse is made essential and nearly infinite in a way Marvel's embraced since (whereas DC has gone on to first merge everything in Crisis on Infinite Earths (an event with similar stakes that came shortly after this run), and later streamline their 52 universes defined in Grant Morrison's Multiversity).
In fact, Moore's version of the Omniverse is even more open to extradimensional crossover than we typically see in Marvel, mostly stemming from his Marvel UK comics work and elsewhere. For starters, there are multiple oblique references to Marvelman, the Captain Marvel analog all-time classic Moore would begin during this stint, and there's a direct crossover with Moore's Doctor Who comics, then published by Marvel UK! Indeed, Wardog and the Special Executive come directly from one of Alan Moore's Doctor Who short stories, and the characters will remain players in the world of Captain Britain from this point forward.
Opening near infinite extra-dimensional doors increases the import of Otherworld, the Captain Britain Corps, and the Starlight Citadel's standing as a nexus of reality. No longer simply the protector of England, Captain Britain becomes the protector of reality. This certainly connects to something like the ongoing X-Men: X of Swords event, where Apocalypse and the X-Men have need of access to the Starlight Citadel to access alternate dimensions.
This is far from the first time the events of Earth-616's mutants and heroes have impacted the Omniverse. I was struck re-reading the Uncanny X-Men House of M tie-ins that Wanda's creation of the House of M reality not only restores Jim Jaspers, but it also throws all of reality across the omniverse into absolute chaos. I don't have the space for it here but Wanda's continued path to finding redemption considering her actions impact the Omniverse is such a fascinating story to me.
All in all, if you can get your hands on a legal copy (and don't expect a nice reprint any time soon), Moore and Davis's Captain Britain work is immensely engaging, even moreso now honestly with the Dawn of X's Excalibur at the heart of an X-Men linewide event. Stylistically, Moore isn't where he'll be in his DC Comics work, although there are hints like Captain Britain literally tearing the pages of the comic he's in as reality breaks around him, or Moore actually doing proto Doctor Manhattan stuff with Cobweb's precog and time travel: "I'm making love to Legion. I'm scattering his ashes. I'm meeting him for the first time. I'm crying "
Nonetheless, the work has largely defined Captain Britain in the Marvel Universe, set up so much of Chris Claremont and Alan Davis's own use of the Braddock family in X-Men comics, clarifies the roles of Merlin, Roma and Saturnyne, and leaves the ever present threats of Jim Jaspers and The Fury.
Issues:
"Captain Britain," Marvel Super-Heroes #387-388 (Marvel UK, July 1982-August 1982)
"Captain Britain," The Daredevils #1-6 (Marvel UK, January 1983-June 1983)
"Captain Britain," The Daredevils #7-11 (Marvel UK, July 1983-Nov. 1983)
"Captain Britain," The Mighty World of Marvel #7-13 (Marvel UK, Dec. 1983-June 1984)
Sources:
https://www.tor.com/2012/01/02/the-great-alan-moore-reread-captain-britain-part-1/
The Great Alan Moore Reread: Captain Britain Prologue…via Doctor Who
https://aiptcomics.com/2020/09/14/x-men-monday-75-x-of-swords/