Following my review of 2020's X-Factor #1, I saw a fair amount of commentary from listeners and readers wondering why there's all this focus on character sexuality in the book, specifically with queer X-Men. Hot on the heels of Marauders #12 and Kate Pryde's same-sex kiss, the question is of course resurfacing, making it a good time to really dig into the relevance and importance of sexuality in the world of Marvel's X-Men.
Up front, I'll admit this is a sensitive issue and I don't pretend to have all the answers. This is my own attempt to wrestle with these recurring questions, and dissect them in the context of X-Men comics. While I think it would be nice, I don't anticipate this conversation will change hearts and minds regarding perceptions of sexuality and gender in our world, but I do hope it will specifically address how these issues are integrated into Marvel's X-Men comics, and why, at the end of the day, it makes sense and is a substantial net positive.
Podcast: Play in new window | Download
The Question: Why All This Focus On Sexual Identity?
First, it's useful to clarify what readers mean by "all this focus on sex." Notable examples from the Dawn of X, the era of X-Men comics following writer Jonathan Hickman's return to Marvel with House of X / Powers of X
, include the following:
Support For Comic Book Herald:
Comic Book Herald is reader-supported. When you buy through links on our site, we may earn a qualifying affiliate commission.
Comic Book Herald's reading orders and guides are also made possible by reader support on Patreon, and generous reader donations.
Any size contribution will help keep CBH alive and full of new comics guides and content. Support CBH on Patreon for exclusive rewards, or Donate here! Thank you for reading!
The implication that Jean Grey / Wolverine / Cyclops may be in a polyamorous relationship (and the confirmation that Jean and Wolverine are in a relationship).
Reiterating Mystique and Destiny's same-sex relationship, with Mystique angrily yelling "Give me back my wife!" at Professor X and Magneto.
A majority queer cast of mutants in the Leah Williams written X-Factor series launch
Emma Frost including "Trans" among the oppressed minorities she references in Marauders #10, and Kate Pryde kissing her female tattoo artist in Marauders #12.
As you can likely gauge from the examples, the conversation is less around the general horniness of the X-Men on their Krakoan island paradise (although certainly that gets a lot of discussion as well!), and more targeted toward queer or minority identity now being included in the pages of these comics.
A Brief History of Sex
The fact of the matter is that members of the LGBTQIA+ community in particular have been long withheld from X-Men Comics, and Marvel comics.
Historical reasons to avoid making queer relationships explicit are due to societal pressure, and for Marvel Comics specifically, due to editorial pressure. According to an article on "Prism Comics," during Jim Shooter's late 70's into 1987 tenure as Marvel's Editor-in-Chief, there was an alleged "No gays in the Marvel Universe" policy. This can partially be assumed to reflect the desire to follow the Comics Code Authority, the Red Scare/McCarthyist propaganda directive that arose out of Frederick Werthem's "Seduction of the Innocent" in 1954.
According to History.com, it wasn't until 1989 when the Code would allow for an openly gay character in Marvel or DC superhero comic books! There are creators who work in characters coded as gay prior (JM Dematteis work with Arnold Roth in the pages of Captain America comes to mind), but Marvel's Northstar was the first to come out as openly gay in 1992's Alpha Flight #106, a momentous declaration that was then largely ignored for years.
Even after this, equating queerness with "sexual perversion" persisted, as Marvel has often labeled any books featuring actual queer characters as "adult" or "for mature audiences only." This was the case in 2002 when Marvel announced the Rawhide Kid would come out as gay in a Marvel MAX comic.
Following this announcement, in a (far from perfect) appearance on Crossfire in 2002 with host Tucker Carlson (for real), the strongest argument Stan Lee could muster was the following Seinfeldian point:
"Let me just mention that Marvel Comics, we are entertainers. And we do books for everybody. And the characters in our books represent everybody. In the "X Men," we have characters from all nationalities. We have both sexes. I didn't write this book. I only learned about it yesterday. But I think it's fine. Among us today, there are gay people. We have one gay hero. There's nothing wrong with that. I'm sure there are gay heroes who exist."
Fear of accepting queer characters on the page is historically met with cowardice, to the everlasting failure of Marvel and the industry at large. Even the aforementioned Rawhide Kid's coming out party (and I don't want to oversell the importance of that book because it stinks!) was walked back only a few years later. That's very recent history, and it's far from the progressive uncompromisingly agenda-driven radical Marvel gets painted as by some of the angrier voices in this conversation.
The last decade has decidedly improved on this deeply unbalanced past, from the first same-sex wedding in the pages of Astonishing X-Men #51, to the very recent 2020 wedding of Wiccan and Hulkling in Empyre: Avengers Aftermath
.  Still, I think it's crucial to acknowledge Marvel's playing catch-up after decades of failure to represent queer communities. And there's still plenty of work to be done.

The History of the X-Men and the Mutant Metaphor
Historically, the X-Men exist as a representation of oppressed minority groups across the board, born (to a degree) out of the Civil Rights movement of the 60's, and growing in scope and scale since. The mutant metaphor is flexible, and the perspective you bring from your own life can often shape what you're going to get out of a story. When you feel your own oppression in these stories, that is true for you as a reader. Pretending that's not true just means that's not a part of your perspective. And it's ok to miss things! I miss elements of comics all the time! Listening to other voices, though, can help expand that awareness.
Again, X-Men is particularly well-suited to metaphorically capture struggles for equality, with a group of mutants sworn to protect mankind, even those who fear and hate them. As Sara Century puts it in a Syfy.com article, "This franchise is a rarity in how consistently it has focused on highlighting the fallacy of bigotry as a major obstacle in its character's lives, and portraying all forms of intolerance as being deeply wrong. That is what has drawn such a wide audience to X-Men, and it is what makes it stand out for so many readers. Outsiders have always flocked to this concept, and for very obvious reasons."
One of the clearest examples of the X-Men standing in for real world minorities comes in 1982's Marvel original graphic novel #5, God Loves, Man Kills
, by Chris Claremont and Brent Anderson. In "God Loves, Man Kills" Christian evangelical preacher William Stryker launches a massive religious movement centered around his absolute hatred of mutants. The combination of religion-fueled intolerance, and a congregation full of protesting humans with signs like "Go Home Mutie!" makes for a distinct, all too familiar connection to real-world bigotry. X-Men comics have varied in their approach to tackling these issues since, but the modernization of X-Men as a metaphor for oppressed minority is firmly cemented in the Marvel canon.
In recent years, the mutant metaphor has more deliberately extended to LGBTQIA+ communities. One of the most frequent talking points lately is how modern depictions of known character's sexuality may differ or seemingly run counter to their comics history. We saw this a lot with Iceman over the past 5 years, when writer Brian Michael Bendis revealed – in classic comics fashion, through time travel and mind-reading! – that Bobby Drake has been suppressing his gay sexuality. A thing that gets lost in a Marvel character coming out as queer later in their life is the idea that unless they were "Out and Proud" in the shared history of these properties prior to this point, the *new direction* simply doesn't match up. But even in reality, this is simply untrue.
When discussing Iceman's sexuality, writer Anthony Gramuglia says, "That rings true for a deeply suppressed gay man. A person suppressing their sexuality that intensely would appear to everyone else like an average straight person because that's what the role they're convincing themselves they occupy. They aren't JUST trying to fool everyone around them. They're trying to fool themselves."
It's not the same thing, but I'd also note that as comics fans we're accustomed to big bold new changes that present the possibility for new stories. We accept these things as readers constantly; they are what keep a decades running universe occasionally fresh. Just look at Moira X! Prior to Hickman's X-Men, Moira MacTaggert was a human ally to mutantkind, and one time love interest of Charles Xavier. Now she's a mutant replaying lifelines, and the single most compelling concept in superhero comics. There's a conservative type of reader who rejects these changes in favor of "staying true to the good ol' days," but for me, these are the ideas and new angles I live for.
With Iceman, I will fully admit, the character as a gay man works best when understanding him as a closeted individual trying to pass, rather than retroactively arguing these were the intentions of the creators. Because for all their positive contributions to social justice, Stan Lee and Jack Kirby – I don't believe – created Bobby Drake with the intention to show he was gay. If you're interested more in retroactively examining the character's history for clues that *are* there, I'd recommend the "Out Cold' series of essays on Shelfdust.com.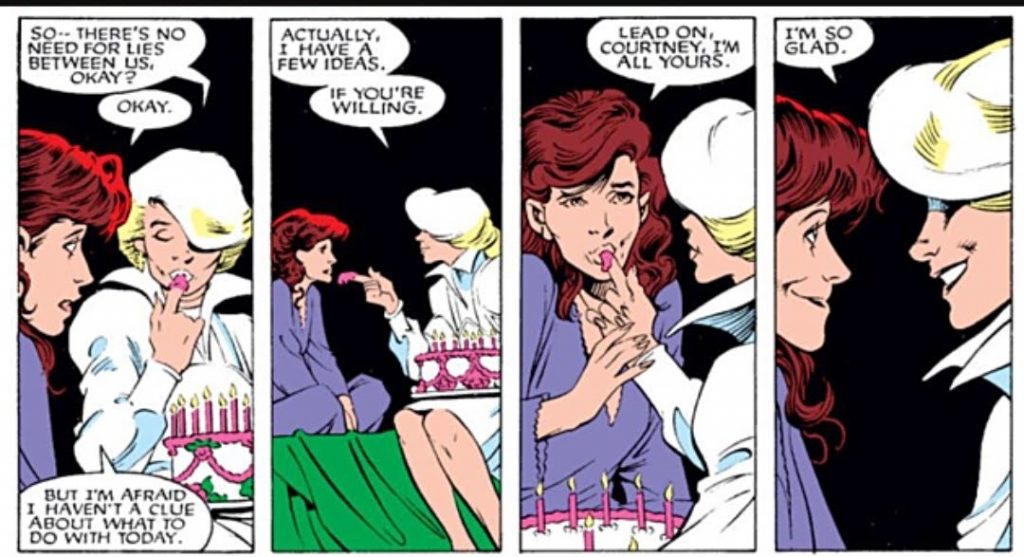 The History of Queer Kate Pryde
In the more recent example of Kate Pryde in the Dawn of X, there's a long history of bisexual subtext that is unquestionably part of the creator's intent. From an interview with Chris Claremont on Jay and Miles X-Plain the X-Men: "With Kitty, the basic idea was, while she dated lots of people when she was an adolescent, the primal love of her life has always been Rachel." That's actually part of the creator's intent he never quite made explicit.
I don't think this is Claremont retroactively trying to pull a JK Rowling either. Again, from Century on SyFy.com, "Well into the '80s, more and more queer subtext was played out on the pages: Illyana Rasputin and Kitty Pryde wrestling with each other in bed; Storm and Yukio's fling; Mystique and Destiny appearing only in tangent to one another; Northstar's lack of interest in women; Rachel Summers in her entirety… there was a lot of implied queerness in Claremont's X-Men run."
The young Kitty Pryde joins the X-Men as a young teenager in Uncanny X-Men #129, a comic with a release date of January 1980 and a story that kickstarts the official "Dark Phoenix Saga
." Kitty would go on to become a central POV character in the X-Men's Claremont-verse, bridging the gaps between X-Men, New Mutants, and Excalibur more than any other character in the world. Kitty's journey – again starting as a fourteen year-old mutant coming to terms with her powers – is very much about finding her place, and understanding the Jewish mutant woman she's becoming.
This extends to sexuality as well, as it does for so many in their formative adolescent years. The most prominent (and permitted) example is Kitty's flirtation with Piotr Rasputin, Colossus, a character she's had romantic ties to as recently as 2018's fake-out wedding issue. At the same time, there are recurring examples of Kitty's closest female friends suggesting deeper connections, bordering on romantic. These examples can be found in Claremont written issues from the mid-80s into the 90's and all the way through to 2002's all-but-forgotten Mechanix miniseries. Most famously, in order of chronology:
Kitty Pryde & Illyana Rasputin
There's an undeniable bond between Kitty and Illyana who become fast, extremely close friends at the Xavier Institute. From Kitty's literal – generally unexplained – bond to Illyana that causes her to take on Illyana's Soulsword armor when the New Mutants are seemingly killed by the Beyonder in New Mutants #36, to their now infamous tickle-fight (alone in their bedrooms) in New Mutants #63, Kitty and Illyana are a consistent subtextual reference.
Kitty Pryde & Rachel Summers
Kitty and Rachel are very close throughout the entirety of Excalibur, and while of course characters can just be friends, there are enough moments in these comics to suggest there's more to it. As already mentioned, Claremont has since declared Rachel "The love of Kitty's life."
Kitty Pryde & Courtney Ross (Sat-Yr-Nine)
One of the absolute most deliberate examples occurs in the pages of Excalibur, when Brian Braddock's love interest Courtney Ross makes clear seductive overtures to Kitty. In his own online forum, long-time Excalibur artist and Chris Claremont collaborator Alan Davis said of Kitty and Courtney, "although I knew Chris had some plan for Sat-Yr-9 to corrupt Kitty and that the various Cross-time versions of Saturnyne were attracted to Kitty, I had no idea what, if any, the goal of this relationship was to be. I just played it as a lesbian affair." You can criticize the intent or execution, but there's no denying this was meant to yet again show Kitty as interested.
Kitty Pryde & Karma 
The X-Treme X-Men mini Mechanix is a general footnote in the canon of Claremont written X-Men comics, but it focuses wholly on Kitty trying to find herself in college after the death of her father in the New X-Men destruction of Genosha. During this time, Kitty reconnects with longtime New Mutant Xi'an Coy Manh, aka Karma, an out lesbian. The two share several tender touches, conversations, and glances.
To be clear, it's not like this subtextual queerness is without problems. Nola Pfau writes for the Eisner-Winning comics website Women Write About Comics, "Chris Claremont is a straight man, and while his attempt to push for queer inclusion in the '80s was admirable, every single potential relationship involving the character contains a level of age-inappropriateness; Illyana Rasputin is a decade younger than her, artificially aged up, Rachel Summers is older and fresh out of a relationship with an even older future version of Kate herself, and "Courtney Ross" (actually the villainous Sat-Yr-9) is an adult improperly seducing her on her fifteenth birthday. Even her primary male crush, Piotr Rasputin, is approximately five years older than her, putting him above the age of twenty-one to her fifteen."
Nonetheless, it's all very much there, even if culturally Marvel refused to admit it. In her excellent essay, "Kitty Queer," Sigrid Ellis writes, "Ego-dystonic homosexuality was removed from the American Psychiatric Association's Diagnostic and Statistical Manual of Mental Disorders in 1986. New Mutants #36 was published in February 1986. When it was written, lesbianism was legally and medically a perversion. Chris Claremont and Bill Sienkiewicz, the writer and artist of New Mutants at the time, could not say that Illyana came to the rescue of her some-time girlfriend Kitty who had been defeated by a demon with a penchant for classic bondage porn. But they could write it, and draw it, without ever acknowledging that is what they were doing."

The Value of Representation
The primary reason I think these moments and others like them are essential to X-Men Comics – and frankly comics in general – is that representation matters enormously.
I've been watching a lot of Hamilton since it released on Disney+ on July 4th, including some interviews with the immensely talented cast. And one thing I've talked about with family is the merit and value of "Story of Tonight." As a song, it's less upbeat, less instantaneously catchy, it wasn't ever a favorite. It's fine. Listening to an interview with Leslie Odom Jr, who plays Aaron Burr, though, he's talking about that song specifically as an eye opening moment for him in terms of diversity – and I'm paraphrasing – "I had never seen four people of color on stage just talking about friendship." He had never seen that in the arts before, and it was powerful. That gives me a different perspective on the merit of that moment in the show. That's what diversity and representation can do in comics like X-Factor, Marauders, and across the Dawn of X. It lets oppressed groups see themselves in places they never have before.
An enormous part of X-Men fandom is deeply engaged with the soap operatic structure and the romantic entanglements of these characters that we become so attached to. The part that's easy to take for granted is that historically most of these plotlines – for example Rogue and Gambit, in a cyclical will they/won't they – are standard heteronormative relationships. In the gazillion variations on Rogue and Gambit's romance, I've ever seen anyone ask "Why does their sexuality matter?" It's taken for granted this is quote-on-quote "normal."
The same goes for the love triangle between Scott Summers, Wolverine, and Jean Grey. That's been a huge part of the comics, the animated series, the movies, every X-Men story ever told! Their sexuality, and romantic partners absolutely matters to readers, and has for generations. It's inarguably a part of the X-Men narrative.
Why should that not extend to queer characters? Why should that be withheld from them? This absence is damaging to the X-Men's central thesis of creating a fair world for the oppressed and the different. As Gramuglia writes, "The lack of [queer] parallels leads to two negative results: it lessens the relevance of the X-Men's metaphor and it weakens the discussion of oppression in the real world. Both of these problems keeps the X-Men saga from resonating with its queer audience, which is increasingly confronted with bigotry in the form of harassment, hate crimes, and governmental oppression. "
One of the leading realities for avoiding queer relationships in comics is of course fear, hate and bigotry. It should go without saying that those are unacceptable rationales.
A lot of people, I suppose, are smart enough to mask this prejudice with the suggestion that it's not the sexuality that's the problem, so much as the focus on the "woke" agenda over a "good story." Again, the sarcastic turn of "woke" into a pejorative as opposed to the literal "wake up" call it's meant to be – as if that was a bad thing, taking in new information and waking up to your surroundings, and heaven forbid learning from others – this is all odd to me.
This focus on reducing all thought to "make good story" is deeply misguided, and woefully inadequate criticism. On Comic Book Herald, I rank and evaluate and discuss thousands upon thousands of comics. I'm able to do this through a site I created and a platform I've built, but I make no bones that clearly my definition of "good" is going to lead to plenty of readers who disagree with me! I talk about this a lot on the My Marvelous Year podcast I do, but in the first few years of running the reading clubs on CBH and MMY, there are a billion examples of people telling me "hey this story you love, it stinks, or didn't work for me at all!" And nobody should be shocked or surprised about this!
Now certainly, there can be critical consensus or even popular consensus around a work's quality, but let's not sit here and pretend this is easily and universally defined. Your definition of good is probably not mine, is not probably not your neighbor's, is not your family's, etc. We all recognize this and yet there are all these caveman cries for "make good story." The fact that it doesn't work for you alone does not make it a "bad story."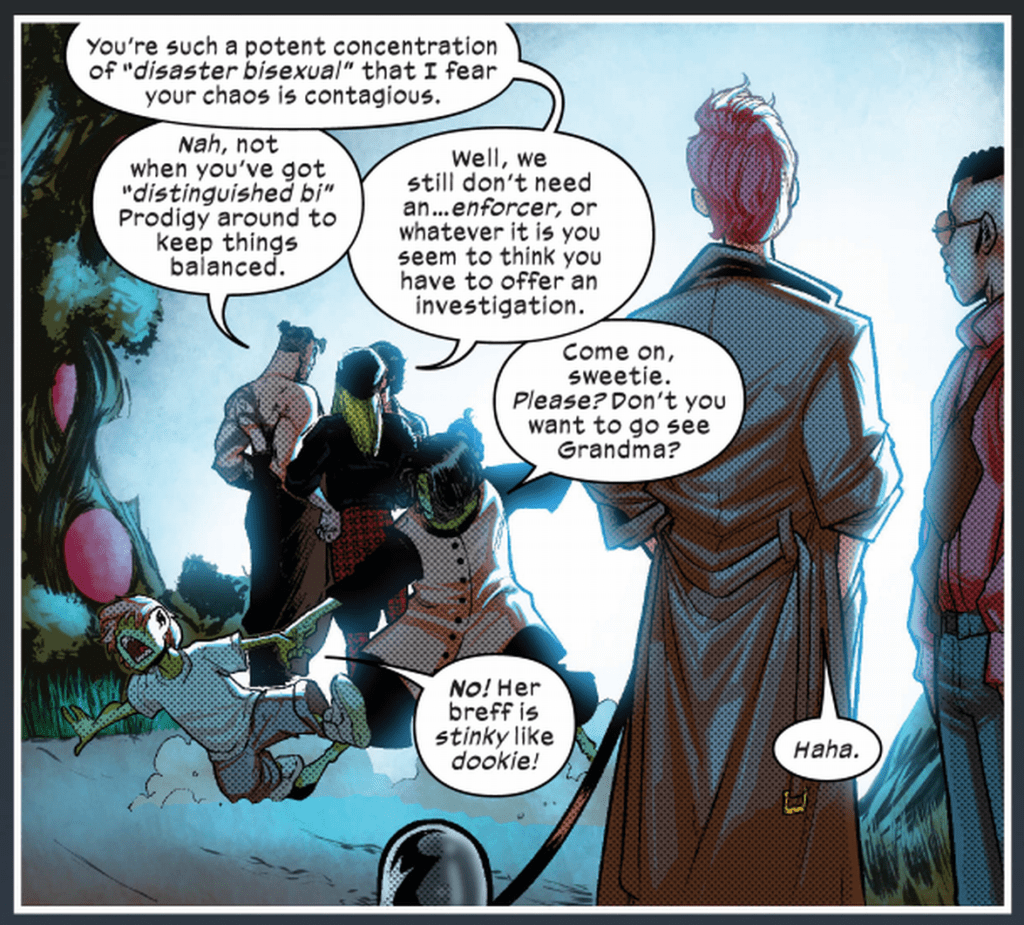 It's Never ALL About Sexuality
There's an implication in loudly decrying stories inclusive of queer sexuality that *this is all Marvel publishes now*. The absolute irony of this is as Marvel slowly works to make up for decades of completely absent representation, they are called out for *too much sudden representation*. For the most vocal critics, the only acceptable solution would be if Marvel attempted to catch up at a rate so glacially slow that they never really came close to making up for lost time at all. Given the historical context, the desire to see Marvel tell stories like they "used to" is a desire to see Marvel never broach these topics at all.
There's also a willfully oblivious nature to these comments – especially when bandied about at the publisher level – that ignores the fact if I look across the Dawn of X, there are plenty of titles that aren't really digging into queer relationships *at all*: X-Men (mostly), X-Force, Hellions, Giant-Size X-Men, Cable, X-Men / Fantastic Four, Wolverine, Fallen Angels and New Mutants. It's a vast majority of the line!
This is of course true for the majority of Marvel Comics throughout history as well. The attempt to paint modern efforts of representation as "sudden" and "forced" is really just an excuse to say you preferred the absence of queer characters in Marvel's history. And that history is not equitable. Not by a long shot.
If it feels like Marvel is cashing in on a modern trend by making characters queer, that's because that's the direction the world is moving. According to a summer 2020 Gallup poll, American support of same sex marriage is at an all time high, approximately 67% or 2 out of 3 people. This isn't a fad, it's the gradual bent of a nation fighting for equality. Marvel has always been the world outside your window, so it's only right that public perception could shape character's fictional realities as well. This doesn't really absolve Marvel's failures, but it's disingenuous to pretend this is something a corporation is peddling irrespective of significantly positive cultural trends.
When all the comics you loudly don't like have a perceived agenda of diversity, it's worth examining those common threads and really considering whether you're open to new perspectives. Why do these additions stand out *so much* as a reader?
As an example, Leah William, David Baldeon and the creative team's X-Factor #1 is a highly engaging first issue, exploring aspects of life on Krakoa, the 5, resurrection protocols, and several characters we haven't seen much of in the Dawn of X. You can talk about this issue extensively – and I *did* in my review – without focusing extensively on the queer relationships. It's a facet of the fabric, and for all the reasons I've outlined, a force for good, but it's only one piece of a multi-faceted story! Criticisms that the comic is lost to a social justice agenda are deliberately obsessing over fictional character sexuality in a way the story isn't even doing!
When the comic does make mention of character's sexual identity, it's to showcase the variance and variety of queer individuals in the world, to showcase different personalities and different interests to avoid singular stereotypes across communities. Daken is super different than Prodigy, and yes, they're both bisexual. This is a deeper level of representation, and a logical progression from the simplicity of Stan Lee's earlier implication that Marvel's "one gay hero" was a real nice effort to hit a quota.
At the end of the day, explicitly putting queer characters on the page is enormously important. It can't just be left to the background, it can't just be subtext, and pretending that's enough. It's not enough. It matters for people in the minority who are now reflected, it matters for other minority groups who are not reflected that can now one day see themselves reflected, and it matters for non-minority readers who are otherwise less familiar or exposed to the existence of these groups. It matters.
It's a way of saying this exists, this is real, and it exists in our world too. In other words, you are real, you matter, and you exist. All of you.
Sources:
https://web.archive.org/web/20100316054502/http://prismcomics.org/display.php?id=1304
https://edition.cnn.com/2002/ALLPOLITICS/12/13/cf.opinion.rawhide.kid/
https://www.history.com/news/how-the-code-authority-kept-lgbt-characters-out-of-comics
https://news.gallup.com/poll/311672/support-sex-marriage-matches-record-high.aspx
https://shelfdust.com/2020/02/27/out-cold-iceman-northstar-and-chuck-austen/
https://web.archive.org/web/20081025052645/http://www.advocate.com/issue_story_ektid63952.asp
https://www.syfy.com/syfywire/x-men-as-a-queer-metaphor
https://medium.com/reflections-of-a-grown-up-fan/why-arent-there-more-lgbtqa-x-men-ff3d5b4619c6
"It came out of nowhere" pic.twitter.com/E4oYw0rLuc

— tycon ⊗ make more mutants (@aliastager) September 10, 2020