I was caught by surprise recently when Krakin' Krakoa listener Xavier D pointed out the children sitting around Krakoa campfires led by longtime X-Men villain Exodus look like kid versions of omega level mutants. The more I've thought about the observation, the more potential I find, and now I'm convinced Hickman's X-Men is secretly telling us exactly what Krakoa's plans are for Omega Level Mutants.
Today I'll answer:
Is there a secret school for Omega Level mutants on Krakoa right under our noses?
Why would this be a part of Krakoa?
What does the theory of omega level mutant children mean for X-Men comics moving forward?
Podcast: Play in new window | Download
In X-Men #7, we are introduced to Exodus (one of the 12 members of the Krakoan council) and his very cultish campfire stories with Krakoa's youth. It's actually not the first time we've seen Exodus telling kids stories around a campfire (there's a panel in House of X #6), but the details begin to matter here.
Support For Comic Book Herald:
Comic Book Herald is reader-supported. When you buy through links on our site, we may earn a qualifying affiliate commission.
Comic Book Herald's reading orders and guides are also made possible by reader support on Patreon, and generous reader donations.
Any size contribution will help keep CBH alive and full of new comics guides and content. Support CBH on Patreon for exclusive rewards, or Donate here! Thank you for reading!
Exodus takes on the role of teaching these children about the Krakoan way of life, but as a literal former Crusader, he naturally does so with zealotry, pomp and unwavering conviction. Whether you but it or not, he's a minister of propaganda, indoctrinating these kids into what it means to be Krakoan, and to be mutant.
Again in X-Men #11, we see Exodus back at the campfire, with many of the same children. And this is the point when the repetition of the same kids, and Hickman's use of this framing device begins to raise a series of questions. Now, the simplest answer here is just that Exodus and these mutant kids is a way to show another aspect of Krakoan life, to breath some of the culture into comics that are otherwise focused elsewhere.
Accepting that possibility, though, it feels like way too big of a coincidence to me that the children – especially the child with a wee pink mohawk and glasses – look like omega level mutants we already know. If Leinil Francis Yu and company were designing new mutant kids, they could make them look like literally anything. So the fact that I'm able to make these connections makes me wonder if that's absolutely intentional and meant to tell us what's really going on here.
Before I run some side by sides to consider which Omegas might be involved, here's what we know about Omega Level mutants in the Hickman X-Men era, and the full list of who we can consider.
It's the language in the Omega Protocol that really catches my eye in retrospect too. "All efforts are to be expended in order to secure the future of the state." Compare that to the common refrain that "children are the future" and you can see the foundation laid for Krakoan protocols that would support creating and rearing versions of omega level mutants, perhaps even starting as children.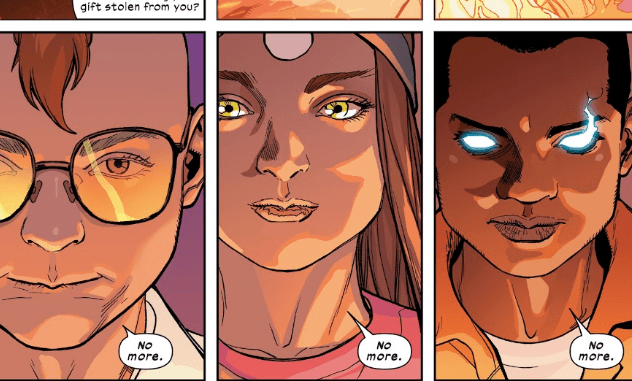 So who are the kids we see, and how do they compare to their omega level counterparts?
Again, we have two real visions of these kids, in X-Men #7 and X-Men #11, and only three of the children appear with any real frequency. So yes, I'm definitely stretching a bit in spots to make this theory fit, and I think it's important to caveat throughout that some of these kids could not fall into the "omega babies" category, and maybe they're not even supposed to. Alternatively, and I'll talk about this as well, but we also should consider the very real possibility of Baby Chimeras via Mister Sinister, and the fact that this would distort the kids' looks as well.
Quentin Quire – Omega Level Telepathy
Literal Kid Omega definitely feels like the strongest argument for omega level kids on the island. The hair, the glasses, the style, it all certainly brings to mind a young Quentin Quire. While the elder Q is off getting killed Kenny style every single issue of X-Force could baby Q be in training on Krakoa?
Of course if this all turns out to not be the case, I also think it's conceivable that the kids of Krakoa would hold up Omega Level mutants as their celebrities. This could explain dressing like poor Quentin, right down to the flathawk.
Jean Grey / Hope Summers
After Quentin, we pretty quickly get into wildly speculative territory, but with some solid clues. There are only three women among the Omega Level list, so our options are Jean Grey, Hope Summers, and Ororo Monroe. The young girl arguably looks a bit like either Jean or Hope, too!
Jean Grey is an omega level telepath and Hope Summers is omega level at power manipulation.
The most interesting connection for this possible Jean / Hope version, though, is to Mister Sinister. The prominent circle on the girl's forehead doesn't really match with Jean or Hope, but it is reminiscent of what we saw in Giant-Size Fantomex, in the very opening pages of the issue.
The forehead circle and diamond are used to denote clones created in a Weapon Plus lab, and as many Krakin' Krakoa listeners observed in that Fantomex issue, the diamond immediately signifies the presence and involvement of Mister Sinister. To be clear, I'm now theorizing based on a theory, or as I like to call it, we've now entered the realm of theory squared.
So why does it matter to connect all of this to Mister Sinister? For starters, we're talking about cloned replicants of mutants, so there's no pretending he's not involved. If it's Jean, we also know Sinister has had a particular interest in the Summers / Grey bloodline for a long time.
We're clearly dealing with cloned/resurrected mutants, and
We could already be dealing with Sinister genetic Chimeras. Remember, in Powers of X, in Moira's 9th life, Sinister is responsible for creating mutant Chimeras, pits on Mars full of genetic experiments blending various mutant DNAs. I'm arguing here that these kids are already Sinister's Chimeras in action, on Krakoa, being raised to defend mutantkind. And who knows what else.
It makes a lot of sense to me that Professor X in particular would want to initiate these protocols sooner. Remember, he and Magneto are the ones who bring in Sinister so early (against Moira's better judgment), and bring to Moira's attention that in this lifeline Sinsiter's first chimera is brought to fruition decades earlier, and it's injecting himself with John Proudstar's DNA.
To reiterate, the exact look of the kids here might not be that telling, or really demand a 1×1 match. And that's because of the Chimera mash-up potential.
The issues where these children appear all have potential clues about this. For example, in X-Men #7, Kurt and Scott have a conversation about mutants wanting to be resurrected with someone else's powers, with omega level Magneto mentioned as a possibility. Nightcrawler says "Why stop there? Why not combine two? Why not add a third to the mix?" And Cyclops responds "Like I said, it's going to be a problem."
Another clue that this might matter more than stated, is the inclusion of an Omega Level Mutants section of the Quorum Captain's memo that is almost entirely redacted. Why even include that here?
From the Omega Protocols: "It is believed that a greater dynamo is possible through collective means." This war council section is talking about the possibility of combining mutant combat techniques, and Omega Level combinations would be the most powerful type of combination they could consider. Obviously a possible Chimera mix of two omega level powersets is the ultimate efficiency towards that end.
The Other Omega Kids
Hopping back for a moment to consider the other children we do get to see, in order of how likely the comparison holds up.
Proteus – omega level reality manipulation / psionic
Iceman Temperature manipulation – negative
I'll admit my first thought with the black child with glowing eyes was Mister M, but I actually re-read District X recently and it turns out my dude Absalom is suuuuper white.
So literally our only black omega level is Storm, which means we're considering Short haired Ororo Monroe? Now, the lit up eyes actually do make this interesting, although Storm's hair has historically also been very very white, even as a child.
I don't expect it's necessarily a part of the narrative here, but the child could also bring to mind Kymera – yes, literally named Kymera – the alternate Earth child of Storm and T'Challa from the Bendis written Battle of The Atom.
The most vexing child has some marks on his face that I can't really fit to any of the known omega levels. The most probable guess for me is Elixir.
If you have theories on how this kid might fit, definitely let me know in the comments.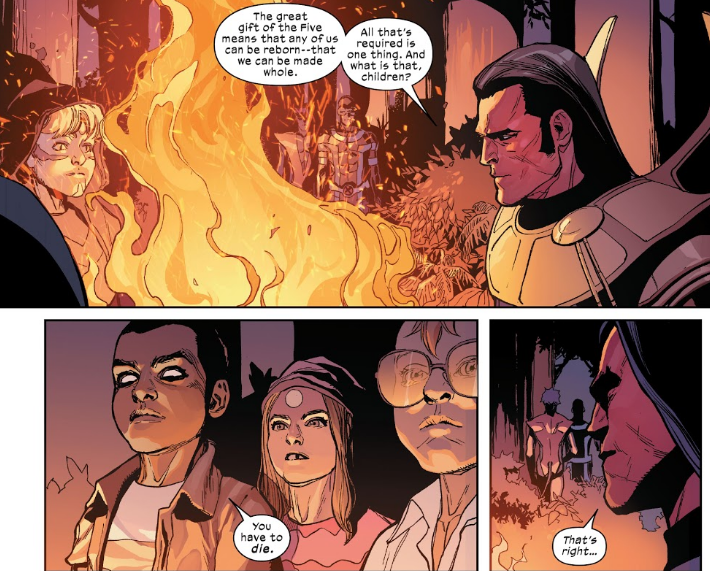 What Does It Mean If Omega Level Kids Are In Training On Krakoa?
If we then take it as a very real possibility that Exodus is training clones of Omega Level mutants as children… what are the relevant questions?
Why is Exodus teaching them?
He's Omega Level himself, and without question one of the most fervent believers in mutant superiority. I do think it's interesting to keep in mind that narratives told by Exodus are soaked in his truth which tends to fall short of a balanced perspective. Things like Magneto "hero of Empyre" from X-Men #11 could actually play out differently in reality than in Exodus' fable. The Scarlet Witch demonizing as a representation of humanity.
Exodus is definitely a good fit for this role, full of the mutant religion bombast and absolute lack of doubt to turn these omega Kids into the Krakoan loyalists the island needs.
We don't really see schooling taking place elsewhere – I actually think a Wolverine and the X-Men style book would go a long way in the Krakoa era – but I don't really think Exodus is straight up in charge of education. My guess would be he's leading these specific omega kids, like a Boy Scout leader, through his own special blend of unflinching belief. Actually a better analogy is probably a Sunday School teacher.
When is this happening? It's worth considering – truly with so many moments that we've seen in the pages of th Hickman written X-Men so far – that the timing of the events, and even where it fits into Moira's lifelines is up in the air. There's a deliberately non-linear approach to these pieces of story and given that we've already seen Hickman pull this trick in Powers of X, I think it's fair game to at least consider the possibility.
The only real context clue we're given is in X-Men #7 when Cyclops and Kurt walk by the conversation on their way to Krakoa's first Crucible.
This also potentially answers the "who knows about this?" with Cylcops and Kurt walking right by Exodus and the kids. Unless we're in for some real chronal whiplash – and I'm not ruling it out – this suggests the Exodus Omega Club is in place on Krakoa quite early in the new nation's life.
I'm not ruling out the idea that Exodus and the kids are in some sort of holographic training either, and that the visual of Kurt and Cyclops isn't literally happening in front of them. They're reviewing an event after the fact.
The omega level army theory
I think it makes an infinite amount of sense that Krakoa would already be building up an army of omega level mutants. The only consideration that might hold them back is the ability to do so somewhat safely. Consider threats like Child of the Vault, with an ability to manufacture threats at a rate mutant procreation probably can't keep up with (despite the best intentions of the horniest X-Men fans). Or the ultimate threat of the Phalanx. Make more mutants should be something we as readers take more literally.
Throughout the Dawn of X, Krakoa has been far too open to attack, and failure. I'm interested in ideas that we're less exposed to in the narrative that actually display more forward thinking.
Kids, though? Why like this?
Before it was on this seemingly eternal hiatus, Children of the Atom #1 was a "red issue." It's my theory that these connections would be / will be present in that narrative whenever it reaches our eyes!
What do you think of this theory? Let me know in the comments