I get a fair amount of Krakin' Krakoa sleuths sending me theories and links about X-Men, which is a really fun way to see that people are engaging with the comics and with my own obsessing about them. In response to my X-Men FCBD 2020 video review, and theories about X of Swords and the mysterious Swordbearers of Arakko, a listener sent me their theory on the "Classified" apparent leader of the bunch. I stored the link away for later, but now that I've looked into it, I'm 98% certain their theory is spot on – I can't for the life of me determine exactly who sent me this, so I just want to be clear I take zero credit for unearthing this, and want to thank everyone who sends me wild X-men theories to get my wheels spinning!
Podcast: Play in new window | Download
X of Storms
In my X of Swords Chapter 1 video, I theorized that the Swordbearer since titled "Classified" (for the record, it would be hilarious if that's just her Swordbearer name) was Storm. My rationale was first that the half visible personage of the character on the "Eight of Cups" is a black woman with all white eyes, but second that the text ties to Storm's journey:
"That which was once the harmonious lifting of voices is now a mocking echo –then silence."
Support For Comic Book Herald:
Comic Book Herald is reader-supported. When you buy through links on our site, we may earn a qualifying affiliate commission.
Comic Book Herald's reading orders and guides are also made possible by reader support on Patreon, and generous reader donations.
Any size contribution will help keep CBH alive and full of new comics guides and content. Support CBH on Patreon for exclusive rewards, or Donate here! Thank you for reading!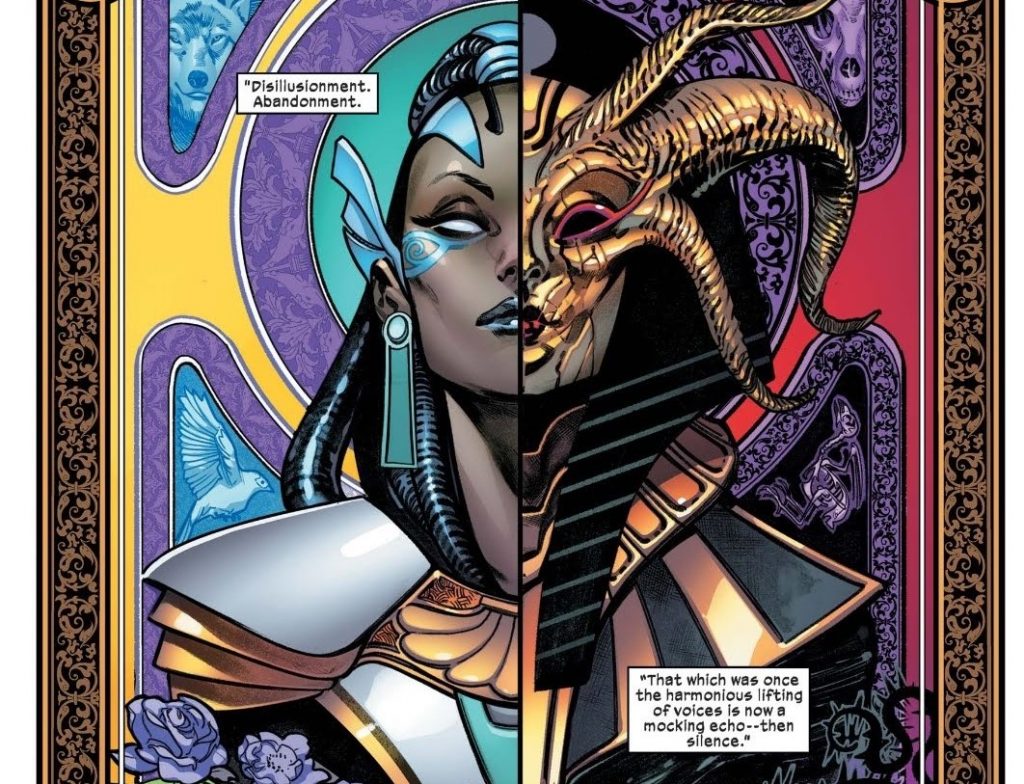 In House of X #5
, as we learn about Krakoa's resurrection capabilities, it's Storm who introduces the resurrected X-Men team to the island of mutants. This to me signifies her "harmonious lifting of voices," literally leading the island in a chant of "Mutant!" with each new lineup introduction. We'll know more for sure following Giant-Size X-Men: Storm #1, but the "mocking echo" potentially signifies the Children of the Vault corruption of Storm taking place across the "Giant-Size" specials.
A bunch of listeners have been asking why it's a big deal that Storm has 30 days to live following Giant-Size X-Men: Jean Grey & Emma Frost
, since mutants can just be resurrected. Aside from the flippant, it still probably sucks to die, I think the bigger problem here is that Storm is threatened with a kind of infective transformation *like* death, but not equal to it. It's conceivable to me that the Vault's infection could take root, and Storm could be transformed into an "enemy," which given her commitment to the X-Men and mutantkind throughout her life, would be a kind of waking death.
Plus, given that the now fully revealed cover of Marauders #14 is an incredible Russell Dautermann and Matt Wilson depiction of Storm dancing with Death (of Apocalypse Horsing fame), it remains very possible that my gut instinct was correct and good ol' "Classified" is, in fact, Ororo Monroe. Of course this could also just be a fun allusion to the adage "a dance with death," but I'm sticking to my theory!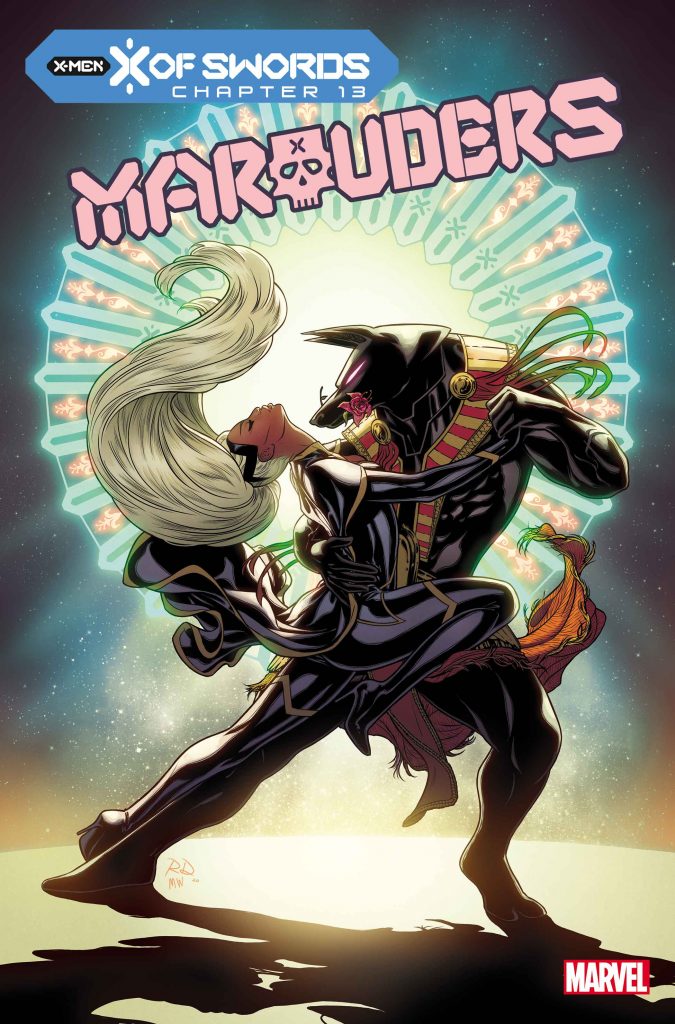 X of Storms Past
Like I said at the start, though, there's a literally related theory that works even better! And it's that "Classified" is Ashake!
If you're not familiar with the character Ashake, don't worry, I didn't know her by name either. Ashake first appeared in New Mutants #32
in 1985, during a saga that found Magik and Mirage, aka Dani Moonstar, transported approximately 5,000 years into the past in Ancient Egypt (unrelated to this theory, but the issues through around #34 are pretty interesting for my renewed interest in Shadow King!).
For approximately 1 page and 1 panel, a mysterious sorceress named Ashake appears to the time-lost New Mutants and provides them sanctuary. Illyana and Dani are struck by how similar Ashake looks to their X-Men mentor Ororo Monroe, Storm, and Ashake is able to divine across time that Storm is a future descendant of hers! Wildly, this entire meeting is over in a flash, and Ashake helps Magik and Dani travel back to the future (naturally, they overshoot the present, and hijinX ensue).
This is an extraordinarily brief appearance, and would be even more of a deep cut reference if that's all we had, but Ashake actually made a return 23 years later in the 4 issue 2008 miniseries Mystic: Arcana
. This is where things *really* get compelling, in a flashback story written by Louise Simonson, set during the events of the aforementioned New Mutants #32.
Mystic Arcana: Magik #1
explores the full-fledged adventure Magik and Ashake experience in the past in an untold tale.
A couple thoughts right off the bat —
Tarot Cards play a major role throughout Mystic Arcana, which pretty seamlessly connects possible relevance to the Tarot based upcoming crossover event X of Swords. Indeed, the term Arcana is used in the "Major Arcana" which references the 22 trump cards (for our non card players, no, this has nothing to do with American politics, thank heavens) in a standard 78 card Tarot pack. Ashake quite literally makes her own Tarot cards with painted images on sheets of bone.
I also love how Simonson and the team are able to dig back into this all too brief moment from an issue of New Mutants nearly a quarter century in the past and give it new life, and breath new character into Ashake. It's a cool reflection of some of comic book's most unique properties, that these stories and universes are intertwining and connected across decades of real world time, and that something seemingly as tossed-aside as Storm's long lost great great great great (etc) grandmother could be a major plot point in the future.
In Mystic Arcana, Illyana and Ashake are effectively forced to retrieve the Sword of Bone, one of the 4 cornerstones of creation, which eventually becomes the sword of Ashake, as her purity of will is the only capable of tapping into the swords energies. At the conclusion of the four part mini, Ashake returns to aid the forces of good, and then effectively goes her own way in the mystic dimensions, freeing her up to basically anything any storytellers would want to do next. Things like make her a focal point of X of Swords.
It's a tangential detail, but I'll also note that the second cornerstone of creation is found in the possession of Morgan Le Fey, who of course is currently being held experiment-prisoner by Apocalypse as he uses her magics to make connections from Otherworld to wherever we're going in X of Swords.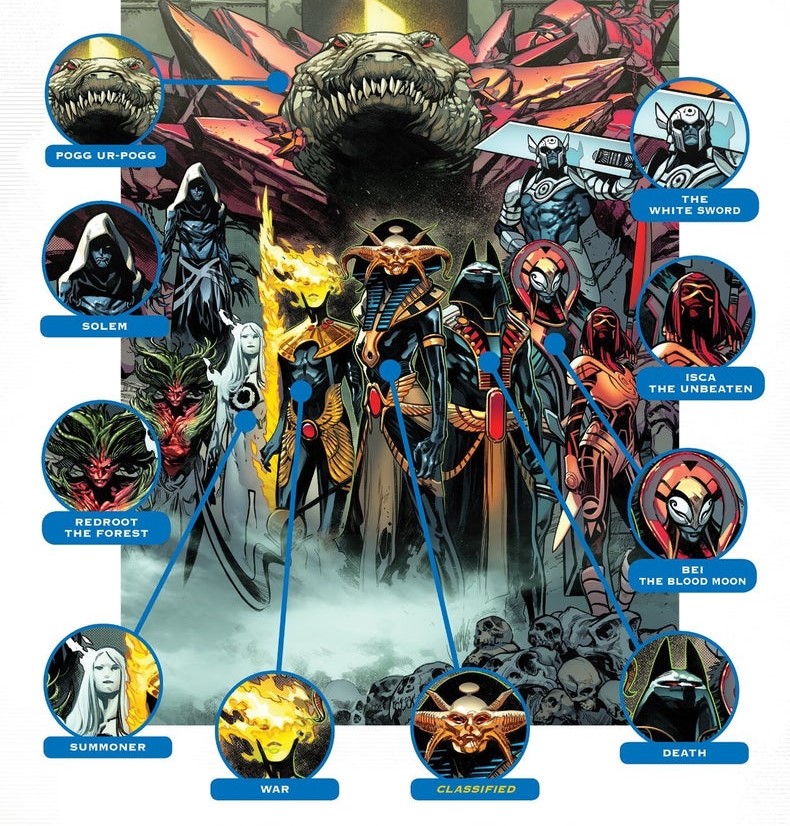 The Stormbearers of Arakko
Ok, so there are some pretty cool connections here, but a couple major questions remain. First let's back up a second to look at what we know about the Swordbearers of Arakko. The most relevant info to date is that the first Horsemen of Apocalypse are among the Swordbearers, and until we knew there were 10 Swordbearers, it was my understanding that Apocalypse was primarily planning a rescue mission solely for these four most favored. While it's not just this, a rescue mission for Apocalypse's first horsemen is what I've been predicting X of Swords would be about literally since it was announced.
Intriguingly, while War and Death are named among the Swordbearers, Pestilence and Famine are not. Bei The Blood Moon looks like the character *could be* one of the 4 based on the limited images we've seen of the group, but the horsemen with an eyeball head is nowhere to be found. Whatever the reason – they haven't survived the eternal war standing in the gap, the character designs have changed since launch, somebody told Hickman and company that Eye design was way too similar to Jason Aaron's love for Orb – we know the first horsemen are a part of this group, but most of the group (up to 80%) is from *somewhere else*. So if "Classified" is Ashake, it's likely she would know Apocalypse, but she is not necessarily one of his first horsemen.
For what it's worth, we first meet Ashake during an era of BC Ancient Egypt which doubles as the approximate timeframe of the "Rise of Apocalypse" in civilization. So I haven't seen any direct interaction, but it's not impossible that they could have met and established a relationship during this time period. My gut feeling, though, is that Ashake / "Classified" is not one of the first horsemen. Given her ties to magic and mystical dimensions – Ashake worships the Egyptian goddess Ma'at, also known as Oshtur, the mother of Agamotoo (of "eye of" fame) – it seems quite believable that Ashake's path would have taken her to the mystical realms beyond Otherworld that are converging upon everyone leading up to X of Swords.
It's also tantalizing to consider that while Ashake may not be a 'horsemen' she could fall into a "Mother Akkaba" role similar to what we see Moira inhabiting in her ninth life as revealed in the pages of Powers of X.
Tying it all back to the character's appearance on the Tarot '8 of Cups' tease in the FCBD special, the '8 of Cups' most common interpretation effectively boils down to a rousing rendtion of the Clash's "Should I Stay or Should I go?" She's been in limbo fighting for who knows how long, and now she has this choice.
Bonus Theory: X of Storms That May Yet Pass
A variation on the Ashake theory that I'm quite proud of is that the "Classified" lead swordbearer is in fact Storm, but from a different future. And this would be the sorceress Storm that Illyana thought she killed in Limbo during the Magik
four issue miniseries.
The story of Magick, Illyana Rasputin, is timey-wimey and complicated, and I've recapped elsewhere on Krakin' Krakoa, but the general idea is that a version of the X-Men that traveled to the realm of Limbo were stuck behind, including a version of Storm who grew older and became a fairly advanced sorceress. This Storm rescues Illyana from Belasco's hellish clutches for a time, and teaches her – or attempts to teach her – some of the magic she knows to try and help Illyana. Ultimately, Illyana is kinda forced to kill Storm in order to prevent her soul from being taken by the Elder Gods.
BUT – Limbo is timey-wimey as hell, and it would be more than possible to bring Limbo-Storm back through magic-time shenanigans. This actually feels like a best of both worlds outcome because it ties in Limbo, Illyana, and Storm heavily to X of Swords. All of which, of course, helps pave the way to a good ol' Inferno 2.0 event coming in 2021.