The Jonathan Hickman led era of Marvel's X-Men began in July 2019, and continued through the end of March 2020 prior to all of comics – and in many ways, all of the world – being put on hold due to the COVID-19 pandemic.
With the return of X-Men comics imminent – Marauders #10 is scheduled for publication on May 27, 2020, followed by Excalibur and New Mutants #10 on June 10, 2020 – it's a good time to look back on what's happened in this new era of X-Men comics so far, and to refresh our memories on where the World of X stands heading into the hopefully glorious return of comics.
Podcast: Play in new window | Download
Today I'll Answer:
Support For Comic Book Herald:
Comic Book Herald is reader-supported. When you buy through links on our site, we may earn a qualifying affiliate commission.
Comic Book Herald's reading orders and guides are also made possible by reader support on Patreon, and generous reader donations.
Any size contribution will help keep CBH alive and full of new comics guides and content. Support CBH on Patreon for exclusive rewards, or Donate here! Thank you for reading!
What's the big picture in the X-Universe that you need to know heading back into X-Men comics?
What's the story so far in the ongoing comics?
What are the biggest lingering threads in the Dawn of X?
Potential spoilers for ALL OF THE DAWN OF X may follow!
Related Reading Orders:
All Comic Book Herald X-Men videos
THE BIG PICTURE
In the aftermath of House of X / Powers of X
, Marvel's mutants (nearly all of them!) now inhabit the independent, sovereign nation of Krakoa. While there have been plenty of threats to the nation including the infiltration and assassination of Professor X, and a full-scale Brood invasion, Krakoa and mutantkind still stand tall.
Behind the secret plotting of Charles Xavier, Magneto, and Moira MacTaggart, with a leadership council that includes Jean Grey, Storm, Nightcrawler, Apocalypse & Mister Sinister among others, mutant pharmaceuticals have established global financial dominance, and mutant resurrection protocols have ensured at least the appearance of immortality for mutantkind. There are still many threats, but there's also more reason to celebrate than mutants have seen in their lives.
Crucially, while mutants have had sanctuary before – they've even had islands before – they've never been quite so tentatively unified. Traditional "hero" and "villain" archetypes have largely fallen to the wayside on Krakoa, as frequently embodied by the central role Apocalypse plays in the nation's government and course. The same can undoubtedly be said for Mister Sinister and Exodus.
Likewise, mutantkind is led from the shadows by the lifetimes of experience the artist formerly known as human ally Moira MacTaggert brings to the nation. In House of X #2 it's revealed that Moira's secret mutant ability is reincarnating across lifelines with all memories of previous lifelines in tact, giving her unprecedented tactical advantages preparing mutantkind for man-machine dangers that threaten to wipe them out. So yes, there are enough significant differences to Krakoa that it doesn't feel exactly like a return to Genosha, Utopia, or Xanadu for the X-Men.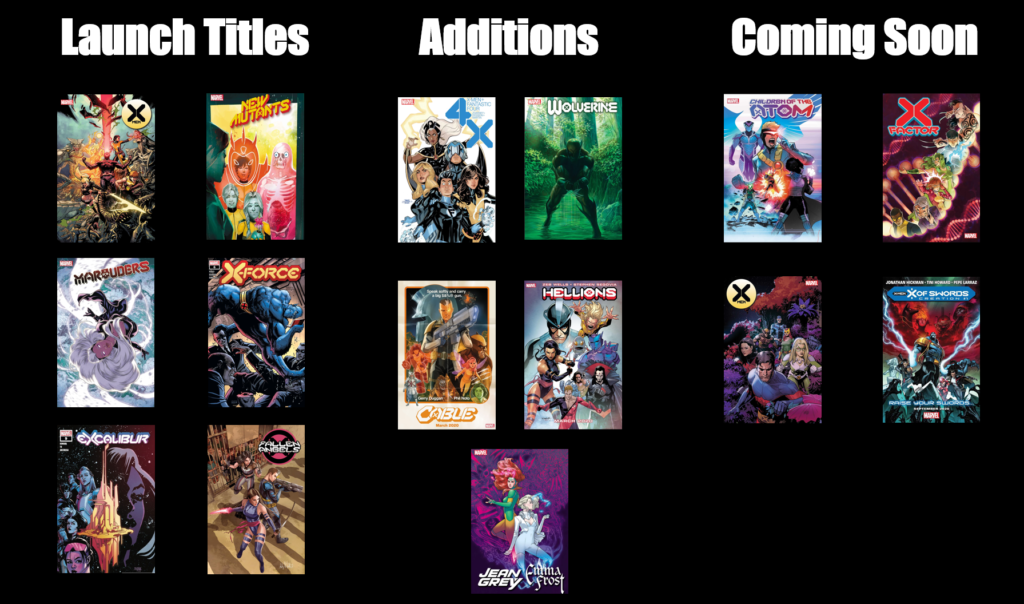 The Dawn of X Titles
Launch Titles

X-Men
New Mutants
Marauders
X-Force
Excalibur
Fallen Angels
Additions:
X-Men/Fantastic Four (Miniseries)
Wolverine
Cable
Hellions
Giant-Size
Coming Soon:
Children of the Atom
X-Factor
Empyre: X-Men
X of Swords
The Story So Far – X-Force
The single biggest "death" in the Dawn of X came in X-Force #1, by Ben Percy and Joshua Cassarra, when human terrorists tortured Domino and used her mutant DNA as skin grafts to infiltrate Krakoa and assassinate Professor X. Predictably, he got better, but the impact led to the re-formation of the black ops X-Force unit of Wolverine, Domino, Quentin Quire, Beast, Jean Grey, Sage, Black Tom Cassidy, and in a clutch cameo role, Forge.
The Hanging Thread:
While the team has had their hands full with the rise of mutant-hating group XENO, and the expanding moral vacuum inside an increasingly arrogant Hank McCoy, the biggest lingering thread to look for when the series comes back is who's the mysterious traitor on Krakoa?
It's been some time, but way back in X-Force #3, a shadowy hand snuffed the life out of the remaining XENO terrorist mutants had taken prisoner in the hopes of obtaining information about the organization. There's a traitorous presence on Krakoa waiting in the wings, and it remains a huge threat to mutantkind.
The Story So Far – Marauders
While I was skeptical of the title at launch, Gerry Duggan and Matteo Lolli's work on Marauders (with gorgeous series covers by Russell Dautermann and Matt Wilson), is a pitch perfect blend of high-octane pirating and Hellfire Trading Company power plays. The White Queen, Emma Frost, Black King, Sebastian Shaw, and all-new Red King, Kate Pryde, form alliances and internal competition throughout the work, all plotting to their ends, and all threatened by the rise of the former Kid Hellfire Club from the pages of Jason Aaron's Wolverine & The X-Men, now calling themselves Hominus Verendi.
The Hanging Thread:
All this in-fighting escalates when Sebastian Shaw stages the assassination of Kate Pryde at sea. The mystery of Kate's inability to use Krakoan gates has been one of Marauders greatest mysteries, and this is now coupled with the Five's strange struggle to resurrect the good captain Kate. Theories here abound from "Kate's not actually a mutant," to "Well, technically she might be an off-shoot of mutants that we don't really understand yet…" but either way it's the biggest question Marauders can answer upon the return.
While the 5 and out unintentional mini has its fan, I'm on record as loathing Fallen Angels. It's the book that most passionately failed to live up to the hype of Dawn of X, and stranger still, the rest of the X-Men titles seem to agree. The inclusion of Kwannon (Psylocke), Cable, Laura Kinney, and Mister Sinister in this title is almost immediately undone by the use of those same characters in X-Men, Cable, and Hellions respectively (Hellions first issue at least seems to acknowledge that Fallen Angels happened, which is a testament to ongoing relevance).
The Hanging Thread:
Who let this happen? I'm being facetious, but I'm truly curious what the plan was for this title, and why it so rapidly didn't fit within the Dawn of X. Did the X-team forget to invite writer Bryan Edward Hill to the X-Slack? It's bizarre how out of synch this comic is with the direction of literally everything else in Marvel's X-Universe.
The Story So Far – Excalibur
I've been critical of the launch of Excalibur by Tini Howard and Marcus To, but it's not for lack of trying or relevance to the X-Men's big picture. Indeed, Excalibur remains one of the core titles as the X-lineup heads towards its first major event, with Tini Howard co-writing X of Swords with Jonathan Hickman. As a result, I'm deeply curious about Betsy Braddock's status as the new Captain Britain, and of course all Apocalypse's machinations in Otherworld, where he's set up omega-level reality warping Jamie Braddock as the mystical realm's new king (pour one out for the deposed Morgana Le Fay).
The Hanging Thread:
What is Apocalypse planning and why does he need Otherworld? Likewise, Excalibur's recent events have brought Apocalypse into conflict with Saturnyne and the powers of the Omniverse – how deep into Marvel's multiverse do Apocalypse's plans for mutantkind extend? All signs point to these questions being explored thoroughly in X of Swords, and I can't wait.
First off, I lump New Mutants and X-Men together because for the Jonathan Hickman and Rod Reis issues of New Mutants starring the original kiddos (1-2, 5 & 7), the series is essentially building to the events of X-Men #8. As a result, I'm still waiting for Ed Brisson, Flaviano and the creative team to settle into their story, and I look forward to that as New Mutants continues.
On the X-Men front, Hickman, Leinil Francis Yu, and Mahmud Asrar's first nine issues have been somewhat divisive both in reception and structural approach. The storylines are all over the map (X-Men #8 and #9 are the first back-to-back issues in the run that continue the same story!), and they vary from exceedingly instructive to the post House / Powers X-Men landscape to shockingly focused on elder comedy (Hordeculture stans, stand up!). Nonetheless, when you add it all up, Hickman and company are quickly tackling a huge array of fascinating subjects including:
-The Children of the Vault as the X-Men's primary nemesis
-Arakko (Krakoa's other half) and the mysterious Summoners (going to play a role in X of Swords)
-Mystique's desire to resurrect Destiny, and Orchis' continued development of a Nimrod
-Krakoa's Crucible and mutant's plan to restore their numbers, plus glimpses into life on the new island
-A new status quo with longtime alien enemy the Brood
The Hanging Thread:
As a result of the fractured approach to X-Men, there are plenty of intentional hanging threads that mostly tie into the same questions readers had coming out of House / Powers. Here are the first five that come to mind based on the issues so far:
Ok seriously, when and how are Hordeculture coming back? What's the bigger play? And will X-Men feel uncustomarily like Nextwave every time they show up?
In X-Men #5, Laura Kinney, Synch, and Darwin all entered the Vault on a mission to uncover their secrets and diminish the threat to mutants. Within the Vault they will all age at an exponentially rapid rate. When will they return and what secrets will they uncover?
What's up with Doug Ramsey and Warlock? Doug's been walking around with a Warlock arm, yet somehow keeping Warlock's separate status secret (I guess) until Illyana saw them together in Giant Size Nightcrawler. Why is this a secret? What are they planning?
What's up with Gabriel Summers and his visions of a near-death experience inside the Fault at the end of Marvel's War of Kings event? Is Gabe our first example of a resurrected mutant with a still living copy out in the universe? For more theories here, I recommend Krakin' Krakoa #44 where I go deep on the topic.
Biggest of all… what's up with Moira X?
We're 75% through the four issue X-Men/Fantastic Four mini, and it's the X-Universe's most significant taste of the broader Marvel Universe players to date. The conflict is centered around Franklin Richards status as an omega level mutant, and whether he should choose to stay with his human Fantastic family, or join life on Krakoa among his fellow mutants. Naturally, Franklin, Valeria and a pre-Marauders assassinations Kate Pryde turn to, uh, Doctor Doom for help?
The Hanging Thread:
Will Franklin Richards wind up on Krakoa? In the same vein, what does his presence and the collection of his DNA mean for Professor X and Mister Sinister's plan for omega level mutants. We've seen Mister Sinister ogling Franklin's DNA in the pages of Marvel Comics Incoming #1, and we know from House of X #1 that Omega Level mutants are considered Krakoa's greatest resource. My theories here are that this ties to Sinister's plans for a Chimera army (and likely the Professor's plans that he can control said Sinister Army) but we don't yet know for sure.
Two issues of the Hickman written Giant-Size series are available, the first a Jean Grey / Emma Frost ode to New Mutants #121 silent issue with art by Russell Dautermann and Matt Wilson, and the second a stealth Doug Ramsey solo about a haunted X-Mansion with art by Alan Davis. While the connective tissue is not instantly apparent, the series has so far worked in two hive-mind threats to mutants – the return of the Children of the Vault and their infection of Storm, and the X-history deep cut pull of the Sidri.
The Hanging Thread:
How will Storm escape the Children of the Vault's trap, and how will Hickman bring all these stories together? We know Magneto, Fantomex, and Storm one-shots are to follow, and my hope is both Magneto and Fantomex bring in 2 more hive-mind based species or threats, before finding a way for Storm to save herself. Have to acknowledge that our first Dawn of X glimpse into Fantomex – last seen giving up his body to Professor X, and no I will not rephrase that – is full of potential as well.
The Story So Far – Hellions
In their opening issue, Zeb Wells and Stephen Segovia craft a vision of the X-Men's Suicide Squad, the all-new Hellions at the command of Mister Sinister (and the return of Psylocke).
The Hanging Thread:
What's Madelyne Pryor planning and how might it invite in an Inferno 2.0? Just as importantly, will we finally get the long-awaited issue entirely from the perspective of Madylene Pryor's sentient underboob? Only time will tell.
The Story So Far – Cable
Gerry Duggan and Phil Noto's Cable #1 was a loaded opening shot, full of X of Swords connections, the Galadorian spaceknights, and a fantastic tease of everybody's favorite Old Man Cable. Basically, Cable finds a GIANT ASS SWORD in the foot of an Arakko monster, and the sword used to belong to Rom's boys, the Galadorian Spaceknights.
The Hanging Thread:
There's obviously plenty still to come, but most pressing to me is where is Old Man Cable trapped? All appearances indicate he's in the same hellish dimension as Apocalypse's first horsemen, which certainly gives off very strong Limbo vibes, connecting back to where so many of the X-books appear to be heading!
The Story So Far – Marvel Universe
There have been various references to Krakoa and the X-Men's new status quo in Marvel Comics including Black Cat, Valkyrie, The Unbelievable Gwenpool Strikes Back, and a Weapon Plus one-shot. Linewide, though, Krakoa is still kind of under the radar, and far from thoroughly integrated into the status quo of the Marvel U.
The Hanging Thread:
That could all change in the coming months with the Avengers #32 reveal that Namor has plans for the Phoenix. What's Namor doing with that Phoenix in Avengers? As Avengers vs. X-Men readers remember, it's certainly not the first time Namor's flirted with the power of the Phoenix, and last time he had it, he laid waste to Wakanda. Plus, Hickman teased Namor's refusal of Professor X's invitation to Krakoa already, setting the stage for greater plans for the increasingly villainous ruler of the deep. Namor's sights are currently set on the Avengers, but with the Phoenix in play, it's only a matter of time before the X-Men come calling.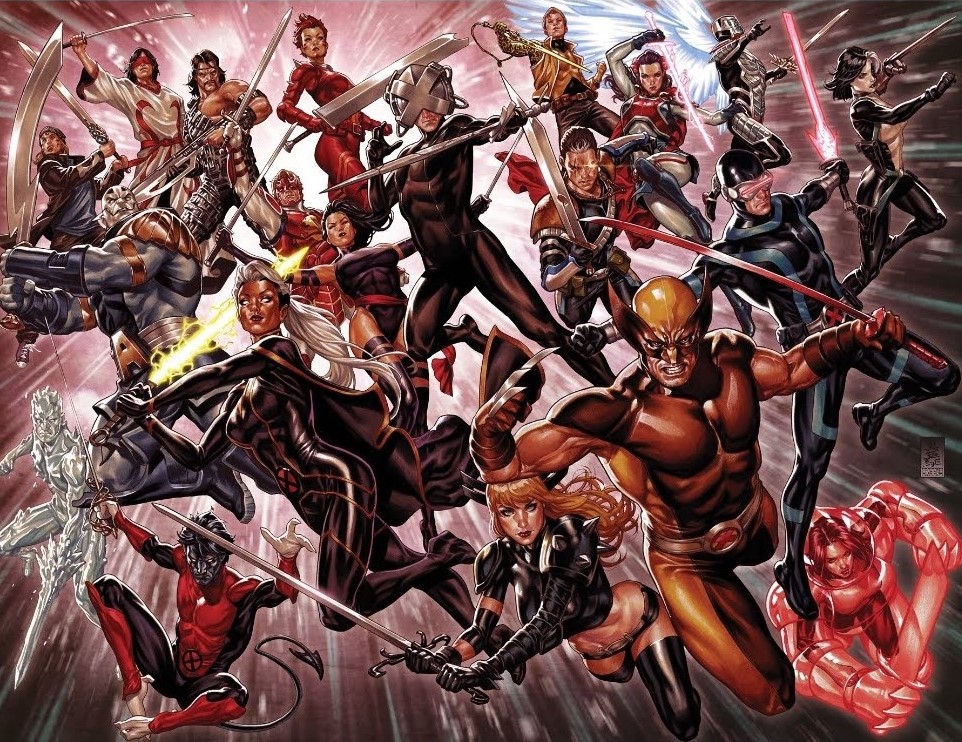 BIG PICTURE – Where are we going?
The march towards the X of Swords crossover event is in full swing. X of Swords: Creation #1 is scheduled to kick things off in September 2020, written by Jonathan Hickman and Tini Howard with art by Pepe Larraz.
As a side note, the story was supposed to begin in May with Free Comic Book Day. It's *Possible* the FCBD X-Men story will get released prior to "Creation," but if not, I haven't been able to find any confirmation of how Marvel would proceed with that piece of the story. If they're smart, they'll release it for free anyway (good will, great PR, and a good hype machine for the crossover), but I'm not holding my breath.
I've shared my X of Swords theories in detail immediately following the event's announcement at 2020's impossible con, C2e2, but I'll just reiterate that every new piece of info unveiled since the teaser art supports my predictions.
I anticipate X of Swords will focus on Apocalypse's attempted retrieval of his first horsemen from the demon-infested realms of Limbo, and the promo art includes the first horsemen hovering in the clouds above Apocalypse, a Summoner, Cable, Rachel Summers, Beast, and Monet. I have very high hopes for this event, and look forward to it answering questions about Apocalypse's motives, the nature of Arakko and Krakoa, and the mysterious Summoners.
So, what major questions do you want to see X-Men comics begin to answer when they return? Let me hear 'em in the comments.
——————————————————————————————————-
Music for Best Comics Ever by Anthony Weis. Check out more music at anthonyweis.com.
To learn how you can support Best Comics Ever and receive more exclusive content from Comic Book Herald, check out the Patreon: https://www.patreon.com/comicbookherald
For the Comic Book Herald reading club through every year of Marvel Comics, check out mymarvelousyear.com