In between the end of Marvel's 2019 Uncanny X-Men #22 and the start of the Jonathan Hickman led era with House of X #1, there's an in-universe time jump forward of 6 months. Over the course of House of X and the Dawn of X we've seen a smattering of flashbacks filling in details from this time period, but many questions remain, the biggest of course being: Just what exactly happened during these 6 months that we haven't seen yet?
Today I'll Answer:
What's the Age of X-Man mystery that still matters for Hickman's X-Men?
How did Professor X get from Astonishing X-Men to House of X?
What's the Legacy and relevance of the Matthew Rosenberg written Uncanny X-Men?
Podcast: Play in new window | Download
Spoilers for discussed comics may follow!
Support For Comic Book Herald:
Comic Book Herald is reader-supported. When you buy through links on our site, we may earn a qualifying affiliate commission.
Comic Book Herald's reading orders and guides are also made possible by reader support on Patreon, and generous reader donations.
Any size contribution will help keep CBH alive and full of new comics guides and content. Support CBH on Patreon for exclusive rewards, or Donate here! Thank you for reading!
Related Reading Orders:
While House of X and Powers of X do sparingly reveal essential details – examples include Emma Frost's recruitment and Hellfire Company, Professor X's financial portfolio and pharmaceutical reach, and that time Professor X and Magneto took a vacay to Bar Sinister – there's still plenty we haven't seen, and a fair amount of mystery generated by that fact.
Certainly, I don't have secret answers to the exact details, but what I can do is lay out the questions and hanging threads that exist, examine what we do know to be true, and then engage in reckless and unsound speculation about what's to come in the world of X-Men!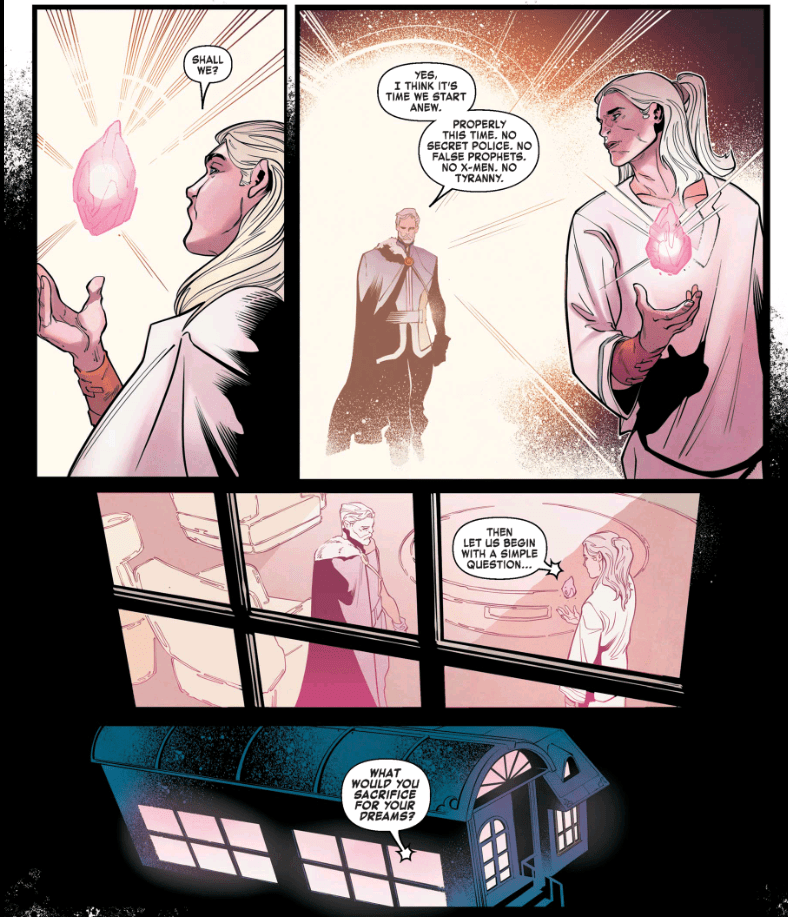 General consensus around Age of X-Man is that it's a stopgap event in the X-line holding down the publication calendar until Hickman, Larraz, and Silva kicked off House and Powers. Whereas Marvel comics payoff to read in sequence as part of this neverending shared universe story, most readers would pretty confidently say you don't need to read Age of X-Man to get to House of X.
I'd mostly agree, save the potential and implications of the event's conclusion. Spilling out of the pages of the comically short-lived 2018 Uncanny X-Men relaunch, Age of X-Man is the story of an attempted mutant utopia created by Nate Grey, codename X-Man, the alternate reality Cable from the Age of Apocalypse timeline. Nate warps like 99% of mutants to this world where mutants have ascended to generally peaceful power – the Marvelous X-Men function more or less as the world's Avengers – although inevitably it all comes undone when the X-Men's memories start returning and its revealed that Nate's using secret police to enforce his rule (classic, alternate Marvel reality shenanigans really). If you really want to experience this event, I'd recommend checking out the alpha and omega issues, and the Leah Williams written X-Tremists
.
There are a few interesting components to the world's collapse. The first is in the semantics of Nate's creation, as he tells the X-Men his world isn't merely some alternate reality, but instead another plane of existence. You could argue this is just comic book mumbo-jumbo (the best side of Mumbo-Jumbo this side of Banjo-Kazooie), but it's exactly the sort of thing that takes on new meaning in the wake of House of X #2 and the lifelines of Moira X.
One question I've wondered is how to define the lifelines of Moira. Are they alternate realities? Are they futures that may yet come to pass? Nate's Age of X-Man offers another alternative, "planes of existence," perhaps more in line with Doctor Strange's "separate realities" than the X-Men customarily deal with.
The most ominous teaser from Age of X-Man comes in the Omega issue's final pages, with Magneto and Nate coming to a secret agreement to keep the plane of existence alive, and to somehow separate Magneto into two versions (he returns to Earth-616 in time for House of X monologs, but also retains an Age of X-Man version). Nate asks Magneto "what are you willing to sacrifice?" and the scene ends: Everything is House of X.
Admittedly, this could do down as one of the many forgotten teases in Marvel history, but it actually seems a bit unlikely to me. The arrival of Hickman's X-Men aws well known within Marvel editorial for years, and writers Zac Thompson and Lonnie Nadler would have had at least some awareness. So the question of course, is what are they planning?
Some CBH commenters have posited that this ties Nate and AoX Magneto to the rise of Krakoa. To me, though, the question of Magneto's sacrifice would mean either the death of his dream of mutant superiority, or removing the gifts that make him special. On the surface, Krakoa kind of requires some sacrifice from Magneto – he has to play along with Charles and Moira rather than build to his Magneto War and violent mutant supremacy – but dig deeper and it's really just the methods that have changed, not the means.
In X-Men #4, we see Magneto admitting exactly this. So if Krakoa is a sacrifice for Magneto, there has to be another shoe to drop. I have two theories here:
Moira's dark scheme to blend all mutants together to rival post-human developments. Would Magneto sacrifice his "Self" so that mutantkind "wins"?
A Krakoa that evolves into a Top 10 style everyone's-a-mutant world. We've already seen in X-Men #7 the idea of mutants asking to be resurrected with Magneto's omega level powerset. What if this comes to fruition? What does that make of the true Master of Magnetism?
I don't think it's inconceivable, then, that the teaser does suggest some Age of X-Man influence in the rise of Krakoa. The other option, though, is that their story is yet to be told, and we'll be seeing more of Nate and AoX Magneto in a future storyline.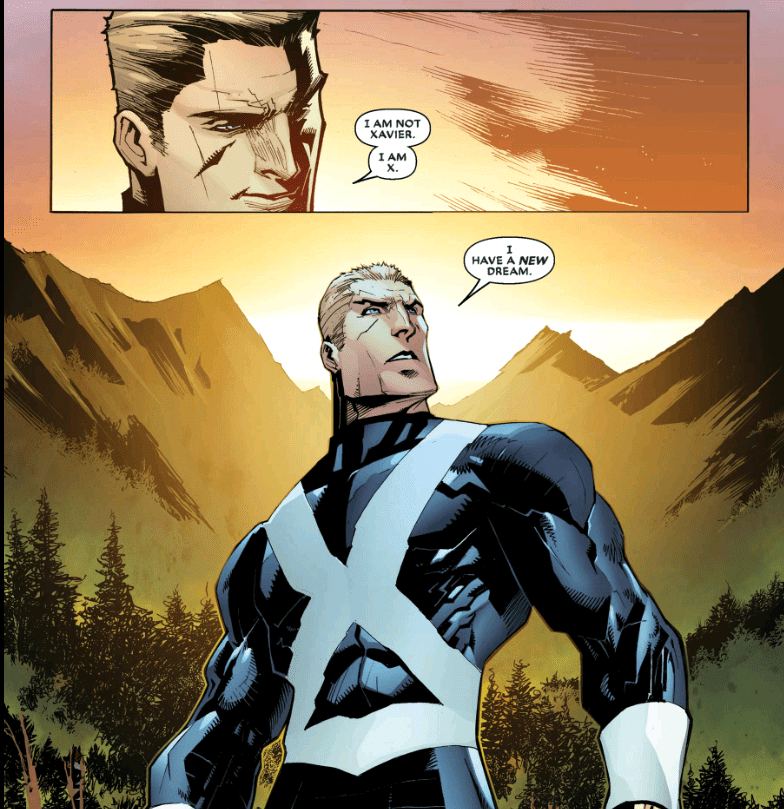 One of the most discussed "unseen changes" in House of X is the return of Professor X to his own body (or at least… a version) after kinda bizarrely inhabiting the body of Fantomex during the Charles Soule written run of Astonishing X-Men. While the "how" is explained via Krakoan resurrection protocols, the specifics remain left to the imagination. There's also the question of the impact the events of Astonishing X-Men has on the Professor.
I could very easily see an all flashback, all Xavier issue of X-Men in the future (and I very much look forward to it!), but until then, this is what we know. Following his death by a Phoenix-possessed Cyclops in Avengers vs. X-Men
, Charles Xavier's psychic essence was imprisoned in the Astral Plane by longtime nemesis the Shadow King. In a wild twist of Krakoa era X-relevance, Proteus was also under the thumb of the Shadow King on the astral plane during this time.
Long story short, the Professor merges his consciousness into Fantomex's body to escape, and starts boldly going by X and striking Captain America poses. The simplest resolution to get from Astonishing X-Men #12 to House of X #1 then is via Krakoa resurrection protocols. Right? Charlie move his consciousness from Fantomex's body to a husk of one of his own (a walking model selected, with the tint on the bodysuit).
Except… there are a lot of questions that come along with this. The biggest one is actually directly tied to the Astonishing X-Men run – after his escape from Shadow King's realm, Proteus enacts his own typical conquest plot, is disrupted by the X-Men, and his energy straight shot into space. Why does this matter? Well, Proteus as part of the 5, Proteus is essential to the resurrection process. So, assuming he wasn't killed in Astonishing X-Men #11 (resurrecting Proteus, as a member of the 5, feels way too chicken or the egg), his recovery becomes an essential part of the lost "Man Called X" months. Before Professor X could launch Krakoa with resurrection in tact, he had to save Proteus.
Let's say he manages this, and corrals Krakoa and the 5 together, alongside Moira and Magneto. At some point in this process X either dies – forcing a resurrection – or the Professor opts-in for a test run "resurrecting" himself into his traditional body (perhaps with Sinister amplifications?). This definitely violates a number of resurrection rules (the mutant's death has to be confirmed, or they have to "earn" death via the Crucible), but this is early days trial runs, and the Professor is clearly above these rules as he installs the process. There's even the possibility here that he somehow saves the Fantomex "husk" to put the Grant Morrison creation back in his original body, but I'm not sure that would be altogether necessary.
A major question I have through all this, though, is the presence of the Shadow King. Throughout Astonishing X-Men he continually takes a hold of Professor X's thoughts, to the point that the Prof enlists the future Captain Britain, Betsy Braddock, as the only X-Men member who can keep an eye on the Man Called X until he reannounces his presence (presumably as Krakoa is being established). The Shadow King is apparently defeated at the end of Soule's run, but that's kind of his thing! He hides, lies in wait, and strikes. He could very much still be influencing Professor X's actions. Until his whereabouts are known, this can't be ruled out.
Another choice, is the Amal Farouk is in fact dead, and Professor X and company are faced with the decision whether or not to resurrect the Shadow King. This is a fascinating resurrection question to me because Shadow King is the Professor's longest running nemesis. There are at least two council members – Professor and Storm – who certainly have reason to want him nowhere near Krakoa. Farouk puts the "everyone together" dream to the test – and we haven't yet seen reason to believe he's not on the triumvirates secret black list alongside Destiny.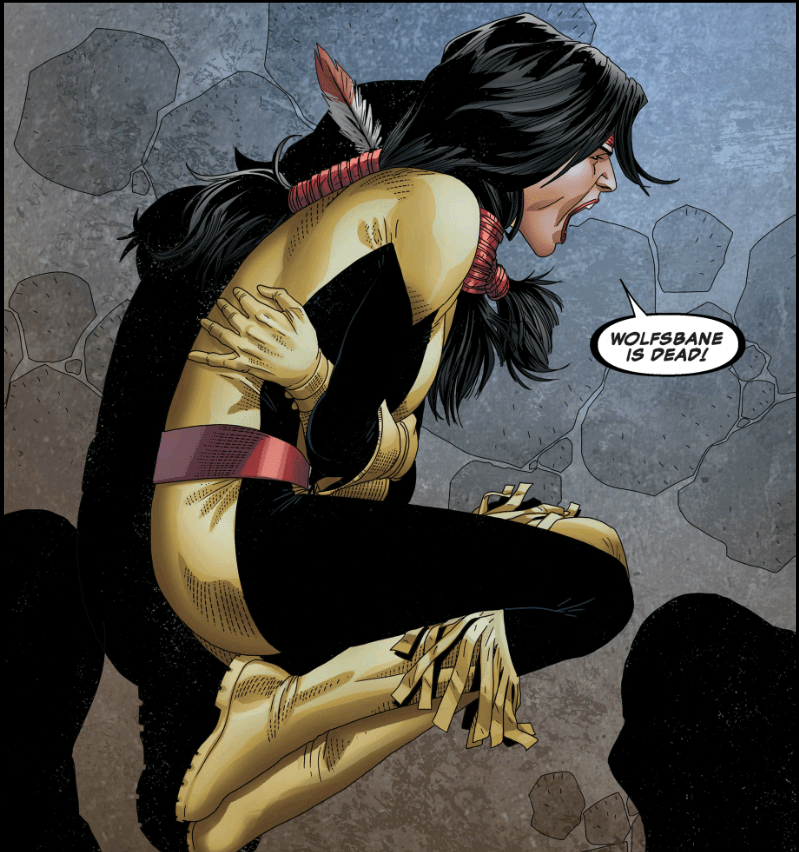 The first 10 issues of 2018's Uncanny X-Men were released weekly, as part of a much ballyhooed (by Marvel PR) "Disassembled" event, that of course all built to most mutants being pulled into the Age of X-Man. The remaining mutants, led by Cyclops and Wolverine reconciling some differences, were left to fend for themselves under the pen of writer Matthew Rosenberg from Uncanny X-Men #11 through Uncanny X-Men #22.
Any conversation I have about this time period has to begin with a caveat: The Matt Rosenberg and Tyler Boss graphic novel 4 Kids Walk Into A Bank
is one of my favorite comics of all time. It's just outside my top 50 right now, and I could easily see it moving up. I also find Rosenbergs previous X-line work compelling, if middling.
I feel compelled to state that up front because Uncanny X-Men by Rosenberg is very, very bad.  It's a sadistic nightmare poem written in the key of pain. It's depressingly bad and badly depressing. Re-reading the comics was a tremendous reminder why House of X and the Hickman era was so desperately needed for Marvel's X-Men.
Like Age of X-Man (which, by contrast, I greatly prefer), you don't have to read Uncanny X-Men prior to House and Powers, nor would I recommend it. Still, because I care about all of you, I've done the difficult work of trudging through this empty vacuum of joylessness to figure out what parts of the state of the X-Men might actually help contextualize the 6 month time gap in the world of X.
This desolate era of Uncanny will be remembered – if it is remembered at all – for wanton, callous death, and that's definitely the easiest piece to resolve given Krakoa's resurrection protocols. The likes of Strong Guy, Blindfold, Wolfsbane, Havok, Madrox, and more all need to be resurrected following Uncanny X-Men, and with one notable exception, I believe we've seen them all in some capacity. It's not just the "good" X-Men who get offed during this run either, with shouts to the OG Marauders and the Nasty Boys.
Again, given the mystery of how resurrection actually impacts characters – in terms of power augmentation, possible personality changes, and in the example of Synch, residual trauma – all these characters are now included among those impacted. I find this particularly interesting for Havok, who in Hellions #1 expressed some lingering 2014 Axis inverted personality effects, which seem like a very strange thing to carry over via resurrection.
Most significantly, one of the earliest casualties of this run is Blindfold, who commits suicide after forseeing she "has no future." As Ruth puts it, "My gift is seeing the future. My curse is I no longer have one." To my mind, this has to be addressed. First off, other mutants on Krakoa should be asking why Ruth hasn't been resurrected (if that is in fact the case – strange as she can seem, this would stand out). Second, is her vision of no future (very Sex Pistols) seeing Moira's true plan? There's the self fulfilling prophecy aspect of this (Moira refuses her resurrection, so she doesn't have a future on Krakoa), but then there's also the long-term secret plan of Moira. Again, to keep in theme with Magneto's sacrifice, this could be something that requires mutants to literally merge together and lose their selves. It's also possible that Blindfold could see Moira's ultimate truth – mutants always lose – and sort of twist that into the darkness of "no future."
Speaking of resurrections, Uncanny X-Men does also leave us with the implication that some non-deceased characters underwent resurrections during the 6 month time gap. For starters, Cyclops lost an eye during UXM (during a comically hyperviolent sequence in which Hope shoots Cyclops in the head, uses Cyclops eyeblasts to roast Wolverine, tries to assassinate a Politician, and then gets sliced and diced by Well-Done-Wolvy), but when we see him in House of X, he appears patchless. Same goes for the modern-do and Suicide Squad scar Emma Frost sports by series end.
Now, since both of these things are cosmetic, and we're operating in a universe where Forge is like 60% manufactured limbs, it wouldn't have to be resurrection that fixed these things. But it could be, and combined with other character transformations, I'm certainly willing to believe the end of House of X #4 and #5 isn't the first resurrection for some of these players.
Take Jean Grey for instance. Her return in the Tom Taylor / Mahmud Asrar X-Men Red
is very much about the power of empathy in a world of hate and division, with Jean stating "No humans and mutants. No us and them. Just 'us'" It's a beautiful sentiment, and one that's hard to reconcile with that same strong person turning around shortly thereafter and joining an all-mutant island. Forget whether or not the aims of Krakoa are right for mutants, and consider only whether they map to the motivations Jean had only recently expressed. You could make a strong case that they do not, and wonder whether Jean was backed up to a pre-Phoenix version of herself more susceptible to the Krakoan council's manipulations.
If that's the case, and they have undergone resurrection, it raises plenty of questions about what happened during the 6 month time gap that led to the need for resurrection, as well as some pretty sinister theories about Professor X's role in the development of Krakoa. Over on Screenrant, former CBH writer Thomas Bacon theorizes the X-Men may have gone to war with Professor X when they realized his plan. The idea that they sensed the real truth of Krakoa, opposed the Professor, and were brought back in more controllable circumstances.
While I'm generally a little weary of "Professor X is the bad guy!" takes, this one has something to it. Again, Jean Grey's behavior in X-Men Red runs expressly counter to the stated aims of Krakoa. I remain skeptical of the heel turn by Charles Xavier. It simply feels too telegraphed to actually be part of the grand plan. But I won't pretend it's not a question worth asking.
A few other strange but intriguing threads from Uncanny:
Extending from the Rosenberg written New Mutants: Dead Souls
, the surviving New Mutants enter the run with Warlock spreading out his transmode virus across their team. Dark Beast "cures" them all of this, leaving some questions about the actual end state of Warlock.
A Madrox-Dupe hosting Warlock discovers the use of Warlock Sentinels in the X-Men's final confrontation in the run, which could imply making Warlock closer to whole, but I won't pretend to have a perfect read on this.
The next time we see Warlock, he's merged with Doug Ramsey (who was himself last seen in the pages of the Charles Soule written Daredevil literally unable to access the internet again without losing his sanity). Something happened in the 6 month gap to bring Doug and Warlock together, and this has been kept purposefully mysterious throughout the Dawn of X. I am very confident this is a story that will be told.
A final note from the run… Dark Beast plays an important role (at least until Illyana transports his head into a wall), which has me wondering about the status of alternate reality mutants on Krakoa (and in the resurrection protocols). Would someone like Dark Beast (from the Age of Apocalypse timeline) be welcome on Krakoa, or queued up for resurrection? If he's not, the same should apply to Nate Grey and a host of others, including all the omniversal shenanigans that accompany the Captain Britain Corps and the developments in the pages of Excalibur. Same goes for oddball clones like Miss Sinister or Joseph (aka 90's Magneto). What's their status on the isle of Krakoa? Here's to an upcoming Exiles book that doesn't exist yet to answer these questions and more!
Questions? Predictions?
What were Charles and Moira waiting for? Why go through the charade of decades of X-Men stories? And in Charlie's case, death after death?
Next Time – What would you like to see covered? I have the following topics queued up for coverage:
Omega Level mutants (plenty of votes)
The Indie Titles of Jonathan Hickman
The Retcon Problem – What Elements of X-Men History Are Hardest To Reconcile With Hickman's Vision?
——————————————————————————————————-
Music for Best Comics Ever by Anthony Weis. Check out more music at anthonyweis.com.
To learn how you can support Best Comics Ever and receive more exclusive content from Comic Book Herald, check out the Patreon: https://www.patreon.com/comicbookherald
For the Comic Book Herald reading club through every year of Marvel Comics, check out mymarvelousyear.com