The Zeb Wells written run on New Mutants (the 2009 to 2011 volume) is definitely an underrated gem of the era, bringing the Xavier School students of the 1980's Chris Claremont X-Men into the 2010's as fully formed young adults, graduating to X-Men status.
Through connections to X-Men history and lore, Wells and company weave in developments for Legion, Inferno, and the realm of Limbo, all concepts and characters that have plenty of resonance in the X-Men comics of 2020.
Today I'll Answer:
What makes Wells run on New Mutants special
How do the comics tie into the Dawn of X, especially the Wells written Hellions
How the conclusion of the run ties into a wild theory I have about the threat of a demonic cosmic Hell facing mutantkind!
Podcast: Play in new window | Download
Support For Comic Book Herald:
Comic Book Herald is reader-supported. When you buy through links on our site, we may earn a qualifying affiliate commission.
Comic Book Herald's reading orders and guides are also made possible by reader support on Patreon, and generous reader donations.
Any size contribution will help keep CBH alive and full of new comics guides and content. Support CBH on Patreon for exclusive rewards, or Donate here! Thank you for reading!
Spoilers for discussed comics may follow!
Related Reading Orders:
Covering issues #1 to #11, #13 to #21, with a gamut of artists including Leonard Kirk, Paul Davidson, Diogensis Neves, and some excellent Adam Kubert covers, the 2009 New Mutants launches at the tail end of Marvel's "Dark Reign" and the X-Men's "Utopia" era, tying into Necrosha and Second Coming throughout the run. Importantly, New Mutants by Wells returns to the classic roster established during the Claremont, Louise Simonson, Bill Sienkiewicz, Bob McLeod, and Art Adams heyday (among many other creators!). The players are: Cannonball, Sunspot, Mirage, Karma, Wolfsbane, Magick, Warlock, and Cypher. Overall, Wells' run is about the team growing up, finally making that true transition from New Mutants to X-Men.
For my money, it's not quite as strong as the Mike Carey X-Men run I just covered on Krakin' Krakoa, but it's well worth a read, especially if you're familiar with the original volume of New Mutants and the 1989 "Inferno" event crossover. Likewise, given Wells' continued interest in "Inferno" era threads in the Dawn of X's Hellions #1, it's fun to connect the dots.
The run opens with an engrossing "Return of Legion" story, although even here it's important to note seeds are building to the "Fall and Rise of the New Mutants" story arc which concludes the run. Legion re-emerges with Shan trapped in his mind with rampaging personalities who don't want the New Mutant "fixers" to bottle them up again.
The use of Legion's "Jack Wayne' personality – the gruff, dirtbag man's man – and his fixation on Warlock, Doug, Rahne and Dani is a nice callback to Claremont and Sienkiewicz's debut of Legion in New Mutants #26 to #28. Essentially, the number of personalities vying for dominance in David Haller's psyche has now increased legionfold, a development that would continue into the pages of X-Men Legacy under both the pen of Mike Carey and Si Spurrier.
Nonetheless, the seasoned New Mutants do find a way to defeat the omega level Legion – a fact Bobby is all to happy to announce to Rogue, repeatedly, in the hopes of impressing her – with Illyana Rasputin's soulsword dealing decapitating desecration to David Haller's mind, and the team ultimately subduing him enough to bring him back to Utopia.
It's a little detail with surprising significance in the Dawn of X, but I'll also note that the doll in Legion's mind that allows personalities access to the "real world" is named "Moira." Legion's connection to Moira X will of course resurface in the upcoming Age of X crossover as discussed in the recent Mike Carey X-Men dive, and I continue to think it will be meaningful in the Krakoa era of X-Men. Again, at this point, if I met someone named Moira in real life, I'd assume they knew what was to come in the Dawn of X, and restraining orders would assuredly follow.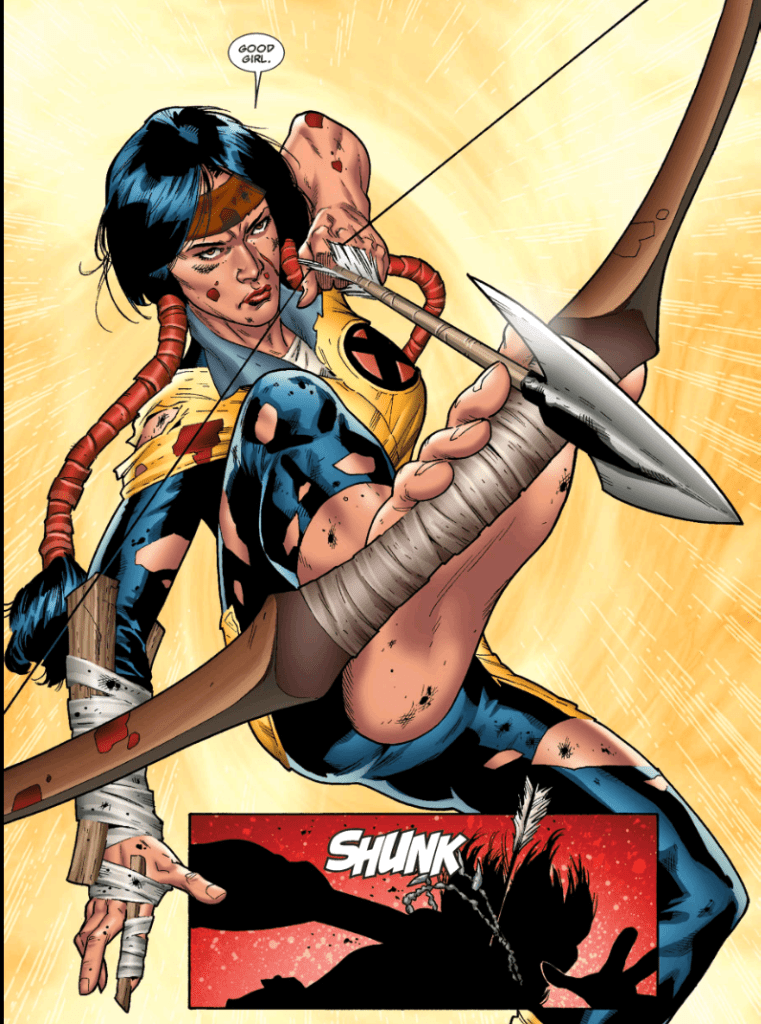 Although the core cast all mostly get their time in the sun (Warlock is probably the most underserved, but isn't that always the case?), Wells centers his run on Illyana Rasputin, Sam Guthrie, and perhaps most surprisingly, a depowered via Decimation Dani Moonstar. Mirage is cool as hell throughout this run, tough as nails and chomping at the bit for action among her teammates even without her mutant abilities. Of course, her lack of mutant powers leads her to turn to Hela – yes, Thor's Hela – to restore a version of her Valkyrie abilities, leading to a really great Siege tie-in written by Kieron Gillen where Dani is the Valkyrie of Death
In addition to a good comic, New Mutants #11 has some nice X of Swords tie-in potential, with Dani wielding a magic Death-Valkyrie blade. If for no other reason, I hope Dani has a major role so I can utter the phrase "Death Valkyrie Blade" again and again. And no, Hela residing in Las Vegas' "Club Inferno" did not escape my notice.
Much like X-Men: Legacy
, Wells own vision for New Mutants is notably interrupted during Second Coming, when the title simply functions as the next chapter in that (quite good) mega crossover event. Wells has an easier time making the Necrosha tie-in issues his own, employing some truly exciting interpretations of the resurrected Doug Ramsey's powerset, such as Doug's ability to interpret body language to reveal his former teammate's true meaning in a conversation with Professor X, or his developing battle prowess as he learns the "language of violence."
Necrosha also affords Wells the opportunity to write the resurrected original Hellions, a small bit of trivia as Wells and Segovia's Dawn of X Hellions launches. They're essentially just Selene's pawns trying to return Doug Ramsey to their master, but nonetheless, Hellions they be!
A final observation before the real meat of the story –
There's a standalone issue in between crossovers and tie-ins, New Mutants #10, in which Scott Summers reveals to Emma Frost that he's seeking the next New Mutant leader. It's a very good single issue, with the assumption that Sam Guthrie and all his X-Force training makes the "right" next leader, clearly inverted when Dani Moonstar and Shan clearly lead the team's victory.
Here's the question: Is this even relevant in the Krakoa era? Do people still age and die? Or do they just resurrect in younger bodies? I hadn't really paused to consider before since the ongoing concern is the unnatural end of mutant lives, but I really don't know the answer. The primary evidence I've seen so far would be Wolverine aging throughout Moira's lifelines in Powers of X, but those are situations where Krakoa has been decimated, and again, we don't actually know that resurrection protocols were in place in those lifelines.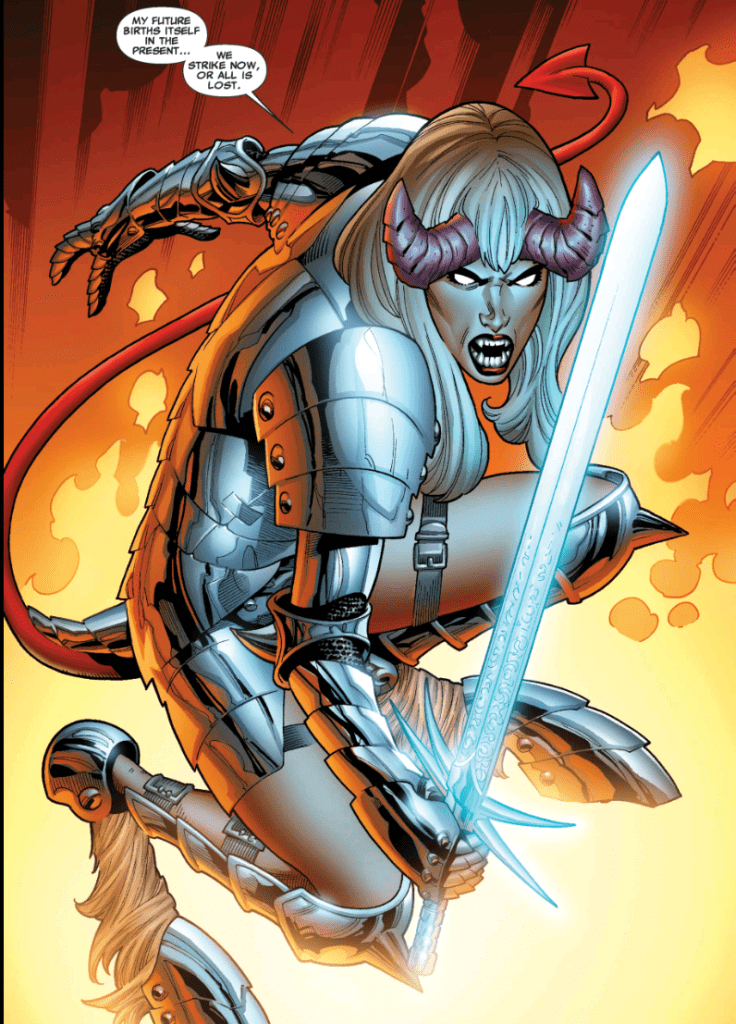 Although there are multiple stages to Wells run, the big picture story is building to a timey-wimey "Inferno" reckoning from New Mutants #1. Illyana Rasputin comes to the New Mutants from "a future," having witnessed the death of the team, remaining scant on the details until the full fledged army from Limbo and their allied "Inferno Babies" come to Earth to unleash, well, hell on Earth.
Emma Frost is likely the most skeptical of Illyana's central role in the unit's success, as she tells Scott the rest of the X-Men are too overwhelmed with guilt over losing her to Belasco years ago and allowing her to become the Darkchilde without Illyana's soul.
There's a lot of mystery and questionable motivations with this Illyana, and for generally fair reasons. I've actually publishing a Magick reading order on Comic Book Herald  the week of this video's release that I'd recommend for those devoted readers, but her road to 2009's New Mutants includes stints in New X-Men (post Morrison years) and X-Infernus where she's very much at odds with the X-Men (particularly Pixie!), and her allegiance to Limbo – where she's the on again / off again demonic overlord – is very much of concern to the likes of Emma Frost.
The Darkchilde presence – the influence of Limbo's onetime demon ruler, Belasco, and the corruption of Illyana's soul – is very much present in this "pirated copy" of Magick as Warlock puts it. On a simpler level, too, Magick's powerset is immense, ruling realms of demons, wielding the magical Soulsword, and traveling back through time and space to confront the impending attack on the New Mutants. If you're a mutant and Illyana doesn't scare you, she should. Likewise, she's an incredible ally to mutantkind – it's far from a perfect example, but mutants did establish safehaven in Limbo through Illyanana in the post Secret Wars pre House of X years.
What Illyana fails to mention – at least initially – is that the United States military has inhabited Limbo and is both seeking Illyana's violent ends, and a means to get justice for their time trapped in limbo. We'll touch on this more shortly, but this version of Limbo in the Marvel Universe – yes, there's more than one! – does not adhere to Earth's rules of time and space.
As a result, years in Limbo could mean only months or days back on Earth. So we'll learn these soldiers have been stranded in this hellscape for years while a more limited time passed on Earth. Intriguingly, the desire to send military into limbo, to better understand it and weapons applications comes out of the wake of "Inferno," with a governmental awareness that mutantkind – in some capacity – set off the events that opened a portal to hell in Times Square.
The wildest continuity connection, and the way Wells fully integrates his run with an event that happened 20 years prior (in publication years at least… there's a note in the comics that make it sound like it's 4 years of Marvel time, which is wild!), is the evolution of the "Inferno Babies," which as we'll see are the reason the US military is in Limbo in the first place. I'm not going to do a full "Inferno" deep dive (yet… when the My Marvelous Year reading club gets there in 1989, all bets are off), but here's the completely off-the-chain background:
Thirteen mutant babies were kidnapped and used by the demon N'astirh to keep open a portal between limbo and earth. The details are even wilder – like the fact that there's 13 because the babies form the points of an inverted pentagram – but at the end of the day, these babies were rescued by the New Mutants, and ultimately turned over to the US government for safekeeping.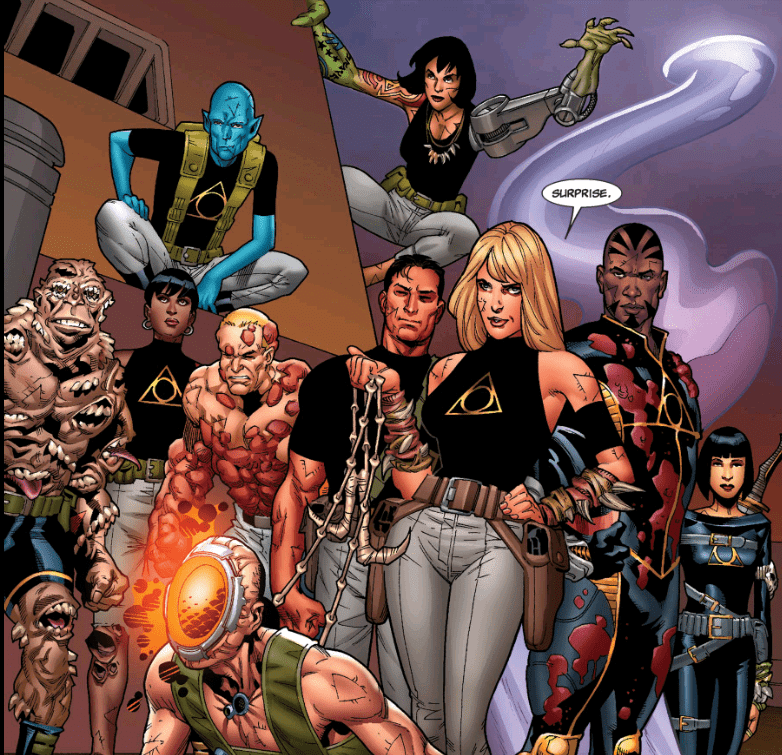 Turns out safekeeping also meant experimenting on and turning the babies into the government's own "mutant weapons." It's a horrendous fate for these aggressively mistreated children, but certainly goes a long way to explaining their own collective desire for revenge on, well, just about anything, but especially the mutants who put them in this situation. Realistically, had the new Hellions own Nanny and Orphanmaker actually obtained the children back in the pages of X-Factor, the inferno babies would have had a better upbringing!
Considering Zeb Wells also wrote the Amazing Spider-Man story "Shed" in which the Lizard eats his own son, few at Marvel can quite lay claim to his crown for "most uncomfortably violent moments that happen to kids in otherwise quite good comics!"
After they're left to die, the military's ultimate goal is effectively revenge and domination of the demon hordes of Limbo, and if they can't achieve that through any other means, the plan is to release the Elder Gods using the bloodstone amulet.
This goes as badly for General Ulysses as you'd expect – he has no control over the unleashed Elder Gods and is torn apart – but nonetheless the extradimensional beings are released and make way for Earth, and the New Mutants are unable to stop them.
The "Elder Gods" motivation is a nice callback to where Magick's journey started, following Uncanny X-Men #160 in the 4 issue limited miniseries Magick from 1983-1984. Belasco's ultimate goal in corrupting Illyana is to set these forces free, and set them upon Earth.
He creates the Beatrix Medallion, or the bloodstone amulet to do so, with the intent that Illyana would function as the gate through which the Elder Gods would enter the universe. In Magick, Illyana ultimately creates her soulsword and defeats Belasco before he can succeed, but releasing the Elder Gods has remaind a threat ever since, something that was also explored in X-Infernus.
In this take 2 of Illyana's last stand with the X-Men against the Elder Gods, she's able to turn the tide when Shan finds the "real" Legion locked away inside David Haller's mind, and his full reality altering powerset is utilized against the monstrous beings. This is a fairly incredible job by Wells and company of unexpectedly connecting nearly every beat from the 21 issues on New Mutants into one satisfying conclusion.
Wiping out the Elder Gods via Legion's reality warping abilities – Warlock refers to it as "Hacking reality" – has a finality to it for the purposes of the run, but given Legion's unpredictability and the presence of extradimensional beings, I'm not so convinced they're gone for good.
At the same time, I've been noticing a recurring presence of Lovecraftian Cthulu horror at the edges of X-Men comics, and am beginning to believe that the impending Inferno 2.0 will feature a coalescence of extradimensional entities that threaten mutantkind and their world.
Consider for a moment that Inferno already unleashed the demonic realm of Limbo into Earth. Repeating the same threat feels tired, and 30+ years behind the times.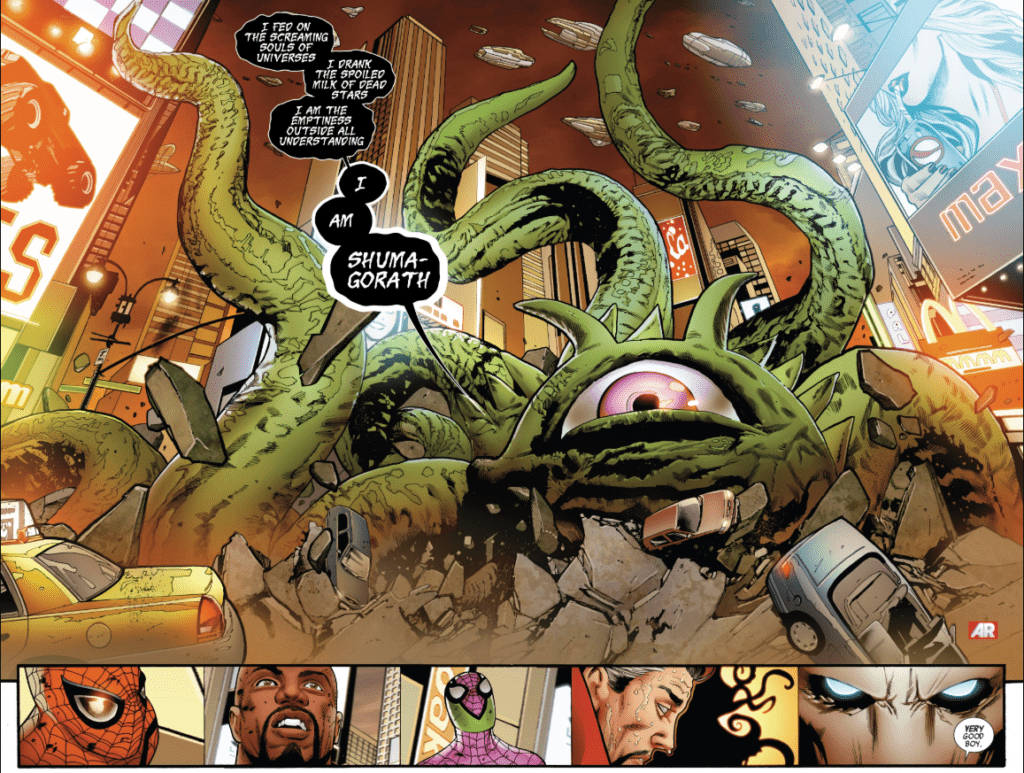 It would make more sense to me that the demon hordes would this time gather in an extradimensional location and combine forces to conquer the inhabited planet they've long sought. It's an idea not dissimilar from the Masters of Evil, or Brian Michael Bendis' council of cosmic powers from the pages of Guardians of the Galaxy, but applied to all manner of Kaiju / Chthulu wandering nightmare.
Who are these extradimensional forces? Let's flip through a few options:
1)The Many Angled Ones from the cosmic Cancerverse – I theorized in my Krakin' Krakoa about Vulcan that these beings are still very much in play in the life of the third Summers brother (he may well be an agent of theirs), and last I checked, they were being held at bay in the Negative Zone by a – for the moment- heroic Sentry.
2)The Monsters of Nowhere – In Mike Carey's X-Men Legacy – Emplate's house in literal Nowhere is neighbored by these wormlike beings even the soul-sucking Emplate fears.
3)Moridun, Wizard of the 5th Cosmos – Taking a page out of Al Ewing's New Avengers, Moridun would be an excellent addition tying in Kree, Skrulls, and various cosmic implications.
4)And finally, for the time being, the forces of Shuma-Gorath – In the pages of Wolverine: First Class, it's revealed that Magneto's Island M – adorned with sweet Octopus statues as far as the eye can see – was actually a prison for Quoggath, a creation of Shuma-Gorath who rebelled against his master, Marvel's "Greatest of the Old Ones" (Astonishingly, Quoggath has most recently remerged in the pages of The Unbeatable Squirrel Girl).
While most commonly an enemy of Doctor Strange (and believe it or not, Conan the Barbarian), Shuma-Gorath is weirdly on the edges of this slice of Marvel history, and the most likely "face" of the demon alliance that could launch Inferno 2.0. I could have this wrong because I let my certification in demonic history slip this year, but I also believe Shuma-Gorath (a "Great Old One") is one of the Many-Angled Ones. I think these things are one in the same, or at least very similar.
There are two aspects of Shuma-Gorath's history that blow my mind with connections to Hickman's X-Men. The first is that the dark entity was brought to Earth by Doctor Strange (under the influence of the Black Order's Ebony Maw) during Hickman's 2013 Infinity event. He brags about drinking bad milk, which is actually a pretty bad MC boast, but nonetheless he's there.
The second is way flippin' wilder. Kulan Gath is a sorcerer from Conan the Barbarian's Hyborian Age, at one time holding the title Sorcerer Supreme, and seeking the power of Shuma-Gorath. Well, Gath was transported to 'present day' Marvel via mystical means in the pages of Uncanny X-Men #188 to #191, which also happen to coincide with the debut of Nimrod in X-Men comics! Gath more or less murderizes all Marvel's finest heroes before Doctor Strange and Magick combine forces to create a divergent timeline in which Nimrod threatens the X-Men again.
So what if there's a timeline out there where Gath ascended and ushered in an era of worship for Shuma-Gorath?
The visions Moira puts in Magneto's head during House and Powers of X also suggests some possible textual evidence of this demonic threat, with the bottom right image showing Magneto vs an unnamed monstrous visage. My read on this is still some sort of Magneto vs. Krakoa battle, but it could easily be one of the extradimensional beings as well.
Which brings us to Arakko and the first horsemen of Apocalypse. Throughout much of the discussion of Arakko it has felt like a realm akin to Limbo, which always left me with the question why Apocalypse is going to such lengths to reach it. Couldn't he just DM Illyana for a ride? But, if the extradimensional forces that Apocalypse once stood in the gap to defeat are being held at bay in a realm beyond Limbo – ala the Elder Gods – it would make more sense why he's so interested in magic as a means to access that place.
There's also the question from Cable #1 about where Old Man Cable is trapped – is it simply Limbo, or is it this same realm of extradimensional beings and summoners? I'm also really curious what events lead Cable to rooting out legions of demons on Earth – is this something we've seen before in X-history (unless it's just him time-traveling back to the original Inferno, but that seems to obvious), or is a new revelation? Either way, his suspicion "that the demons are attempting to replicate the old spell that caused Earth to nearly burn in an inferno of Hellfire" fits my theory.
Next Time – What would you like to see covered? I have the following topics queued up for coverage:
The Indie Titles of Jonathan Hickman
The Curious Case of X-Man Nate Grey
6 Months Later – What Happened Between Uncanny X-Men and House of X?
——————————————————————————————————-
Music for Best Comics Ever by Anthony Weis. Check out more music at anthonyweis.com.
To learn how you can support Best Comics Ever and receive more exclusive content from Comic Book Herald, check out the Patreon: https://www.patreon.com/comicbookherald
For the Comic Book Herald reading club through every year of Marvel Comics, check out mymarvelousyear.com