While there are many fascinating aspects of the Jonathan Hickman era of Marvel's X-Men, no one word sums up the shift in status quo quite like the following: Krakoa! One time little more than the mutant monster island that brought the All-New All-Different X-Men together, Krakoa is now the home to all of mutantkind, providing everything from sustenance to shelter to language and beyond.
Today I'll answer:
+ What's the history of Krakoa in Marvel Comics, and how many different versions have we seen?
+ Whether or not Krakoa's origins match up with Apocalypse's stated origin of Krakoa in Powers of X.
+ What secrets the island may hold, and predictions for what they'll mean in the Krakoa era of X-Men.
Podcast: Play in new window | Download
Spoilers For Discussed Comics May Follow!
Support For Comic Book Herald:
Comic Book Herald is reader-supported. When you buy through links on our site, we may earn a qualifying affiliate commission.
Comic Book Herald's reading orders and guides are also made possible by reader support on Patreon, and generous reader donations.
Any size contribution will help keep CBH alive and full of new comics guides and content. Support CBH on Patreon for exclusive rewards, or Donate here! Thank you for reading!
Related Reading Orders:
Krakoa debuted in the pages of 1975's Giant-Size X-Men #1
by Len Wein and Dave Cockrum, appearing as the most powerful mutant Cerebro had yet detected on the island known as Krakoa in the South Pacific. The original X-Men unit of Cyclops, Jean Grey, Iceman, Angel, Havok, and Polaris flew to investigate, and their subsequent disappearance leads Professor X to assemble the All-New All-Different lineup of mutants Wolverine, Storm, Nightcrawler, Thunderbird, Sunfire, Banshee, and Colossus.
Upon investigation, the new X-Men are able to find the original X-Men trapped on the strange island, and upon freeing the team, quickly learn that the mutant they're searching for is in fact the entire island itself.
Krakoa's origins telepathically flood the mutants minds, telling the tale of an early atomic bomb test on the island that mutated all living things into a hivemind island intelligence. Krakoa is also able to feed on the mutant energies of the original X-Men (in this case without actually killing them – they're kept catatonic in his vines), which does raise the question what Krakoa'd been feeding on until the X-Men showed up.
At this point in time, Krakoa is not terribly different from the Jack Kirby and Stan Lee creation Ego the Living Planet, first introduced as a Thor villain. Frankly, the monster is even more traditional, lacking the cosmic scope and magnitude of Ego (p.s. art here by the incredible Tradd Moore).
At the conclusion of Giant-Size X-Men, Polaris is able to fling the entire island of Krakoa into space – Silver and Bronze Age understanding of magnets is a beautiful thing – effectively leaving the threat concluded for the X-Men's future. Or so it seemed!
In later years, Marvel Comics would update the X-Men's connections to Krakoa's origins, most notably in the pages of X-Men: Deadly Genesis
by Ed Brubaker and Trevor Hairsine. In this six issue miniseries, it's revealed that the All-New All-Different X-Men weren't the first team of mutants Charles sent to Krakoa, and that there was another failed squad – led by the third Summers brother, Gabriel Summers, aka Vulcan – that marched to their deaths (well, some of them) at the behest of Charlie X.
One of the more interesting aspects of this secret history, at least as far as it concerns Krakoa, is that Professor X manipulated the X-Men's perceptions of Krakoa so they'd believe the island was speaking to them and had to be stopped.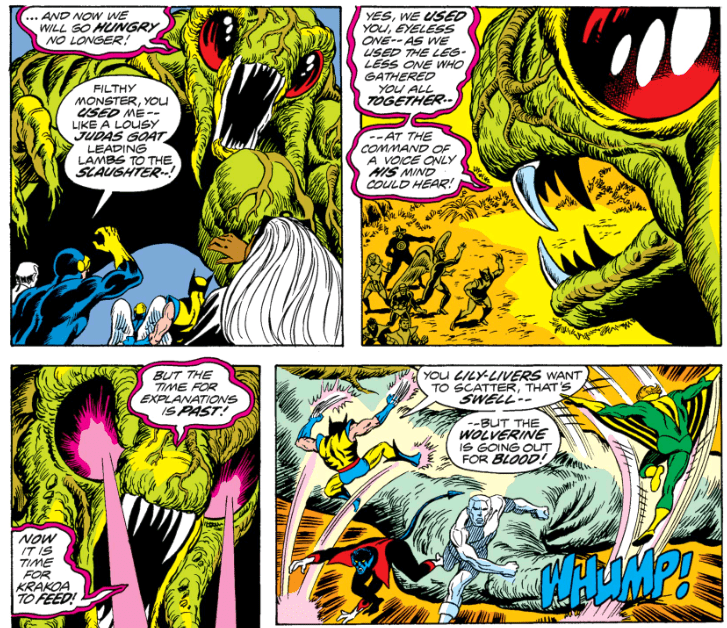 There are a few elements that connect to the broader post House of X Krakoa era of X-Men here:
The first is that Brubaker and Hairsine's reveal here effectively "fixes" the oddity of Krakoa speaking English to the X-Men, setting the stage for Hickman and company's mutant language, and a Krakoan dialect only Cypher can translate.
The other intriguing piece to me is whether this is a part of Charlie and Moira MacTaggert's plan? How does this tie in to Moira's goals for her tenth life, and a last stand effort to see mutants prevail into the distant future? This is one of the bigger questions I'm considering reflecting on the entirety of Krakoa's history, as I remind myself that Moira – through nine lifelines – has tried everything from siding with Magneto to siding with Apocalypse to assassinating the Trask bloodline, but now in her tenth life, she picked Krakoa. Why? How does this fit?
Admittedly, it's very possible the Professor's actions and Krakoan plot here don't fit. I've already done a deep dive on tying Moira's redacted journal entries to X-Men history, but it's highly likely Deadly Genesis fits into at least one of these redacted pieces.
As you can see from Krakoa's presence in House of X / Powers of X
, the journey through space was not the end of the island, although from here it's comic history is way muddier.
In the pages of 1990's Quasar, written by Mark Gruenwald, Quasar finds himself trapped among the cosmic Stranger's prize collection, which proves to actually contain Krakoa. It's a brief cameo, but it alludes to the survival of Krakoa after being launched into space. Aside from this, though, Krakoa's appearances in Marvel Comics generally become tied to pieces of Krakoa or "offspring," really leaving a lot of room for interpretation and "lost years" storytelling throughout the rest of the Krakoa era of X-Men.
Before really moving on to Krakoa's descendants, I'd also like to look back at Krakoa's stated origins as they compare to the updated origins in the pages of House of X / Powers of X. Apocalypse tells a story of Krakoa belonging to a larger land called Okkara, as he puts it, "Ancient before that word existed."
To my mind, this pretty clearly contradicts the atomic testing origins found in Giant-Size X-Men #1, and oddly enough reinforced in the pages of the 2019 Journey Into Mystery: Birth of Krakoa. In the Dennis Hallum written Birth of Krakoa, Nick Fury, Dum Dum Dugan, and the Howling Commandos happen to fly into Krakoa in the aftermath of the atomic test that mutated the island (or so we were told in Giant-Size).
There are two possibilities here.
The "no-prize" solution that Krakoa is both ancient, and was the subject of atomic testing in the mid 1940s. It could be that Krakoa was already a mutant, and then was irradiated and severely enraged by the US bomb testing. I suppose it's also possible that Krakoa was a non-sentient landmass Apocalypse protected in ancient days, and then gained mutant abilities and sentience following exposure to radiation.
Professor X is a lying liar who lies (we just established how he fabricated Krakoa's origins), and the Birth of Krakoa special is simply a confusing entry proving even Marvel editorial can get caught up in the Prof's dark schemes!
Otherwise, as mentioned, there large and small moments of Krakoan descendants over the past 30 years. My favorite one and done example is in Excalibur
#31, an issue I read as part of a Nightcrawler binge (thinking he would, you know, be a big part of Giant-Size Nightcrawler #1 by Hickman and Alan Davis!), and was all too thrilled to discover contained the Son of Krakoa! It's an extremely fun one-and-done story, with Nightcrawler at his quippiest and most swashbuckling, but it also sets the stage for the possibility of Krakoan offspring lingering around planet Earth.
Other small appearances include a brief Kaiju connection in the pages of the alternate reality hopping Exiles, as well as the short-lived Young X-Men.
One of the most tantalizing additions to Krakoan legacy runs throughout the 1990's Generation X
, in which Krakoan ties to the team's "Ecological bio-sphere" are sprinkled throughout the run. In Generation X #47, Forge visits the campus and posits that the bio-sphere – which up and disappeared in Generation X #44 – leaves the X-campus in order to make the original Krakoa whole, as Forge puts it "for some unknown and possibly dire purpose." Again, this leaves a lot of wiggle room for future creators to play with if the 'lost years' or Krakoa are to be explored.
The absolute most memorable Krakoa, though, is the one developed throughout the pages of Wolverine and the X-Men
, introduced as a weapon of the new Hellfire Club by Jason Aaron and Chirs Bachalo. The new Hellfire Club, led by Kade Kilgore who's been seen in the Dawn of X in the pages of Marauders, launch their Krakoa as a weapon against the new Jean Grey School for mutants (with headmaster Wolverine), only to have Quentin Quire eventually befriend Krakoa, and convince him to stay with the school as a living breathing school landscape.
In many ways, this friendly inversion of Krakoa sets the stage for the allied island mutantkind currently inhabits.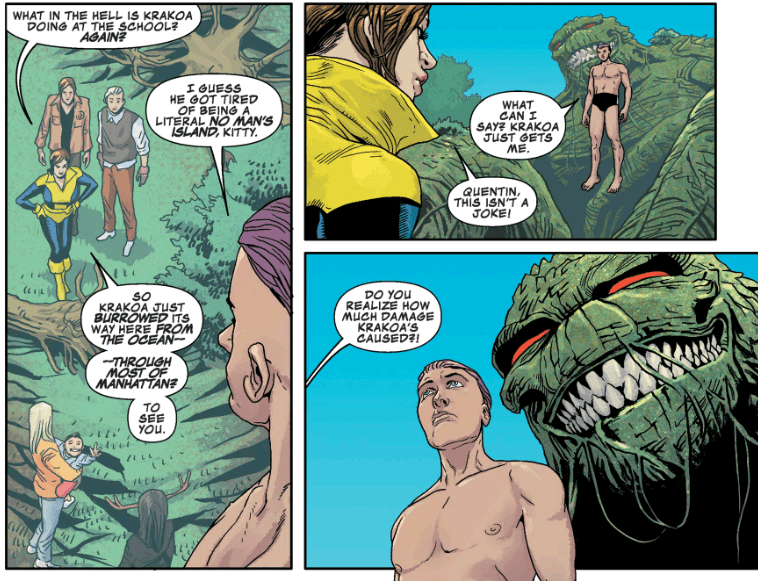 Krakoa becomes enough of an ally of the X-Men during this run that he even leads Wolverine and company to the Hellfire Club's opposing school base, where Kilgore and the like have their own breeding pool of alternate Krakoan islands. The Krakoa vs. Krakoa's throwdown is amazing work from Jason Aaron and Nick Bradshaw.
This same friendly Krakoa re-emerges in the pages of 2017's super underrated Generation X
written by Christina Strain, when Krakoa goes looking for his pal Quentin Quire. This is puppy-dog Krakoa, as the island unleashes all kind of (accidental) damage – including the near impaling of Jubilee – as it trudges through Manhattan to get to Quentin.
Apart from that, though, the most memorable uses of Krakoa relate to clones or warped versions. One of these I've covered, as the Warren Ellis written Astonishing X-Men unleashes a cloned Krakoa infected by the Brood. The biggest takeaway for me here is that Krakoa, or at least versions of Krakoa, can be manipulated by outside influences.
Another incredible version can be found in the Kieron Gillen written Uncanny X-Men
, where artist Daniel Acuna delivers a vision of Castle Sinister atop the back of Sinister's cloned Krakoa. The Sinister heavy X-Men run is set during the events of Avengers vs. X-Men at this point in time (issues #14 to #17), and Krakoa is more or less included purely to escalate the action, but it's worth noting in both these instances that Krakoa can be cloned and infected.
I think it's particularly interesting that Mister Sinister would have experimented with clones of Krakoa. Obviously Mister Sinister is a key player in the Krakoa era of X-Men, and his eventual betrayal of mutantkind is all but assured. Plus, we know from "Sinister Secrets," that Mister Sinister is likely no longer controlled by Professor Xavier, and is operating his own schemes and plans. It's possible that he even predicted Professor, Magneto and Moira's move to Krakoa, and began developing his own insights into Krakoa's nature well before the move.
So what else have we actually learned about Krakoa in House of X / Powers of X and the Dawn of X?
To me, the most important reveal comes in Powers of X #1, when we see that Krakoa survives into Moira's 9th lifeline to become one of Apocalypse's final horsemen. This indicates that Moira and Apocalypse have some experience working with Krakoa. Likewise, data pages in the issue refer to the "Fall of Krakoa," establishing that a Krakoan stronghold is a part of Moira's 9th lifeline as well. Scanning Moira's lifelines will also reveal that she and Apocalypse freed the first horsemen, which, if events played out similarly in lifeline 9 and now 10, indicates a successful journey to limbo on Arakko as well.
All of this tells me that something about Krakoa and the plan has to be different this time, otherwise Moira is just replaying scenarios she's already seen lose.
In the present, apart from Doug Ramsey, both characters that have a unique relationship to Krakoa were also tied to the mutant's presence – however mysterious – in the pages of Generation X. The first is Mondo, who Doug convinces/tricks into becoming a conduit for direct Krakoan conversation. Mondo's also able to keep a Krakoan gateway flower in his belly when the New Mutants discover the flower kills one of the Starjammers space plants.
The second is Black Tom Cassidy, who reveals in Generation X #25 that he created a plant-clone of Mondo to sabotage Gen-X, and uses the Krakoan bio-sphere to infiltrate the team. Black Tom is particularly "one" with Krakoa, although developments in X-Force are indicating that this bonding is driving Tom further and further from sanity.
The biggest development for Krakoa itself is when the island is made whole in X-Men #2, with Arrakko joining its long lost other half.
This happens oddly fast, although since the "joining" we've hardly seen Arakko, save a map here and Cable #1 journey there. I anticipate the upcoming Ten of Swords event will play heavily into Arakko and Apocalypse's first horsemen being trapped in some mysterious dimension (perhaps accessible through the island), but until then I do think it's interesting to consider that Krakoa is set up and performing throughout House and Powers without its other half. What changes for the mutant island when it's reconnected?
Krakoan feeding requirements remain one of the more troubling components of life on the island, and a reflection of the broader impact Krakoa has on mutantkind oftentimes without them even realizing. Use of Krakoa as an island nation, and mutantkind's collective willingness to allow Krakoan feeding on their own psychic energy, is what enables Krakoa to grow to this size and operate a hivemind collection of gates across the globe (as opposed to the reduced versions we've previously seen in the pages of Giant-Size X-Men #1).
In addition to low-level feeding on mutants at all times, when something goes wrong with Krakoa (as it does when Hordeculture crashes a Krakoan gate in X-Men #3), effects include aggressive wildlife, decreasing land mass, and telepathic disruption.
Similarly, in X-Force #9, Beast casually remarks that Krakoa requires the consumption of two mutants per year if it is to survive. The implication remains that this "two per year" quota is negligible when spread across the entirety of a growing mutantkind, but never forget that Krakoa eats mutants!
I also find little comfort in the committee's plan to let Selene and Emplate (i.e. other mutants who feed on mutants) monitor Krakoa's behavior, as neither character has been particularly trustworthy historically.
Speaking of reasons to question Krakoa, there are hints of Krakoan trickery throughout comics in the Dawn of X, perhaps most memorably in X-Men #7 when Nightcrawler is weirded out by the exactness with which the island fills his needs. Many longtime X-Men fans have been put off by the cultlike attitude of everyone on the island, and are perhaps vocalized when Kurt wonders "doesn't that make your hair stand on end?"
The questionable undercurrents lead me to think of the Professor X quote in Powers of X #5, when he states "They will think we are doing one thing, but the truth is we are doing something altogether different." The broader plan and Krakoa's connections to it simply can't be as simple as "new safehaven home." Moira and company know that's not enough!
So what then are the secrets of Krakoa? One that really sticks out to me is the still mysterious "no-place," which is a "non-naturally occurring flower" that sets up habitats Krakoa itself has no knowledge of. We know Moira is hiding out in an established "no-place," but other options include the prison Sabretooth is kept in, or even a gateway to the Limbo of demons that Apocalypse's first horsemen are keeping at bay. Remember, if Krakoa's already been a part of Moira's past lives, perhaps the use of "no-place" sanctuaries is a piece of the new developments that make this all a game-changer.
It's also well worth noting that both Krakoan biology and a "No-Place" are utilized by Forge as part of his designs to keep Cerebro capable of backing up so many mutants of resurrection protocols. I'd considered that perhaps Krakoa was a front, and that the real plan was for mutants to settle elsewhere, but details like this make it appear essential. As such I'm more inclined to think ongoing advances in Krakoan technology lead to more surprising transformations for the island, including an engineered Krakoan / Phalanx hybrid!
There are so many big picture questions about Krakoa and its place in Hickman's master plan that I haven't even yet mentioned the Marvel Universe now possesses another domain to place alongside the likes of Wakanda and Latveria in unique Earth locations. For me the biggest questions remain:
How do Charles Xavier, Magneto, and Moira get Krakoa in place as mutantkind's home?
What exactly is a Krakoan no-place and how are they being utilized?
What does it mean for Krakoa and Arakko to be whole? How does this fundamentally change their nature?
Next time on "Krakin' Krakoa":
My 50th episode! The Great House of X and Powers of X reread, with supplemented issues for context, and an eye towards theories and ideas.
——————————————————————————————————-
Music for Best Comics Ever by Anthony Weis. Check out more music at anthonyweis.com.
To learn how you can support Best Comics Ever and receive more exclusive content from Comic Book Herald, check out the Patreon: https://www.patreon.com/comicbookherald
For the Comic Book Herald reading club through every year of Marvel Comics, check out mymarvelousyear.com