Tini Howard and Marcus To's Excalibur #9 is moving closer to the Multiversal Mayhem I've always wanted, and teasing a March towards the upcoming X of Swords event.
Today I'll answer:
+ Who is Saturnyne and what's her role in the Marvel Multiverse?
+ What happened to the Captain Britain Corps?
+ How is Apocalypse confirming my X of Swords theories?
Podcast: Play in new window | Download
Spoilers for discussed comics may follow!
Support For Comic Book Herald:
Comic Book Herald is reader-supported. When you buy through links on our site, we may earn a qualifying affiliate commission.
Comic Book Herald's reading orders and guides are also made possible by reader support on Patreon, and generous reader donations.
Any size contribution will help keep CBH alive and full of new comics guides and content. Support CBH on Patreon for exclusive rewards, or Donate here! Thank you for reading!
All Krakin' Krakoa X-Men Videos
In Excalibur #9 we're quickly tossed into a history lesson about The Starlight Citadel, Captain Britain Corps, and Omniversal Majestrix Opal Luna Saturnyne. If you're unfamiliar with the history of these concepts in the pages of Captain Britain or Excalibur, this history can feel particularly byzantine, but here are the essential details I'd pay attention to at this point:
1)The Captain Britain Corps have been destroyed. I'll go into more detail about the hows, but this means the Omniversal (see also: alternate reality) collection of Captain Britains across universes does not exist (as we knew it at least). The Omniversal Corps is where we get Earth designations like "Earth-616," which as far as we know may know be the only catalogued Earth with a Captain Britain!
2)The Citadel is currently inhabited by Saturnyne, who has been teased as the "White Witch," a detail I called way back in my review of Excalibur #1. Although it's located in Otherworld, the Citadel currently hidden from view to outsiders.
3)Following the destruction of the Corps, Saturnyne has been promoted to role of Omniversal Guardian, which was previously held by Merlyn.
Why does this matter? Well, in regards to the destruction of the Captain Britain Corps, this enhances Betsy's own import as one of – if not the last – Captain Britain in the Omniverse, and suggests fascinating future storylines like reassembling the omniversal corps. Plus, it means that for the time being, the protectors of the Omniverse are missing, leaving the collected realities of Marvel Comics without their known Defenders. Betsy and Excalibur need to use the Warwolf skulls they assembled the previous two issues to track their way to the hidden Citadel and learn why the Omniversal protectors are in hiding.
What happened to the Captain Britain Corps? Well, in the build to 2015's Secret Wars, Brian Braddock escaped Otherworld to report the builders led an assault on the Starlight Citadel, and decimated the Corps. It's a very short depiction of events (and apparently an even shorter battle), but it also reads like Saturnyne's defensive tactics failed and contributed to the destruction – not that there was likely much she could do given the encroaching reality that "Everything dies."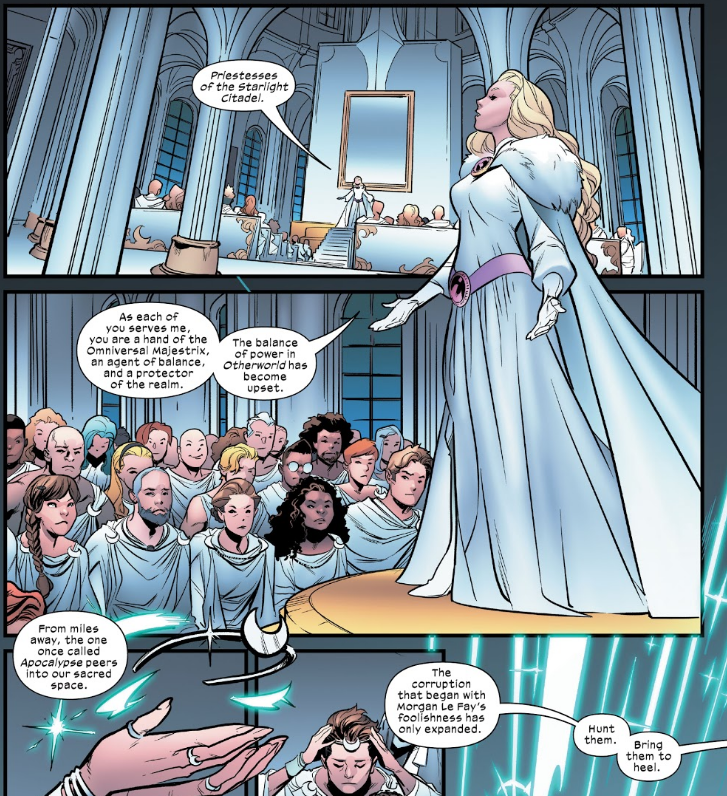 Although the Corps are gone, it would appear that Saturnyne escaped their fate, and remains as the Omniversal Guardian with a new gathering of Priestesses of the Starlight Citadel. Following the removal of Morgan Le Fay from the throne of Otherworld, Saturnyne observes a new threat in the form of Apocalypse and his merry band of mutants we know as Excalibur. She sets her priestesses on the hunt to prevent Excalibur from making their way to the Citadel.
Who is Saturnyne? The character was created by Dave Thorpe and Alan Davis for Marvel UK, although my first exposure was in Marvel Superheroes by Alan Moore and Alan Davis. In that underrated 80s series, Saturnyne is established as an ally to Earth-616 Brian Braddock and a major part of the Ominversal court ruled by Merlyn and Roma. It's Roma in particular, as the daughter of Merlyn, who would go on to have the most direct relationship guarding the Omniverse with Saturnyne at her side.
Essentially, Saturnyne can in many ways be credited with the – perhaps intentional – formation of the original Excalibur, after sending Technet to capture Rachel Summers, at the time the Phoenix, in Excalibur Special Edition #1.
In more recent years, omniversal threats like Spider-Verse and Secret Wars severaly challenged Saturnyne's responsibilities, and given the end result of Secret Wars (2015), there can be little arguing that Saturnyne is coming off her greatest failure. The Captain Britain Corps' response to Hickman's grand Secret Wars remains one of the storylines with the most to fill in (the entire affair is covered in something like 2 pages), so I'll be curious to see if we learn more about what Saturnyne's been up to since that time, or what she views as her new role in a post Corps world.
On a final note, much like the omniverse full of Captain Britains, there's an omniverse full of Saturnyne's, with the only one from Earth-9 standing tall as Omniversal Guardian. These variations range from Brian Braddock's romantic partner, Courtney Ross, to the villainous Sat-Yr-9. both a tyrannical nazi, and one of my favorite LCD Soundsystem songs.
Of course, Apocalypse is fueling Saturnyne's worry with a deliberate lack of subtlety creepin' on the Citadel. This is where Howard and To really begin planting the seeds for X of Swords, with Apocalypse's clear interest in the tools of the Omniversal protectors, and the dimensional realms they may allow access to for mutantkind and his own plans.
In the opening pages of Excalibur #9, Apocalypse laments the need to separate Krakoa and Arrakko, and particularly to send his first horsemen to an eternal fight against the demonic forces of another realm. This all quite firmly cements my X of Swords theory that the upcoming crossover event will heavily tie into Apocalypse's quest for his first horsemen, and the use of both Otherworld magic and the Twilight sword to get there.
This is the second allusion in as many weeks towards this "Reddest Hell" that traps the horsemen, and increasingly looks like the demonic realms of Limbo that seem prepared to set off an Inferno part 2.
I may need to explore this in more depth as the story progresses, but I will note here that the allusions to the hellish Limbo of X-Men comics – not to be confused with the Time-Travel Limbo hub typically presided over by Immortus – requires more complications. After all, if Apocalypse's horsemen are staving off a demonic invasion from Limbo, why couldn't the Big A just use the abilities of longtime ruler of Limbo Illyana Rasputin to access this realm? For all this magic to be necessary, and for Otherworld and the Starlight Citadel to be factors, there has to be significantly more at play.
Big picture, Excalibur #9 is the most invested I've been in any issue since the Dawn of X series launch, and Howard and To are finding firm footing among tantalizing mysteries and a build towards an exciting summer crossover.
Remaining Questions:
Where are Merlyn and Roma?
Are Saturnyne's bag full of Exaclibur Corps members from another reality, or part of a future plan?
Are all the Captain Britain protectors except Earth-616 truly gone? If memory serves, there's a Spider variation from Web Warriors, and I'd love to see some of those characters play a role.
——————————————————————————————————-
Music for Best Comics Ever by Anthony Weis. Check out more music at anthonyweis.com.
To learn how you can support Best Comics Ever and receive more exclusive content from Comic Book Herald, check out the Patreon: https://www.patreon.com/comicbookherald
For the Comic Book Herald reading club through every year of Marvel Comics, check out mymarvelousyear.com