Marvel's Celestial Madonna and Celestial Messiah concepts are some of the most confounding in Avengers and Marvel cosmic history, mysteries wrapped inside enigmas made of questions.
Today I'll answer:
+ What or Who the heck is Marvel's Celestial Messiah?
+ Why does the Messiah matter in 2020?
+ What does this have to do with Jonathan Hickman's X-Men?
+ How Marvel's cosmic prophesies are on a collision course!
Podcast: Play in new window | Download
Spoilers for discussed comics may follow!
Support For Comic Book Herald:
Comic Book Herald is reader-supported. When you buy through links on our site, we may earn a qualifying affiliate commission.
Comic Book Herald's reading orders and guides are also made possible by reader support on Patreon, and generous reader donations.
Any size contribution will help keep CBH alive and full of new comics guides and content. Support CBH on Patreon for exclusive rewards, or Donate here! Thank you for reading!
The history of the Celestial Messiah begins with the story of the Celestial Madonna, as told in the pages of Steve Englehart written Marvel comics, beginning in Avengers and extending through the likes of Fantastic Four, Silver Surfer, and eventually an early 2000's eight issue series called Avengers: Celestial Quest.
The quick version is that while with the Avengers, the Vietnamese Mantis, Mistress of the Martial Arts, learned of her prophesied role as the universe's Celestial Madonna. Although it was unknown to even Mantis until a ways into the saga, she had been trained by the Priests of Pama, Kree pacifists loyal to the Cotati – a plant-based alien race – in ways of telepathic empathy making her the perfect human half of a Cotati / Human pregnancy.
That's right: All this builds to Mantis marrying and sleeping with a tree!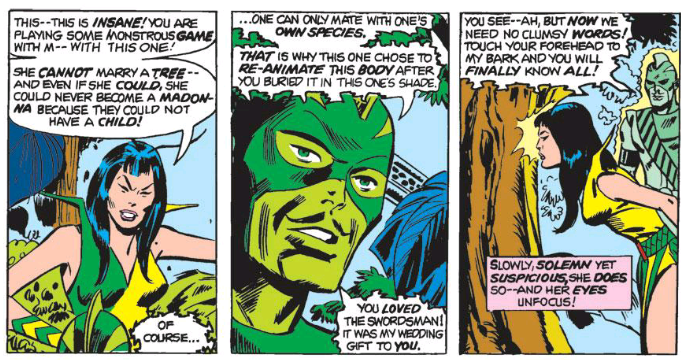 So yes, it's important right off the bat to accept that the basis for basically everything I'll be talking about today is tree-sex. You have to be pine with that. Fine with that. Just leaf your preconceived notions of mating at the door. Oak-K moving on.
The original Celestial Madonna saga runs through eight issues of the core Avengers series, plus three "Giant-Size" specials from about 1974 through 1975. The Celestial Madonna saga reading order:
Avengers #128
Avengers #129
Giant-Size Avengers #2
Avengers #130
Avengers #131
Avengers #132
Giant-Size Avengers #3
Avengers #133
Avengers #134
Avengers #135
Giant-Size Avengers #4
Again, essentially, Giant-Size Avengers #4 concludes with Mantis consummating a marriage with the elder Cotati, in the recreated form of the just dead Swordsman, in order to give birth to the Celestial Messiah.
Before we get to this Messiah, though, it's really important to understand the Cotati, in terms of where they come from and what their relevance is for the Marvel Cosmic landscape.
In Marvel's late 2019 Incoming teaser, building towards the 2020 Empyre event, it was revealed both the Kree and Skrull were sending a message that said "Beware the Trees." For readers of the Celestial Madonna saga, this is a clear allusion to the Cotati, long since confirmed (particularly with Empyre tie-ins like Lords of Empyre: Celestial Messiah announced). Why might the Kree (and Skrulls for that matter) find themselves running scared of the returned Cotati? And what has changed in the Cotati that they appear to be stealthily assassinating Kree and Skrull agents on Earth?
During Engelhardt's "Celestial Madonna" saga there's an ancient galactic history lesson that tells us one million years ago the Skrulls traveled to Hala, the emerging Kree homeworld, and challenged both the co-existing Kree and Cotati to prove who was the superior galactic partner on Earth's moon. Long story short, when the Kree think the Cotati are about to win, they effectively commit genocide, and only a small amount of Cotati survive.
The Kree's actions – not only decimating the Cotati but killing the Skrulls who witnessed their atrocity – sparked the Kree- Skrull war that has more or less been an ongoing feud for all of Marvel history.
It makes a lot of sense that the Cotati might have some grievances to air out with both the Kree and the Skrull, resulting in a massive war in Earth's atmosphere in the pages of Empyre.
In the aftermath of the Celestial Madonna saga, Mantis does in fact give birth a baby boy she names Sequoia, Quoi for short, the half human, half Cotati baby prophesied to become the Celestial Messiah. I'll note here again, this prophesy stems from the Priests of Pama and the Cotati. It's also a prophesy that we see the likes of Kang the Conqueror and Thanos very fully buying into in the pages of Englehart's Avengers and "Celestial Quest."
Nonetheless, I can't emphasize this enough, taking prophesy as absolute truth is time and time again proven complicated, whether we're talking the fictional worlds of Harry Potter and Game of Thrones, or any number of sacred religious texts, or even the works of someone like Nostradamus. Plus, the Celestial Messiah prophecy is deliberately vague – it promises a "perfect child" who is destined to change the universe. But that can mean plenty of things!
Over the course of "Celestial Quest," Sequoia begins as an extremely surly teen who resents his mother for bailing on him after 1 year of raising him – fair! – before growing into his energy absorption powerset and universe-saving messiah role. Naturally, this includes swinging a giant ax into Thanos with an all-time least cool hero line "You lack an ax in your tummy." To be fair, he was raised by plants.
You could make the argument that Sequoia preventing the equally confounding universal threat that resulted from Death and Thanos' consummation (I don't want to dip into these waters really at all but there's a whole lot of problems with consent here, actually from Thanos) means he has fulfilled his destiny as Celestial Messiah… but for my money that feels kind of inadequate. Obviously the language is meant to invoke religious figures like Jesus, and to mix metaphors, "bring balance to the force." Sequoia's actions in Marvel history haven't really gotten there. In many ways, I'm still looking for the answer to what it means to be the Celestial Messiah.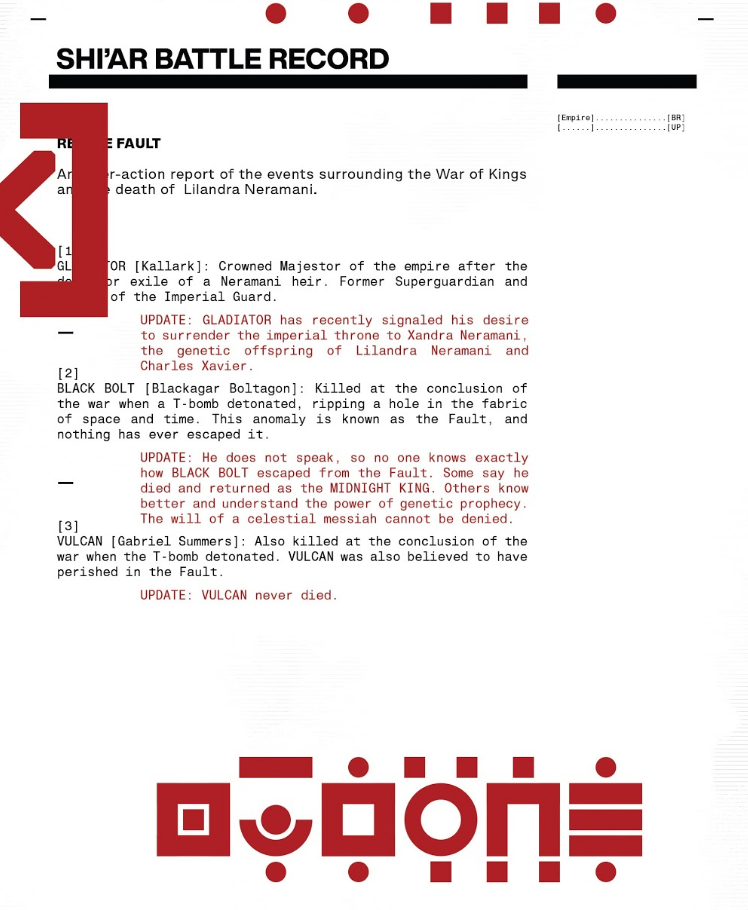 Remarkably, since "Celestial Quest," Marvel readers haven't seen hide-nor-hair of this Celestial Messiah! But – and this is where things get really interesting – there have been similar, intertwined cosmic prophecies arising in his wake. And this is where the notion of the Celestial Messiah and Kree cosmic prophesy becomes particularly relevant in 2020. As recently as X-Men #8 by Jonathan Hickman and Mahmud Asrar, the Inhuman King Black Bolt has been referred to as both the Midnight King and the Celestial Messiah! This language dates back to Hickman's time on Fantastic Four and begins a trend this decade of Marvel creators – namely Hickman and Al Ewing – mixing their own cosmic prophecy into the Marvel mix.
In the pages of Hickman's Fantastic Four and more specifically FF (in a sequence that bounces from amazing work by Greg Tochinni to amazing work by Steve Epting), it's revealed that not only did Black Bolt survive his apparent death in War of Kings, but also that he's destined to fulfill a Kree / Supreme Intelligence prophecy to one day destroy the Kree Empire.
The Supreme Intelligence takes a very Herod like approach to this revelation, calling for the deaths of all the Kree-created Inhumans across the galaxy, with only 5 civilizations escaping – these would go on to be known as the Universal Inhumans.
Whereas the prophecy of the Celestial Messiah is covered in faith and hope, the Kree's Black Bolt prophecy is awash in fear and destruction. Despite this, Black Bolt does ultimately sue for peace with the Kree, sacrificing the love of Crystal and Ronan the Accuser in order to break the chain of fate and forge his own path.
Admittedly, Hickman's use of "Celestial Messiah" to describe Black Bolt – which I've noted as early as New Avengers #2 in 2013 – is an oddly specific choice. Hickman's very good at concise cool sounding nicknames – see also Midnight King and King of the Dead – but the repetition of Black Bolt's role as Celestial Messiah – and doubling down in X-Men #8 with "the will of a celestial messiah cannot be denied" – feels very intentional. I wouldn't have believed it prior to X-Men #8, but I don't think Hickman's quite done with Black Bolt.
I also think the phrasing of "a celestial messiah" suggests a more interesting take on the original Celestial Madonna saga. You have the Priests of Pama fortelling their messiah, you have the Supreme Intelligence / Kree Empire foretelling their own, and then you'll have the third we're about to look into. Varying visions of messianic salvation in the Marvel Cosmic landscape are way more interesting than lying in wait for Sequoia to get super interesting!
As far as where we stand with Black Bolt, last readers saw of him was in Death of the Inhumans by Donny Cates and Ariel Olivetti, when Blackagar extended the true meaning of this prophecy to mean Kree and Inhumans alike must ultimately succumb to his final death scream.
Well, kinda – the Royal family of the Inhumans does seem to escape with their lives, although what they're up to is a mystery awaiting the right moment – perhaps that moment will be in the pages of Empyre.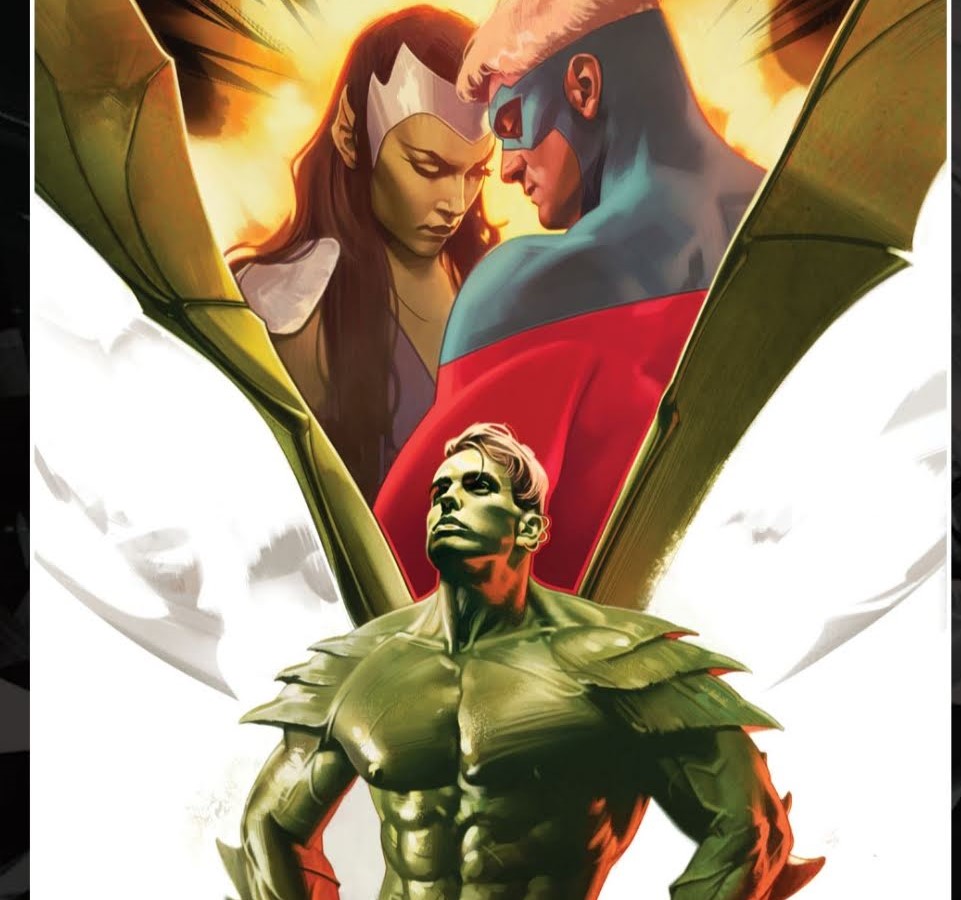 As teased, the third major cosmic prophecy comes from Al Ewing's time writing New Avengers, and clearly sets the stage for 2020's mega Marvel Empyre event. Ewing created a collective of Kree / Skrull hybrid peoples known as the Knights of the Infinite who are working to fulfill the prophecy that one day the heir / reincarnation of the first Kree / Skrull combo platter – Dorek Supreme – will bring the ultimate alliance to the galaxy. According to the Knights of the Infinite, this individual is the longtime Young Avenger Teddy Altman, aka Hulkling.
The seeds for Teddy's ascension atop the throne date back to some of his earliest appearances in Young Avengers (issues #8 through #10 I believe), when both the Supre Skrull and Kree warriors showed up to claim Teddy as one of their own, given his Skrull mother and Kree – in fact, Captain Mar-Vell – father. It's a lineage Hulkling has been aware of for plenty of time now, and although he's not quite ready to take on the role in New Avengers, by the time the Knights of the Infinite call again in 2019's Incoming Hulkling packs up his Star-Sword and hits the road to kick off Empyre.
For my money, Teddy's prophesied place in the cosmic scheme makes the most sense, as his Arthurian narrative is designed to unify the strongest Kree Skrull alliance the galaxy has known.
I'll admit, though, Marvel's pre-Empyre hype has me trying to figure some of Teddy's motives. There's a lot of talk of holding Earth accountable for the atrocities they've committed against the Kree and Skrulls (things like turning Skrull agents into cows, or any number of various ways you can blame humans for Galactus eating the Skrull's throneworld and Hala getting destroyed in the Black Vortex Saga). But Teddy's from earth, and not only that, his romantic partner, Billy, is an Earthling too! If the stated prophecy is for Hulkling to bring love to the universe, an imperial armada sailing toward Earth is a very curious move.
As we approach Empyre in May 2020, we have two of the known Celestial Messiah figures definitely included in the event, and my prediction is we're in a for a surprise inclusion of the third, Black Bolt, in the Empyre X-Men tie-in series (especially since we're talking comics talking place in the Blue Area of the Moon, long time home of the Inhumans!).
It will be fascinating to see how these mythologies collide and unfold over the next several months, and to see how years, often decades in the making seeds can pay off in the hands of Al Ewing, Dan Slott and Valerio Schitti, among others.
For one final wild theory, all of this talk of Celestial Messiahs does not outwardly appear to have direct connections to Marvel's known Celestials, as created by Jack Kirby. It's very literal wordplay, but I'd love to see the concept actually work in these Celestials, which both Hickman and Ewing have played with in their various Marvel cosmic stories.
I especially like the idea that true Celestial Messiah should be capable of saving all life from the coming of the Celestial's judgment, as promised in the year 2026! Mostly I'm just pulling here for some art of Black Bolt or Teddy straight roundhousing some Celestials, but this is Marvel Comics, stranger things have happened!
——————————————————————————————————-
Music for Best Comics Ever by Anthony Weis. Check out more music at anthonyweis.com.
To learn how you can support Best Comics Ever and receive more exclusive content from Comic Book Herald, check out the Patreon: https://www.patreon.com/comicbookherald
For the Comic Book Herald reading club through every year of Marvel Comics, check out mymarvelousyear.com