The parasitic alien Brood are back threatening the X-Men and unveiling more of Jonathan Hickman's major cosmic plans for mutantkind.
Today I'll answer:
+ Who are the Brood and what's their relationship with the X-Men?
+ How has Hickman been building towards these cosmic developments in the pages of New Mutants, and as far back as his post-War of Kings Fantastic Four?
+ How is Hickman using X-Men to integrate his own cosmic plans with Marvel's upcoming Empyre event?
Podcast: Play in new window | Download
Spoilers for discussed comics may follow!
Support For Comic Book Herald:
Comic Book Herald is reader-supported. When you buy through links on our site, we may earn a qualifying affiliate commission.
Comic Book Herald's reading orders and guides are also made possible by reader support on Patreon, and generous reader donations.
Any size contribution will help keep CBH alive and full of new comics guides and content. Support CBH on Patreon for exclusive rewards, or Donate here! Thank you for reading!
In X-Men #8, writer Jonathan Hickman and fill-in artist Mahmud Asrar return to the swirling hard science fiction of Powers of X, full of Shi'ar graveyards, intergalactic bleed space (evoking Warren Ellis' argonaut poetry in The Authority), and rivers of dark matter inhabited by alien Brood.
As we've known since New Mutants #1 written by Hickman with art by Rod Reis, Hickman's been planting seeds of Brood narratives deep in our unconscious with the creation of the King Egg. And now, with the OG New Mutants squad returning from their Hickman written adventure among the Shi'ar and the Starjammers, they of course bring the menace of the Brood back with them.
Hickman's been quite locked into a Devil-May-Care attitude for all of the New Mutants, leading Rahne Sinclair here to declare the King Egg naught more than her "Space Booty." This is the point in time where that carefree spirit comes back to haunt Krakoa.
Because Rahne Sinclair brought the King Egg back to Krakoa, the ever expanding Brood empire is set for a full scale invasion. Although they've been decimated over the course of the previous decades, Hickman writes here that the Brood are exponentially expanding, up to trillions of drones, thousands of conquered worlds, and 1,000 Queen Brood.
For the less familiar, the Brood are a menacing alien race the X-Men first encounter in earnest during a Brood Saga that runs from approximately Uncanny X-Men #160 through #167, with writing by Chris Claremont and art primarily by Paul Smith. In addition to vicious physical capabilities, and a deceptively intelligent, merciless cunning, the nastiest thing about the Brood is that they can infect their adversaries with Brood eggs that will turn anyone into a part of the shared Brood collective.
In their first encounter with the X-Men, this is what the Brood due to the team, putting the likes of Cyclops, Storm, Kitty Pryde, and Colossus on borrowed time, until some last second saving from the likes of Wolverine's healing factor, Carol Danvers newfound Binary powers (a result of Brood experimentation) and that time Storm became a baby space whale for a little while!
Adding insult to injury, when the Uncanny X-Men return from their near-death experiences at the hands of the Brood, they return to find Professor X – who had recently taken responsibility for the New Mutants at the X-Mansion – succumbing to full Brood Queen takeover. The Professor literally begs for death before the full transformation, but is instead casually cloned into a new walking body via Shi'ar technology by Moira MacTaggert and Lilandra. I've been talking about this particular development since early House / Powers because of the ways it might connect back to big picture Moira and Charles storylines, so pay careful attention here!
In retrospect, the single most fascinating Brood moment of the 2000's occurred in the Warren Ellis written Astonishing X-Men, a follow-up to the Joss Whedon and John Cassaday run that never lived up to its predecessor, but did introduce a Brood-infected clone of Krakoa.
This is something that's actually kind of hard to fathom given Krakoa's role in the post House of X landscape, but could a Brood still infect Krakoa? And what would that look like when all of mutantkind is living there!
Like basically all of the known Marvel cosmic players (shouts to my Kree / Skrull listeners and the upcoming Empyre event), the Brood are nearly wiped out during the events of Annihilation and Annihilation Conquest. Abigail Brand, director of SWORD, actually makes a case for the Brood's role in the universe as parasitic predators, although it's worth pointing out that she was half-infected by Brood at the time. Nonetheless, I find this argument interesting, the Brood as cosmic necessity ala Galactus rather than straight up evil aliens.
Historically, there have also been evolving, dare I say mutant Brood, with a sense of compassion setting them apart from all of Brood-kind. One of these is a member of Hulk's warbound from Planet Hulk and World War Hulk, but the best of all of these is of course Broo, who was introduced in the pages of the Jason Aaron written Wolverine and the X-Men.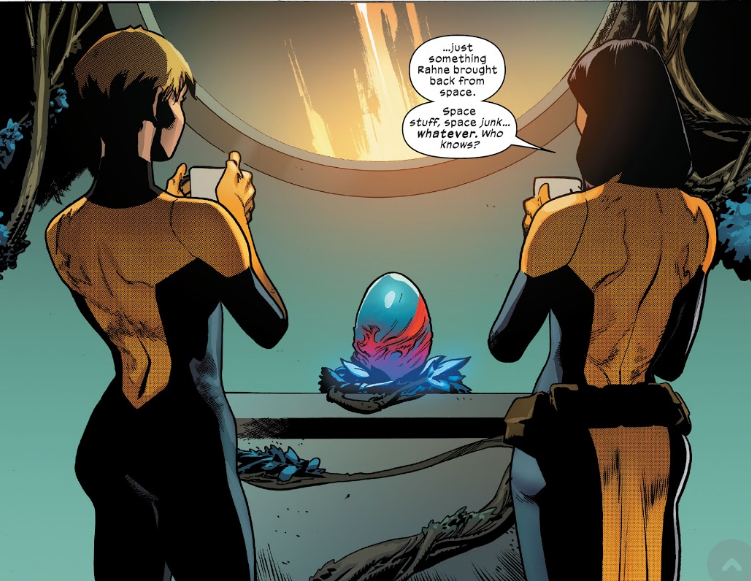 Naturally, Broo is coincidentally visiting when the Brood invasion occurs, and he's quite perturbed to find a King Egg just chilling like a decorative sculpture. Although Broo – who has most recently been seeing working with Black Panther and the Agents of Wakanda – declares "King Eggs disrupts the breeding cycle… and makes the queens go to war," I'll admit I'm generally unclear about the details. Broo knows of the King Egg, but have their been Brood Kings before (perhaps during the Brood Invasion Jonathan Hickman teased in SHIELD #1 with Apocalypse fighting off as an agent of SHIELD?).
Either way, the presence of the egg leads to a full scale invasion of Krakoa, in what is without question the heaviest attack on sovereign Krakoa we've seen to date. Acanti space whales come crashing onto the soil and all mutants are almost instantly at war. Because Hickman has so many spinning plates in this issue it's almost easy to overlook, but this is very much event sized catastrophe and destruction in the home of the mutants.
We'll get more of this in X-Men #9 I'm sure, but there's some very cool fight choreography between Hickman and Asrar, particularly with Magick and Cyclops teaming up their powersets to unleash beams from all angles on the unsuspecting Brood. Also, 10/10 dialogue writing for Broo leading his mid-battle plan to save all mutants with a very polite "Excuse me."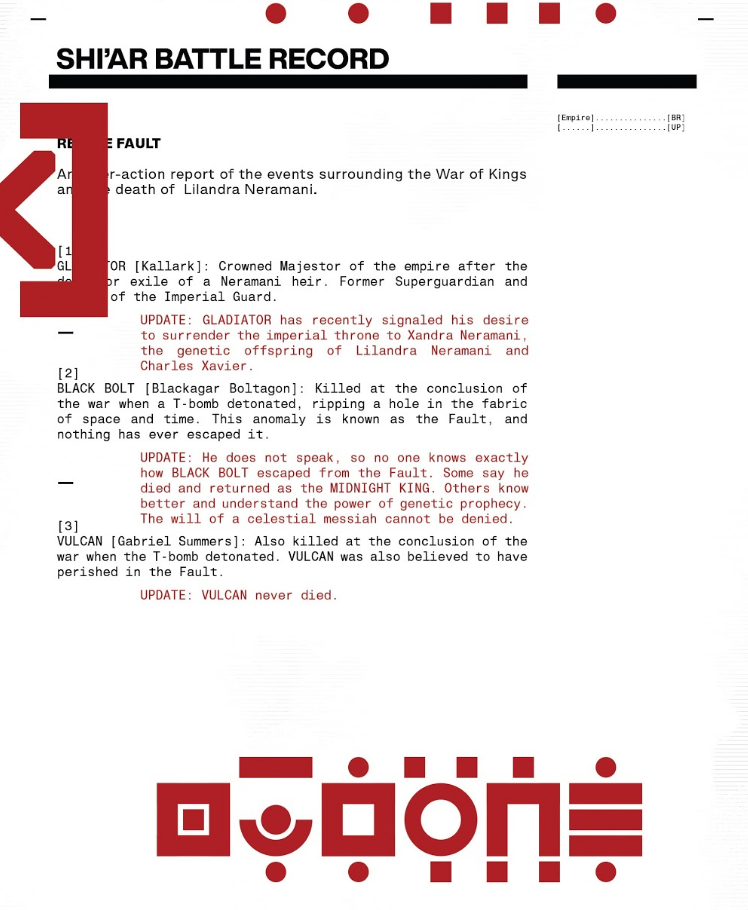 Importantly in the updated Shi'ar Battle Record, Vulcan was not simply revived via Krakoa resurrection protocols – instead, the update says that he never died. Vulcan's clearly dreaming of floating through the fault after his battle with Black Bolt, but it remains a mystery how he escaped, what he's been doing, and how the X-Men found him. Nonetheless, it's fascinating to see War of Kings so thoroughly reintegrated into Hickman's cosmic plan, in an amazing confluence of Vulcan, Black Bolt as the Celestial Messiah, and the recent New Mutants development that Xandra will step in as Empress of the Shi'ar (Gladiator has been Emperor since War of Kings).
I'll save a true deep dive for another time, but it's also really interesting to me that Hickman's been using "Celestial Messiah" language to describe Black Bolt since his Fantastic Four and New Avengers days. This is hugely relevant for the upcoming Empyre event, which the X-Men will tie into, as Empyre is going to connect heavily to the Avengers' "Celestial Madonna" saga. Suffice to say for now, I have some real questions about whether or not it was ever appropriate to label Black Bolt the Celestial Messiah.
Speaking of Empyre, we also see Bobby De Costa, aka Sunspot, making a deal with a Kree Accuser, inhabiting Shi'ar space in order to collect the King Egg from the Starjammers (or so he had planned). Bobby effectively promises the egg to the Kree in order to free the Starjammers (despite his dislike for Corsair and company), although the bigger reveal here is the presence of Kree in Shi'ar space, which clearly rings warning bells for the likes of Smasher, Gladiator, and even better, Kid Gladiator!
Rapidfire predictions:
+ Vulcan's escape from the Fault could well offer an additional mode of travel connecting back to Powers of X. There was a lot of work done there on interconnected black holes and galaxy-brain sized space questions, and I'm really interested to see how Vulcan's story connects back to all of that.
+ It's a small detail within this issue, but I don't think it's happenstance that the genetic heir of Charles Xavier is currently being placed on the Shi'ar throne. I think is part of Moira and Charlie's plan to establish a mutant empire in space.
+ The King Egg is going to hatch, and it's going to upend everything we know about the Brood. I'm sensing a mutant / Brood alliance from here on out!
——————————————————————————————————-
Music for Best Comics Ever by Anthony Weis. Check out more music at anthonyweis.com.
To learn how you can support Best Comics Ever and receive more exclusive content from Comic Book Herald, check out the Patreon: https://www.patreon.com/comicbookherald
For the Comic Book Herald reading club through every year of Marvel Comics, check out mymarvelousyear.com