At this week's 2020 Chicago Comic Con (aka C2e2) Jonathan Hickman and the X-Men team announced the X-Men's first Dawn of X crossover, "X of Swords" pronounced "Ten of Swords." Starting in May's Free Comic Book Day special, "Ten of Swords" is a 15 part crossover primarily running through Hickman's X-Men and Tini Howard's Excalibur.
Today I'll answer:
+ What is "Ten of Swords"
+ Why does it make sense that X-Men and Excalibur are the focus comics?
+ Predictions and theories about the event, including a brief history of X-Men swords!
Support For Comic Book Herald:
Comic Book Herald is reader-supported. When you buy through links on our site, we may earn a qualifying affiliate commission.
Comic Book Herald's reading orders and guides are also made possible by reader support on Patreon, and generous reader donations.
Any size contribution will help keep CBH alive and full of new comics guides and content. Support CBH on Patreon for exclusive rewards, or Donate here! Thank you for reading!
Podcast: Play in new window | Download
Related Reading:
X-Men: Dawn of X reading order
For all Comic Book Herald X-Men videos:
As it turns out, "X of Swords" is pronounced "Ten of Swords," which is a reference to a Tarot Card.
Review Notes!
As a total newcomer to Tarot, I was intrigued to learn a card like the Ten of Swords has an upright, and a reversed position, and the meaning of the reading changes depending on this position.
I'll note for those interested in their own theories, the reversed position of the "Ten of Swords" refers to recovery, regeneration, and resisting an inevitable end, the last of which sounds so specific to the mutants on Krakoa and Moira's Powers of X revelation that mutants always lose, that it almost can't be an accident.
Regarding the meaning of "The Ten of Swords," I'd encourage obsessed X-fans to read up on some of the details because it's impossible not to set your mind racing on X-Men connections and possibilities. The readings are just vague enough that a billion storylines fall into place.
Based on the core meaning of betrayal, and being literally stabbed in the back by 10 swords – talk about overkill! – my mind immediately jumps to Mister Sinister (the ultimate promised betrayer) or potentially – and we'll dig into this in more detail – Apocalypse and all the schemes he has of his own.
Another particularly interesting element to me is the idea that the "Ten of Swords" features a setting sun, signaling the end of an era, which makes me think about the end of one of Moira's lifelines, or possibly just the Krakoan dream of House of X.
Speaking of Tarot Card connections, this actually isn't the fist time we've seen allusions in the Hickman era of X-Men, considering Powers of X teased "The Magician," "The Tower," and "The Devil," one has to assume with great intent!
I expect all of these cards to play a major role, and to be explained in more detail in "X of Swords," particularly "The Tower," which was also just teased in the background of X-Men #7 as the mysterious perfect Krakoan home of Nightcrawler (and where I imagine he'll be having sermons for his new mutant religion).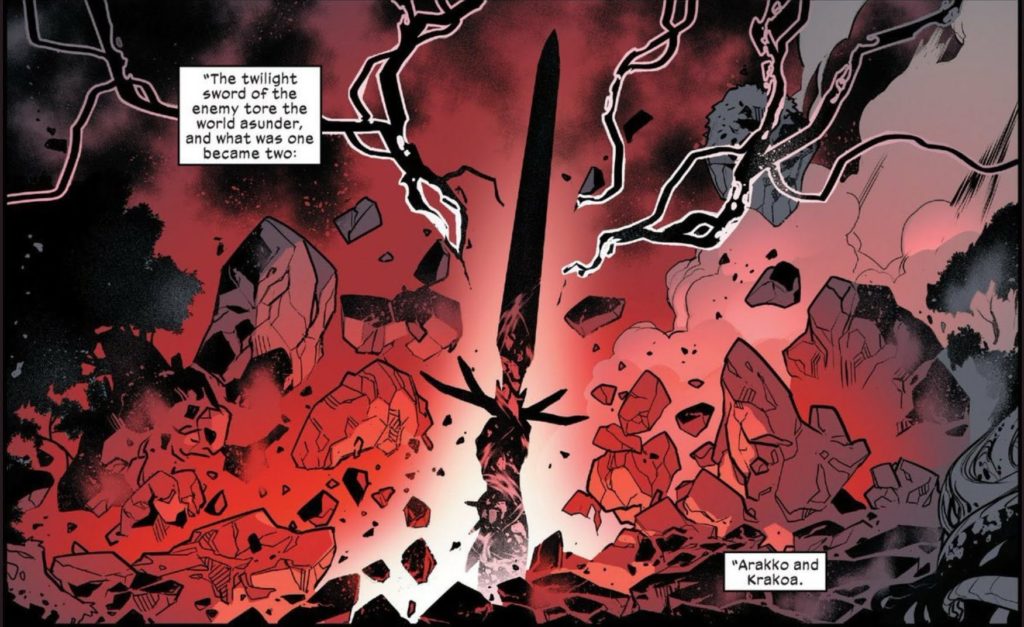 In terms of predictions and what I think is coming my absolute favorite connection centers around the mysterious origins of Arakko and Krakoa, teased in House of X #5 and X-Men #2 as deeply connected to longtime X-Men villain (and now ally) Apocalypse. Credit here to @TheMutantMenace and @Larkinz for hitting me with variations of this theory first after the news broke at C2e2 and I was furiously tweeting about relevant swords that could play a role in this crossover!
So let's start here: Krakoa and Arakko where separated during a demonic invasion, and Hickman writes about "The Twilight Sword of the enemy" as the weapon tearing the world asunder.
The Twilight Sword is a very specific choice of words in Marvel, most memorably tied to Surtur, in the pages of the Walt Simonson all time great run on Thor.
Here, the Twilight Sword is a herald of Doom, created by Surtur and the mines of Muspelheim to defeat Odin and bring about Ragnarok and the destruction of Asgard.
When the Twilight Sword reemerged in the Kurt Busiek and George Perez Avengers about 15 years later, Thor is careful to point out the sword has magical, mystical elements that can influence the makings of reality. The power of the sword isn't just that it's a big ass blade – although, it's a really big ass blade – but the fact that it's imbued with all these other realm mystical connections.
The big reason the Avengers connections to the Twilight Sword matter here – or at least the reason I'll theorize they matter – is that it's Morgan Le Fay who wields the mystical artifact. In Avengers #1 to #3, the swelling Avengers lineup is warped into a medieval realm controlled by Morgan Le Fay and Mordred, all using a combination of the Twilight Sword and – kind of amazingly – the "mutant witch" hex powers of the Scarlet Witch!
As we've seen since the conclusion of Excalibur #6, Apocalypse is currently dissecting and running experiments on this same very Morgan Le Fay! This feels like way too much connection to be a coincidence, and I'm convinced Apocalypse is searching Le Fay's being for mystical connections to the Twlight Sword that allow him to magically access the realms it once tore asunder. An Otherworld / Arakko war feels very much in play here, especially given Jaime Braddock's own reality warping abilities, and Apocalypse's clear machinations to put Jaime on the throne of Otherworld.
Bringing it full circle, I predict that all these connections mean Apocalypse is studying the mystical properties of Otherworld and the Twilight Sword in order to access the extra-dimensional realm where his 1st Horsemen are trapped since the split of Arakko and Krakoa.
We've seen in both the Marvel Comics #1000 one-pager from Jonathan Hickman and Dustin Weaver, and in the Powers of X selection of "Sinister Secrets," that Apocalypse strongly desires the return of his secret first horsemen, the preferred and most powerful of them all. Exactly why he's looking to bring back these Horsemen – who are notably visible in Moira's 9th Moirapocalypse timeline – is unclear, but I could definitely see it tying back into that "betrayal" the Ten of Swords card foretells.
So my primary theory is that "X of Swords" is a mega Arrako / Krakoa story
Seeds planted throughout Excalibur and Hickman and Yu's X-Men #2 have left a trail of swords, summoners, and secrets, and I anticipate it will all come to fruition in "X of Swords."
Another major X-sword that comes to mind – apart from, ya know, Excalibur itself – is Illyana Rasputin's Soulsword. There's a lot that goes into Soulsword, but effectively it's a combination of Illyana's own soul and her magical ability. Soulsword is powerful enough that its master more or less controls Limbo.
The absolute standout potential of the Soulswords place in a story about Arakko and Krakoa is seen in the pages of New Mutants #50, when Illyana uses the Soulsword to "cleanse" limbo of a technorganic virus.
The learning here – that Soulsword can "cure" the darkness of a mystical realm – seems like especially potent connective tissue for Arakko and "X of Swords." The flipside, though, is that during Inferno the Soulsword corrupted Illyana to the point of turning her into the Darkchylde, and opened a portal between Limbo and Earth.
Again, this is hugely relevant, as a portal between realms could be at the heart of "X of Swords."
Otherwise, we've been seeing swords pop up a ton throughout X-Men comics, and when you pause to think about it, all over X-Men and related Marvel history.
Just in X-Men #7, we see Apocalypse championing sword fights as the trial by fire methods of The Crucible, where mutants prove their worth and desire to return to their rightful mutant heritage in a post Decimation landscape.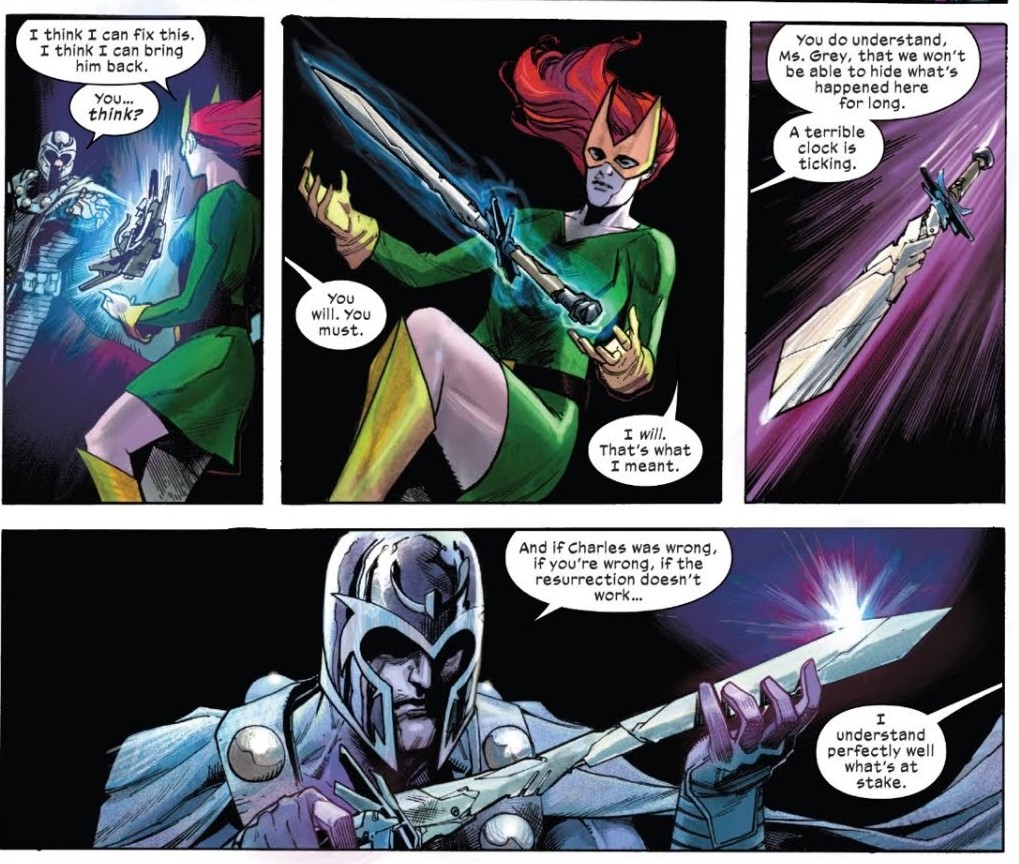 There's also notably the "Cerebro Sword" Magneto gifts to Professor X upon his resurrection (following X-Force #1)
When you start digging into X-Men characters in the X of Swords promo and beyond, the history of swords is long, deep, and maybe entirely irrelevant but still pretty fun! Likewise, Marvel's tease of swords from the Marvel Universe "past and present" really opens the door for some timey-wimey weapons selection. Could we see Exodus wielding the famed Ebony Blade from the Crusades for example?
Everyone in the promo blade seems to have a custom made sword, like the aforementioned Professor X with Cerebro, or Wolverine with what I'm guessing is the Muramusa blade, and Gorgon with Godkiller, but the one that *really* catches my attention is Rachel Summers with the Phoenix Blade!
The Phoenix blade was introduced – I believed during the "End of Greys" storyline in Uncanny X-Men #480-ish – as a weapon empowered with a fragment of the Phoenix Force. Korvus, a descendant of the shi'ar Rook'shir who created the blade, and was consumed by the Phoenix Force, originally tried using the blade to kill Rachel Summers.
And finally, on the most reckless note of the bunch, swords are kind of a big deal in seemingly unrelated Marvel events these days! We have the necrosword of Jason Aaron's run on Thor and now Donny Cates' work on Venom, as well as Hulkling's use of the Starsword in the pages of Empyre.