X-Men #7 delivers a major update to the state of mutants on Krakoa and in the Marvel Universe, in easily one of the biggest issues since House of X ended!
Today I'll answer:
+ What is "Crucible" and what does it mean for the X-Men's resurrection protocols?
+ How does X-Men #7 tie heavily into House of M and X-Men "Decimation" stories from the mid 2000's?
+ Why Nightcrawler is the perfect guide to introduce us to the new Crucible practice on Krakoa
Support For Comic Book Herald:
Comic Book Herald is reader-supported. When you buy through links on our site, we may earn a qualifying affiliate commission.
Comic Book Herald's reading orders and guides are also made possible by reader support on Patreon, and generous reader donations.
Any size contribution will help keep CBH alive and full of new comics guides and content. Support CBH on Patreon for exclusive rewards, or Donate here! Thank you for reading!
Podcast: Play in new window | Download
Related Reading:
X-Men: Dawn of X reading order
Review Notes – Spoilers May Follow!
In X-Men #7 by Jonathan Hickman, Leinil Francis Yu, Sunny Gho, Clayton Cowles, Tom Muller, the issue opens with the mysterious repeating refrain that "Crucible is today." There's been a lot of speculation about what "Crucible" might be after Marvel previewed the issue, and X-Men #7 does a nice job building details and information about the new addition to Krakoa culture as the story develops.
Cyclops first considers the new procedure with Wolverine, in a scene full of details that are going to drive the Scott/Logan/Jean/Sure let's throw in Emma why not shippers wild.
On his quest to witness and learn more about Crucible, Cyclops first strolls past Doug Ramsey, Krakoa, and for just a split second, Warlock chilling. It's tangential to the main story, but for fans who have been wondering about Doug's techno-organic arm, and the presence of longtime New Mutants member Warlock, it's another small clue in what appears to be another mystery. There's definitely something curious, almost creepy, going on with Doug and Warlock, and I'm certain this isn't the last we'll see of them.
The bulk of the issue centers around an extended, religious and philosophical conversation between Nightcrawler and Cyclops, mostly as it pertains to The Crucible.
Kurt has so many questions about Krakoa, the resurrection protocols, and what they mean for faith, the afterlife, and morality.
Crucially, as Cyclops and Nightcrawler make their way to Crucible, they witness Exodus leading some campfire cult kids in the ways of Krakoa. Importantly, Exodus describes resurrection not just as "being reborn," but as "being made whole." Even the children of Krakoa understand that death is necessary to achieve this gift.
At this point it begins to become clear what Crucible is meant to be.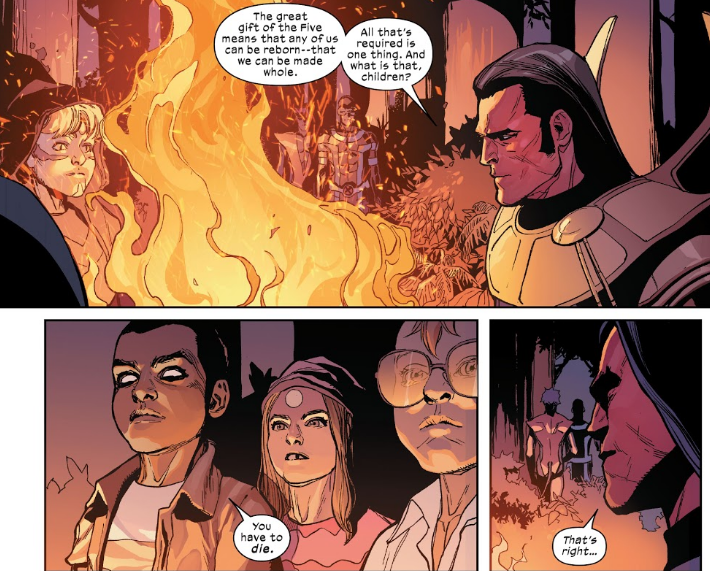 Crucible is all about restoring mutants that were depowered in Scarlet Witch's Decimation to their full mutant abilities. These are Krakoa's rules for mutants who have lost their powers, and the nation's path forward to restoring mutant kind to their past glory. Importantly, it's not enough to resurrect those who have been killed by humans, but mutants also see it vital to restore depowered former mutants as well.
At the conclusion of 2005's House of M, Wanda Maximoff, the Scarlet Witch – then thought to be both mutant and long-time Avenger – Wanda used her reality altering powers to declare "No More Mutants" and depowered 1 million mutants.
Hence her new status in the Marvel Universe as boogeyman to mutant children, and "The Pretender" label given the fact that it's been revealed in the last 5 years, that Wanda is not – in fact- even a mutant.
It's also clear now why X-Men #7 is titled "Lifedeath," in a callback to Uncanny X-Men #186, a story in which Storm copes with the loss of her powers after being hit with a depowering invention from Forge.
Arriving at Crucible, we learn that this gladiatorial ceremony is the Quiet Council's solution to the problem of Decimation, and mutants that want to be made whole.
The first mutant to go through Crucible – or at least the first we see – is Melody Guthrie, the fourth of the Guthrie's 10 children, and herself a mutant until the events of M-Day.
The talk by Apocalypse of refusing suicide as an option is particularly relevant for Melody, who nearly committed a form of post M-Day suicide, jumping off a building believing she could still fly (New avengers #18 (?))
So instead of encouraging mass-death, Crucible is Krakoa's way of challenging depowered ex-mutants to prove their mettle and desire to be made whole. It's a very Apocalypse argument, fighting for survival and becoming your best self in a sword-fight with the Big A Symbol himself.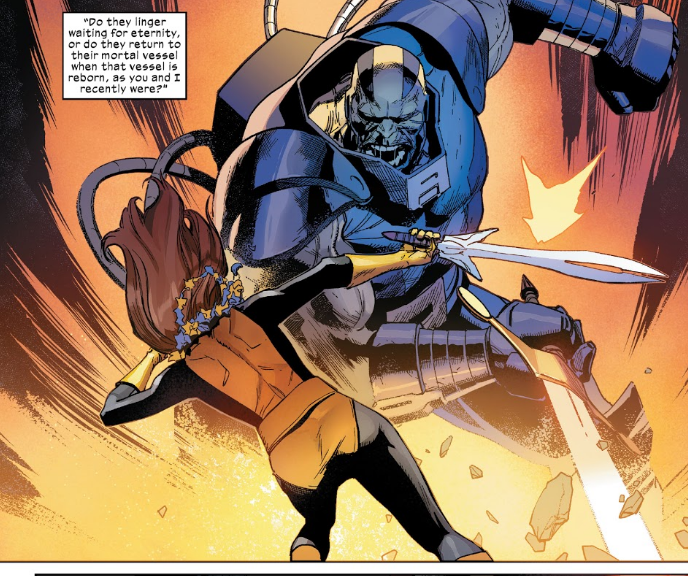 My first major questions surrounding Crucible are:
1)What happens if they beat Apocalypse? They don't get to resurrect? Doesn't seem like a lot of incentive to have a great sword fight.
2)What about mutants – like Domino in X-Force – who aren't depowered but are not "whole" in some way. How far does Crucible extend?
While witnessing the evens of Crucible, Nightcrawler and Cyclops pose some major questions about the nation's resurrection process.
The first is the issue of mutant wills, where Cyclops points out some mutants "are arguing that the best version of themselves would be being reborn in a copy of Magneto's body with his powers." Nightcrawler then says "Why stop there? Why not combine two? Why not add a third into the mix?"
This is some dramatic irony, as we know, considering Sinister's Chimera program from Powers of X is all about mutant power splicing. At this point in Krakoa, though, it's all theoretical and fuzzy.
The question of resurrection *changes* –  in becoming who you were meant to be – is a very interesting one. We've already seen hints throughout Dawn of X that mutants can come back through resurrection with amplifications or minor changes (Synch, Professor X/Fantomex body, now Melody Guthrie).
So you have mutants leaving wills asking to be restored in Magneto's body w/ his powers… or not mentioned here, how about just in their chosen gender?
One idea that does occur to me is the concept of placing a mutant's essence – their Professor X/Cerebra backed up person – into a physical body that is not their own is still a fairly untested procedure on Krakoa. This seems like the biggest setback preventing a nation of Magneto's running around – Magnation? – but I have to imagine we'll see this exact scenario play out sooner than later.
The second major question revolves around questions of afterlife and the soul. The point is clearly not direct answers, so much as considering the weight of the questions, and Nightcrawler does that very effectively throughout the issue. How much does the resurrection process change a person?
The questions regarding the afterlife and eternity are all especially relevant for Nightcrawler, who not only operates as the most famous devout Christian in the Marvel Universe this side of Daredevil, but has literally been to heaven. After his death in X-Men: Second Coming, Nightcrawler was in paradise until the pages of Amazing X-Men.
Now, obviously in that story arc, Kurt returns to the land of the living, but for someone so committed to a life well lived leading to an eternal reward, how do you reconcile that with eternal immortality on Krakoa?
X-Men #7 ends with Melody Guthrie's ascension to her mutant status as the flying, glowing Aero, reborn as the mutant she was meant to be before Decimation. Amidst the spectacle, Nightcrawler also declares his new mission is to start a mutant religion, which is a fantastic idea.
——————————————————————————————————-
Music for Best Comics Ever by Anthony Weis. Check out more music at anthonyweis.com.
To learn how you can support Best Comics Ever and receive more exclusive content from Comic Book Herald, check out the Patreon: https://www.patreon.com/comicbookherald
For the Comic Book Herald reading club through every year of Marvel Comics, check out mymarvelousyear.com