In late 1988 and 1989, Marvel's X-Men line built to a decade in the making universe-wide crossover event, Inferno! The world outside your window became infested with a demonic takeover, literalizing Hell on Earth, and arguably the first and largest all-hands-on-deck Marvel Comics invasion, in what has now become an event staple, from Secret Invasion to Empyre to King in Black. While conceptually this may sounds simple, Inferno is anything but, with years of X-Men storylines and continuity woven into the saga that in so many ways marks the end of both the Chris Claremont and Louis Simonson corners of the X-Men Universe that dominate Marvel's 1980s.
Today I'll answer:
What is Inferno and what's it's legacy in X-comics today?
What happens in Mister Sinister's true debut and his obsession with the Summers/Grey bloodline?
Is Inferno satisfying as the unofficial END of Chris Claremont's time of X-Men? It all builds to this – does it work?
A theory for how Inferno connects to Sinister's secrets from House and Powers of X
Much, much more
Get the Inferno Omnibus Here (affiliate link): https://geni.us/x-men-inferno
Podcast: Play in new window | Download
Support For Comic Book Herald:
Comic Book Herald is reader-supported. When you buy through links on our site, we may earn a qualifying affiliate commission.
Comic Book Herald's reading orders and guides are also made possible by reader support on Patreon, and generous reader donations.
Any size contribution will help keep CBH alive and full of new comics guides and content. Support CBH on Patreon for exclusive rewards, or Donate here! Thank you for reading!
Taken on its own, Inferno is a fairly confusing, sprawling massive event, with enough standalone highlights – Mister Sinister's star debut, Daredevil fighting a vacuum cleaner – to remain entertaining if a LOT. Plus, there's enough star power across various tie-ins – The Michelinie/MacFarlane Amazing Spider-Man fresh off the debut of Venom in issue #300, Walt Simonson writing Avengers, Nocenti/Jr Jr Daredevil, Claremont and Alan Davis on Excalibur – to make Inferno Marvel's best mega crossover event of the 1980's (sure, the bar to clear is basically Secret Wars II, but still!).
But really, it's nigh on impossible to take Inferno on its own, and again, I think it's far more accurate to view the event as the end of an X-Men era. And as with all moments in ongoing Big 2 superhero comics, every ending is also a beginning.
There are effectively two primary threads that drive Inferno, Illyana Rasputin, aka Magik's, full transformation into the Darkchylde and ruler of Limbo, and the revelations of Madeylne Pryor's true origins, and the ramifications that knowledge has turning her into the Goblin Queen. In either case, women of the X-Universe turn to demonic allies for a full-on takeover of Earth, and desire to see the world burn in Hellfire.
Both threads were impressively set in motion years earlier. Modern readers like to talk a lot about Jonathan Hickman's ability to seed plots and storylines years in advance, and to effectively tackle them and give each seed its due much later in a grand tapestry of interlocking story. I actually think the 1980's X-Office's ability to do this same thing, but often without necessarily planning to, goes extremely underrated.
Uncanny X-Men #160 by Chris Claremont and Brent Anderson plants the seeds for everything to do with Illyana Rasputin, Limbo, and Sy'm and the demons of that realm, and that was was released in August 1982, more than 8 years before Inferno. Over that time, Illyana's journey continues across her own miniseries, and New Mutants written by both Claremont, and especially in the build to Inferno by Louis Simonson and Bret Blevins. Whether it's something that was known right from the jump, Illyana's story was always building to an event like Inferno.
The saga of Madelyne Pryor is a bit different, although again, years in the making, just more adaptively so. Scott Summers first meets Maddy – the Alaskan redhead who looks a startling amount like the recently deceased Jean Grey – in Uncanny X-Men #168, the famous "Professor X is a Jerk!" issue, released in April 1983. Originally, Claremont has said in interviews that he intended this as a mysterious similarity, but ultimately just a bonkers coincidence that set the stage for Cyclops truly "graduating" from life with the X-Men, and starting a family with wife Madelyne and little baby Christopher.
These plans were interrupted when the Jean Grey remains dead edict that followed "The Dark Phoenix Saga" was overturned – against Claremont's wishes – in the 1986 Fantastic Four / Avengers two-part story that established Jean and the Phoenix Force as two distinct entities (effectively absolving Jean for the Phoenix's genocide of the D'bari). All reports are that Claremont was furious, but ultimately he did one of his most underrated traits as the Head of X in the 80s': he adapted.
I've talked about this before, but when you look at situations where writers are sort of forced to connect their stories to some editorial linewide edict – Secret Wars II probably the most notorious – nobody is better at turning dung into gold like Claremont. Secret Wars II is literally one of my least favorite comics of all time, yet Claremont's tie-in issues across Uncanny X-Men and New Mutants (especially New Mutants) are quite good, and utilized to great affect across each series. So when faced with the return of Jean Grey, and Scott's world's worst combination husband-dad-dude decision to flee back to her for X-Factor, Claremont spent the following two plus years reinventing Madelyne Pryor's storyline and potential on the fly. And the end result is Inferno.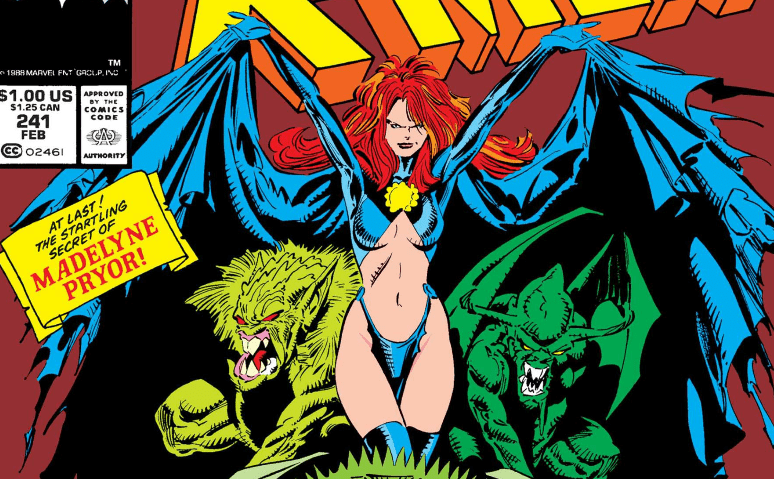 Inferno and Madelyne Pryor
We'll start with the Claremont written issues of Uncanny X-Men, because that's the flagship, but also because it's easily the moist notable instance in the entire X-Men line when other creators (namely Louise Simonson, writing across New Mutants, X-Factor, and X-Terminators) actually contribute more to the core narrative than the reigning X-writer. Claremont's contributions are comparatively concise, and for my money they benefit for it.
In Uncanny X-Men #239 to #243, writer Chris Claremont, art Marc Silvestri, inks Dan Green, colors Glynis Oliver, letters Tom Orzechowski, we get the core story of Madelyne Pryor, Mister Sinister, and Scott Summers, set against the backdrop of Manhattan overrun by demonic transformations and demon hordes of Limbo.
As this demonic takeover of New York occurs, there's a jarring blend of comedy, over-the-top satantic panic, and horror, with such horrific instances as a family eaten alive by a demon-elevator, a new York city tourist getting their eyes stolen by a demon binoculars, Wolvering killing a mailbox, Illyana killing a barber's chair, Daredevil and the Vacuum cleaner… you get the drill.
There are a few reasons we see so many demons spilling into the realm of Earth, but primarily it's the result of N'astirh, a demon introduced here in the pages of the Louise Simonson written New Mutants and X-Terminators miniseries, S'ym, who we've known as Belasco's right-hand creep from the Magik miniseries, and Madelyne Pryor's transformation into Marvel's Goblin Queen, making a deal with N'astirh for the power and demonic armies that will drive her newfound desire to see the world burn in an Inferno.
Why does Madelyne Pryor go down this road? The in-story answer is that it's in these issues of Uncanny X-Men when her history is retconned by creator Chris Claremont and artist Marc Silvestri to show that Madelyne is in fact a clone of Jean Grey, created by Mister Sinister from DNA he stole from Jean.
It's a harrowing revelation for Maddie, as everything that she thought she knew about her existence gets mixed up in this tangle of glam Sinister's design.
Complicating matters further is the presence of Nathan Christopher Charles Summers – revealed in these issues to actually be named Nathan, a fact pointed out to me by Connor Goldsmith of the excellent Cerebrocast during our My Marvelous Year podcast conversation about Inferno.
The revelation that she's a clone casts doubt onto Madelyne's realness, her very personhood, and drives her increasingly controlled by rage, primarily expressed towards Cyclops and Jean Grey.
In a particularly harrowing sequence, Madelyne finds Jean's parents at her tombstone (remember Jean is still believed dead by many at this point), and gruesomely turns them into demon pets.
Madelyne is so full of rage that she is ready to burn the world in fire, including her son, as a pure revenge play against Scott Summers. This is no small thing – Remember, Maddy stays with baby Christopher when Cyclops abandons the family, not the other way around.
If you're keeping up with 2020's Hellions – and it's one of my favorite comics of the entire Dawn of X, and Hickman era of X-Men, so I recommend it – the first arc written by Zeb Wells effectively taps into these ideas of Madelyne's absolute betrayal and removal of personage. Later in the story she says, in heartbreaking fashion, "I only wanted them to know that I was a real girl."
This rage actually drives Madelyne further than Sinister ever anticipated, as he doesn't fully see the activation of her own psychic powers and literal deals with the devil, in this case N'astirh, transformed into a techno-organic demon as the event progresses.
Ultimately, Madelyne is stopped by the X-Men, but not before really fully bonding physically and emotionally with Alex Summers, and seeing the majority of the X-team warped into darker versions of their innate personalities. The likes of Dazzler and Longshot get it particularly bad.
In psychic battle, with the full emotional weight of clones stealing one another's life, Jean Grey absorbs her very essence, all her memories and, in terms of X-Men continuity, all her continuity and adventures.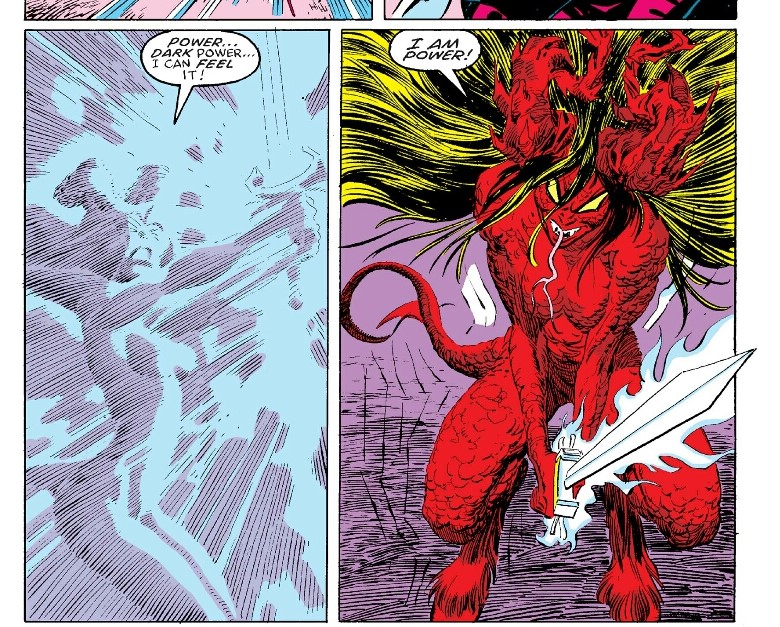 Oh ho ho it's Magik
I think you can make a compelling case that Mister Sinister's influence on the X-Men, and Madelyne Pryor's transformation into the Goblin Queen could have been enough of a core to spark this Inferno. And if you want to argue that the event is needlessly complicated and convoluted via everything else, I hear that. Nonetheless, Magik's build from innocent young sister of Colossues, to tortured mutant growing up in a hell-realm, to full on badass Darkchylde ruler of Limbo's demon hordes certainly fits the Inferno mold.
Again, this is definitely the absolute most Louise Simonson you'll find in the X-verse, with the longtime X-editor and writer working across three core tie-ins, X-Terminators, X-Factor and New Mutants. About 75% of the core X-books for Inferno are Louise Simonson books
X-Terminators primary function as a four issue mini is to lay out the demon invasion of New York, build the Demon ruler players of N'astirh and S'ym, remind us all that yes, Limbo is still taken over by Warlock's techno-organic virus, oh and to feature demons stealing mutant babies to put in a pentagram above NYC that will power further takeover by the hordes of Limbo. Plus, you get the introduction of Wiz-Kid, a major player in the just launched SWORD series in the Reign of X.
In yet another Zeb Wells written run – guy clearly has a fondness for Inferno  – these Inferno babies are brought back into the pages of New Mutants in a way I won't spoil here, but will you mention you can check out my Krakin' Krakoa on the whole run if interested.
On the New Mutants side, after Illyana, fully transforming into her Darkchylde dark half really since the death of Doug Ramsey in fall of the mutants, accidentally unleashes demons into the world, the New Mutants team transports back to Limbo where they are made aware of Illyana's beginnings.
Illyana tells the team about what happened in Uncanny X-Men #160, the Magik miniseries, with Louise Simonson filling in and recontextualizing Sym's abuses of Illyana, making the absolutely traumatic and tragic childhood of this little girl hit harder than it ever had.
There's a lot to take from Illyana's story here, as again, this is the full journey of Magik from early 80's through the end of the decade, and in many ways it's the end of her story until much, much later in Marvel history.
When Illyana sees her younger self she is filled with rage, at this innocence, all this potential, that she never got to have because she was trapped in hell.
Ultimately, though, Magik does get to choose between darkness and light, and rather than remain in limbo ruling over dark, she sacrifices herself, and saves her 6 year old younger self to give her the chance on Earth our Illyana never got. It's a truly emotional reconnection between Colossus and his sister.
In the pages of the Simonson written x-Factor, with art by husband Walt Simonson (until an upcomer Rob Liefeld joins for the aftermath X-Factor #40), Louise Simonson more or less for the first time gets to really write a full X-Universe book, fully synchronizing with the events of Chris Claremont's Uncanny and bringing the X-Men and X-Factor teams together for the first time since the Dark Phoenix Saga. Since Mutant Massacre Wolverine is really the only X-Men member aware Jean's alive, and since Fall of the Mutants both X-Factor and the New Mutants believe the X-Men are dead.
Simonson shines in this role, concentrating most on the stories of Jean Grey and Cyclops, Scott's family with Madelyne and Natan Christopher, and newfound connections to Mister Sinister.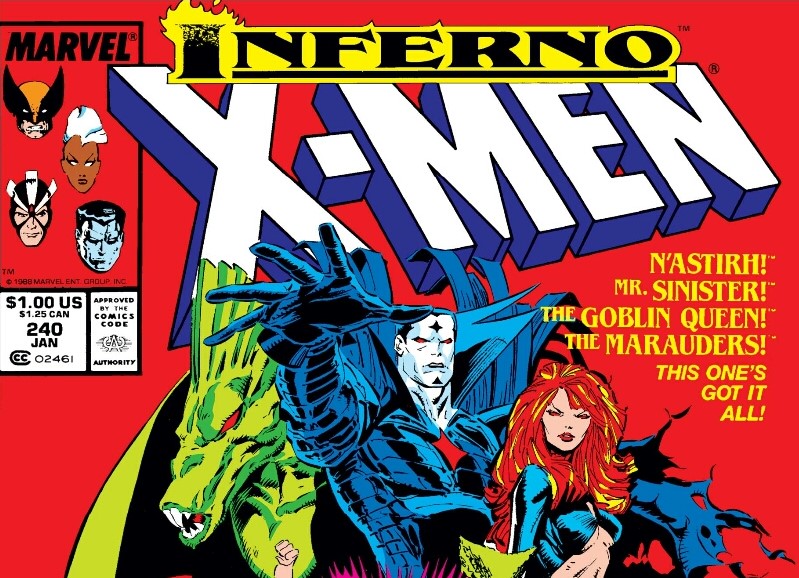 Mister Sinister in X-Men: Inferno
So once the duel threats of Madelyne Pryor and N'astirh's demons are seemingly solved, the X-Men and X-factor turn back to their former x-mansion base, only to find it's been raided by Mister Sinister and his Marauders.
I do find it interesting, this idea of Sinister digging through their lives for clues, information, and DNA for future schemes. Moments like are hard to not view in a modern post House / Powers lens, with Mister Sinister as a clear key schemer in the Hickman era of X-Men. It's the sort of moment that could become a casual flashback or reference point for a time Mister Sinister grabbed essential data off the X-Men that leads to whatever revelations are in the character's future.
And of course, in Powers of X, one of the biggest Sinister Secrets is the reveal that "Inferno" has significance. I've spent a fair amount of time thinking about it, I even have a notepad full of diagrams of squares and circles, but the language "square that circle" is no clearer to me now after rereading the event. What we do know though is that when Sinister's Inferno re-enactment comes to fruition, "what took a long to build" (Krakoa) is likely to "come crumbling."
This is not the point of the event, but what if for Sinister's next, modern Inferno, he revealed that he had manipulated the genetics and lives of Wanda and Pietro Maximoff? Of everyone in Marvel, whose origins, genealogy, and as of 2015, mutant status, has been toyed with more often? It would be very easy for the walking retcon engine to waltz into their lives and say they actually ARE mutants, and he set them up for this, but that – and here's where Sinister's plan could go any number of directions – Charles Xavier insisted mutants have a Great Pretender bogeyman rather than acknowledge the truth.
Plus, Scarlet Witch is notoriously dangerous when people make her mad, just look at Avengers Disassembled and House of M.
During the battle with Sinister and the Malice controlled Lorna Dane aka Polaris that ensues, Mistah S reveals that not only was he behind Maddie, but he's straight up been orchestrating events of Scott's life since he was a wee orphan trying to understand his burgeoning mutant abilities. This is what I'm talking about when I describe Sinister now as a walking retcon engine because right here in '89 we get Sinister's – admittedly unreliably narrated – tales of being with Scott in the orphanage, and dictating so much of Cyclop's life and choices, right down to meeting and marrying Madelyne Pryor.
It's an especially interesting reveal because Sinister's presence does in many ways offer a left field potential defense for Scott Summers, a character who is really quite ruined by the editorially mandated resurrection of post Dark Phoenix Jean Grey in the pages of Avengers and Fantastic Four, abandoning his wife and child. I don't think it works but you can see the thinking.
After much pulling prodding and needling, including by Alex Summers whose sibling cosmic powers sorta sting Cyke but make his blasts even more powerful, Cyclops lays (apparent) waste to Mister Sinister, finally ending his immediate threat, and generally wrapping the physical threats present in Inferno.
The emotional consequences and learnings are of course much farther reaching.
Even within this explanation, Inferno is so massive, and covers so many corners of the X-Men universe, that there are moments I still didn't fully dig into here. For example, Warren Worthington, freshly in his Archangel persona as given by Apocalypse, dealing with Cameron Hodge, the Right, and Hodge's murder of Warren's longtime love interest Candy Southern.
Similarly there's a lot here for modern readers concerning the debuts of Nanny and Orphanmaker, or the X-Men finally getting their violent confrontation with the Marauders after Mutant Massacre.
---
Music for Best Comics Ever by Anthony Weis, or Bensound. Check out more music at anthonyweis.com or https://www.bensound.com.
To learn how you can support Best Comics Ever and receive more exclusive content from Comic Book Herald, check out the Patreon: https://www.patreon.com/comicbookherald
For the Comic Book Herald reading club through every year of Marvel Comics, check out mymarvelousyear.com