Once upon a time. And a place. There was a man. These days everyone knows his name, but few could tell you who he really is…or how he got started. This is the greatest untold story of them all.
To many, superhero comics are a medium of pure inspiration: stories built on the hope to grow beyond a darker, more cynical world, and in turn, leave that world better than when we found it. But what happens when we follow that hope as it grows over the years? How does a myth continue to grow, endure, and inspire?
In 2015, writer Grant Morrison and artist Dan Mora debuted Klaus
, a sprawling story that re-imagined the life and times of Santa Claus while bringing the character into the modern age. Originally published as a seven-issue mini-series through Boom! Studios, the title would grow to include several one-shot sequels, each following the titular Klaus as he battles mythic forces across time and space. Morrison and Mora weave countless sources into their story including fairy tales, Norse and Slavic myths, and even the broader popular culture, but the key underpinning in Klaus is the duo's shared love of superhero comics, which they used to shape the character into an incorruptible force for good.
" ​​I really wanted to do…a big, fantasy epic for a wider audience, an all-ages audience…," says Morrison."I thought I could have my own character who's a bit like Superman, a bit like Doctor Who, particularly, and it seemed like Santa Claus was an obvious one. Everyone recognizes him, he has his look, his sled, everything that we associate with that character and suddenly it seemed like, 'Well, these are superhero tropes.'…I suddenly thought, "How come no one's told the 'Year One' of Santa Claus?" It's kind of neat approaching that character as if he was the world's greatest superhero, and we've never learned the origin."

Much of Morrison's works explore the deeper meaning behind superhero comics, often interrogating how these fictional stories can inspire real, tangible change in the people who read them. And though these commentaries are still present, Morrison and Mora build on them even further in Klaus, showing how our shared compassion can transform us into something greater: beautiful, unstoppable ideas.
*SPOILERS AHEAD*

Support For Comic Book Herald:
Comic Book Herald is reader-supported. When you buy through links on our site, we may earn a qualifying affiliate commission.
Comic Book Herald's reading orders and guides are also made possible by reader support on Patreon, and generous reader donations.
Any size contribution will help keep CBH alive and full of new comics guides and content. Support CBH on Patreon for exclusive rewards, or Donate here! Thank you for reading!
Related:
Comic Book Herald's Guide to Klaus Comics
The Legend Begins

Much like Batman, Superman, Wonder Woman, or anyone's favorite superhero, Santa Claus is a character with a complicated mythology, composed of stories told across different eras and places. While comic writers tend to use publisher-wide resets and reboots to keep the characters streamlined, Morrison pulls from every era of a character's history, shown through their Silver Age homages in All-Star Superman
and their 7-year run on Batman. Similarly, Morrison would use elements of this approach when developing Klaus, re-working different elements of the character's mythology to fit the mold of a superhero's origin story.
Taking inspiration from Nordic and Slavic depictions, Morrison replaces the jolly gift-giver of the modern day with a younger, battle-hardened barbarian, tasked with bringing joy back to the town of Grimsvig under the nose of Baron Magnus. While Klaus begins the story as a mortal man, Morrison steadily weaves more supernatural elements into the character throughout the story, elevating him to the likes of other aspirational heroes. But, rather than limitless strength or wits, Morrison posits Klaus's compassion as his greatest strength, with his connections to nature and his fellow men prompting a rebirth into the "Yuletide Spirit."
As Klaus continues to transform from man into legend, Morrison also incorporates holiday iconography and superhero tropes into the story's villains. Magnus's plans see the release of the Krampus, an Alpine folk figure that's re-framed as the ultimate evil to Klaus's good; a being who lives to feast on the souls of children. Through this climactic battle between Klaus and his dark inversion, Morrison and Mora elevate the story and its hero from a grounded origin to an existential battle for the hearts and minds of Grimsvig. And though the townspeoples' bitterness and anger fuel the Krampus, it's their childrens' compassion and forgiveness that let Klaus transcend his mortality, and rise to finally defeat the monster.
Beating the embodiment of evil and growing from man into immortal myth, Klaus's epilogue sees its hero literally outliving his origins, pledging to bring light and compassion to the rest of the world. While the miniseries acts as an origin for the Santa Claus seen today, it also transforms the character into something even more universal: the spark of goodness that lives on in all of us.
"We as a human species are very contradictory…we fight wars and we hate and we're full of contradiction and confusion, but at the same time we imagine these beautiful, unstoppable ideas," states Morrison.
"Superman is one of those, and Santa Claus is another one. He's aimed at kids, but it's emotional: There's someone out there who stands for this."
The New Adventures of Santa Claus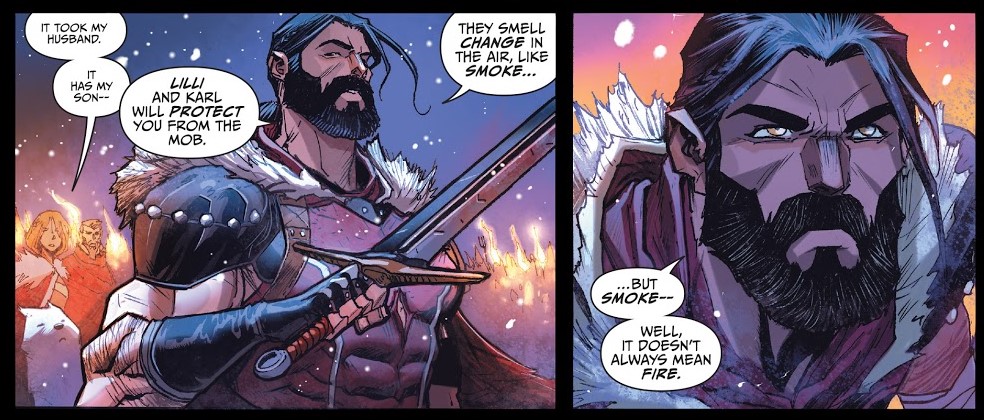 Through their original series, Morrison and Mora rebuild and re-invent the character of Santa Claus, charting the character's transformation from man, to myth, to living idea. While the miniseries acts as a complete story of its own, Morrison and Mora would find themselves eager to explore more of the world of Klaus through a series of one-shot stories, adding elements like a Justice League of alternate Santas, an ongoing war with a stand-in for the Coca Cola Company, and a saga that connects Klaus to the Norse pantheon.
"I just got deeper into the story and characters and felt it needed room to breathe a little," recounts Morrison.

"Initially, my pitch was for a very simple, stripped-back, fairy-tale approach but I couldn't help getting wrapped up in the characters and their backstories, so we made the decision to expand a little. My editors at BOOM! were happy to oblige, as was Dan."
Each story acts as its own self-contained work, but together they weave into a grander tale that charts Klaus's further adventures across space and time, as he returns again and again to battle against a perpetually cynical world. Through this approach, the creators not only continue to reinvent the myths behind Santa Claus, but merge the mythic with the topical, using the fictional character of Klaus to tackle real-world issues. The Snow Queen-inspired Witch of Winter sees the hero return from a war on the moon to find his helpers and workshop co-opted by the Blue Queen, a vengeful spirit bent on reversing the tide of global warming. The subsequent follow up Crisis in XMasville follows in this tradition, having Klaus battle the "Pola Cola" company as they attempt to usurp him with a darker, edgier doppelganger. Even 2018's Klaus and the Crying Snowman grounds its myths with topical issues, building its story on the struggle of holding onto hope in times of hopelessness.
Each villain has distinct motivations and plans, but together they build a larger, looming threat: the emergence of a fatalistic, cynical world that we are all seemingly powerless to stop. It's through these mythic allegories for climate change, runaway consumerism, and all-consuming nihilism that the creators interrogate Klaus's status as a mythic figure in the modern era, and whether the idea of hope can survive in an ever-darkening world.
Light in the Darkness
Since re-inventing the character, Morrison and Mora have explored Klaus's growth from man to living myth, as well as how that myth continued to evolve and inspire across generations. But while the initial miniseries ended with a clear-cut victory, having Klaus killing the ultimate evil, the villains of Witch of Winter, Crisis in XMasville and Crying Snowman present a more nuanced challenge for the hero: an eternal struggle between faith and fatalism.
Each time Klaus is re-introduced, he arrives in a world that's colder and more cynical than when he left. Many of his allies have either died out or abandoned him, and the shared desire to shape a better world has given way to a cold acceptance of the status quo. In turn, Klaus's diminished presence gives rise to figures who, in Morrison's eyes, define our failings to live up to our own myths. Yet, while these figures feed on the fatalism of what is, Klaus draws his magic from a purer, unbreakable source: the undying optimism of the younger generation.
This defiance of the status quo colors every story in the series, with Klaus not only disproving each villains' cynical beliefs, but working to redeem ally and villain alike, encouraging them all to make the change they want in the world.
(from Klaus and the Crying Snowman by Grant Morrison and Dan Mora)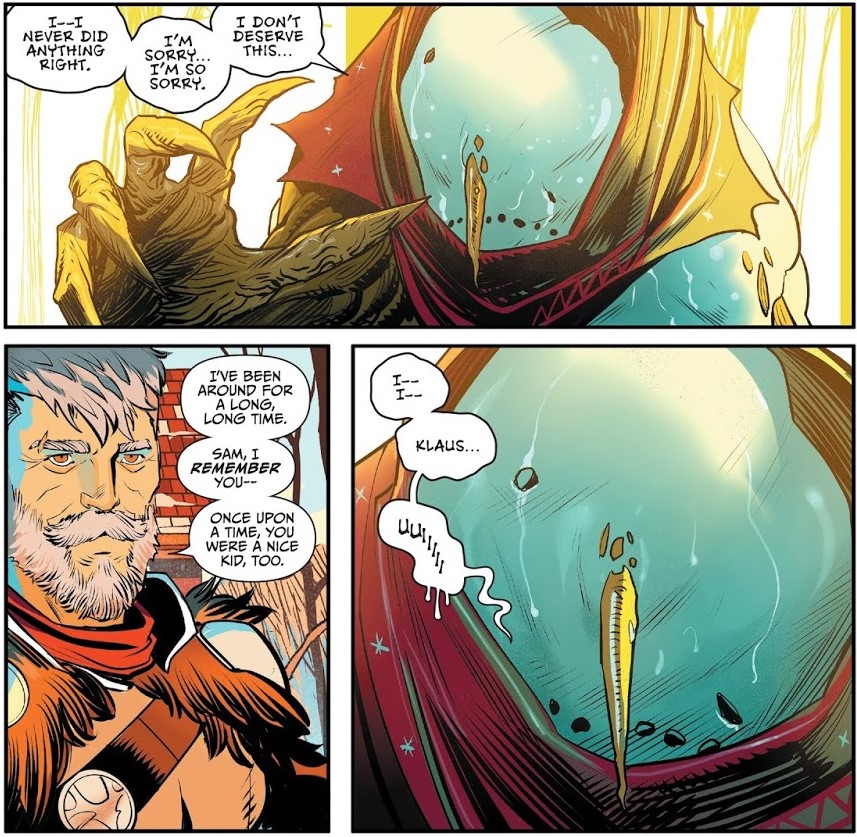 Through each story, Morrison repurposes myths and characters to channel larger fears about the modern world, all grounded through characters' personal journeys: the fear of harming the planet, the fear of stories losing their meaning, or the fear of the absolute end of everything. However, through the living myth of Klaus, Morrison encourages us all to transcend our fears and limitations, and embody the idea at the heart of the hero: no problem is truly unassailable, and nobody is beyond hope.
Beautiful, Unstoppable Ideas
In a world that seems to grow darker by the day, Klaus is a story that celebrates the everlasting optimism of the human spirit, showing how that shared belief can bring about our own transcendence, and inspire the faithful across time and space to do the same. While much of the power behind this story can be attributed to Morrison, who worked to craft a sleeker, more accessible story than their previous genre-savvy works, equal credit must be given to Mora, who uses his role as sole illustrator to push the limits of the format with every new outing. Incorporating different color palettes, techniques, and media across stories, Mora not only tracks Klaus's evolution across the ages, but asserts his power as an eternal embodiment of our inherent goodness. After all, it's this desire to be something greater that led to the creation of superheroes in the first place, and the evolution of those heroes that led to Morrison and Mora's own creation. In Morrison's eyes, it's these ideas, and their continued ability to inspire, that are the key to unlocking the potential in each of us.
"Superheroes are trying really hard to become real," states the author.
"I think it was always a childlike idea of our own future and our own potential as people, and I think they've become popular for that reason. Everyone wants to be a superhero. Everyone's looking for a way out of this slightly scary dystopian world we're in, and superheroes were always a very bright and hopeful way out of it."
Klaus and his fellow myths may not exist in our world, but their heroic potential lives on in all of us, and the stories we pass on to the next generation. This cycle of inspiration and creation is the key to realizing the wonderful future that Morrison believes is just beyond our reach. Ideas can save us, shape us, and elevate us all into something beautiful and unstoppable.
(from Klaus by Grant Morrison and Dan Mora)
Sources:
https://www.hollywoodreporter.com/news/general-news/grant-morrison-turning-santa-claus-a-superhero-klaus-1064984/
https://www.cbr.com/interview-grant-morrison-klaus/
https://ew.com/books/2017/12/06/grant-morrison-santa-superhero-comic-klaus/
https://comicsalliance.com/grant-morrison-klaus-witch-of-winter-interview/