There's been a recurring theme for reader feedback on my Marvel Cinematic Universe power rankings, namely confusion and surprise at my (admittedly atypical) number two ranking of Jessica Jones season one.
*Warning: Spoilers for Jessica Jones Seasons 1 and 2 follow*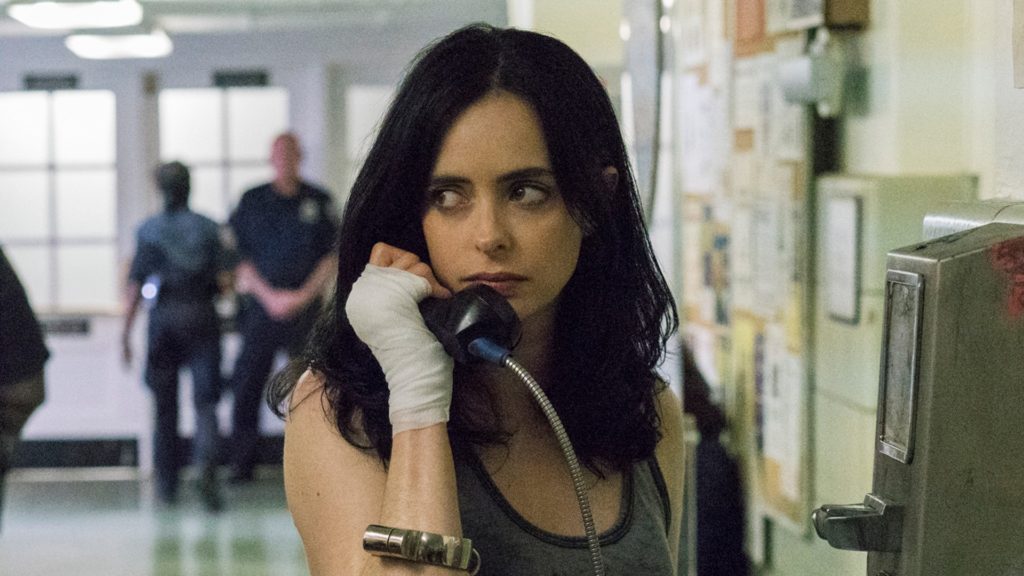 I've had the first season of Netflix and Marvel's Jessica Jones just below Avengers since the first thirteen episodes were released. While the likes of Netflix Daredevil or Captain America 3: Civil War gave me more of a Marvel Universe high, nothing in the MCU to that point tackled complex topics with such precision and intensity. Jessica Jones simultaneously anticipated the #MeToo movement, captured the spirit of Brian Michael Bendis and Michael Gaydos Alias
 comics, and delivered David Tennant's top 3 Marvel villain performance as the Purple Man.
As a result, I had extremely high hopes, but also a great deal of trepidation heading in to Jessica Jones season two. I wanted the second season to measure up to the excellence of the first, and validate the critical acclaim heaped upon the show.
Eagle eyed Heralds may have noticed that when I last updated my rankings to account for Avengers: Infinity War (hint: the movie does great), I dropped a combined Jessica Jones seasons 1 and 2 rank just outside the top 10. I'd only seen three episodes of the second season at that point but it was already dragging the series down the power ranks.
Support For Comic Book Herald:
Comic Book Herald is reader-supported. When you buy through links on our site, we may earn a qualifying affiliate commission.
Comic Book Herald's reading orders and guides are also made possible by reader support on Patreon, and generous reader donations.
Any size contribution will help keep CBH alive and full of new comics guides and content. Support CBH on Patreon for exclusive rewards, or Donate here! Thank you for reading!
Truth be told, Jessica Jones season two is abysmal and an enormous let down. The show is bad to the point that it took me 3 months to finish watching and makes me question my love of the first season. In a lot of ways it's like Weezer circa 2005; was Pinkerton
 really that good, or have I over-inflated my memory of the past?
While Jessica is still a great character, and it's not like Krysten Ritter's performance has drastically changed, the thirteen episode second season is just unequivocally inferior. Season two tackles two intertwined themes: Is Jessica unforgivable now that she's consciously murdered Kilgrave, and are we destined to be our parents (in this case, mother)?
All of Marvel Netflix's worst tendencies are in full force throughout, from a complete lack of urgency (see also: ya boring) to comically ill-thought out plotting. Nearly the entire season is strangely Defenders agnostic, which is particularly notable given how everything Marvel Netflix has done was supposed to be building up to that "supergroup" collision.
The worst transgressions occur in the handling of Patsy Walker, transformed by series end into one of the show's primary villains. The savaging of her character (an addict manipulating everyone in her path to her own selfish ends) is then preposterously undone in the final moments with a tease toward her more well-known Marvel status as Hellcat! How could we root for her again after this season?! The entire plot is so ruinous that I'm no longer sure I'd even want a season three.
At the end of the day, I hate how this season's enormously disappointing product retroactively smears the good name of season one. They are so disparate in quality that I've decided I can't even begin to attempt ranking them together. It's unfortunate but true; watch Jessica Jones season one again before you ever even consider touching season two!
Where Does Jessica Jones Rank in The Marvel Cinematic Universe Power Rankings?
Tier 1: The Best
1) Avengers: Infinity War
2) Jessica Jones (Season 1)
3) Avengers
4) Guardians of the Galaxy
5) Captain America 3: Civil War
6) Thor: Ragnarok
7) Black Panther
Tier 2: Great
8) Captain America 2: The Winter Soldier
9) Spider-Man: Homecoming
10) Daredevil (Seasons 1 & 2)
11) Iron Man
Tier 3: Good
12) Captain America: The First Avenger
13) The Punisher
14) Guardians of the Galaxy Vol. 2
15) Iron Man 3
16) Avengers 2: Age of Ultron
17) Ant-Man
18) Doctor Strange
Tier 4: Mixed Feelings
19) Runaways
20) Luke Cage
21) Thor 2: The Dark World
22) Defenders
Tier 5: I'll Watch With a Comic In Hand
23) Thor
24) Agents of SHIELD (Seasons 1 through 4)
25) Agent Carter (Seasons 1 & 2)
26) Incredible Hulk
Tier 6: Nope
27) Iron Man 2
28) Jessica Jones (Season Two)
29) You got blood all over your only pair of jeans
30) Iron Fist