It's the end of an era for Marvel Television as it's existed since Netflix Daredevil season one debuted in 2015. In the wake of the news that Kevin Feige's taking over as Marvel's Chief Creative Officer (see also: The One Above All!), Godfather style executions have started rolling out across the Marvel TV landscape. Netflix output is already dead, but we've also now seen Hulu's "horror" line, Cloak and Dagger, and Jeph Loeb's tenure as head of Marvel TV on their way out. 
While it's possible this is just some cleaning house before launching similar projects, I'd anticipate the moves signify a move towards all live-action both launching on Disney+ and deliberately connecting to the MCU. Marvel TV's been running around as the odd black sheep since launch, and frankly, it's half past time somebody – in this case Feige – delivered on the world-building promise of the largest entertainment franchise in history.
It's the right time for Loeb's role to come to a close, but I do think he perhaps deserves a bit more appreciation than he'll get based on the last few years of output. The front half of Loeb's stay was truly thrilling with the likes of Daredevil and Jessica Jones making cases for some of the best storytelling in live-action Marvel.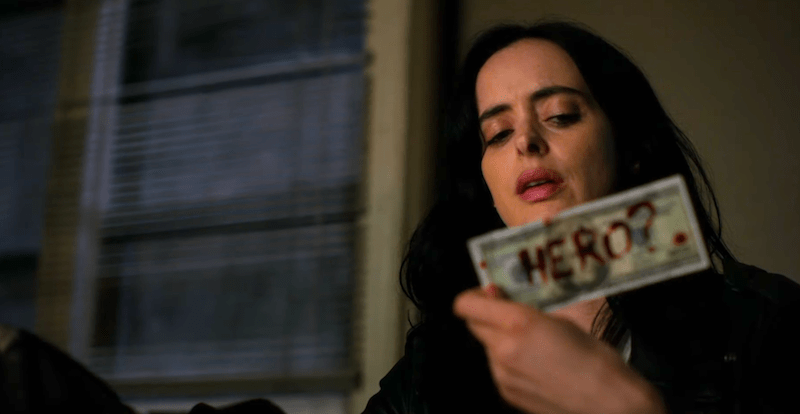 Speaking of which, I've been – finally – catching up on Jessica Jones season three, and it's a tremendously strange glimpse into the last gasp of Marvel Netflix. Season three is an improvement over season two (how could it be anything else?), but a mere shadow of season one. Season two's Trish-regression completely deflates any excitement I might have had for her (three years in the making) transformation to Hellcat, but otherwise I found myself pleasantly invested in Jessica, Hogarth, Malcolm and the new crew.
All of my criticisms of Netflix Marvel's worst impulses are on full display, but there's also more admiration for the small things knowing the franchise is breathing its last. For example Jessica's hookup with a small-time powered con artist is charming, and in many ways what I always hoped the show would focus on post-Purple. 
Support For Comic Book Herald:
Comic Book Herald is reader-supported. When you buy through links on our site, we may earn a qualifying affiliate commission.
Comic Book Herald's reading orders and guides are also made possible by reader support on Patreon, and generous reader donations.
Any size contribution will help keep CBH alive and full of new comics guides and content. Support CBH on Patreon for exclusive rewards, or Donate here! Thank you for reading!
Likewise, the show's confounding decision to reveal Dexter as the Big Bad in the fourth hour of TV is also kind of a remarkable display of patience. It's patience I do not have as a viewer, and pacing I do not approve of, but what restraint!
At its end, Jessica Jones varied in quality more rapidly than anything else from this era of Marvel TV, ranging from best to worst and back to the middle. Season three's best moments surprised me with feelings of the same remorse I feel towards losing Daredevil to contracts and battles of the stock exchange. 
More than anything, the final Netflix Marvel release got me thinking about the lessons Disney+ can take from the near 5 year initiative. I'd mix the likes of Runaways and Cloak & Dagger into this mix as well, as those YA series follow similar tonal patterns. 
The Good:
Just keep Daredevil. Recontexualize in the MCU as much as you like, but this series and cast are still beloved through three seasons!
Yes to a Villains showcase. The best Marvel Netflix shows highlight villains – Kingpin, Purple Man, Bullseye – in a way that the MCU has frequently struggled to do. I truly hope Disney+ can continue this trend, even with the starpower of the MCU's own actors involved.
Take a stance. I like art with integrated viewpoints, and Jessica Jones' first season is the best example of what Marvel stories can look like when this works. 
The Bad:
Assuming unlimited patience. For my money, this is Netflix on Marvel's greatest sin. It's hubris that flies in the face of the hugely privileged state of content accessibility today. There are too many things to watch for the entertainment obsessed, so get to the damn good stuff!
Filling hours quotas rather than telling your story. If Wandavision comes out of the gates with a 32 minute episode, I may well call it my favorite show regardless of content. That's hyperbole – kinda – but the Netflix model was way too focused on hitting thirteen episodes at nearly an hour of story each… and then telling one story. That's a recipe for a pretty fascinating Ken Burns documentary, or in this case, a pretty boring superhero show. 
A fear of Marvel Comics. In some ways, Netflix content was shockingly devoted to Bronze Age easter eggs (come on down, Claire Temple!). Otherwise, I often felt the familiar dichotomy of "serious art" running into the cartoonish history of a guy running around with playing cards and a bullseye on his forehead. There are plenty of nice examples where this isn't the case (I mean Old Lace is really in Runaways!), but I'm tired of superhero TV that acts like superhero names, costumes and attitudes are embarrassing.
Finally, for those of you keeping track at home, here are the updated MCU power rankings. I'll admit I'm as confused as ever about what to do with Jessica Jones, so I'm just going to keep the seasons ranked separately. They vary too greatly in quality. I think if I attempted to average it out as a single entity like I do for the more consistent Daredevil, it would fall in Captain Marvel or Cap First Avenger territory.
Tier 1: The Best
1) Avengers: Infinity War
2) Avengers: Endgame
3) Jessica Jones (Season 1)
4) Avengers
5) Guardians of the Galaxy
6) Thor: Ragnarok
Tier 2: Great
7) Captain America 3: Civil War
8) Black Panther
9) Captain America 2: The Winter Soldier
10) Daredevil (Seasons 1,2,3)
11) Spider-Man: Far From Home
12) Spider-Man: Homecoming
Tier 3: Good
13) Iron Man
14) Captain America: The First Avenger
15) Captain Marvel
Tier 4: Perfectly Average
16) Guardians of the Galaxy Vol. 2
17) Iron Man 3
18) The Punisher (S1, S2)
19) Ant-Man & The Wasp
20) Jessica Jones (Season 3)
21) Avengers 2: Age of Ultron
22) Ant-Man
Tier 5: Mixed Feelings
23) Runaways (Season 1, 2)
24) Doctor Strange
25) Luke Cage (Seasons 1 & 2)
26) Cloak & Dagger (Season 1)
27) Thor 2: The Dark World
28) Defenders
Tier 6: I'll Only Watch With a Comic In Hand
29) Thor
30) Agents of SHIELD (Seasons 1 through 4)
31) Agent Carter (Seasons 1 & 2)
32) Iron Fist Season Two
33) Incredible Hulk
Tier 7: Nope
34) Iron Man 2
35) Jessica Jones (Season Two)
36) Cutting a fingernail too short
37) Iron Fist Season 1
38) A broken refrigerator
39) Inhumans